Hello friends and happy 2023! Let's hope the new year will be better than 2022. Traditionally, the first of the month marks a new Club release from Spellbinders, and this year they are introducing 2 new Clubs – a Stitching Die Club and a 3D Embossing Folder Club. Both are amazing and well worth the subscription.
STITCHING DIE OF THE MONTH
Stitching Die of the Month has been long in the making and I'm happy to see its final debut. I will admit, I was somewhat skeptical about the release of the first stitching dies from Spellbinders (you can see my other projects using stitching dies HERE), but I have grown to love them.
January 2023 Stitching Die of the Month
I've found stitching to be a gratifying and therapeutic process. The new Stitching Die Club gives us a new stitching die design to stitch (or not stitch) every month.
The new Stitching Die Club subscription is $25 (USA) or £22.00 (UK). You can also pick up stitching needles, thread, and loads of colored cardstock over on the Spellbinders website to complete your stitching projects.
I stitched this card on the Brushed White cardstock using one of the variegated threads in pink, I also added touches of gold by using gold thread and Fashion Gold dots.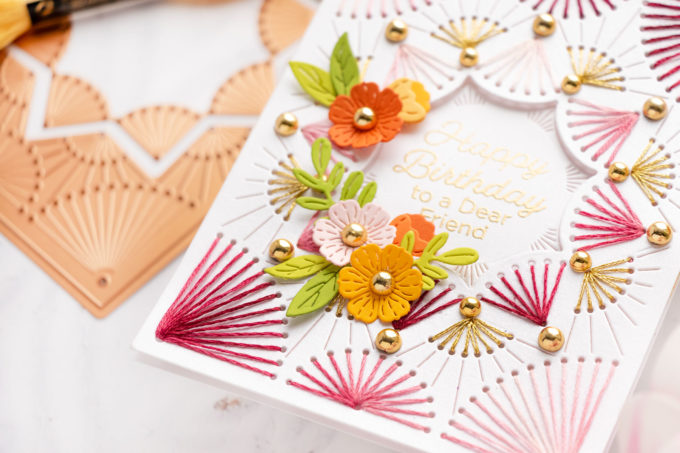 The sentiment for this card comes from an add-on stamp set, available separately, designed specifically to go with this stitching die.
My second card features a much more vibrant color scheme, with stitching done in variegated orange on Cosmic Sky Blue. Both cards are embellished using floral die cuts made using January 2023 Small Die of the Month:
3D EMBOSSING FOLDER OF THE MONTH
The other new Club for 2023 is the 3D Embossing Folder of the Month, it is a wonderful addition to the previously released 2D Folder. The 3D folder, like all other 3D embossing folders from Spellbinders, gives a very deep, sculpted-like result. 3D Embossing Folder Club Subscription is available for $15 (USA) or £13.00 (UK).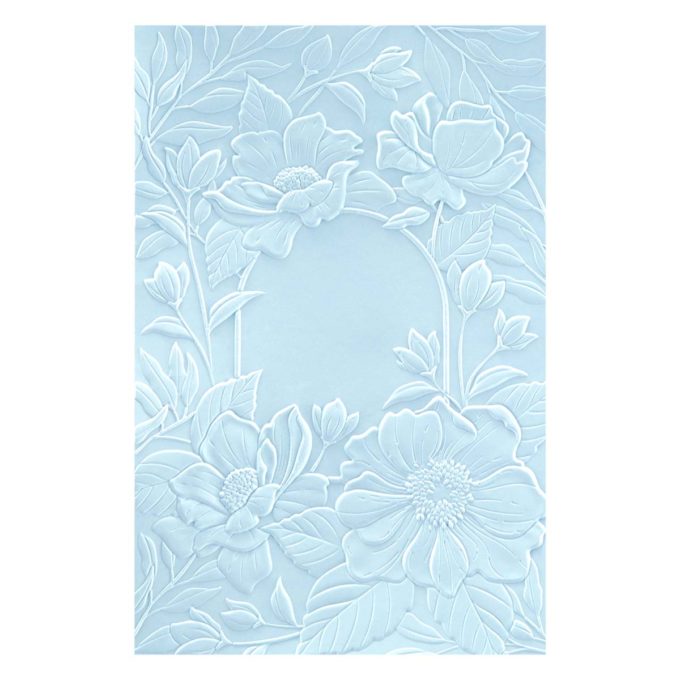 Here's a look at the cards I made using the new folder. I opted for a simple design. The background was embossed on Pink Sand cardstock and highlighted using White Pigment ink.
Sentiments were created using a new opaque white foil (oh my goodness, it looks even better than white embossing powder) and Gold Mirror cardstock using my new dies & glimmer plates from the upcoming Anemone Blooms collection – Hello Friend Glimmer Sentiments and Wonderful Script Sentiments Dies.
OTHER CLUBS
The other Club releases are just as noteworthy and inspiring. My favorite is the Large Die, which features gorgeous blooms called Club Blooms, I have a few cards featuring the flowers to share with you, but I'm still working on finishing them up, so stay tuned. If you enjoy Spellbinders Clubs, it is worth getting the Total Package value Club, which includes all of the clubs + additional savings:
SUPPLIES
I'm listing the products I used below. Click on the link to go directly to the product. Where available I use compensated affiliate links which means if you make a purchase I receive a small commission at no extra cost to you. Thank you so much for your support!

Spellbinders The Total Package Club Membership
Shop at:
SB USA | SB UK

Spellbinders Quick & Easy Card Kit of the Month Membership
Shop at:
SB USA | SB UK

Spellbinders Small Die Of The Month Membership
Shop at:
SB USA | SB UK

Spellbinders Large Die Of The Month Membership
Shop at:
SB USA | SB UK

Spellbinders Stitching Die of the Month Club
Shop at:
SB USA | SB UK

Spellbinders Sentimental Greetings Clear Stamp – Coordinates With Stitching Die
Shop at:
SB USA

Spellbinders Glimmer Hot Foil Kit of the Month Club
Shop at:
SB USA | SB UK

Spellbinders Clear Stamp & Die of the Month Club
Shop at:
SB USA | SB UK

Spellbinders Embossing Folder of the Month
Shop at:
SB USA | SB UK

Spellbinders 3D Embossing Folder of the Month Club
Shop at:
SB USA | SB UK

Spellbinders Hello Friend Sentiments Hot Foil Plates
Shop at:
SSS | SC

Spellbinders Wonderful Script Sentiments Dies
Shop at:
SSS | SC

DMC Color Essentials Floss Bundle Black & White 2 Pack
Shop at:
SB USA

DMC Tapestry Needles Size 22
Shop at:
SB USA

DMC Variegated Floss Bundle
Shop at:
SB USA | AMZ

DMC Color Essentials Floss Bundle Neutrals
Shop at:
SB USA

DMC Color Essentials Floss Bundle Warm
Shop at:
SB USA

DMC Color Essentials Floss Bundle Cool
Shop at:
SB USA

Dmc Essential Metallics Diamant Metallic Thread Bundle
Shop at:
SB USA

Spellbinders Platinum 6 Die Cutting Machine
Shop at:
SSS | SC | SB USA | SB UK | AMZ

Spellbinders Platinum Die Cutting Machine
Shop at:
SSS | SC | SB USA | SB UK | AMZ

New & Improved Platinum Machine With Universal Plate System
Shop at:
SSS | SC | SB USA | SB UK

New & Improved Platinum Six Machine With Universal Plate System
Shop at:
SSS | SC | SB USA | SB UK

Spellbinders Glimmer Hot Foil System
Shop at:
SSS | SC | SB USA | SB UK | AMZ

Spellbinders A2 White Card Bases – Side Fold – 25 pack
Shop at:
SB USA

Spellbinders Pink Sand Color Essentials Cardstock
Shop at:
SC | SB USA

Spellbinders Cosmic Sky Color Essentials Cardstock
Shop at:
SC | SB USA

Spellbinders Brushed White Cardstock
Shop at:
SB USA

Spellbinders Mirror Gold Cardstock
Shop at:
SC | SB USA

Spellbinders Tool 'n One – White
Shop at:
SSS | SC | SB USA | SB UK

Glassboard Studio True White Glass Craft Mat | YANA20 for 20% Off
Shop at:
GBS

Simon Says Stamp White Pigment Ink Pad
Shop at:
SSS

Spellbinders Glimmer Hot Foil 2 Rolls – Opaque Black & White Pack
Shop at:
SSS | SC | SB USA | SB UK

Spellbinders Fashion Gold Embellishments
Shop at:
SSS | SC | SB USA

Jewel Picker Tool
Shop at:
SSS | SC | SB USA | SB UK | AMZ

Bearly Art Mini Precision Craft Glue
Shop at:
SSS | SB USA | AMZ

White Foam Squares
Shop at:
SSS | SC | SB USA | AMZ

Tonic Spring-cut Fine Tip Detail Scissors
Shop at:
SSS | AMZ