Hello crafters! Welcome to the "It's a Christmas Season Video Series for 2021". I've had the "It's a Christmas Season" series on my blog last year when I shared loads of Christmas card ideas. Christmas is my favorite Holiday and it is my favorite time of the year, and I wanted to make it even more special this year, so in the spur of the moment I decided to have a video series and share my Christmas 2021 cards with you in a video format.
I already have a couple of cards and videos planned and I'll be sharing those through the rest of the year. And I hope you'll join me!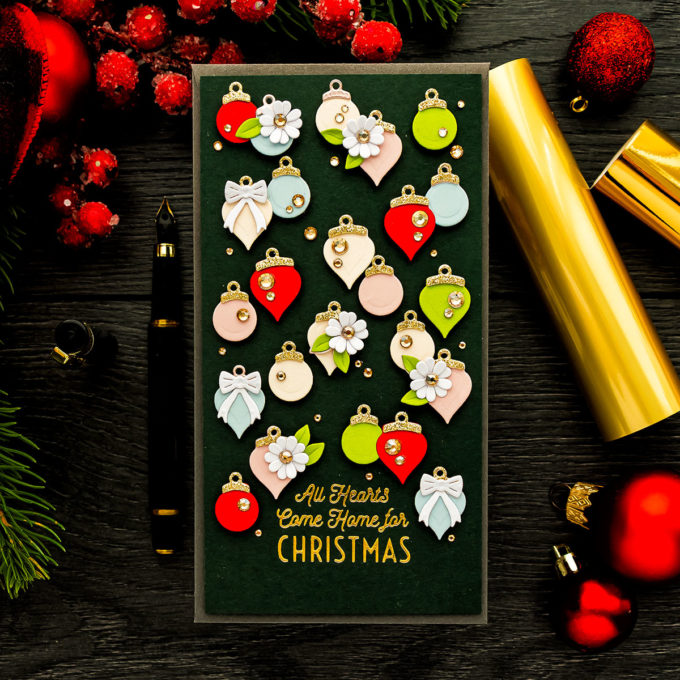 Like this project? Pin it and save for later | Curious about my project photography? Click for details. 
VIDEO TUTORIAL
Watch the video below or on my Youtube channel.
Like this video? Please give it a big thumbs up (you can do this on Youtube video page right under the video) and share it with a crafty friend! Leave me a comment too, I love hearing from you!
CARD DETAILS
Last Spring I shared THIS mini slimline floral card and I got a lot of comments and great feedback, you guys seemed to really love this card and card design, and this card has been a favorite of mine ever since. I still have it on my desk and use it for inspiration. My today's project is directly inspired by that card and you will see – it is very, very similar.
The layout of the card is pretty much identical to the floral card – I have a sentiment at the bottom of a mini slimline panel, sentiment is foiled and I also have pretty embellishments up at the top.
I started working on this card by foiling a sentiment at the bottom of a 3 1/4 x 6 1/4" Midnight Green cardstock from Simon Says Stamp. I foiled a sentiment from the new Spellbinders Gifts of Christmas Glimmer Sentiment set for 2021 and I foiled it in gold foil. It reads All Hearts Come Home for Christmas. It is a very sweet sentiment and kind of different from your traditional Merry Christmas.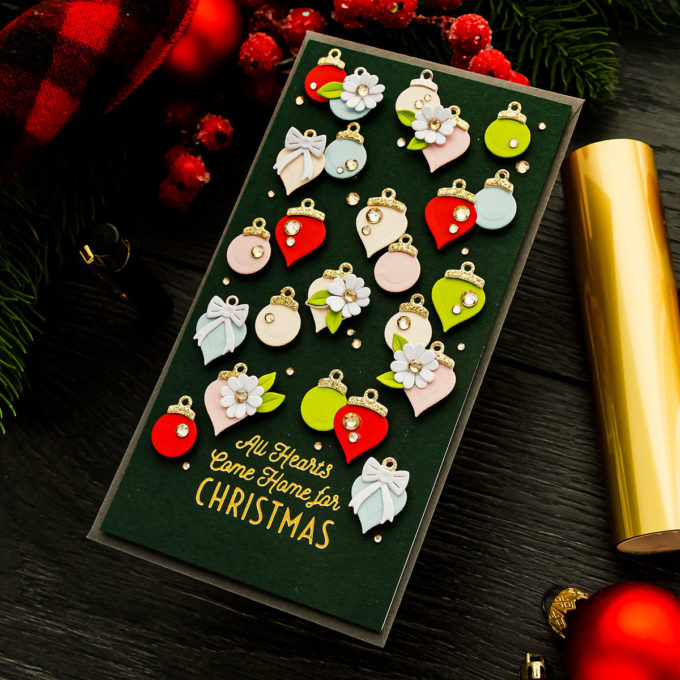 Next, I created a bunch of little tiny ornaments for my card using 2 die sets from Spellbinders – the Holiday Decorations die set, that's where the ornament is from, and the other set is Shopping Spree – that's where the little flower and the leaves are from.
These ornaments are easy to make, but they do require quite a bit of die-cutting. I like to cut all of the pieces and all of the layers first, sort them in a little dish, and assemble a bunch of ornaments at once.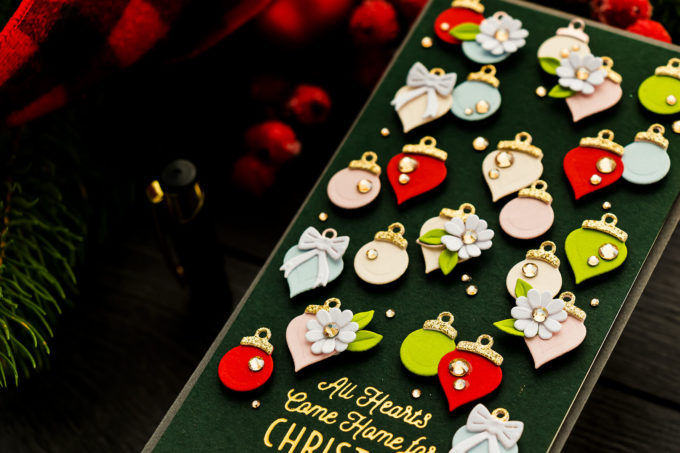 To assemble these ornaments you need to adhere the little ornament topper onto the ornament. I like to use my Bearly Art glue and a jewel picker tool to position the tiny topper on top. You have ornaments in 2 different shapes creating a nice variety for your card. And I tried alternating both shapes.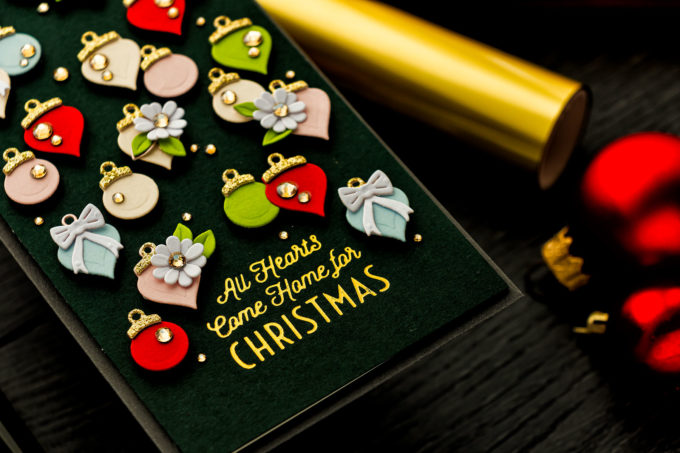 I also decorated some of the ornaments with little bows and the bows were cut using dies from yet another die set from Spellbinders – from the Open House Topiary set, that bow is simply gorgeous and it worked really well here to embellish these ornaments. Overall I pulled dies from 3 different sets and I mostly used little embellishment die cuts to dress up the ornaments for this card. I love the fact that Spellbinders dies come with all of the little accessory pieces helping you to really go all out and dress up your projects.
Now as for the colors, I used cardstock from Spellbinders, Simon, and Hero Arts – Red is Simon's Schoolhouse Red, Green is Simon's Green Apple, Blue is the Spellbinders Glacier, Pink is the Hero Arts Peony, pale yellow is the Spellbinders Alabaster. And I also used gold glitter cardstock from Simon.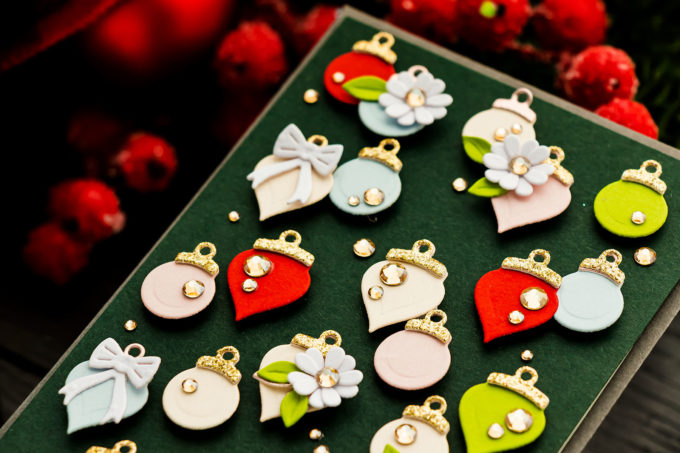 I used foam adhesive squares for each of my ornaments and popped the ornaments up on the card. I also used Spellbinders gems to dress this card up and I used quite a lot of gems. I went with gold gems from the Gold Mix set.
I added this panel onto a white side folding card base and called this card done.
Have fun die cutting!
SUPPLIES
I'm listing the products I used below. Click on the link to go directly to the product. Where available I use compensated affiliate links which means if you make a purchase I receive a small commission at no extra cost to you. Thank you so much for your support!

Spellbinders Holiday Decorations Etched Dies
Shop at:
SSS | SC | SB

Spellbinders Gifts of Christmas Sentiments Glimmer Hot Foil Plate
Shop at:
SSS | SC | SB

Spellbinders Open House Topiary Etched Dies
Shop at:
SSS | SC | SB | AZ

Spellbinders Shopping Spree Etched Dies
Shop at:
SSS | SC | SB | AZ

Spellbinders Platinum Die Cutting Machine
Shop at:
SSS | SC | SB | AZ

Spellbinders Glimmer Hot Foil System
Shop at:
SSS | SC | SB | AZ

Spellbinders Glimmer Hot Foil Roll – Gold
Shop at:
SSS | SC | SB | AZ

Spellbinders Quick Trimmer
Shop at:
SSS | SC | SB | AZ

Spellbinders Quick Trimmer Replacement Blades
Shop at:
SSS | SC | SB | AZ

Neenah 110 Lb Solar White Cardstock
Shop at:
SSS | AZ

Simon Says Stamp Cardstock Gold Glitter
Shop at:
SSS

Simon Says Stamp Card Stock Midnight Green
Shop at:
SSS

Simon Says Stamp Green Apple Cardstock
Shop at:
SSS

Simon Says Stamp Schoolhouse Red Cardstock
Shop at:
SSS

Hero Arts Hero Hues Premium Cardstock Peony
Shop at:
SSS | SC | AN/HA | AZ

Spellbinders Alabaster Color Essentials Cardstock 8.5″ x 11″
Shop at:
SB

Spellbinders Glacier Color Essentials Cardstock
Shop at:
SB

Spellbinders Gold Mix Color Essential Gems
Shop at:
SSS | SC | SB

Jewel Picker Tool
Shop at:
SSS | SC | PPP | AZ

Bearly Art Mini Precision Craft Glue
Shop at:
SSS | SB | AZ

Tonic Studios 8.5 Inch Paper Trimmer
Shop at:
SSS | SC | AZ | TS

White Foam Squares
Shop at:
SSS | SC | SB | AZ

FSJ Bloom Palette Paint Palette (2 Pack)
Shop at:
SB