Hello, friends! Today I have several Asian inspired greeting cards to share using March 2020 My Monthly Hero Kit from Hero Arts as well as some of the add on products.
Hero Kits are my favorite stamping kits on the market and I've really missed playing with these products during the past few months. I had some family issues, some health issues and I was also learning how to drive during that time so I had very little time to craft, but I'm hoping things will go back to normal soon and I'll be back to sharing cards with these kits regularly.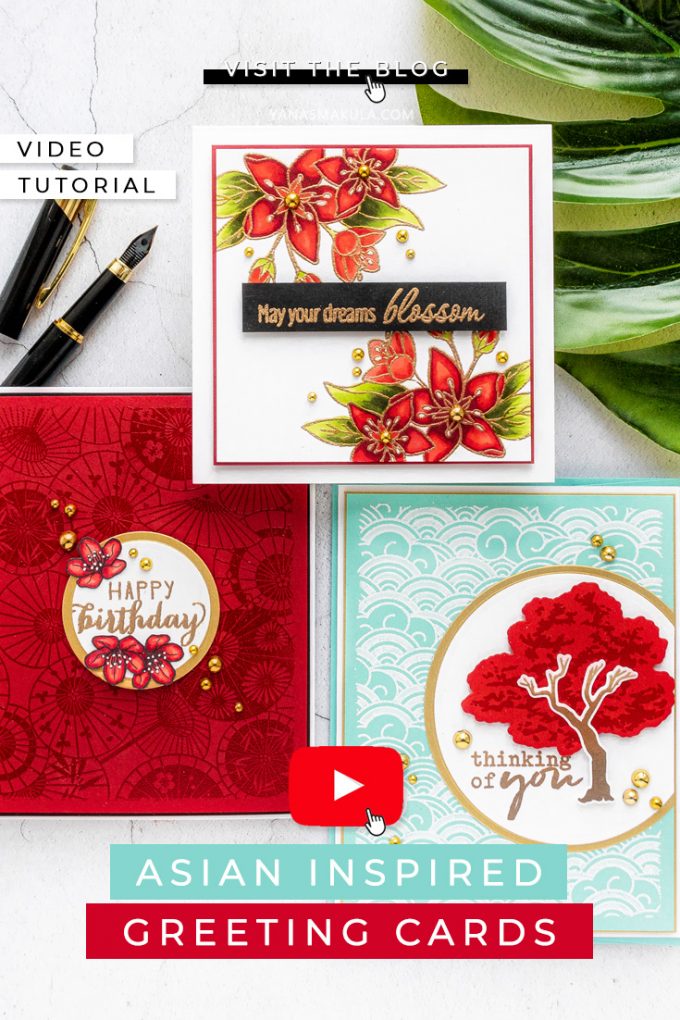 Like this project? Pin it and save for later | Curious about my project photography? Click for details. 
VIDEO TUTORIAL
As always, I filmed a video tutorial showing how to create this project from start to finish. I'm hoping you'll enjoy it. Watch it below or on my Youtube channel.
Like this video? Please give it a big thumbs up (you can do this on Youtube video page right under the video) and share it with a crafty friend! Leave me a comment too, I love hearing from you!
THINKING OF YOU ASIAN INSPIRED GREETING CARD
I started making my cards by adding washi tape to 1/4" on each edge of a 4 1/4 x 5 1/2" panel cut from Hero Arts Mist cardstock. I've placed the panel inside my MISTI tool and stamped a gorgeous new Waves & Clouds Bold Prints background from Hero Arts in detail white embossing powder.
Next, I carefully removed the tape and heat set the powder to melt it. Next, I did some stamping using images from the main kit for March 2020. I stamped the tree trunk in Hero Arts Soft Brown to Cup of Joe ombre ink on white paper and cut the image out using a coordinating die.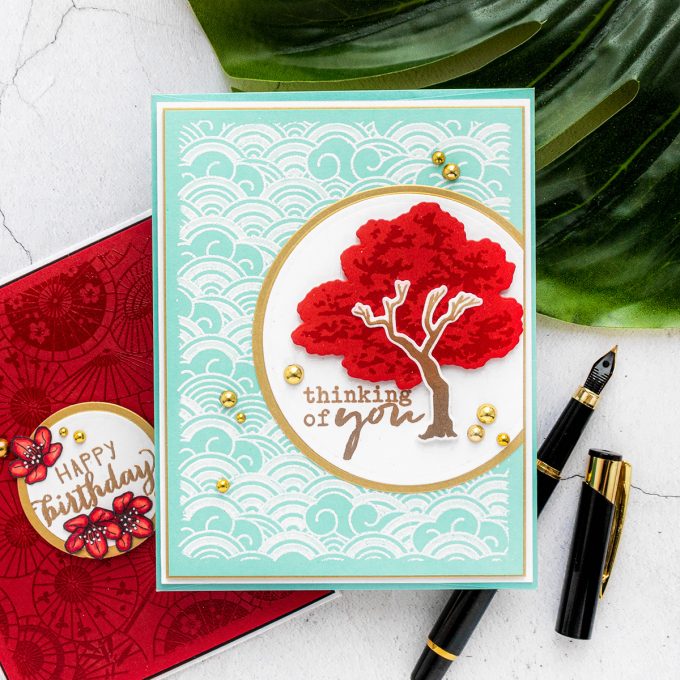 Asian culture has a lot of red and so I knew I wanted to add some red to my card to emphasize that. I decided to stamp the tree on red cardstock in red ink for a tone on tone look. I did try stamping it in red ink on white paper, but the effect wasn't quite as striking, so I ended up using just the detail layer from this layering image, stamping it in Red Royal ink on Cranberry cardstock and cutting it out with a coordinating die.
I trimmed my panel down to about 4 x 5 1/4" and mounted it on gold cardstock and then from mounted both panels on to an A2 white side folding card base. I die cut circles from Hero Arts Dove White cardstock and also another slightly large circle from FSJ Brush Gold and stamped a sentiment that reads Thinking of You in Hero Arts Brown ombre ink onto the white circle. I've panned the sentiment placement so that I'll have the tree off to the right side of the message.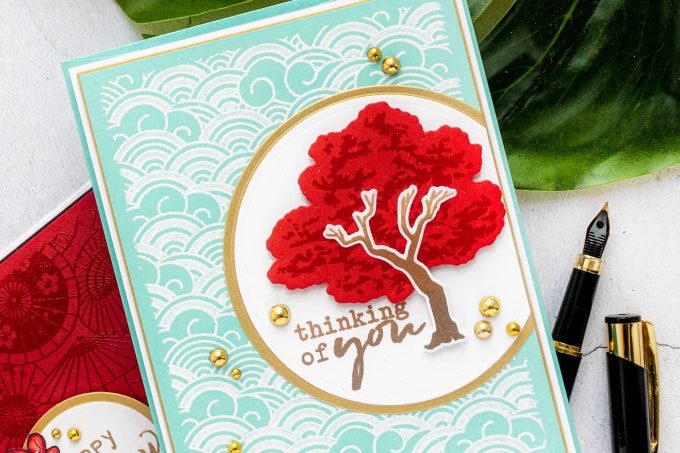 I adhered everything in place and used foam adhesive to foam mount the tree. And I love that I picked colored cardstock instead of white for the tree crown.  I also added a number of gold dots to embellish this card – these are some of my favorite embellishments to use lately.
I went ahead and used my Jane Davenport Story Time Paint pen, the smaller one and colored the could. I typically like to use my Sakura pens for this, but the Jane Davenport pen is wider and thus makes it easier to color larger areas faster. I love how this card turned out, especially the background and of course that big old tree.
HAPPY BIRTHDAY ASIAN INSPIRED GREETING CARD
My 2nd card features a similar idea – I used a piece of Cranberry cardstock, cut to 4 1/4 x 5 /14", I taped 1/4" off each side to mask the edges, and clear heat embossed Parasol Pattern Bold Prints background.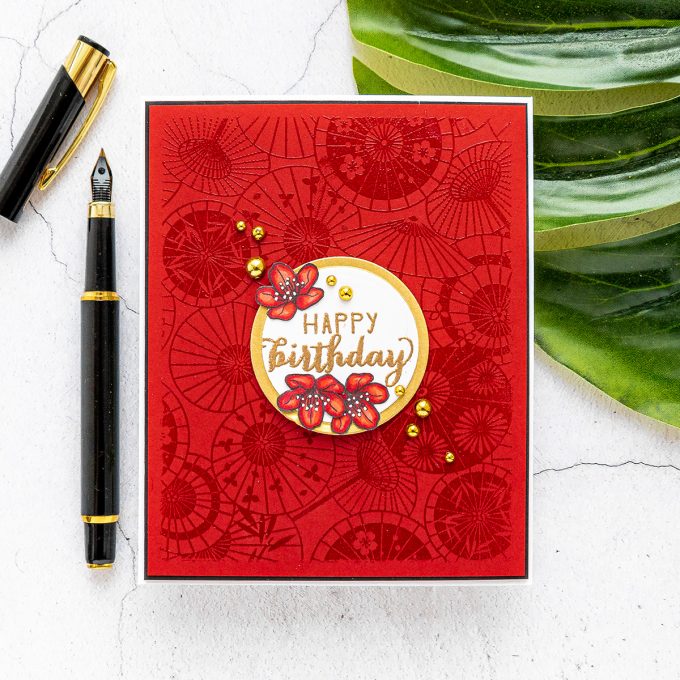 Next, I stamped several flowers from then new Tranquility stamp set in Hero Arts Intense Black ink on white cardstock and colored those using my Copics. I used R89, R24 and R22 colors as well as a white pen to bring back those flower center details. I used scissors to cut these images out and I cut them right up to the edge.
I heat embossed Happy Birthday sentiment from the same Tranquility stamp set in Brass embossing powder, cut it out using a circle die, die-cut another circle, slightly larger from Brush Gold cardstock from FSJ and foam mounted onto my background which was trimmed to 4 x 5 1/4" and adhered to a black cardstock mat. I adhered the flowers onto the circle and added several fashion gold embellishments to top this card off.
MAY YOUR DREAMS BLOSSOM ASIAN INSPIRED GREETING CARD
My last card for today is a smaller 4 1"4 square one. I started by stamping cherry blossom image from the Dreams Will Blossom stamp set in clear embossing ink on white cardstock in the two opposite corners and embossing the image in Brass embossing powder. I love the color of this powder on white cardstock. Next, I colored the blossoms using my Copic markers. I used YG01, YG03, G94, and G99 markers to color the leaves green; to color the flowers I used R89, R27, R24, and R22 markers.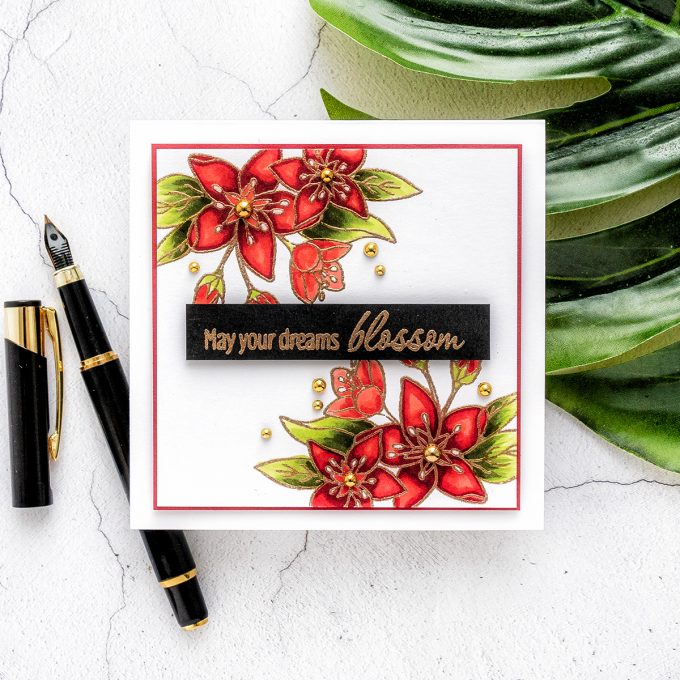 I adhered the panel onto a red mat cut from Cranberry cardstock and foam mounted it onto a 4 1/4 " square white card base. Next, I added a sentiment that reads May Your Dreams blossoms – it was heat embossed in the same Brass embossing powder on black cardstock and cut to a thin strip. I also embellished this card using the same Fashion Gold dots.
I had fabulous time designing and making these cards. The March 2020 kit and add ons from Hero Arts is simply amazing for creating Asian inspired projects and I hope you'll check it out.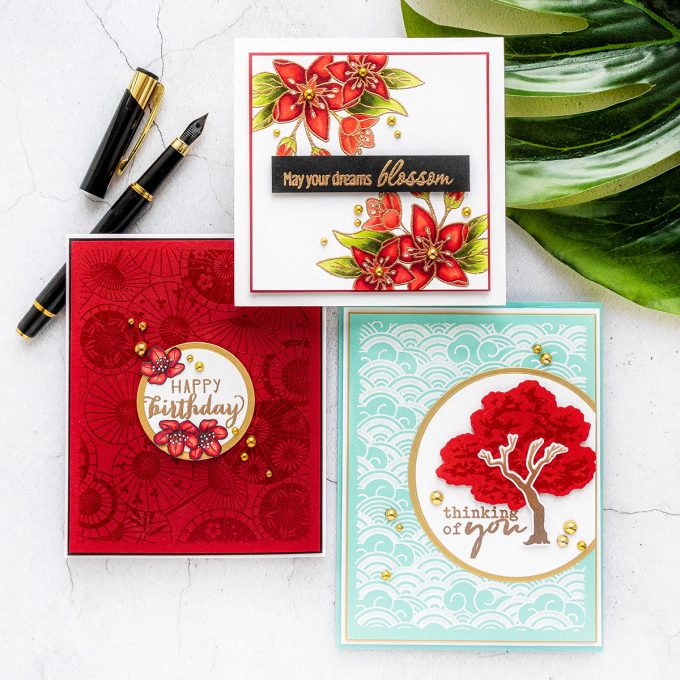 HERO ARTS MY MONTHLY HERO KIT & ADD-ONS

My Monthly Hero Kit March 2020
Shop at:
HA

AF458 Hero Hues Rose Quartz Pigment Pad
Shop at:
HA

CG806 Waves and Clouds Bold Prints
Shop at:
HA

CG807 Koi Pond Bold Prints
Shop at:
HA

CG808 Parasol Pattern Bold Prints
Shop at:
HA

CM441 Dreams Will Blossom
Shop at:
HA

DI750 Dreams Will Blossom Frame Cuts (C)
Shop at:
HA

CM442 Tranquility
Shop at:
HA

CM443 Kittens in Kimonos
Shop at:
HA

DI751 Kittens in Kimonos Frame Cuts (C)
Shop at:
HA

CM445 Soy Awesome
Shop at:
HA

DI752 Soy Awesome Frame Cuts (D)
Shop at:
HA

CM446 Zen Messages
Shop at:
HA

DI748 Cherry Blossom Fancy Dies (C)
Shop at:
HA

DI749 March Word Fancy Die (C)
Shop at:
HA

K6430 Flame Dragon
Shop at:
HA
The main kit is available for a limited time only – once it's gone, it's gone. You can subscribe to receive the kit monthly and never miss one! Add-ons may temporarily become unavailable, but they will be restocked.
PLEASE NOTE: For this month only (due to production delays) we will begin shipping the kit on March 16th, and will continue throughout the next week.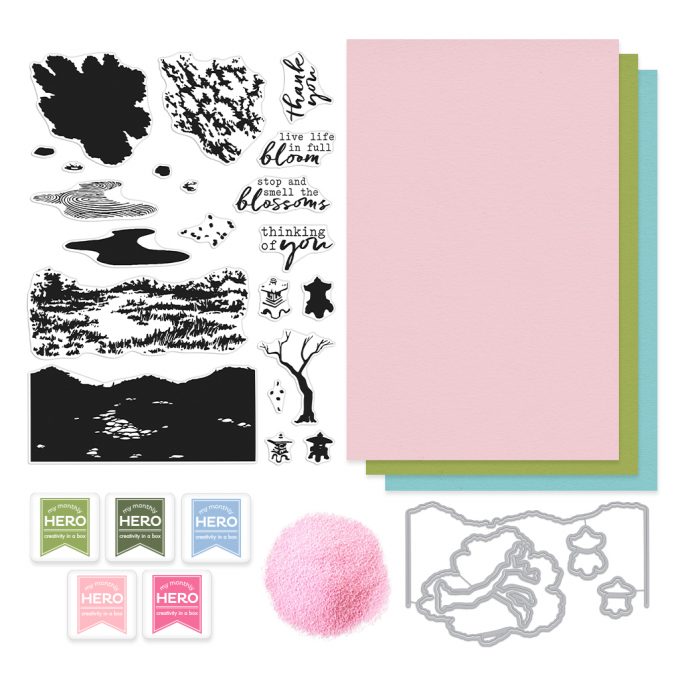 BLOG HOP
Hero Arts
Michelle Short
Jessica Frost-Ballas
Caly Person
Channin Pelletier
Debi Adams
Emily Midgett
Ilina Crouse
Janette Kausen
Yana Smakula – you are here
Daniel West
Jennifer McGuire
Nichol Spohr
Laurie Willison
Lydia Fiedler
Julee Tilman
Mariana Grigsby
Amy Kolling
Maria Willis
Seeka
GIVEAWAY
Hero Arts is giving away one $50 gift card to one lucky commenter, picked randomly from comments left across the hop. Enter by Sunday, March 8th at 11:59 pm pacific, and the winner will be announced on the Hero Arts blog the following week.
SUPPLIES
I'm listing the products I used below. Click on the link to go directly to the product. Where available I use compensated affiliate links which means if you make a purchase I receive a small commission at no extra cost to you. Thank you so much for your support!

My Monthly Hero Kit March 2020
Shop at:
HA

Hero Arts Waves and Clouds Bold Prints
Shop at:
HA

Hero Arts Parasol Pattern Bold Prints
Shop at:
HA

Hero Arts Dreams Will Blossom
Shop at:
HA

Hero Arts Dreams Will Blossom Frame Cuts (C)
Shop at:
HA

Hero Arts Tranquility
Shop at:
HA

Hero Arts Ink Pad Intense Black Ink
Shop at:
SSS | SC | HA | AZ

Hero Hues Premium Cardstock Cranberry
Shop at:
SSS | SC | HA | AZ

Hero Hues Premium Cardstock Mist
Shop at:
SSS | SC | HA | AZ

Hero Arts Hero Hues Cardstock Dove White
Shop at:
SSS | SC | HA

Journey Brush Gold Cardstock
Shop at:
SB

Simon Says Stamp Black Cardstock
Shop at:
SSS

Hero Arts Clear Embossing & Watermark Ink
Shop at:
SSS | SC | HA | AZ

Misti Stamping Tool
Shop at:
SSS | SC | HA | PPP | AZ

Hero Arts Clear Embossing Powder
Shop at:
SSS | SC | HA | AZ

Hero Arts White Detail Embossing Powder
Shop at:
SSS | SC | HA | AZ

Hero Arts Brass Embossing Powder
Shop at:
SSS | SC | HA | AZ

Spellbinders Jane Davenport Snow Queen Story Time Paint Pen
Shop at:
SSS | SB

EK Success Powder Tool Applicator
Shop at:
SSS | SC | AZ

Hero Arts Red Royal Ink Pad
Shop at:
SSS | SC | HA | AZ

Hero Arts Ombre Sand to Chocolate Brown Ink Pad
Shop at:
SSS | SC | HA | AZ

Hero Arts Heat Embossing Gun
Shop at:
SSS | SC | HA | AZ

Copic Sketch Marker R22 Light Prawn
Shop at:
SSS | AZ

Copic Sketch Marker R24 Prawn
Shop at:
SSS | AZ

Copic Sketch Marker R27 Cadmium Red
Shop at:
SSS | AZ

Copic Sketch Marker R89 Dark Red
Shop at:
SSS

Copic Sketch Marker YG01 Green Bice
Shop at:
SSS

Copic Sketch Marker YG03 Yellow Green
Shop at:
SSS | AZ

Copic Sketch Marker G94 Grayish Olive
Shop at:
SSS | AZ

Copic Sketch Marker G99 Olive Green
Shop at:
SSS

White Fun Foam 12 Pack 9 x 12
Shop at:
SSS | AZ

Simon Says Stamp Craft Tacky Glue
Shop at:
SSS

FSJ Details Pro Shears
Shop at:
SC | SB

FSJ Fashion Gold Embellishments
Shop at:
SC | SB

White Foam Squares
Shop at:
SSS | SC | SB | AZ

Spellbinders Deep Sea Die Cutting Machine
Shop at:
SSS | SC | SB | AZ

Sakura Classic White Gelly Roll Pens Set of 3
Shop at:
SSS | AZ