Hello friends! In this video, I have 5 card ideas to share with the new Spellbinders Beautiful Wreaths collection designed by Suzanne Hue. This is a new influencer collection, a debut collection from Suzanne, and is fabulous! There are other influencer collections this month, one from Nichol Shopr called Merry Mug & Circle Delights, and one from Justine Dvorak called Game Day, I hope to come back to those and share some card ideas using them.
This video is all about using Suzanne's Wreath collection to create beautiful wreath cards. There are 5 products, a main die set called Build-a-wreath includes basic elements you need to create your wreath – several branch options, some small, some large, depending on the size of the wreath you want to make, you also have a die to create a bow and dies to create flowers. This is a basic wreath set, you'll want to get this one to be able to create the wreaths for your cards. The other 4 sets are seasonal add-ons. There's a bundle available if you want to get all of these and save.
VIDEO TUTORIAL
Watch the video below or on my Youtube channel.
CARD DETAILS
Let's start with the everyday card – I made this one using the Garden Wreath add-on set, and I embossed Wild Berry cardstock panel using Floral & Vine 3D Embossing Folder, added Simon Says Stamp Cherry ink blending around the edges.
The sentiment is a BetterPress one and comes from the Always & Forever set.
Next, I have 2 Halloween cards – I first foiled backgrounds in Black Opaque foil on Spellbinders Indigo and Simon Says Stamp Soft Navy cardstock. I used the Spellbinders BetterPress plates to create these backgrounds and I foiled them. The black foil that I used is opaque, it has no shine, so you probably could have used black ink and simply betterpressed these images and you would have had the same result. There is a shiny black foil you can use if you want to have a shiny effect on your paper.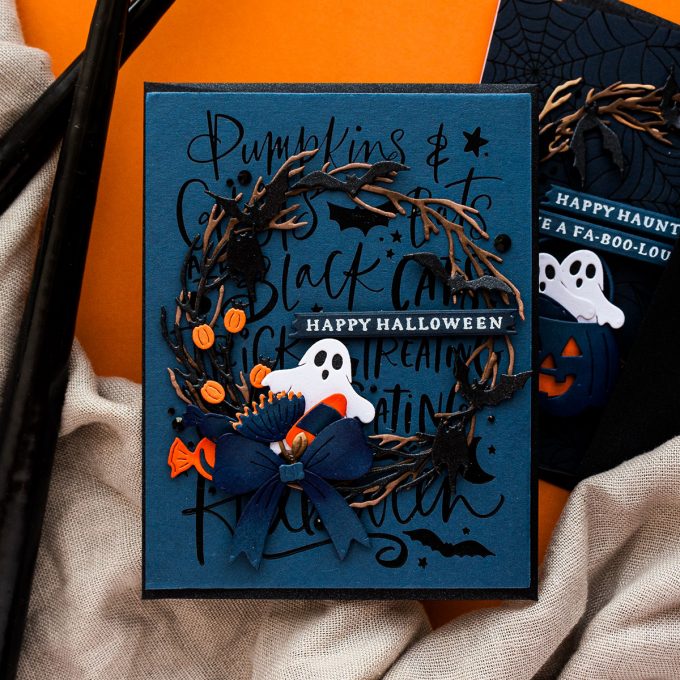 The background was made using Pumpkins and Ghosts plate. The sentiment was foiled in Opaque White foil and comes from the Halloween Icons BetterPress set.
This next card is similar but features a different background and the wreath is decorated using other die cuts: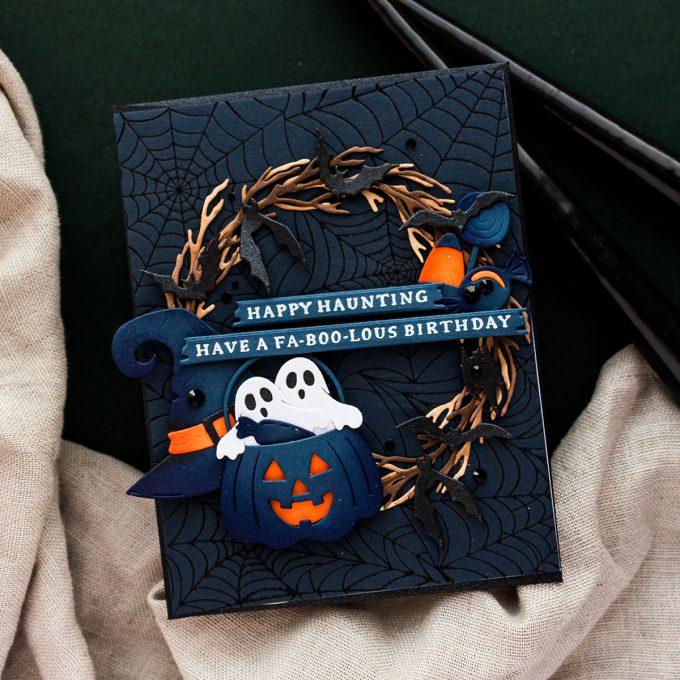 A spiderweb background plate was used to make a background for this card. I also added a lot of ink blending to the die cuts using Simon Says Stamp Royal and Pucker inks.
Next, I have 2 Christmas cards and I feel like these are my favorite to date! I was inspired by Dawn Woleslagle to try and do a bit of mixed media and I added a ton of white paint splatter and some faux snow onto the wreath to set the snowy winter mood: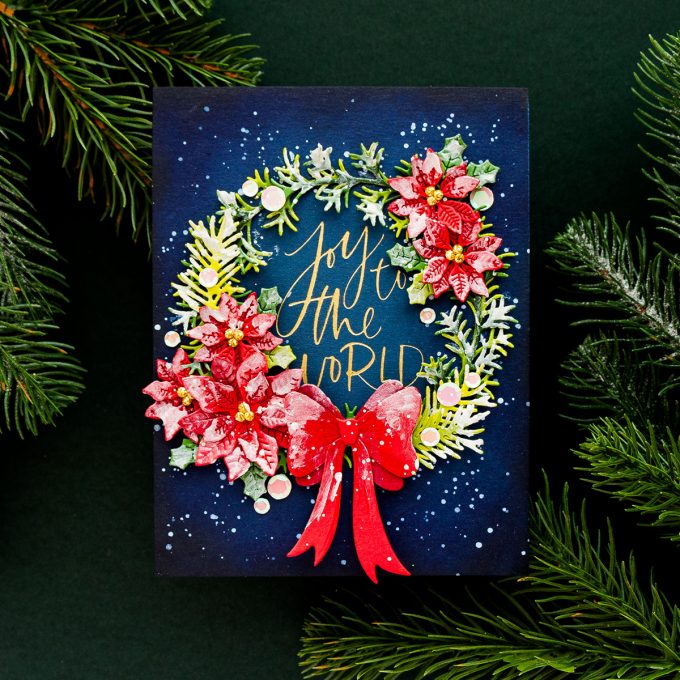 I used the All is Calm All is Bright BetterPress plate for my 2nd Christmas card and foiled it in Matte Gold foil. I paired it with a skinny strip sentiment from the Merry & Bright set: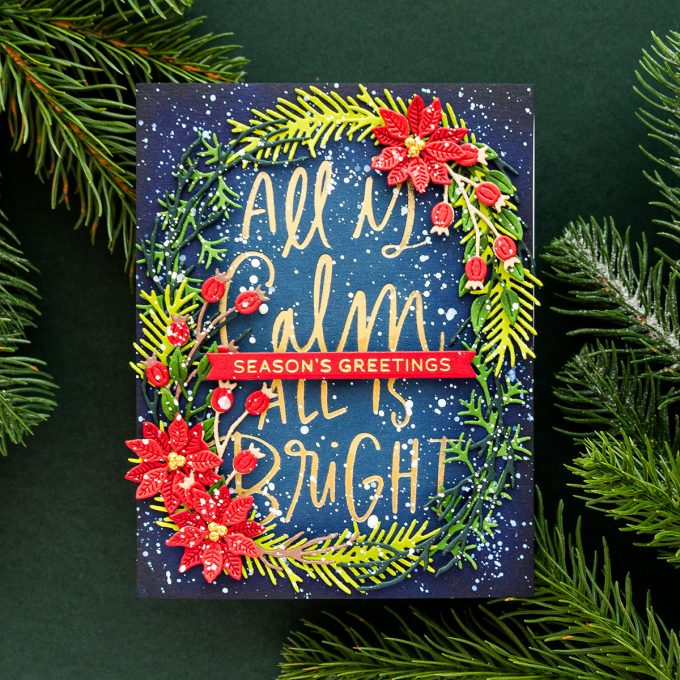 I hope you feel inspired to create! Have fun crafting!
SUPPLIES
I'm listing the products I used below. Click on the link to go directly to the product. Where available I use compensated affiliate links which means if you make a purchase I receive a small commission at no extra cost to you. Thank you so much for your support!

Beautiful Wreaths I Want It All! Bundle by Suzanne Hue
Shop at:
SB USA | SB UK

Spellbinders Build-a-wreath Etched Dies
Shop at:
SSS | SC | SB USA | SB UK

Spellbinders Christmas Wreath Add-ons Etched Dies
Shop at:
SSS | SC | SB USA | SB UK

Spellbinders Halloween Wreath Add-ons Etched Dies
Shop at:
SSS | SC | SB USA | SB UK

Spellbinders Birthday Wreath Add-ons Etched Dies
Shop at:
SSS | SC | SB USA | SB UK

Spellbinders Garden Wreath Add-ons Etched Dies
Shop at:
SSS | SC | SB USA | SB UK

Spellbinders Pumpkins & Ghosts Background Press Plates
Shop at:
SSS | SC | SB USA | SB UK

Spellbinders Halloween Icons Press Plate & Die Set
Shop at:
SSS | SC | SB USA | SB UK

Spellbinders Spider Web Background Press Plate
Shop at:
SSS | SC | SB USA | SB UK

Spellbinders Merry & Bright Sentiment Strips Press Plate & Die Set
Shop at:
SSS | SC | SB USA | SB UK

Spellbinders Exclusive: Holiday Foliage Joy Press Plate
Shop at:
SB USA | SB UK

Spellbinders Always and Forever Sentiment Strips Press Plate & Die Set
Shop at:
SSS | SC | SB USA | SB UK

Spellbinders All is Calm Press Plate
Shop at:
SSS | SC | SB USA | SB UK

Spellbinders Floral & Vine 3d Embossing Folder
Shop at:
SSS | SC | SB USA | SB UK

Spellbinders Glimmer Hot Foil 2 Rolls – Opaque Black & White Pack
Shop at:
SSS | SC | SB USA | SB UK

Spellbinders Betterpress Letterpress System
Shop at:
SSS | SC | SB USA | SB UK

Simon Says Stamp Soft Navy Cardstock
Shop at:
SSS

Spellbinders Brushed Black Cardstock
Shop at:
SC | SB USA | SB UK

Spellbinders Brushed White Cardstock
Shop at:
SC | SB USA | SB UK

Spellbinders Poppy Field Color Essentials Cardstock
Shop at:
SC | SB USA | SB UK

Spellbinders Wild Berry Color Essentials Cardstock
Shop at:
SC | SB USA | SB UK

Spellbinders Indigo Color Essentials Cardstock
Shop at:
SB USA

Spellbinders Pomegranate Color Essentials Cardstock
Shop at:
SB USA | SB UK

Spellbinders Latte Color Essentials Cardstock 8.5 X 11"
Shop at:
SB USA | SB UK

Spellbinders Dune Color Essentials Cardstock
Shop at:
SB USA

Spellbinders Peridot Color Essentials Cardstock
Shop at:
SC | SB USA | SB UK

Spellbinders Rainforest Color Essentials Cardstock
Shop at:
SC | SB USA | SB UK

Spellbinders Forest Color Essential Cardstock
Shop at:
SB USA

Spellbinders Pop-up Die Cutting Glitter Foam Sheets – Gold
Shop at:
SC | SB USA | SB UK

Spellbinders Porcelain Betterpress A2 Cotton Card Panels – 25 Pack
Shop at:
SSS | SC | SB USA | SB UK

Simon Says Stamp Pawsitively Saturated Ink Pad Pucker
Shop at:
SSS

Simon Says Stamp Pawsitively Saturated Ink Pad Cherry
Shop at:
SSS

Simon Says Stamp Pawsitively Saturated Ink Pad Royal
Shop at:
SSS

Simon Says Stamp Pawsitively Saturated Ink Pad Latte
Shop at:
SSS

Tsukineko Versafine Onyx Black Ink
Shop at:
SSS | SC | AMZ

Stardust Butter Pearl White 1.7 Ox/50 Ml
Shop at:
SB USA

Spellbinders New & Improved Platinum Machine With Universal Plate System
Shop at:
SSS | SC | SB USA | SB UK | AMZ

Spellbinders Platinum 6 Die Cutting Machine
Shop at:
SSS | SC | SB USA | SB UK | AMZ

Spellbinders New & Improved Platinum 6 Machine With Universal Plate System
Shop at:
SSS | SC | SB USA | SB UK

Spellbinders Replacement Betterpress Platen
Shop at:
SSS | SB USA

Spellbinders Replacement Betterpress Chase Magnetic Insert
Shop at:
SSS | SB USA

Spellbinders Aura Opalescent Color Essentials Sequins
Shop at:
SSS | SC | SB USA | SB UK

Bearly Art Mini Precision Craft Glue
Shop at:
SSS | SB USA | AMZ

White Foam Squares
Shop at:
SSS | SC | SB USA | AMZ

Simon Says Stamp Blending Brush Set Large
Shop at:
SSS

Spellbinders Mini Blending Brushes – 3 Pack
Shop at:
SSS | SB USA | SB UK

Spellbinders Blending Brushes
Shop at:
SC | SB USA