Hello everyone! Today I am sharing Christmas card ideas with the Spellbinders Merry & Bright products. This is a small collection consisting of only 4 products. I wanted to start by mentioning my favorite die set, but honestly, they are all great and they all have a bit of charm to them so I can't pick a favorite.
Like this project? Pin it and save it for later | Curious about my project photography? Click for details. 
Let's start with the Merry & Bright dies. This set is designed to give you a tree shape made from letters. These letters and the font might seem familiar, because is the same font used for the Be Bold Alphabet die set from several years ago, in fact, you might even think that these dies are identical, but there is a difference in size, the new Merry Die is a bit bigger. If you have the Be Bold Alphabet dies, you can use them to re-create the cards I'm sharing today, your tree is just going to end up a bit smaller and there is no ampersand in the Be Bold die set, so you'll need to figure something else out to replace it.
VIDEO TUTORIAL
Watch the video below or on my Youtube channel.
CARD DETAILS
The idea I had for these cards featured a die-cut tree, a die sentiment, and a foiled sub-sentiment at the bottom of my panel. I used Spellbinders Forest cardstock, which was cut to 4 1/4 x 5 1/2″,  and sentiments from my De-Light-full Christmas collection to foil an additional sentiment in Opal foil for each of my cards.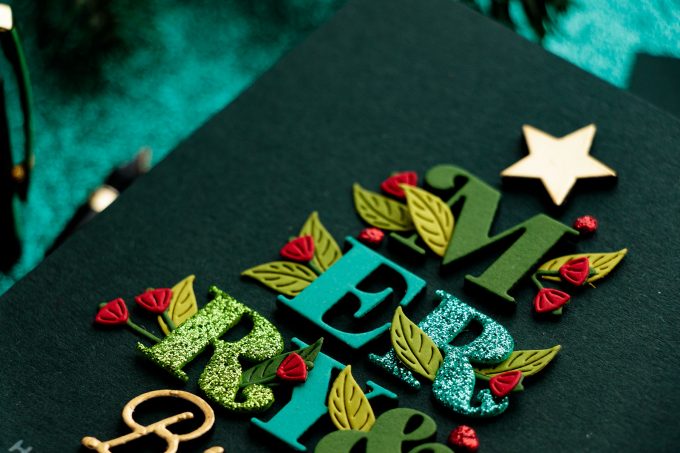 I cut the Merry die several times from different colors of cardstock and glitter foam to have a different color for my letters. I cut one from Mirror Gold cardstock, as I especially wanted the star at the top of the tree to be gold, a layer from the shimmering tropics glitter foam sheets – there's a teal foam and a green foam and I die cut both, a layer from Fern cardstock and a layer from Teal Topaz cardstock. Additionally, I cut a layer from black fun foam to use for the cardstock letters to pop them up on the card.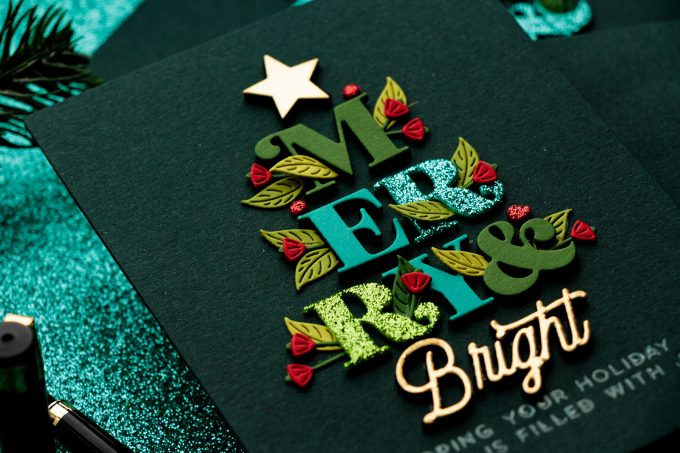 Next, I die-cut and assembled tiny flowers using the Pettite Blooms and sentiments set from this collection and I also die-cut leaves from all sorts of green cardstock, I really wanted to embellish each letter with a flower or two and add some leaves. This is a very popular look and something I've been wanting to do for a long time. I also die-cut the word Bright from Gold Mirror cardstock and black fun foam.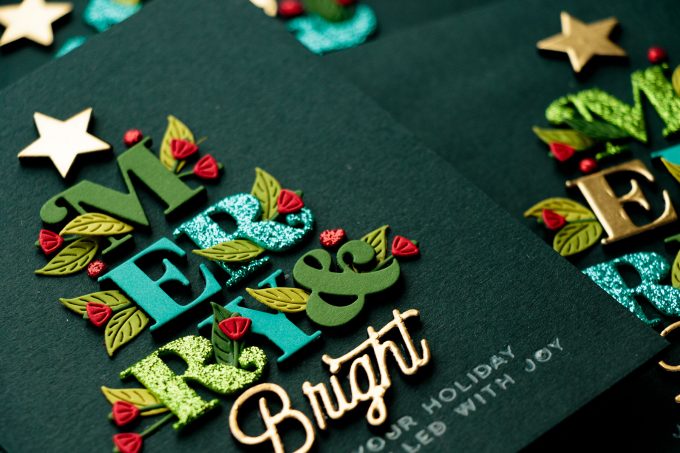 Next, I wanted to use the Bow die to make shaped Christmas cards. This bow is an all occasion bow. I wanted to make shaped cards, and I didn't want to put this bow on any background, I wanted it to stand on its own, so I die-cut 2 identical bows from the same dark green cardstock and I used my scoring board on one bow to score a line about 1/4″ from the top – this created flaps for me to add adhesive and glue the 2 bows together to create a shaped card base.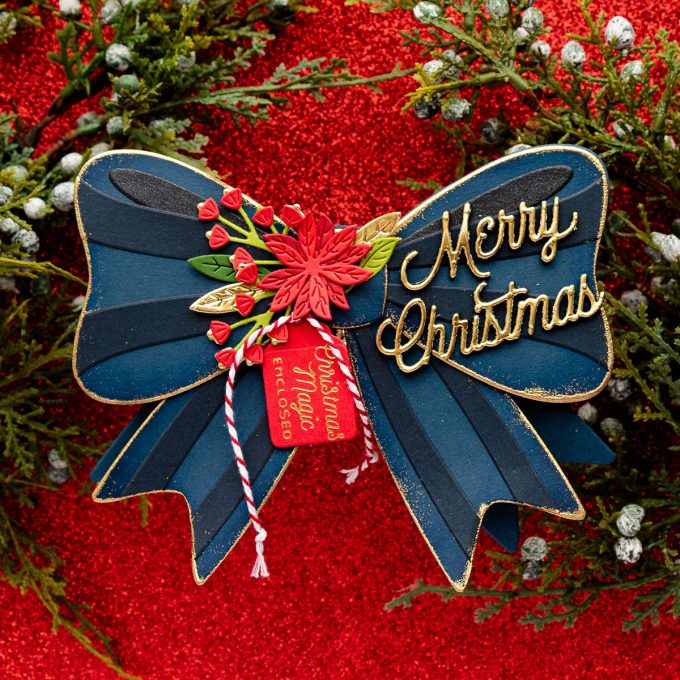 If you want a striped bow, die-cut the stripes from the darker blue. Use the indentations to help align and position the stripe pieces and shadow pieces.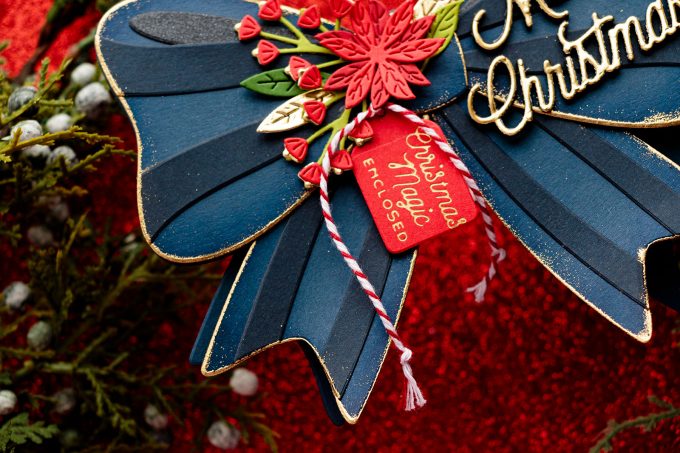 Next, I wanted to add gold around the edge of the ribbon that makes this bow, so I used my clear embossing ink pad and rubbed it around the edge of the die cut. I added some gold embossing powder onto a piece of paper and dipped the die cut into the gold powder to add some to the edge. I love this trick and I love the result this gives. I used my heat tool and heat set the powder to melt it. See this creates the look of gold edge ribbon.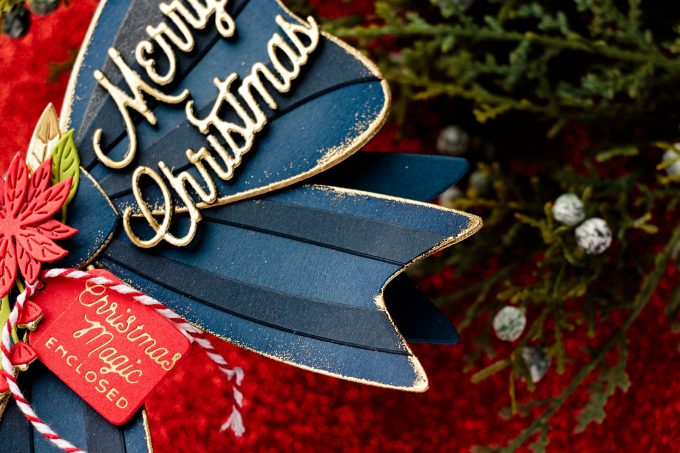 Next, I assembled the flowers to decorate my bow. I also foiled a tiny tag and added a bit of red and white twine from Vivant. The sentiment for the tag comes from an older set called Christmas Magic.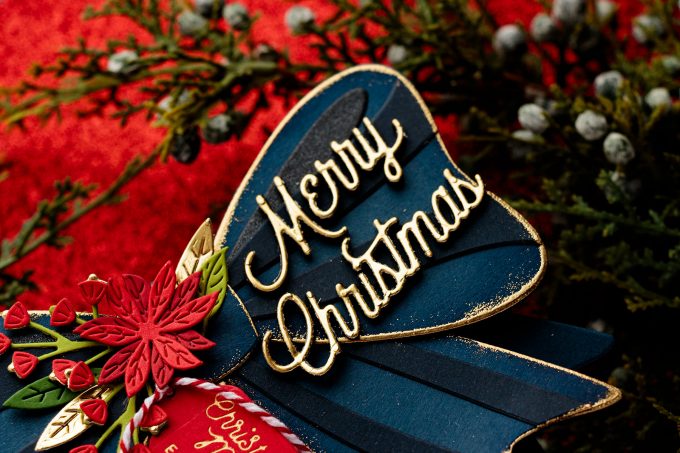 So here's a look at the cards I have for you today made with the Merry & Bright collection from Spellbinders! Have fun crafting!
SUPPLIES
I'm listing the products I used below. Click on the link to go directly to the product. Where available I use compensated affiliate links which means if you make a purchase I receive a small commission at no extra cost to you. Thank you so much for your support!

Spellbinders Merry & Bright Etched Dies
Shop at:
SSS | SC | SB USA | SB UK

Spellbinders All Occasion Bow Etched Dies
Shop at:
SSS | SC | SB USA | SB UK

Spellbinders Petite Blooms and Sentiments
Shop at:
SSS | SC | SB USA | SB UK

Spellbinders Peppermint Stripes Embossing Folder
Shop at:
SSS | SC | SB USA | SB UK

Spellbinders Be Bold Uppercase Alphabet Etched Dies
Shop at:
SSS | SC | SB USA | SB UK | AMZ

Spellbinders Mix & Match Holiday Greetings Etched Dies
Shop at:
SSS | SC | SB USA | SB UK

Spellbinders A Merry Little Christmas Sentiments Glimmer Hot Foil Plate & Die Set
Shop at:
SSS | SC | SB USA | SB UK

Spellbinders Christmas Magic Hot Foil Plates
Shop at:
SSS | SC | SB USA | SB UK

Spellbinders Glimmer Hot Foil System (Platinum)
Shop at:
SC | SB USA | SB UK

Spellbinders Glimmer Hot Foil System (Bronze)
Shop at:
SSS | SC | SB USA | SB UK | AMZ

Spellbinders New & Improved Platinum 6 Machine With Universal Plate System
Shop at:
SSS | SC | SB USA | SB UK

Spellbinders New & Improved Platinum Machine With Universal Plate System
Shop at:
SSS | SC | SB USA | SB UK | AMZ

Spellbinders Pop-up Die Cutting Glitter Foam Sheets – Red & Green
Shop at:
SSS | SC | SB USA | SB UK

Spellbinders Pop-up Die Cutting Glitter Foam Sheets- Shimmering Tropics
Shop at:
SSS | SC | SB USA | SB UK

Spellbinders Detail Tweezers
Shop at:
SSS | SC | SB USA | SB UK | AMZ

Spellbinders Glimmer Hot Foil Roll – Opal
Shop at:
SC | SB USA | AMZ

Spellbinders Brushed Black Cardstock
Shop at:
SC | SB USA | SB UK

Spellbinders Teal Topaz Color Essentials Cardstock
Shop at:
SC | SB USA

Simon Says Stamp Soft Navy Cardstock
Shop at:
SSS

Spellbinders Indigo Color Essentials Cardstock
Shop at:
SB USA

Spellbinders Poppy Field Color Essentials Cardstock
Shop at:
SC | SB USA | SB UK

Spellbinders Peridot Color Essentials Cardstock
Shop at:
SC | SB USA | SB UK

Spellbinders Rainforest Color Essentials Cardstock
Shop at:
SC | SB USA | SB UK

Spellbinders Fern Color Essentials Cardstock
Shop at:
SC | SB USA

Spellbinders Forest Color Essential Cardstock
Shop at:
SB USA

Spellbinders Mirror Gold Cardstock
Shop at:
SC | SB USA | SB UK

Fun Foam Sheets
Shop at:
SSS | SB USA | AMZ

Simon Says Stamp Pawsitively Saturated Ink Pad Royal
Shop at:
SSS

Spellbinders Gold Embossing Powder
Shop at:
SSS | SC | SB USA

Spellbinders Clear Embossing & Watermark Ink Pad
Shop at:
SSS | SC | SB USA

Vivant Red and White Cotton Twine – 54 Yards
Shop at:
SB USA

Simon Says Stamp Cardstock Gold Glitter
Shop at:
SSS

Wagner Precision Heat Tool
Shop at:
SSS

Spellbinders Best Ever Craft Tape 0.25″
Shop at:
SSS | SC | SB USA | SB UK

Spellbinders Best Ever Craft Tape
Shop at:
SSS | SC | SB USA | SB UK | AMZ

Spellbinders Best Ever Craft Tape 1.25″
Shop at:
SSS | SC | SB USA

Spellbinders 9″ Pro Shears
Shop at:
SSS | SC | SB USA | SB UK

Glassboard Studio True White Glass Craft Mat
Shop at:
GBS

Glassboard Studio Super Strong Magnets
Shop at:
GBS

Bearly Art Mini Precision Craft Glue
Shop at:
SSS | SB USA | AMZ

Spellbinders Blending Brushes
Shop at:
SC | SB USA