This post is also available in Українською мовою
Hello all! I have a new project to share – Mini Gratitude Album. I created this for Spellbinders blog & Youtube channel. At the start of November I felt like I wanted to have a place to write down what I am grateful for this year. I didn't have anything that would work for this idea, so instead I used some leftover supplies from my Gossamer Blue Kits and paired them with new Spellbinders Contour dies.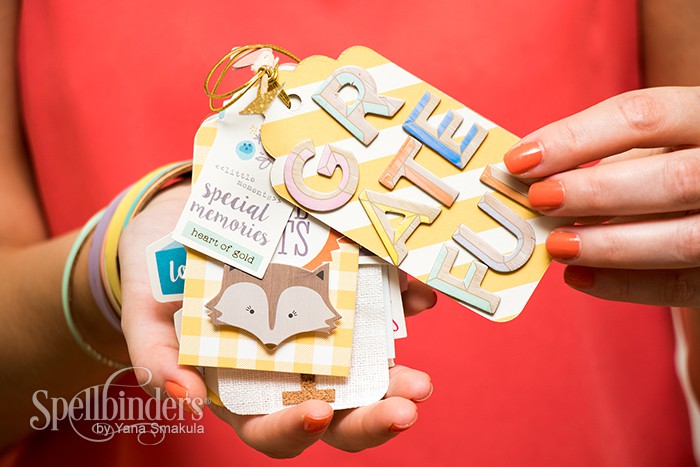 These are new thick dies that allow you to cut a bunch of stuff at once and they also let you cut thicker things like acetate, chipboard and other materials that the thin dies don't. I was very excited to try to cut some printed transparency sheets and also chipboard covered with patterned paper. It cut both of these no problem!
I created several tag-shaped pages for my mini album out of anything I could find – canvas, felt, papers bags, extra journaling cards etc. Instead of using a metal ring, I gathered all of the pages using gold thread and dressed up the pages using a few die cuts and added cork number stickers.
I'm sharing a quick video tutorial on my Youtube channel, you can also find it on Spellbinders channel.
Like this video? Please give it a thumbs up and share with crafty friends. Thank you!
Spellbinders Supplies: