Hello! Recently, I shared a video with a look at my new collection with Spellbinders called Anemone Blooms. I'm so glad and so thrilled to hear your feedback, you guys are loving it, and your kind words and encouraging comments make my heart happy.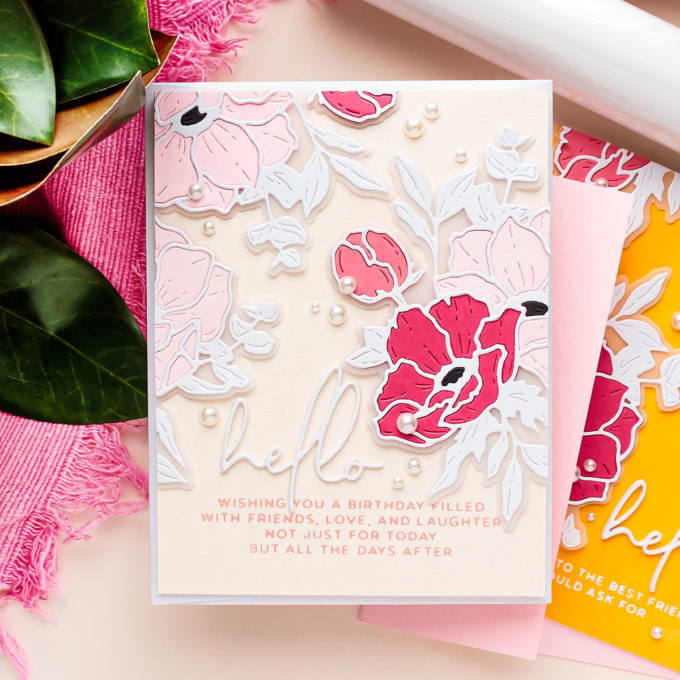 Like this project? Pin it and save for later | Curious about my project photography? Click for details. 
Today I thought I would share a card-making process and will show you how I use some of the Anemone Blooms products. These cards are inspired by Joan Bardee. I adore everything Joan makes, and I find her cards to be very inspiring. When I saw the projects she made using my Anemone Blooms (you can see her cards on the Spellbinders blog), my jaw dropped to the floor. They were absolutely amazing and so so full of color and life, I felt immediately inspired. So the cards I have for you today are very much inspired by Joan and her cards made using my collection.
VIDEO TUTORIAL
Watch the video below or on my Youtube channel.
CARDS DETAILS
I pick several sheets of colored cardstock to color anemones – Peony from Hero Arts, which is the lightest pink, next one is Pink Sand from Spellbinders, which is very similar in color to Cotton Candy from Simon Says Stamp, Dahlia from Spellbinders, and the last one is Wild Berry, also from Spellbinders. These will be used for the petals, meaning to add color to my anemones.
Next, I have a sheet of Simon Says Stamp Glossy cardstock. It is particularly good for foiling, but I love it for die cutting as well because it is very bright white and it has that beautiful glossy finish to it. It basically shines. It is not the best paper if you plan to add any sort of coloring to it, but it is beautiful when kept white. This cardstock will be used for the outlines of my anemones. And that's where the inspiration from Joan comes in, Joan used colored cardstock for the flower petals and white cardstock for the flower outline. In all of my previous cards, I used gold mirror cardstock, it looks amazing, but you get a very different style with gold. Using white gives you that beautiful simplicity. And lastly, I have several sheets of vellum, to create shadow pieces for my anemones.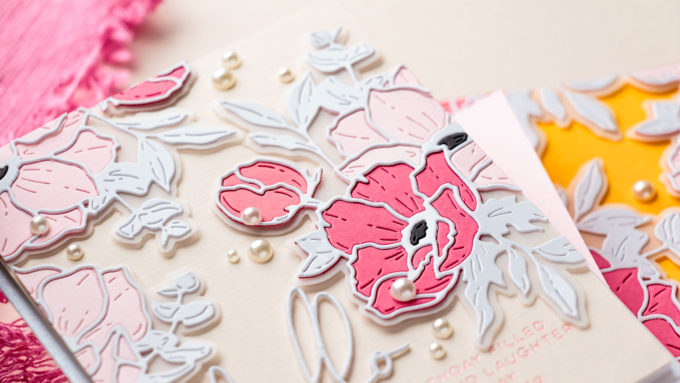 I die-cut the pieces in my Platinum 6 Die Cutting Machine and assembled them. I used different shades of pink for each cluster, creating multi-colored anemones.
You can also use completely different colors, not only shades of one color, to create different looks, think about using pink, yellow, coral together. Remember, anemones come in all sorts of colors, you can even make them black!
I also die-cut black flower centers and inlaid them into my anemones, this added a lot of much-needed contrast. With the anemone clusters created, I started creating the cards. I love to have multiple clusters on my cards, I love full-card floral backgrounds, so I decided to use 2 clusters on one card as that is the bare minimum you need to create the illusion of a full floral background. I used a panel of yellow, Spellbinders Saffron, and peach, Spellbinders Barely Peach, cardstock for the backgrounds of my 2 cards.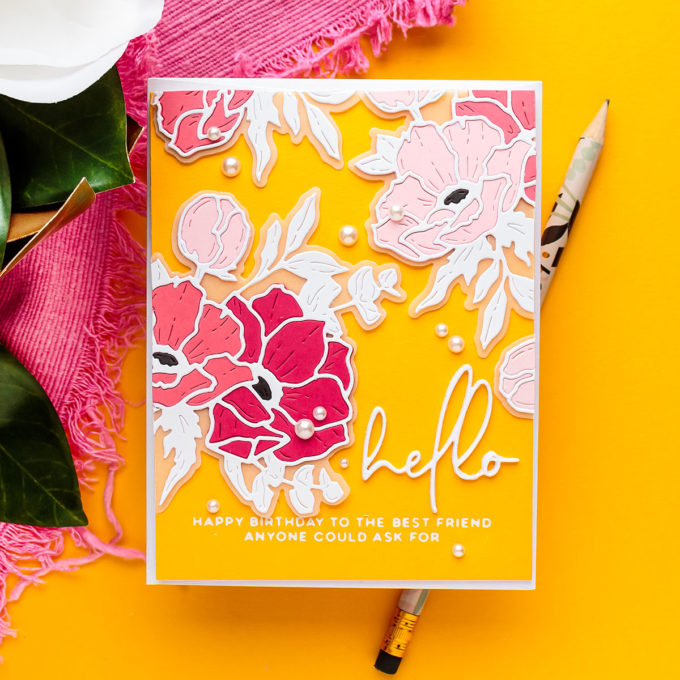 I foiled sentiment on both panels using the Inside Card sentiments from my Anemone Blooms collection. There are some snarky sentiments in there, but also some that are very sweet. I used the Opaque White foil for the yellow panel and new pastel pink foil for the peach panel.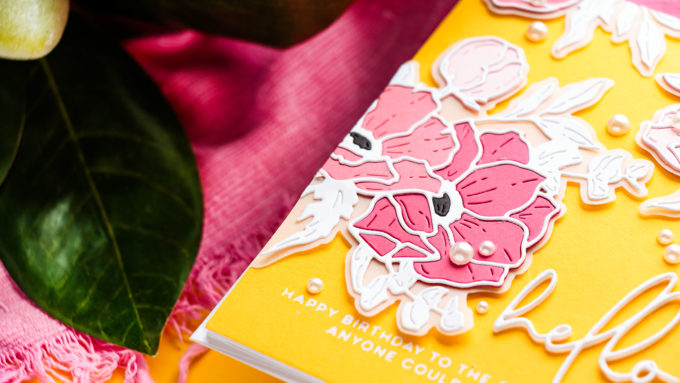 I adhered my foiled panels to A2 card bases. I also die-cut the word Hello from my Wonderful Script Sentiments set, I cut it from the same white glossy cardstock that I used for the white flower outlines and I also cut one layer from white pop-up foam die-cutting sheets from Spellbinders and adhered the 2 die cuts together to create dimension. Next, I adhered "Hello" above the foiled sentiment, but closer to the right-hand side of the card. I did the opposite side on the peach card. And next, I pulled out my thin foam adhesive squares and I used those to add dimension to my flower die cuts.
I finished my cards by adding Oyster white fashion dots – I scattered them around the background, I added some onto the flowers, and some onto the background and that helped fill the blank space and add some elegance and movement to my cards.
Have fun creating!
SUPPLIES
I'm listing the products I used below. Click on the link to go directly to the product. Where available I use compensated affiliate links which means if you make a purchase I receive a small commission at no extra cost to you. Thank you so much for your support!

Spellbinders Anemones Etched Dies
Shop at:
SSS | SC | SB USA | SB UK | ACOT

Spellbinders Wonderful Script Sentiments Dies
Shop at:
SSS | SC | SB USA | SB UK | ACOT

Spellbinders Hello, Friend Sentiments Glimmer Hot Foil Plate
Shop at:
SSS | SC | SB USA | SB UK

Spellbinders Inside Card Glimmer Sentiments Glimmer Hot Foil Plate
Shop at:
SSS | SC | SB USA | SB UK

New & Improved Platinum Machine With Universal Plate System
Shop at:
SSS | SC | SB USA | SB UK | AMZ

New & Improved Platinum Six Machine With Universal Plate System
Shop at:
SSS | SC | SB USA | SB UK

Glassboard Studio True White Glass Craft Mat | YANA20 for 20% Off
Shop at:
GBS

Spellbinders Glimmer Hot Foil System
Shop at:
SSS | SC | SB USA | SB UK | AMZ

Glimmer Hot Foil – Matte Gold
Shop at:
SSS | SC | SB USA | SB UK | AMZ

Spellbinders Tool 'n One – White
Shop at:
SSS | SC | SB USA | SB UK

Spellbinders A2 White Card Bases – Side Fold – 25 pack
Shop at:
SB USA

Spellbinders Wild Berry Color Essentials Cardstock
Shop at:
SC | SB USA

Spellbinders Dahlia Color Essentials Cardstock
Shop at:
SC | SB USA

Spellbinders White Foam Adhesive Squares Mix – 1mm
Shop at:
SC | SB USA

Spellbinders Glimmer Hot Foil 2 Rolls – Opaque Black & White Pack
Shop at:
SSS | SC | SB USA | SB UK

Spellbinders Barely Peach Color Essentials Cardstock
Shop at:
SB USA

Simon Says Stamp Great for Foiling Cardstock White Glossy
Shop at:
SSS

Spellbinders Vellum Sheets
Shop at:
SC | SB USA

Hero Arts Hero Hues Premium Cardstock Peony
Shop at:
SSS | SC | HA | AMZ

Spellbinders Glimmer Hot Foil Rolls Variety 4-pack Satin Pastels
Shop at:
SSS | SB USA

Spellbinders Saffron Color Essentials Cardstock
Shop at:
SB USA

Spellbinders Mirror Gold Cardstock
Shop at:
SC | SB USA

Spellbinders Fashion Oyster Color Essentials Pearl Dots
Shop at:
SSS | SC | SB USA | SB UK

Jewel Picker Tool
Shop at:
SSS | SC | SB USA | SB UK | AMZ

Fun Foam Sheets
Shop at:
SSS | SB USA | AMZ

Bearly Art Mini Precision Craft Glue
Shop at:
SSS | SB USA | AMZ

White Foam Squares
Shop at:
SSS | SC | SB USA | AMZ