Hello, crafters. Welcome back for another Yippee For Yana video! In this video, I'm stamping CAS birthday cards and sharing some tips along the way!
Like this project? Pin it and save for later | Curious about my project photography? Click for details. 
VIDEO TUTORIAL
Watch the video below or on my Youtube channel.
TIP #1 STAMP VERTICALLY!
Have you ever stamped your horizontal sentiments vertically? Try it. I used the "Hello" from the Clean Line XL stamp set by CZ, and also "a little birdie told me" from the Printmaking Birds set to create a sentiment for my card. Instead of stamping it the usual way, horizontally, I rotated it and stamped it vertically.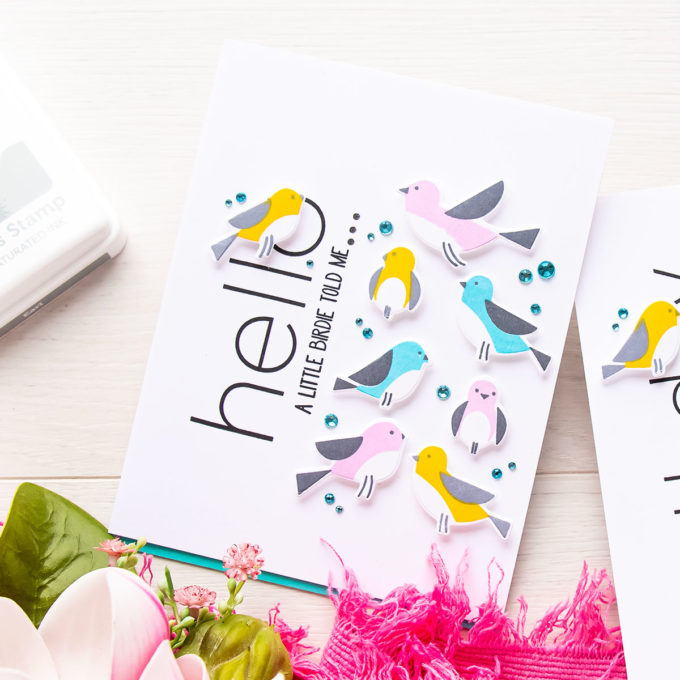 Changing the orientation of the image is a great way to draw attention to it and make an impact. Stamp the same image as intended, in this case, stamp this same sentiment horizontally on your card and it won't have nearly as impactful of a result as if you stamp it vertically.
Of course, not every image or design can be rotated like this, to draw attention, but many images can. Next time you plan to stamp a sentiment on your card, think about how you can position it vertically like this, or diagonally. Or maybe you can even stamp it as intended and add a mirror impression using the mirror stamping technique.
TIP #2 STAMPTORECTOMY OR CUT YOUR STAMPS APART
Don't be afraid to perform stamptorectomy, I just made that up btw. Cut your stamps apart to use just the part of the stamp. I cut the "Happy Birthday" to separate the words Happy and Birthday to be able to stamp just the Birthday part.
If you are new to stamp cutting, don't be alarmed! Just cut your stamp so you aren't cutting the actual stamping part of the sentiment, just the polymer in the background. This way you'll always be able to piece it back together later if you want to stamp it as intended.
TIP #3 SIZE MATTERS (AND SO DOES THE FONT)
I combined different fonts and dramatically different font sizes, and this worked well, particularly because of that difference in size. Look through your stash (or go shopping!) to find a sentiment set that uses a very large font size. The Clean Line XL is a great example. There are other oversized sentiment sets on the market, too.
Had my 2 sentiment stamps been similar in size, they would have made a much less dramatic impact on the card.
CARD PROCESS
I used the Printmaking Birds stamp set to stamp several birds for my card. I love this set for all the different ways one can use it. The birds have 4 layers. There is an outline layer that can be used alone or together with the other layers. If you use it alone, you can color the birds using markers or pencils. As for the various layers, I love to use just 2 of them – the one to add color to the body of the birds and one to stamp the wing, face, and feet. There is a layer to stamp the belly, but I usually skip it and keep the belly white.
I used Simon's Positively Saturated inks in Bubblegum, Citrine, and Surf to stamp the bird bodies. Next, I used Charcoal to stamp the feet, face, and wing on some birds and a lighter gray, Earl, to stamp the same image onto the yellow birds. You can also use black for this layer, and it does work well, but sometimes it looks too stark and too dramatic. So gray is a good alternative.
With this type of stamping the birds do look a bit incomplete or unfinished, but I think this is the beauty of this look. I like it. I prefer to skip the outline and skip adding the belly layer. There are coordinating dies available that will cut every single bird out.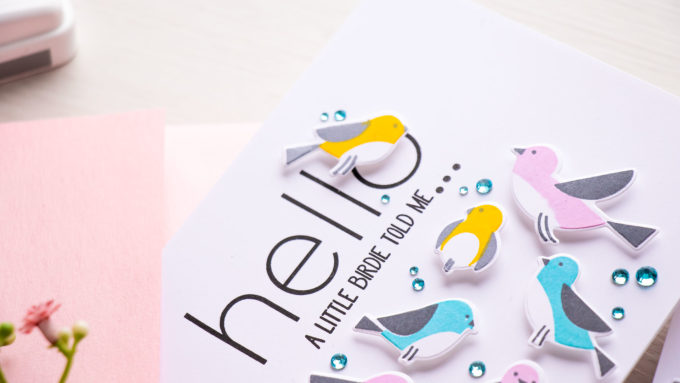 The plan for this card design was to add several colorful birds on the right-hand side of the panel, to the right of the sentiment. I also want to add one bird directly onto the large "Hello". I wanted to ground the birds and give them something to sit on, an illusion of a branch. And the letter "o" gave me just that. The bird sits on the "O" with the little feet touching the letter "L".
I also stamped 3 dots as if to continue the sentiment to the inside of the card. And it does continue, the inside says: "It's your birthday".
Next, I trimmed about 1/8" off each panel. Why did I do this? I wanted to bring a little bit of colored cardstock into this design. I didn't want to cover the entire card front with colored cardstock, that would have been too much. I adhered a strip of blue cardstock to the base of my card base and next, I adhered my bird panel on top revealing a bit of that blue at the bottom. I love this pop of color.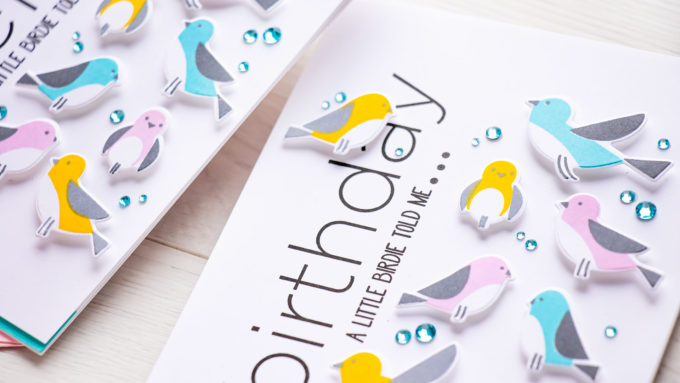 Finally, I embellished my cards using a couple of teal gems from Spellbinders – I added them mostly in between the large bird gaps. I often tend to go overboard with the number of embellishments I add to my cards, so feel free to stop after you've added just 3 or 5 gems or go crazy like I do and add a bunch!
Have fun stamping!
SUPPLIES
I'm listing the products I used below. Click on the link to go directly to the product. Where available I use compensated affiliate links which means if you make a purchase I receive a small commission at no extra cost to you. Thank you so much for your support!

Simon Says Stamps and Dies Printmaking Birds
Shop at:
SSS

Simon Says Clear Stamps Printmaking Birds
Shop at:
SSS

Simon Says Stamp Printmaking Birds Wafer Dies
Shop at:
SSS

CZ Design Clear Stamps Clean Line XL
Shop at:
SSS

Simon Says Stamp Pawsitively Saturated Ink Pad Citrine
Shop at:
SSS

Simon Says Stamp Pawsitively Saturated Ink Pad Bubblegum
Shop at:
SSS

Neenah 80lb Solar White Cardstock
Shop at:
SSS

Mini MISTI Stamping Tool
Shop at:
SSS

Simon Says Stamp Pawsitively Saturated Ink Pad Charcoal
Shop at:
SSS

Simon Says Stamp Pawsitively Saturated Ink Pad Earl
Shop at:
SSS

Simon Says Stamp Pawsitively Saturated Ink Pad Surf
Shop at:
SSS

Simon Says Stamp 2 Dot Runner Refills Adhesive
Shop at:
SSS

Simon Says Stamp Dot Runner and 2 Refills
Shop at:
SSS

Jewel Picker Tool
Shop at:
SSS

Bearly Art Mini Precision Craft Glue
Shop at:
SSS

White Foam Squares
Shop at:
SSS