Hello, all! Today I'd like to talk about ways we can stretch our holiday stamps and use them for other occasions. I have a lot of Christmas and Holiday-themed stamps and with the winter being almost over I don't want to put them away just yet, I want to keep using them for my everyday cards. Do you feel the same way?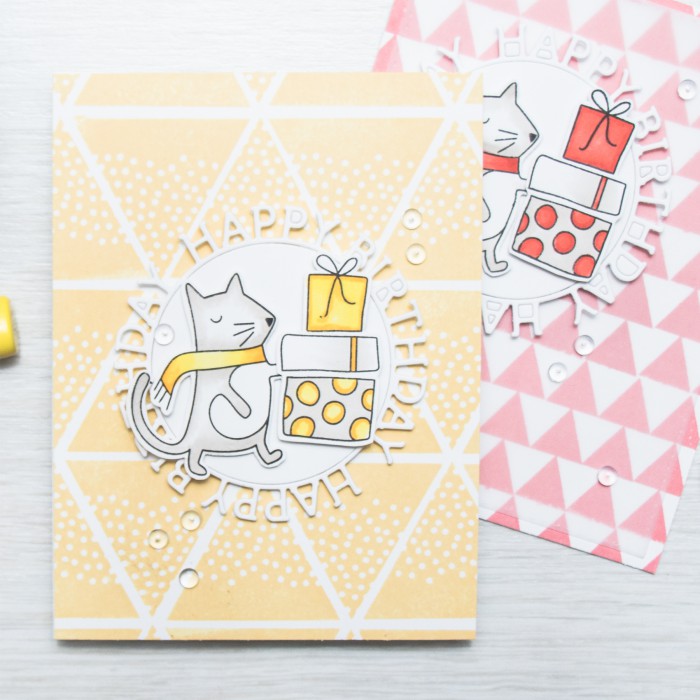 Like this project? Remember to pin it and save for later!
So in this blog post and video I'm sharing a rather simple way to stretch Holiday stamps beyond the holiday season and I'm using the Gifts of Love stamps set from Simon. First I'm using small random images (and even Christmas tree images!) and stamping them repeatedly to create a simple pattern for my cards. A clear block with grid lines is very helpful when stamping something like that.
The large yellow triangle pattern and the small red triangle pattern were both stamped using Christmas Tree images. I have two more pattern ideas in the video I'm sharing today.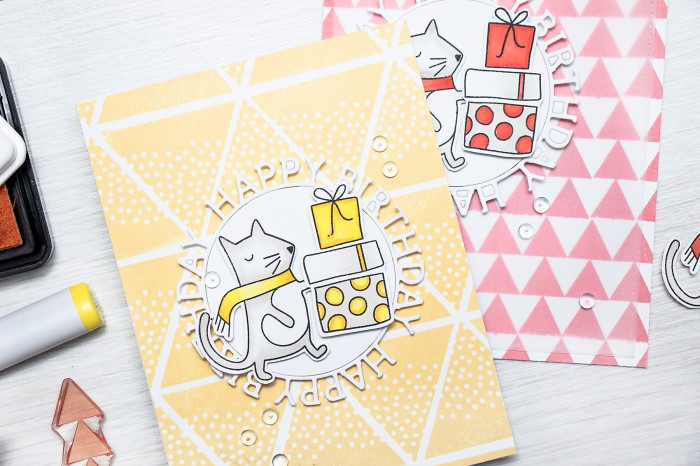 I love to create patterns like this. You can take almost any image, stamp it repeatedly and have a fun and unique pattern for your project. Using two or more colors of ink when stamping will allow to have a pattern paper type of look. The colors that I used to stamp my patterns are Duckling and Hollyhock (and I also used Mint for the pattern I'm sharing in the video).
I also used the critter from the Gifts Of Love stamp set, stamped him using Intense Black Ink (I even gave him a name, lol!) and colored using Copic Markers (I am not very good at this, but practice makes perfect, right?). The colors I used are W1, R22, R24, Y13 and Y17.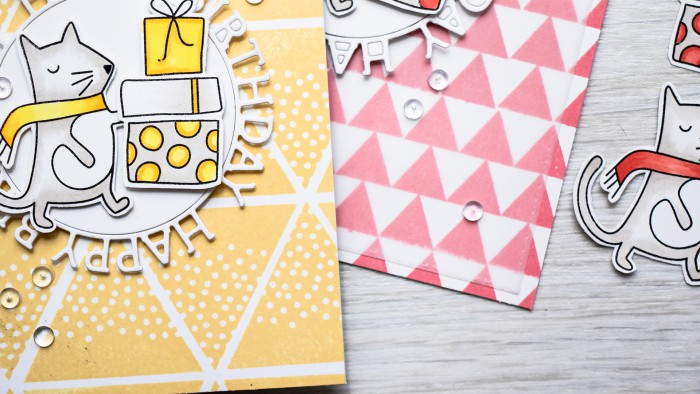 Instead of using a holiday sentiment I pulled out my Circle Birthday die and created a die cut to house my critter. I kept the inner circle in place to help spotlight the little guy and his gifts. I did add a layer of vellum in between the stamped pattern and the die cut on the second card as I felt the pattern was a bit too bold and distracting. Lastly I added a few clear drops from Pretty Pink Posh as these are my current favorite embellishments.
VIDEO
I filmed a video tutorial showing how to make these, you can watch it at the top of this post or below or on my Youtube channel. If you like it, I would appreciate you giving it a thumbs up and sharing. You can also pin it t Pinterest to watch later. Thank you!
SUPPLIES