Hello and welcome back for another Yippee For Yana video! One of the things I love to do the most when creating handmade cards is using my stamps in a nonconventional, nonintended way. I love to take images from several completely different sets and bring them together on a card in a way that they tell a story.
In this video, I'll show you how I pull images from various stamp sets in my stash to create a unique card.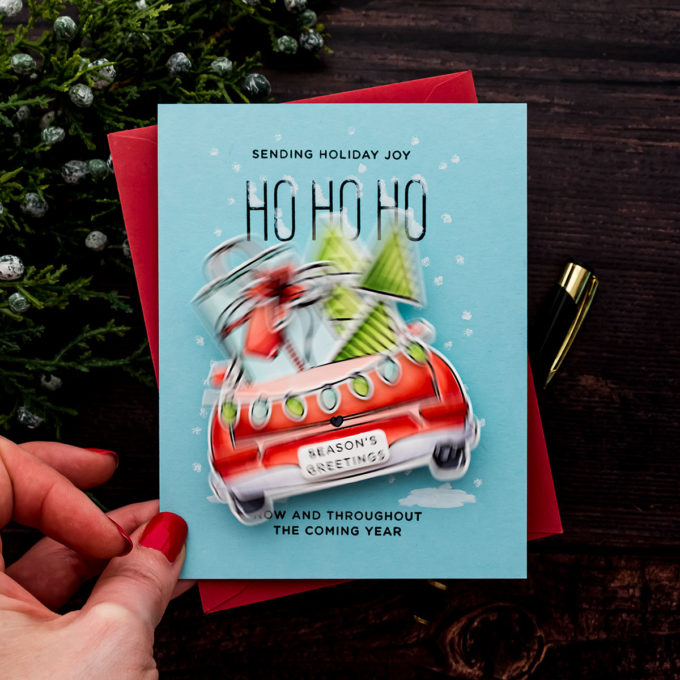 Like this project? Pin it and save for later | Curious about my project photography? Click for details. 
VIDEO TUTORIAL
Watch the video below or on my Youtube channel.
Like this video? Please give it a big thumbs up (you can do this on Youtube video page right under the video) and share it with a crafty friend! Leave me a comment too, I love hearing from you!
CARD DETAILS
Here's the plan for this card: the base image is the convertible from the Tied The Knot stamp set. This is not a Christmas set, yet I am using it to make a Christmas card. I'm going to take this car and decorate it with various Christmas imagery to have it work for a Christmas project.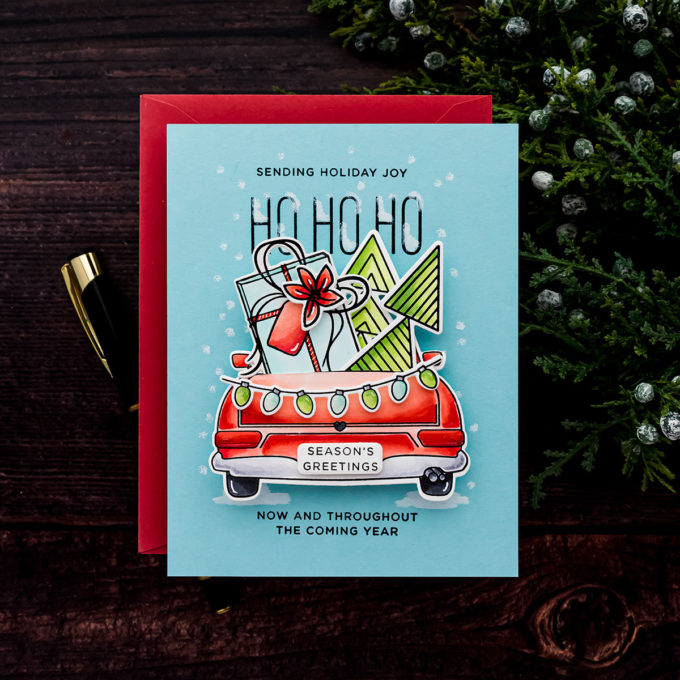 This stamp set has a "Just Married" banner, I'm replacing that with a string of Christmas lights from an older stamp set from Simon – Winter Scene. Next, my car holds a pretty large gift and that comes from the Gift Wrap stamp set.
BTW, I recently used the Gift Wrap set to create a modern Christmas card, check it out in THIS POST: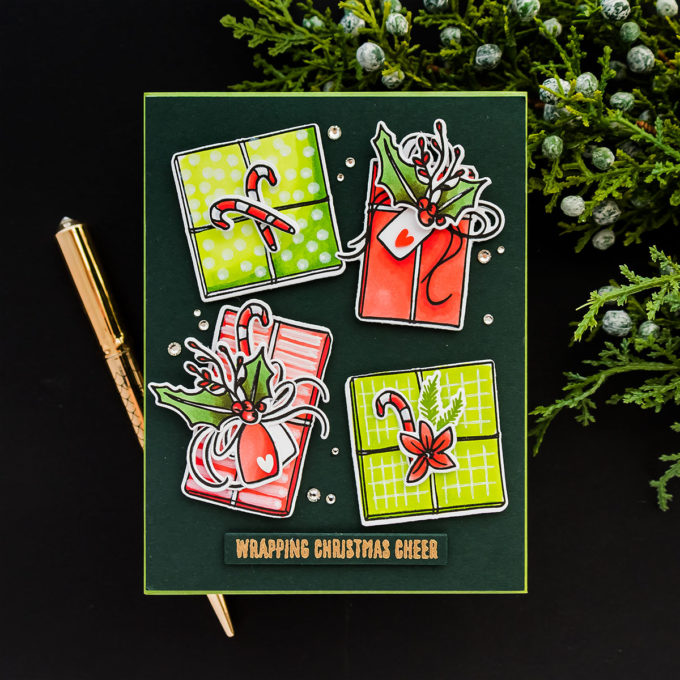 I also have Christmas trees sticking out from the back and these come from the Merry Christmas Trees set. I also used a sentiment from the Good Cheer stamp set from CZ.
You can take pretty much any stamp set you have in your stash and with a little bit of tweaking, make it work for a different occasion. In this case, I'm tweaking a wedding car to work for a Christmas card.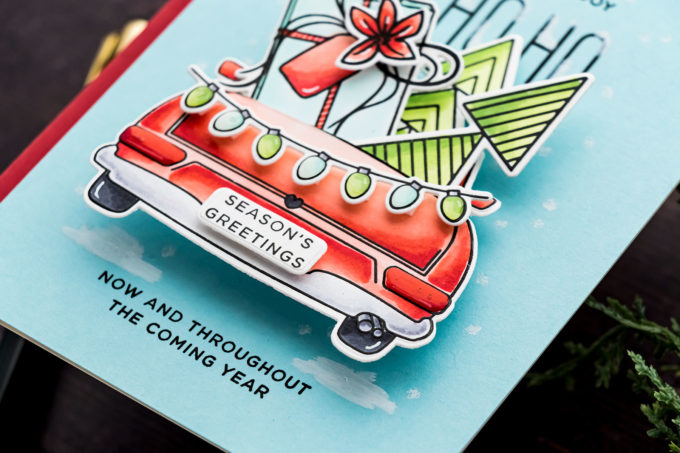 The same car could be tweaked for a Birthday card, for a Thanksgiving card, for Valentine's day card, and more. And also other images, you'll need to look for a larger image, which can be tweaked to suit a different occasion.
I stamped and colored my images using Copic markers in the following colors:
R27, R24, R22, R20 (car, tag, poinsettia)
C9, C7 (tires)
C7, C5, C3 (exhaust pipes)
C5, C3, C1 (bumper)
BG32, BG11, B000 (gift, lights)
YG17, YG03, YG01 (trees, lights)
I cut a slit just under the windshield using a kraft knife and inserted the gift and Christmas trees into the car. The license plate and the lights string were foam mounted on top.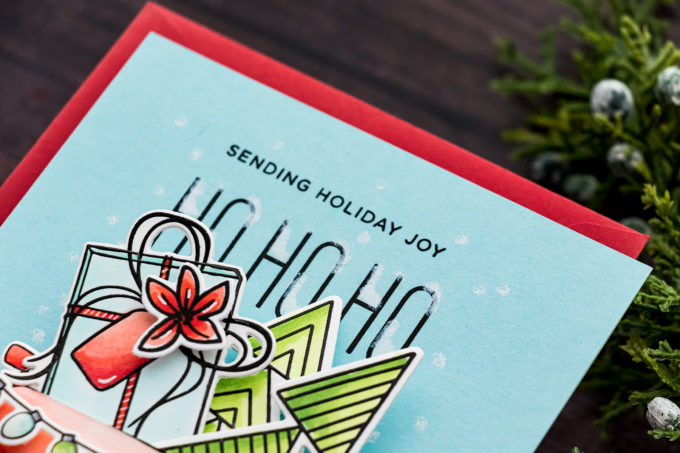 I stamped sentiments in VersaFine Onyx Black ink onto Simon's Sea Glass cardstock panel and added white snow details using Story Time Paint Pen from Jane Davenport.
Instead of foam mounting the car, I used an action wobbler to add interactivity and movement to this project. You stick one end onto your die-cut and another end onto the background and voila – you have a movable object. It adds so much cuteness! Every time I give someone a card with an interactive element made using an action wobbler – they can't stop playing with it!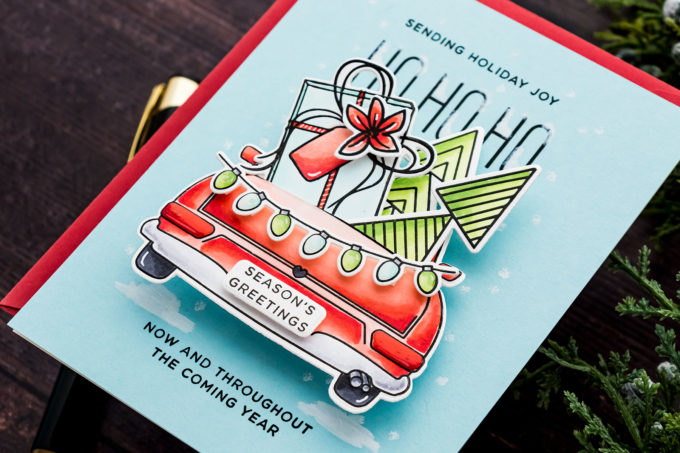 Finally, coated the brake lights and the Christmas lights with glossy accents!
Have fun stamping!
SUPPLIES
I'm listing the products I used below. Click on the link to go directly to the product. Where available I use compensated affiliate links which means if you make a purchase I receive a small commission at no extra cost to you. Thank you so much for your support!

Simon Says Clear Stamps Tied the Knot
Shop at:
SSS

Simon Says Stamps and Dies Tied the Knot
Shop at:
SSS

Simon Says Stamp Tied the Knot Wafer Dies
Shop at:
SSS

Cz Design Clear Stamps Good Cheer
Shop at:
SSS

Simon Says Clear Stamps Gift Wrap
Shop at:
SSS

Simon Says Stamps and Dies Gift Wrap
Shop at:
SSS

Simon Says Stamp Gift Wrap Wafer Dies
Shop at:
SSS

Simon Says Stamp Merry Christmas Trees Wafer Dies
Shop at:
SSS

Simon Says Stamps and Dies Merry Christmas Trees
Shop at:
SSS

Simon Says Clear Stamps Winter Scene
Shop at:
SSS

Simon Says Stamp Winter Scene Wafer Dies
Shop at:
SSS

Spellbinders Platinum Die Cutting Machine
Shop at:
SSS

Tsukineko Versafine Onyx Black Ink
Shop at:
SSS

Mini MISTI Stamping Tool
Shop at:
SSS

Action Wobble Springs 12 Pack Wobblers
Shop at:
SSS

Action Wobble Springs 6 Pack Wobblers
Shop at:
SSS

Ek Success Powder Tool Applicator
Shop at:
SSS

Ranger Glossy Accents Glue Dimensional Adhesive
Shop at:
SSS

Spellbinders Jane Davenport Snow Queen Story Time Paint Pen
Shop at:
SSS

Copic Sketch Marker R22 Light Prawn
Shop at:
SSS

Copic Sketch Marker R20 Blush Pink
Shop at:
SSS

Copic Sketch Marker R24 Prawn
Shop at:
SSS

Copic Sketch Marker R27 Cadmium Red
Shop at:
SSS

Copic Sketch Marker YG01 Green Bice
Shop at:
SSS

Copic Sketch Marker YG03 Yellow Green
Shop at:
SSS

Copic Sketch Marker YG17 Grass Green
Shop at:
SSS

Copic Sketch Marker B000 Pale Porcelain
Shop at:
SSS

Copic Sketch Marker BG11 Moon White
Shop at:
SSS

Copic Sketch Marker BG32 Aqua Mint
Shop at:
SSS

Copic Sketch Marker C1 Cool Gray
Shop at:
SSS

Copic Sketch Marker C3 Cool Gray Grey
Shop at:
SSS

Copic Sketch Marker C5 Cool Gray Grey
Shop at:
SSS

Copic Sketch Marker C7 Cool Gray
Shop at:
SSS

Copic Sketch Marker C9 Cool Gray Grey
Shop at:
SSS

Simon Says Stamp Sea Glass Cardstock
Shop at:
SSS

Simon Says Stamp Mega Thick White Cardstock 130LB
Shop at:
SSS

Jewel Picker Tool
Shop at:
SSS

Tonic Studios 8.5 Inch Paper Trimmer
Shop at:

Bearly Art Mini Precision Craft Glue
Shop at:
SSS

White Foam Squares
Shop at:
SSS

Wagner Precision Heat Tool
Shop at:
SSS

Simon Says Stamp Clear Fine Detail Embossing Powder
Shop at:
SSS