Hello friends! If you've been following me for some time you might remember that in the Fall of last year I fell in love with the Polychromos pencils by Faber Castell. I was gifted a set of 36 pencils and after trying them out on dark cardstock (see my first cards here, here and here) I was very much impressed and I continued to color with the pencils on other kinds and colors of paper.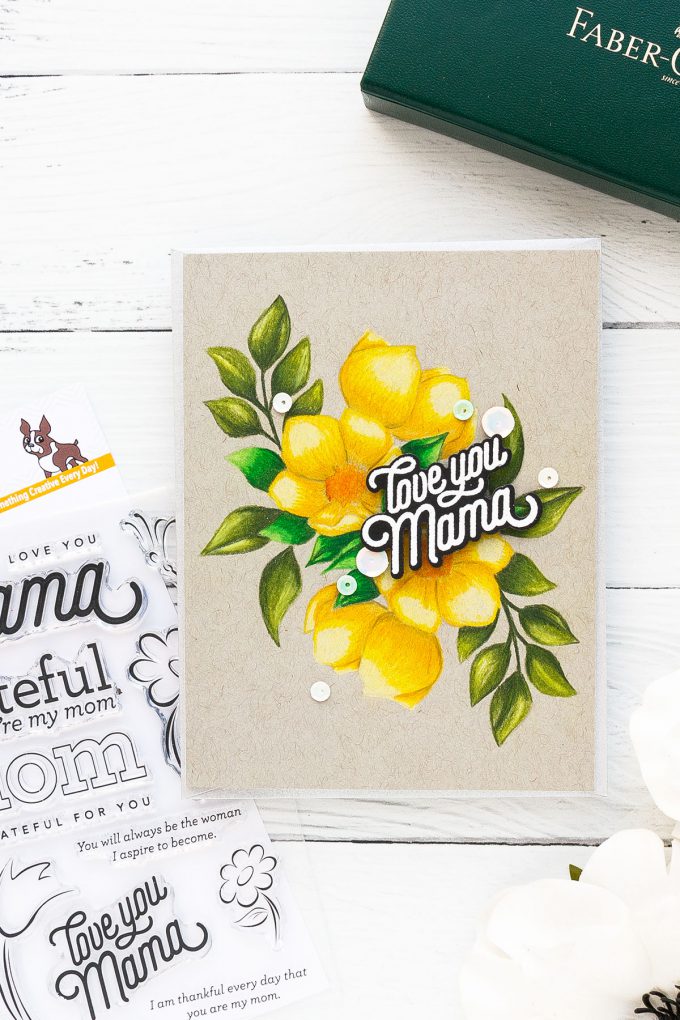 Like this project? Pin it and save for later | Curious about my project photography? Click for details. 
I today's video I'm going to show you how to create a floral card featuring mirrored floral arrangement, some simple masking and of course Polychromes pencil coloring for a no-line look.
VIDEO TUTORIAL
As always, I filmed a video tutorial showing how to create this project from start to finish. I'm hoping you'll enjoy it. Watch it below or on my Youtube channel.
Like this video? Please give it a big thumbs up (you can do this on Youtube video page right under the video) and share with a crafty friend! Leave me a comment too, I love hearing from you!
CARD DETAILS
I picked Strathmore Toned Gray paper for my card today, I learned about this paper in one of the Facebook groups that I belong too – I went ahead and bough it and I've been using it actively ever since. It's a great surface for coloring with pencils and this paper is very inexpensive – the 50 sheet pad that is 9×12″ is under 10$ so you get a lot of paper to play with.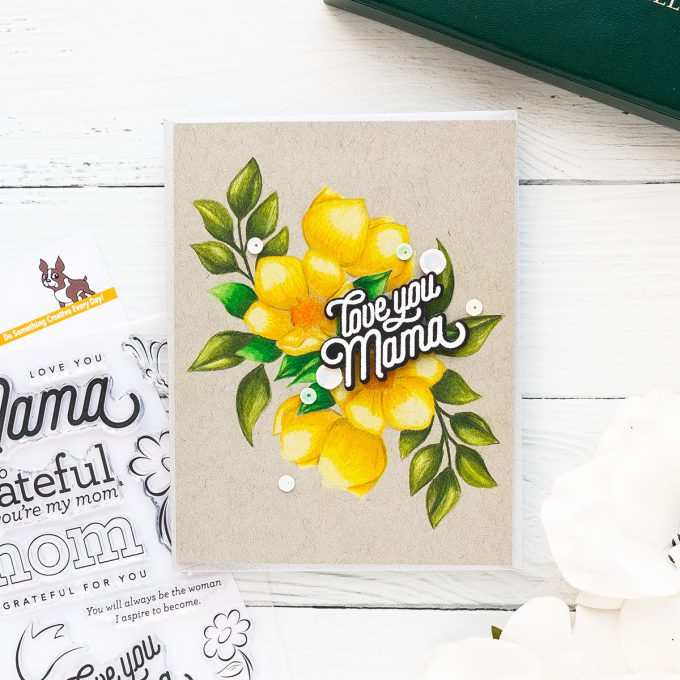 I started working on my card by stamping the image from the Even More Spring Flowers by Simon Says Stamp in Simon's Fog ink. The idea was to create a symmetrical or mirrored floral arrangement with minimal effort and later color it with pencils.
I rarely do masking because I am too lazy to cut the masks out for my stamps, but for this particular card I went ahead and I created masks for some images using masking paper.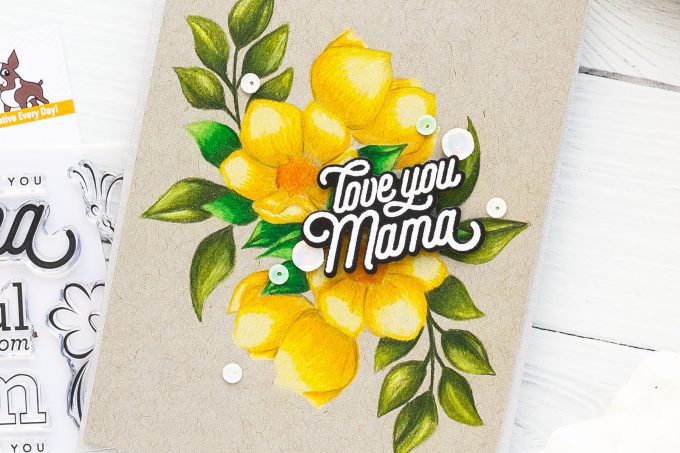 I masked the first impression, rotated my paper 180 degrees (panel was cut to 4 1/4 x 5 1/2″) and stamped same flower again. Next, I brought in the second kind of flower, I arranged it and stamped it onto my panel twice – once, and than I rotated the panel, repositioned the mask and stamped it again. Next, I stamped the leafy branch – and again I stamped it once, repositioned the mask, rotated the panel 180 degrees and stamped it again creating a mirror image.
I added some smaller leaves to make this cluster a bit fuller and again I repeated the same steps as before.
I was using specialty masking paper here – it is sticky on the back and it does make masking a more enjoyable task, but if you do not have specialty masking paper you can also use a sticky post it note or ever regular printer paper with some removable adhesive.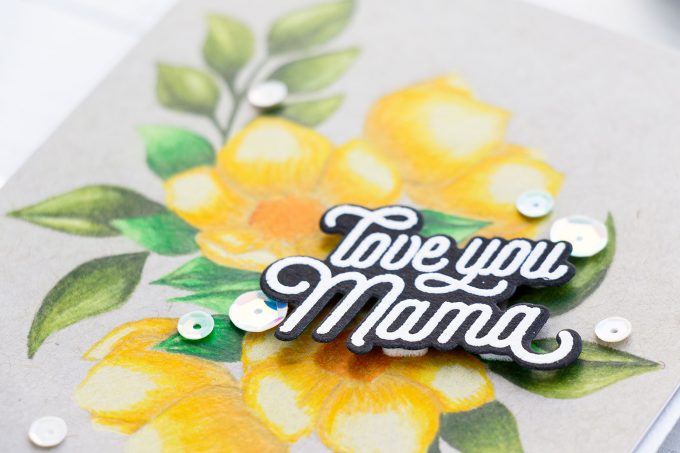 Once my stamping was done I pulled out my Polychromos pencil chart and I started on picking out the colors of my card. If you are wondering – you can download this card online, simply google Polychromos pencils chart, I got mine from the Faber Catell website and I just printed it onto thin printer paper and I swatched the colors of pencils that I have.
Currently I have close to 70 pencils, I started with the 36 pencil set and I got additional colors that I felt I'd use more in my cardmaking. To pick out the colors I used my color cards (see this video to understand what they are and how you can get yours). I picked out the pencils that mimicked my selected color scheme and I swatched them on the back of my paper in order to see what the colors would look like. Ideally, it's bets to have a color chart on the same kind of paper you plan to color on, so it would have been smarted to have a color chart printed on this Toned Gray paper since I color on it so often, but I never seem to have the time to do this, so I just sketch my pencils on the back.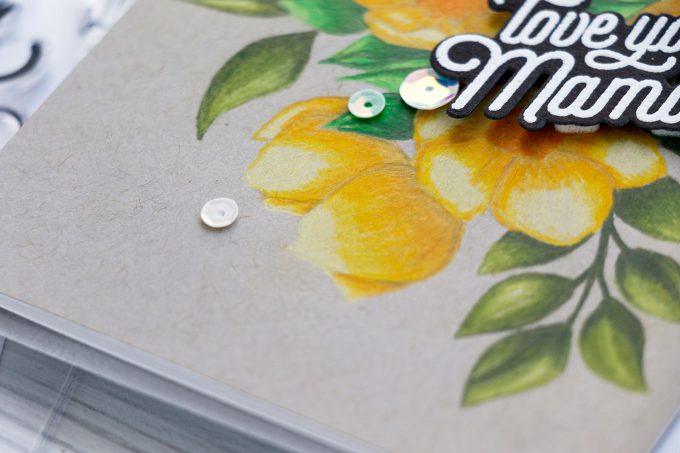 I used the following pencils for my coloring:
#101 White, #170 May Green, #168 Earth Green Yellowish, #278 Chrome Oxide Green.
#171 Light green, #166 Grass Green, #266 Permanent Green, #167 Permanent Olive Green.
#102 Cream, #104 Light Yellow Glaze, #107 Cadmium Yellow, #108 Dark Cadmium Yellow, #250
#109 Dark Chrome Yellow, #111 Chromium Orange.
Once my coloring was done I adhered my panel onto an A2 white card base and added a sentiment. With a coloring panel like this you can turn it into any kind of card you like – this can be a birthday, miss you, thank – anything really. I was making a card for my Mom, so I used a sentiment that reads "I Love You Mama". I call my Mom Mama so I was happy to spot a sentiment that reads Mama and not Mom. I white heat embossed it onto black cardstock and cut it out with the help of a coordinating die. I don't have a lot of sets that have coordinating dies for sentiments so I was glad to discover this set and I know I'll be using it often for my cardmaking.
I stamped an additional message on the inside of the card – it reads "I am thankful every day that you are my mom". I also embellished this card using sequins from Simon Says Stamp from their butterfly kisses set. These might be my new favorite – there colors are so nice and they just go well together with many different cards.
SUPPLIES
I'm listing the products I used below. Click on the link to go directly to the product. Where available I use compensated affiliate links which means if you make a purchase I receive a small commission at no extra cost to you. Thank you so much for your support. 

Simon Says Clear Stamps Even More Spring Flowers
Shop at:
SSS

CZ Design Stamps Love You Mama
Shop at:
SSS

CZ Design Dies Love You Mama
Shop at:
SSS

Strathmore 400 Series Toned Sketch Paper
Shop at:
SSS

Simon Says Stamp Black Cardstock
Shop at:
SSS

Neenah 110 Lb Solar White Cardstock
Shop at:
SSS

Faber-Castell Polychromos 12 Set
Shop at:
SSS

Faber-Castell Polychromos 36 Set
Shop at:
SSS

Simon Says Stamp Butterfly Kisses Sequins
Shop at:
SSS

Simon Says Stamp Fog Dye Ink Pad
Shop at:
SSS

ScraPerfect Crafting Pouch
Shop at:
SSS

Hero Arts Heat Embossing Gun
Shop at:
SSS

Hero Arts White Embossing Powder
Shop at:
SSS

Versamark Watermark Emboss Ink Pad
Shop at:
SSS

Mini Misti Stamping Tool
Shop at:
SSS

Scor-Tape 1/8 Inch Crafting Tape
Shop at:
SSS

Tonic Studios 8.5 Inch Paper Trimmer
Shop at:
SSS

Crystal Ninja Crystal Katana Pick Up Tool
Shop at:
SSS

Tonic Deluxe Adhesive Nuvo Glue
Shop at:
SSS