Hello, friends. We are okay. As okay as one can be. I've started taking anti-anxiety meds to help calm down and help sleep. Life is so different today. We live in between the air raid sirens. You hear the siren, you drop everything, put your coat on and run to shelter. You can't even take a shower without rushing and worrying about the siren sounding any minute.
Another Ukrainian cardmaker, Vika Salmina, is in Ukraine. Vika is in Kherson. I can't begin to imagine what's it is like over there. Reach out to her. Send her your support.
My friend from work, Denzil Quick (Denzil is VP of Business Development at Spellbinders), is helping us gather money to help buy supplies for the army. Here's a photo of the three of us (my hubby Oles, Denzil, and me). This was taken several years ago in Frankfurt, Germany at the CreativeWorld show: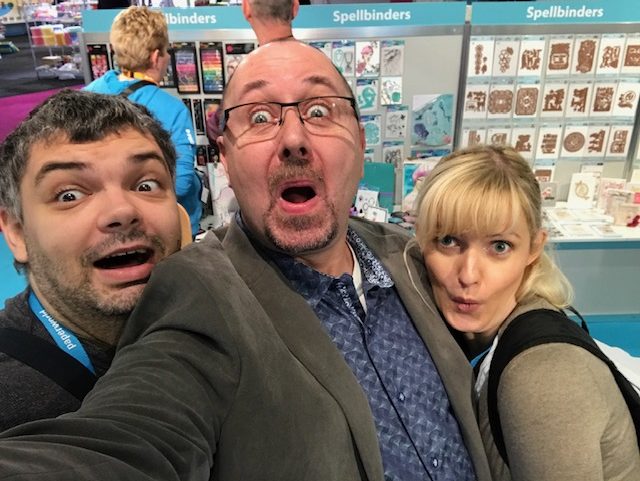 Denzil wrote this letter to his friends and I asked his permission to share it here:
Hello Friends,

I hope and pray that you will take a moment to read this in full. About 8 years ago Renee and I moved to Arizona so I could start a new job with Spellbinders Paper Arts. Within the first few weeks I had the chance to meet Yana and eventually Oles who were one of our international distributors and design team members from the Ukraine. We immediately stuck up a friendship that is very strong to this day. The two of them embody more of the American spirit than 99% of Americans that I know including myself.

These two friends are amazingly entrepreneurial, talented, smart, funny, honest and embrace the spirit kindness along with an always positive attitude. I can not say enough wonderful things about them both. At one point they got a temporary visa and worked in our office in Phoenix for 18 months and it was wonderful. After that visa expired we tried to get a full time visa but the bureaucracy of the government was/is a crazy slow process, then Yana's mom got sick with cancer and she stayed in the Ukraine to help her….then Covid and well, you know that story. Now two years later their beautiful country was attached by Satan or his earthly facsimile.

Yana and Oles still consult with us on a full time basis and I speak with one of the two of them almost daily, they have never changed, still positive and happy. As the war intensifies they have decided to stay and fight…the LOVE FREEDOM and I would expect nothing less from them. Many collages of mine/ours in the Arts & Crafts industry know Yana, she has a YouTube channel with over 40K followers and she is crazy talented. Many of those same people who know her have asked me "how can I help?" Here is your chance.

Oles has set up a network of freedom supporters and we are able to get much needed supplies to them and their freedom fighters in Ukraine. Obviously, we cannot send anything that is banned such as weapons or ammunition, that is for our government to do and they better fucking do it now. However, there are many things that we can send and I have sent things myself but the list is growing and they have an organization of 500+ to defend their town. They need things like radios (old fashioned type) with weather reports, walkie talkies, knee pads, eye protection, batteries, drones for observation and many, many other items. For the moment their group of 500+ is OK with food and water but we are planning dry goods in the future if this rages on those supply lines might be disrupted.

If I'm sending you this email it is because I would do the same for you if you were in this dire situation. We have a short window as the Russian troops are making progress every day. I've never asked for a dollar from anyone in my life, but I am asking you if you can give anything, please send me an email. If you can't I still love you the same. I am setting up a separate email so it is not mixed in with all of my other personal emails. This is not a tax deductible donation, there is no time to set up the 501c3. They need help now. However, I assure you that 100% of any help you could give will go towards supplies.

If you are not familiar Yana and Oles below are a couple of links of Yana. They are your friends, and neighbors who are now in a bunker and fighting for freedom. Thank you for your consideration, I have lived an incredibly blessed life and this is a true calling to help. If you can help, please send me and email to:

freeukrainenow2022@gmail.com

Live free or die,

Denzil
If you want to help us financially, please reach out to Denzil. I know many of you have already helped and donated and I am beyond grateful. Your support helps us to keep going and defend our motherland.
Also, I have a card today. This is another one I made before the war. It's super simple, but one that puts a smile on my face today and warms my heart.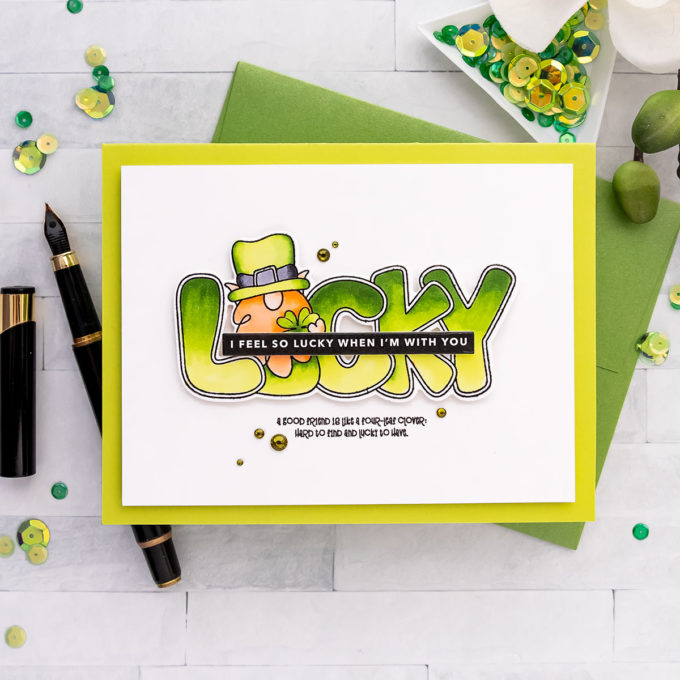 I used Simon's Gnome Lucky stamp set and colored this image with my Copic Markers. I love this sentiment – I feel so lucky when I'm with you. Life is precious.
Big hugs to you all! I will be back soon with a video.
SUPPLIES
I'm listing the products I used below. Click on the link to go directly to the product. Where available I use compensated affiliate links which means if you make a purchase I receive a small commission at no extra cost to you. Thank you so much for your support

Simon Says Clear Stamps Gnome Lucky
Shop at:
SSS

Simon Says Stamp Gnome Lucky Wafer Dies
Shop at:
SSS

Simon Says Stamps and Dies Gnome Lucky
Shop at:
SSS

Simon Says Stamp Sentiment Strips Reverse Lucky
Shop at:
SSS

Mini MISTI Stamping Tool
Shop at:
SSS

Simon Says Stamp Intense Black Ink
Shop at:
SSS

Simon Says Stamp 2 Dot Runner Refills Adhesive
Shop at:
SSS

Fun Foam Sheets
Shop at:
SSS

Spellbinders Green Mix Color Essential Gems
Shop at:
SSS

Copic Markers
Shop at:
SSS