Hello. In this video, I'll show you how to make Happy New Year Cards featuring Pretty Pink Posh Happy New Year Stamp set and coordinating dies.
I have several cards to share in today's video and the first 2 use a Fireworks stencil to create a background. I love to use stencils for quick yet impressive backgrounds for my cards.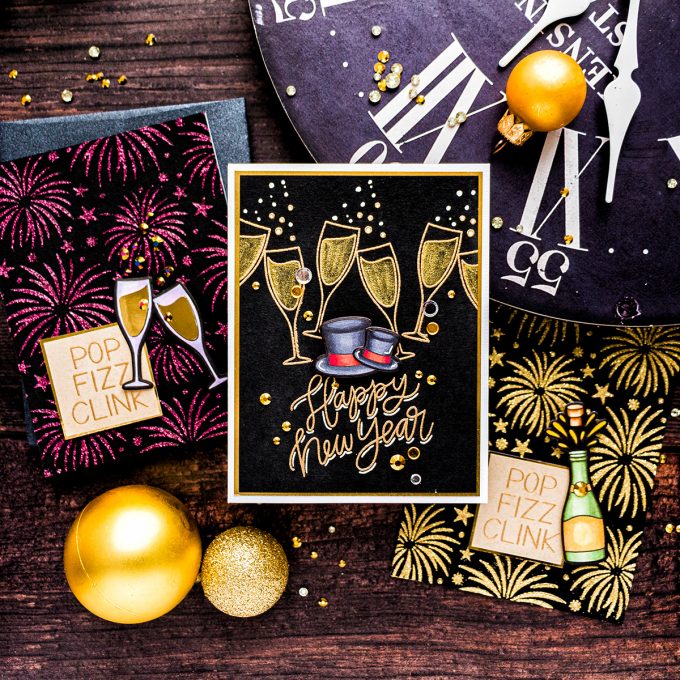 Like this project? Pin it and save for later | Curious about my project photography? Click for details. 
VIDEO TUTORIAL
Watch the video below or on my Youtube channel.
Like this video? Please give it a big thumbs up (you can do this on Youtube video page right under the video) and share it with a crafty friend! Leave me a comment too, I love hearing from you!
CARD DETAILS
I started with a piece of black cardstock cut to 4 1/4 x 5 1/2". I taped the panel to the stencil using low tack tape to make sure it would stay in place. Next, I used Tonic Studios Nuvo Glimmer Paste in color Plum. It is a beautiful purple and makes a great background for a New Year Card. I've applied it evenly onto the paper using a palette knife.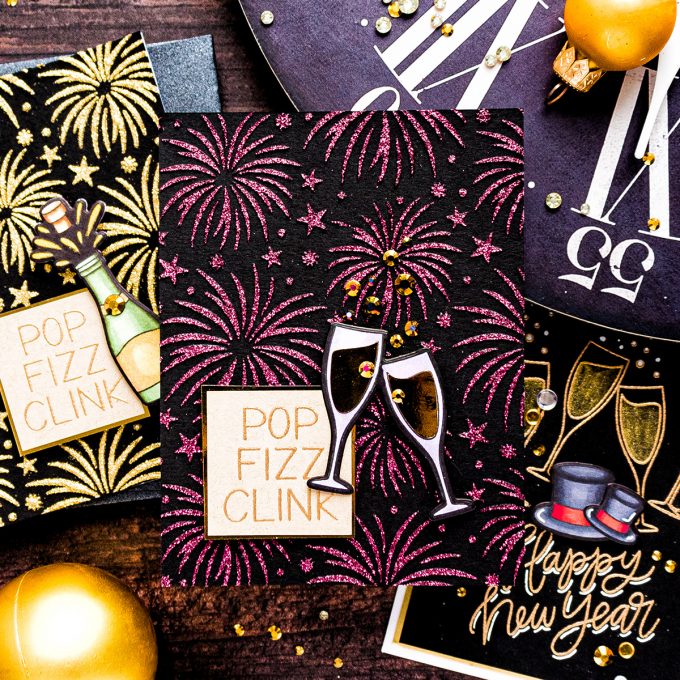 For my next background, I didn't have the color paste I wanted, so I made it using supplies I had from my stash. I used white texture paste and gold glitter embossing powder.
Next, I did some stamping. I used several images from the Happy New Year stamp set and stamped them in Copic-marker friendly ink on white cardstock.
I did very simple coloring to bring these images to life. I used G99, G94 and G21 markers to color the wine bottle. I was having trouble picking the right colors to have that true bottle green color, but I figured these colors will do. I also used E33 and E31 to color the labels and the cork. I also used the Y15 marker to color the splashes.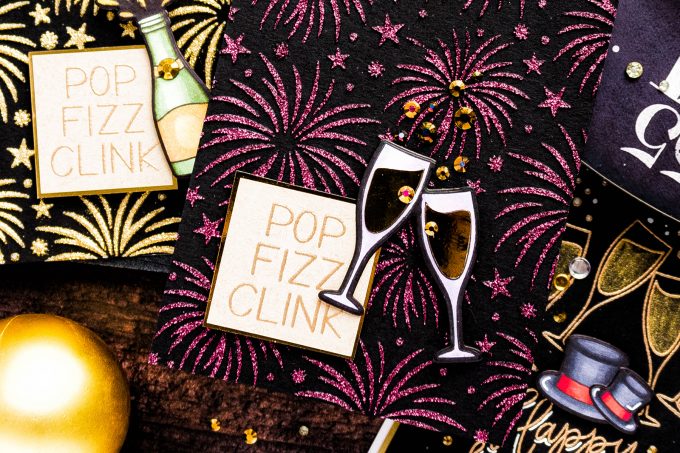 For the wine glasses, I used a V12 marker. I knew I'd be placing these on the purple background so I wanted the glasses to match in color. I wasn't too careful coloring them as I'd add a gold mirror piece on the inside to look like liquid and also color outside the lines black, but we will get to that in a minute.
As for the hats I used C10, C9, C7 and C5 markers to color the hats black. I also used R39, R27, and R24 to color the ribbon on the hats. Pretty easy and simple coloring, nothing fancy.
Next came the most fun part! I knew I'd be adding these images to pretty dark backgrounds, black backgrounds really, so I wanted to color the image outlines in black to match. It is a simple trick, yet it makes all the difference in the world. I do encourage you to give it a try if you haven't already. You can use a black Copic marker or a black pen – anything black really to color the outline black.
Next, I stamped the same image of champagne glasses onto gold mirror cardstock. It doesn't matter what ink you use unless it is StazOn ink it will not stay on the paper, it will smear or wipe off and that is exactly what we want. I used my detail scissors to cut the liquid part out, wiped the ink off and that created the liquid part for the glasses.
There are coordinating dies available and I used mine to cut these images out. Next, I created sentiments for the cards. I gold heat embossed "Pop Fizz Clink", cut them out and mounted on mirror gold cardstock.
With the sentiments created, the embellishments made and the backgrounds dry it was time to assemble the cards. I used foam tape to foam mount the sentiment panel onto the background and then used the same foam adhesive to adhere the glasses to the card. I trimmed off the baubles that were stamped with the glasses. I adhered the liquid pieces made from that gold mirror cardstock and added the little bubbles using gems. I used gems in Midnight for this card, they blended perfectly well with the background.
For the second card, a bit more work was needed to complete the background – I used my heat tool to melt that powder that was covering the texture paste. Next, I brushed away any stay glitter particles from the background using a dry paintbrush.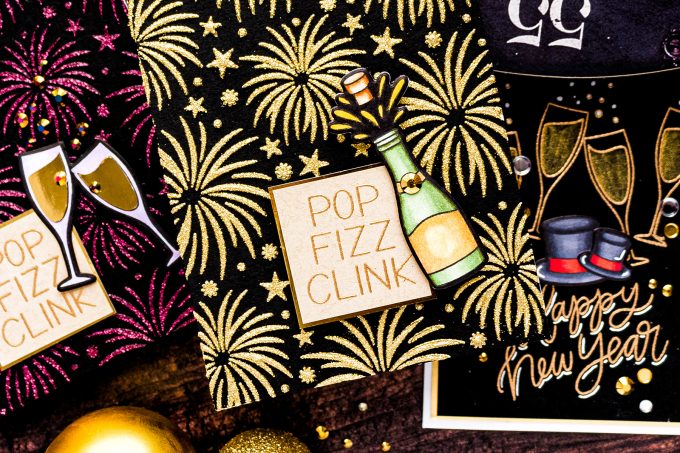 With that done, I foam mounted the sentiment, that same one – Pop Fizz, Clink and also added a champagne bottle on top. I also added a little gem on top of the label of the bottle. And this card is done!
I also have another card to share – also created with the same stamp set. Here I stamped several glasses in a row, colored them using Gold Glitter pen, added Happy New Year sentiment and foam mounted the two black party hats on top. I also used my white Sakura pen to add some white shading to the sentiment and to color the baubles above the glasses.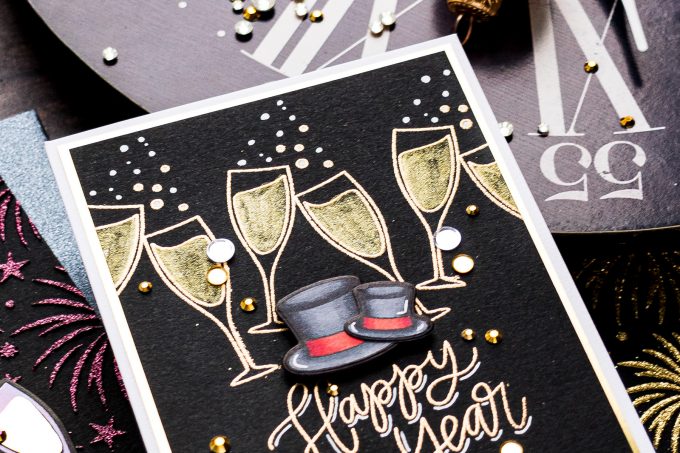 Have fun stamping!
SUPPLIES
I'm listing the products I used below. Click on the link to go directly to the product. Where available I use compensated affiliate links which means if you make a purchase I receive a small commission at no extra cost to you. Thank you so much for your support!

Pretty Pink Posh Happy New Year Clear Stamps
Shop at:
SSS | PPP

Pretty Pink Posh Happy New Year Dies
Shop at:
SSS | PPP

Pretty Pink Posh Fireworks Stencil
Shop at:
SSS | PPP

Pretty Pink Posh Celebration Confetti Mix
Shop at:
SSS | PPP

Pretty Pink Posh Midnight Black Jewels
Shop at:
SSS | PPP

Tonic Plum Spinel Nuvo Glimmer Paste
Shop at:
SSS | TS USA

Simon Says Stamp Black Cardstock
Shop at:
SSS

Tonic Polished Gold Mirror Card Gloss Cardstock
Shop at:
SSS | SC | AZ

Altenew Gold Mirror Cardstock
Shop at:
AN

Misti Stamping Tool
Shop at:
SSS | SC | HA | PPP | AZ

Hero Arts White Modeling Paste
Shop at:
SSS

Nuvo – Clear Mark Embossing Pad
Shop at:
SSS | TS USA

Neenah 110 Lb Solar White Cardstock
Shop at:
SSS | AZ

Hero Arts Gold Glitter Embossing Powder
Shop at:
SSS | SC | HA | AZ

Hero Arts Gold Embossing Powder PW100
Shop at:
SSS | SC | HA | AZ

Hero Arts Heat Embossing Gun
Shop at:
SSS | SC | HA | AZ

EK Success Powder Tool Applicator
Shop at:
SSS | SC | AZ

Pretty Pink Posh Metallic Gold Jewels
Shop at:
SSS | PPP | AZ

Spellbinders Deep Sea Die Cutting Machine
Shop at:
SSS | SC | SB | AZ

Sakura Classic White Bold Line 10 Pen
Shop at:
SSS | AZ

Copic Sketch Marker Y15 Cadmium Yellow
Shop at:
SSS | AZ

Copic Sketch Marker R24 Prawn
Shop at:
SSS | AZ

Copic Sketch Marker R27 Cadmium Red
Shop at:
SSS | AZ

Copic Sketch Marker R39 Garnet
Shop at:
SSS | AZ

Copic Sketch Marker G21 Lime Green
Shop at:
SSS

Copic Sketch Marker G94 Grayish Olive
Shop at:
SSS | AZ

Copic Sketch Marker G99 Olive Green
Shop at:
SSS

Copic Sketch Marker C5 Cool Gray Grey
Shop at:
SSS | AZ

Copic Sketch Marker C7 Cool Gray
Shop at:
SSS | AZ

Copic Sketch Marker C9 Cool Gray Grey
Shop at:
SSS | AZ

Copic Sketch Marker C10 Cool Gray
Shop at:
SSS

Copic Sketch Marker E31 Brick Beige
Shop at:
SSS | AZ

Copic Sketch Marker E33 Sand
Shop at:
SSS | AZ

Copic Sketch Marker E37 Sepia
Shop at:
SSS | AZ

Copic Sketch Marker V12 Pale Lilac
Shop at:
SSS | AZ

Copic Marker 100 Black
Shop at:
SSS | AZ

Tonic Metal Palette Knife
Shop at:
SSS | AZ | TS USA

Tonic Deluxe Adhesive Nuvo Glue
Shop at:
SSS | SC | AZ | TS USA

Crystal Ninja Crystal Katana Pick Up Tool
Shop at:
SSS | PPP | AZ

Simon Says Stamp Craft Tacky Glue
Shop at:
SSS

White Foam Squares
Shop at:
SSS | SC | SB | AZ

FSJ Mirror Gold Cardstock
Shop at:
SB

Nuvo – Aqua Shimmer – Midas Touch
Shop at:
SSS | AN | TS USA