Hi everyone! Welcome back to my blog! In this video, I will show you how to create simple underwater scenes for your Summer cards using nothing else but markers.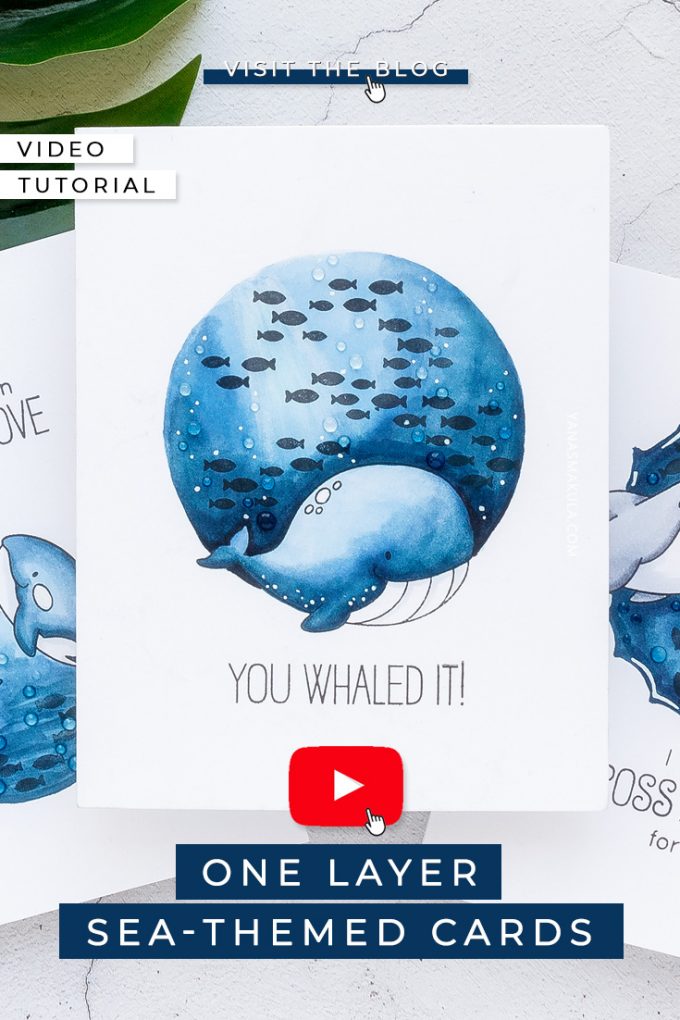 Like this project? Pin it and save for later | Curious about my project photography? Click for details. 
VIDEO TUTORIAL
Watch my video tutorial below or on Youtube to learn how I made the cards I'm sharing today.
Like this video? Please give it a thumbs up and share with a crafty friend! Drop me a comment too, I love hearing from you!
CARD DETAILS
I wanted to create an underwater scene enclosed in a circle so I used a circular object to trace around on a white cardstock panel that will later make the front of my card.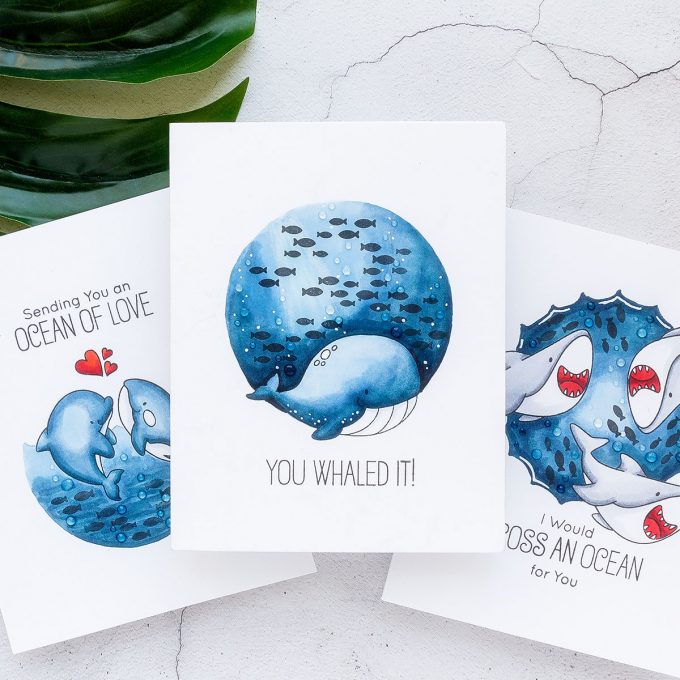 You can choose to use another shape, it can be a simple geometric shape, maybe a square or an oval, or you can go with other shapes, perhaps a heart or even a shape of a sailboat to make your card unique. By containing the scene within a shape on my card, rather than creating a scene on an entire background I'm making my project a little bit more interesting.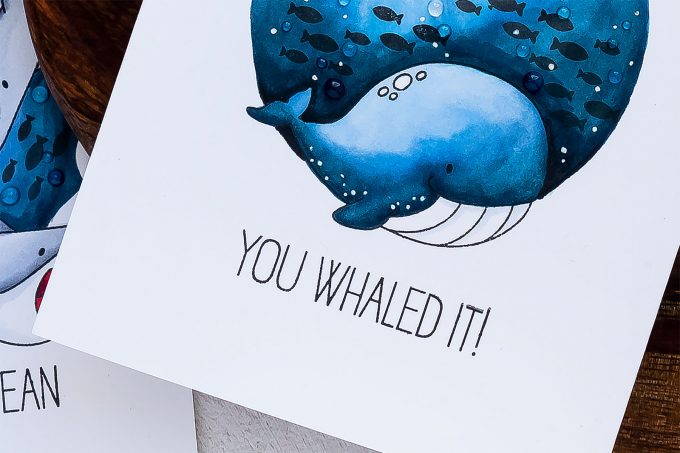 I traced the circle using a pencil and next erased most of the pencil line to leave a very faint line on my paper so that it's not going to be visible on the finished card. I stamped the image of a whale from the Friends with Fins stamp set in Copic marker friendly ink. I  made sure the whale overlapped my circle and extended it in a way. I also added a coordinating sentiment that reads "You Whaled It", isn't that sweet and clever? And stamped a cluster of fish here and there, within the circle only.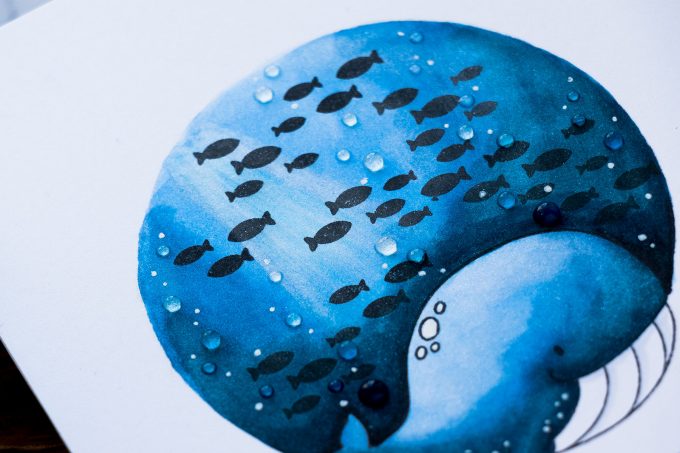 I picked several colors of Copic markers and I used the exact same colors of all 3 cards I'm sharing with you today. This can, of course, be colored using other coloring mediums and I encourage you to use the medium you are most comfortable with.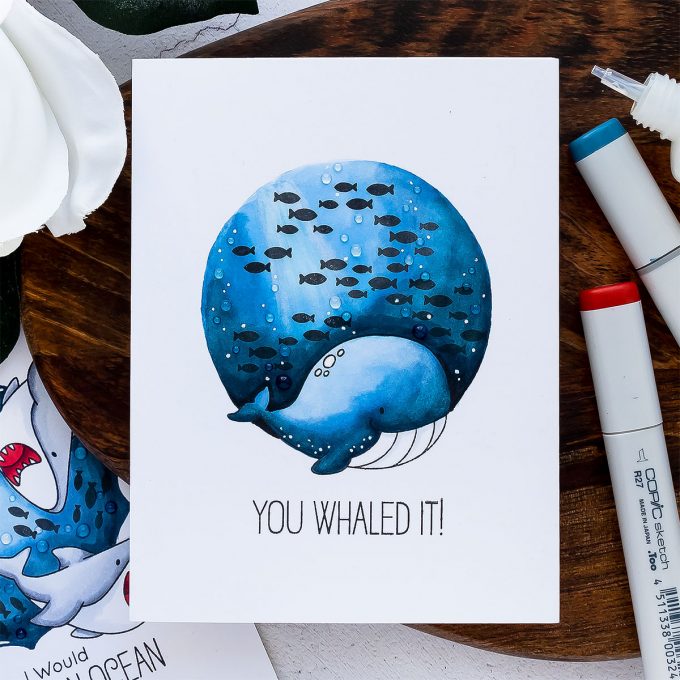 Started with a B99 as my darkest blue marker. I love to use deep dark colors of my cards, especially in combination with a lot of white space and I think this color combo is going to look perfect here. Next, I used B97 marker, a slightly lighter, yet still, pretty deep dark blue; next blended it all out using B34 and finally using a B21 marker as the lightest color.
To blend all of these I went back and re-applied the dark, medium, and light colors until I had the desired blend. The paper I used is Neenah Solar White 80lb cardstock.
In addition to the colors, I used to color the whale I also used C9 and C10 markers to darken the darkest blue color even more to create the look of very deep waters. This also takes a lot of layers and a lot of blending before it begins to look like a pretty underwater scene. Finally, I used a C1 marker to add some shading to the whale and also a white pen to color the dots on the whale's back white and also to add some additional dots on his belly.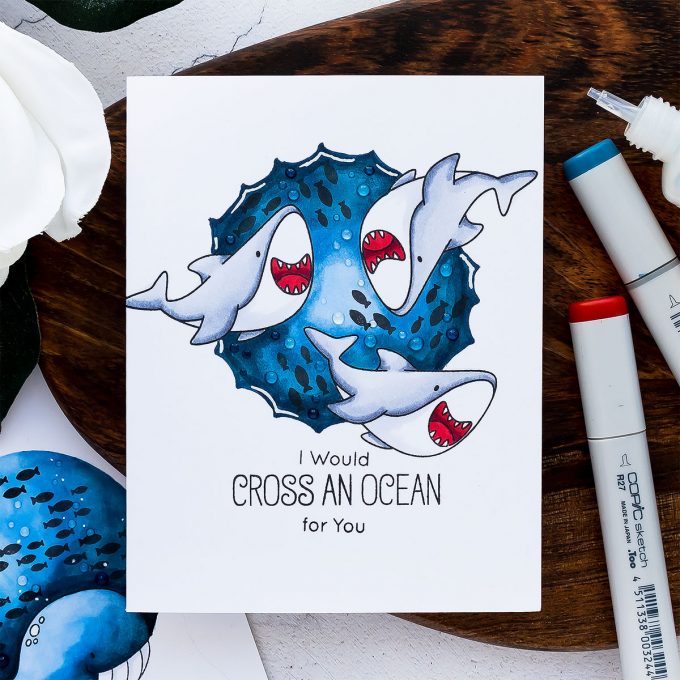 Here's another similar card I made using images from the same Friends with Fins stamp set. Here I stamped 3 sharks all partially being in a circle that represents the ocean. I added "I'd cross an ocean for you sentiment" and to make it look like this body of water is even more dangerous, it already is full of scary sharks, so pretty dangerous if you ask me, I added waves – I just used a pencil and sketched some waves around the circle in between the sharks and just filled those in using my marker.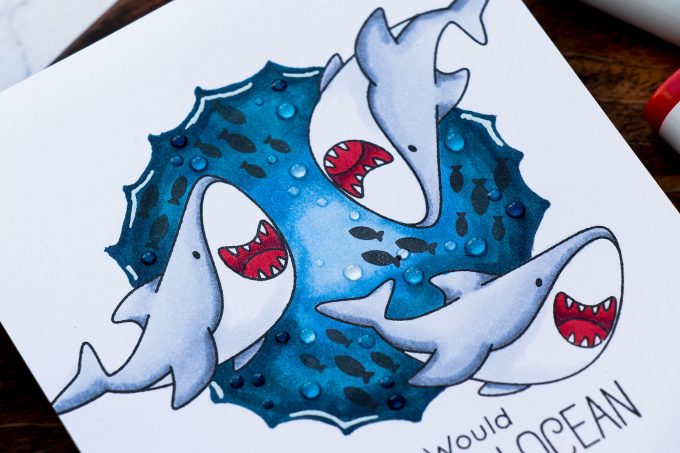 Let your imagination run wild and don't be afraid to go beyond your stamp sets and doodle little scenes for your critters.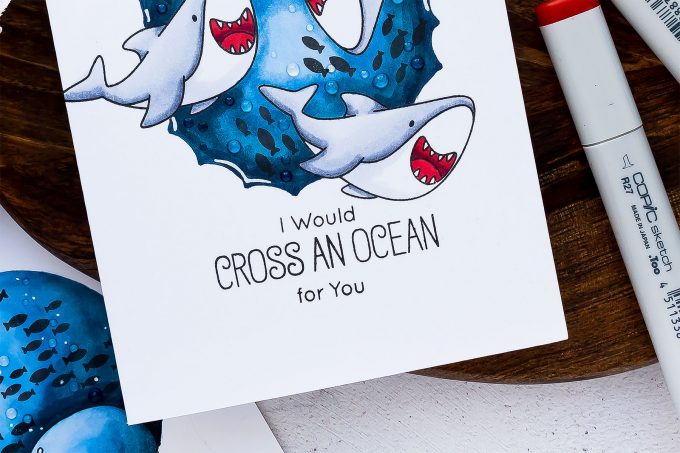 Finally, here's another example using the same approach and again images from the same stamp set – this time I stamped dolphins and made them look like as if they are jumping out from the water and almost kissing.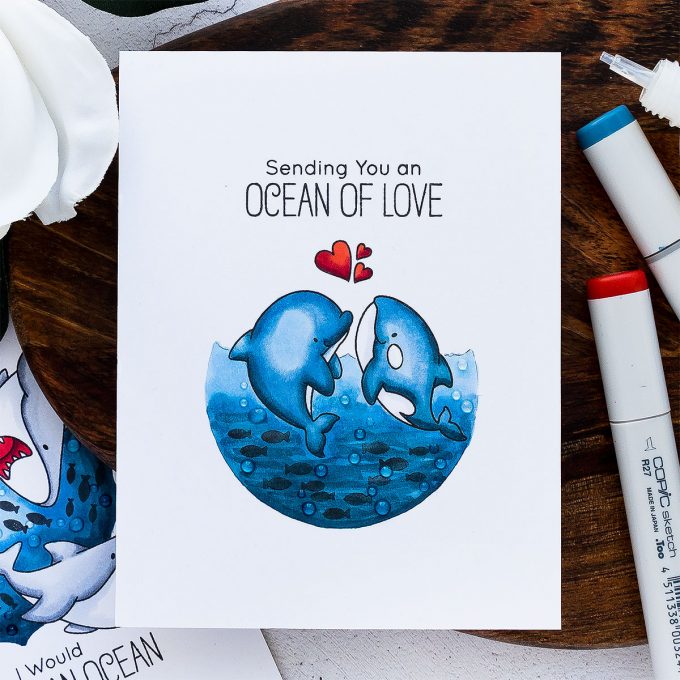 I enclosed them in a circular shape, but this time I made it into a half circle and also added waves at the top of the circle forming the horizon line. I added a stamped cluster of hearts colored using red markers, I used R39, R24, and R05, those are the same colors I used to color the mouth of my shark images and added "Sending You Ocean of Love" sentiment.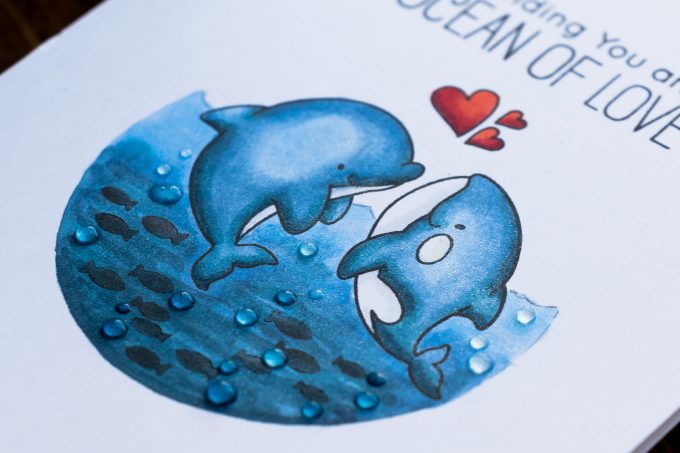 All of the cards were finished up in the same way – I added some sparkle using a shimmer pen and air bubbles using Nuvo Drops in Morning Dew.
Have fun stamping!
SUPPLIES
I'm listing the products I used below. Click on the link to go directly to the product. Where available I use compensated affiliate links which means if you make a purchase I receive a small commission at no extra cost to you. Thank you so much for your support!

MFT Friends With Fins Clear Stamps
Shop at:
SSS | MFT

Hero Arts Ink Pad Intense Black Ink
Shop at:
SSS | SC | HA | AZ

Neenah 110 Lb Solar White Cardstock
Shop at:
SSS | AZ

Neenah 80LB Solar White Cardstock
Shop at:
SSS | AZ

Sakura Classic White Gelly Roll Pens Set of 3
Shop at:
SSS

Copic Colorless Blender Marker
Shop at:
SSS | AZ

Copic Sketch Marker R39 Garnet
Shop at:
SSS | AZ

Copic Sketch Marker R27 Cadmium Red
Shop at:
SSS | AZ

Copic Sketch Marker R05 Salmon Red Bright
Shop at:
SSS

Copic Sketch Marker B99 Agate Dark Blue
Shop at:
SSS | AZ

Copic Sketch Marker B97 Night Blue
Shop at:
SSS

Copic Sketch Marker B34 Manganese Blue
Shop at:
SSS | AZ

Copic Sketch Marker B21 Baby Blue
Shop at:
SSS | AZ

Copic Sketch Marker B12 Ice Blue
Shop at:
SSS

Copic Sketch Marker B00 Frost Blue
Shop at:
SSS | AZ

Copic Sketch Marker C1 Cool Gray
Shop at:
SSS | AZ

Copic Sketch Marker C3 Cool Gray Grey
Shop at:
SSS | AZ

Copic Sketch Marker C5 Cool Gray Grey
Shop at:
SSS | AZ

Tonic Aqua Shimmer Pen Nuvo
Shop at:
SSS | SC | AZ

Tonic Morning Dew Nuvo Crystal Drops
Shop at:
SSS | SC | AZ