A few weeks ago (in one of my videos) I mentioned I don't have a lot of colors of Copic markers and I usually stick to the same color combos for reds, greens, yellows and so on when I do my coloring. A few of you asked me to share my combos and while at first I was going to say no (as I am really no pro when it comes to Copics), I remembered myself when I was just starting out and was looking for suggestions on what colors of markers to get. There are so many different colors, the markers are expensive and when you are on a tight crafting budget you want to make sure you make the most of your purchases.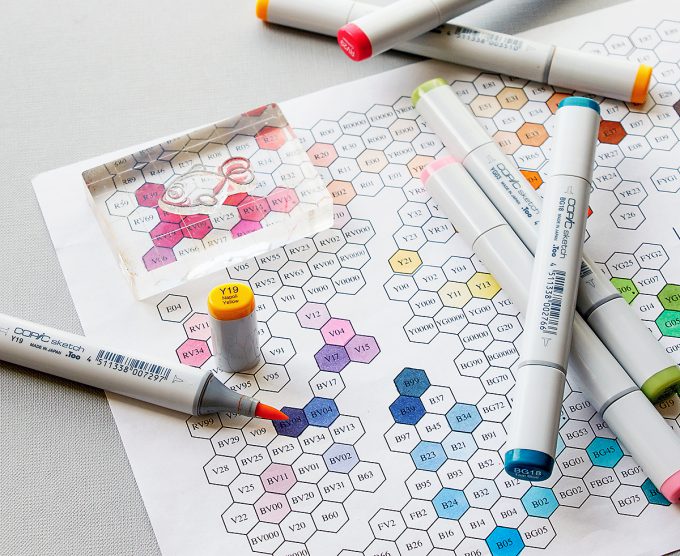 I am not a certified Copic instructor, I simply enjoy using these markers to color my stamped images. I don't have a lot of experience and I still have a lot to learn. I just want to mention this as I am by far not a pro when it comes to Copics. But I do have favorite color combos that work for me and I'm happy to share them with you. If you have favorite Copic color combos – feel free to share them in the comments.
I bought my first Copic markers on Ebay a few years ago, those were used markers and there were about 50 different colors; not all colors worked well together; many I ended up not using at all. Over the years I bought a few additional colors to grow my collection. I have 73 markers today. Do I feel I have enough to color? Yes. Do I want to get more colors – absolutely, but I'm sticking to those I have for now. Maybe I'll get a few additional colors for Christmas or my Birthday. Point is, you don't have to have a lot of colors. Just pick what works for you and get those.
How do you know if you'll like the colors before you get them? There are two ways:
If a friend of yours has Copics, have a play-date. See what colors you like, write them down. I'm lucky as I have access to all Copic colors at work, so whenever I have some free time I try and see what color combos might work for me. If I find something I absolutely need, I write the number down and buy it.
If you don't have a friend with Copics, look for Copic Color Combos online. I love to search for those on Pinterest. You'll be surprised – there are so many different suggestions and images to choose from. Not all of them will work for you, but at least it's a place to start. You can also look for color combos on various crafting blogs. I like to watch Laura Bassen color and I often jot down numbers of markers she used.
COPIC MARKERS COLOR COMBOS
Okay, enough talk, let's get down to business. Here are my favorite Copic Marker Color Combos (I'm linking all of these to Simon Says Stamp as this is where I am now getting my markers from, and my refills and Copic paper). Click image to enlarge it. Feel free to pin it/save it.
I really hope you'll find this information useful! And remember, if you have favorite color combos – comment below and let me and everyone else know!
I'm including coloring examples if I have such on my blog. Since I just got a few new colors, I don't have examples to share for those yet. But I have tried all of these combos and they work well for me.
MORE INFO
I would also recommend getting Copic Marker Hex Chart from Sandy Allnock. I recently got mine and I love it. Very useful, I always use it when I do my coloring. I have it on my desk at all times.
If you'd like to take a Copic marker class, I can suggest taking Copic Markers for Cardmakers from OnlineCardClasses. Great class, loads of useful information and you'll have lifetime access.
I hope you'll find information in this post useful. I plan to update this as I learn more about Copics, find new color combos that work for me.
SUPPLIES
I'm listing the products I used below. Click on the link to go directly to the product. Where available I use compensated affiliate links which means if you make a purchase I receive a small commission at no extra cost to you. Thank you so much for your support!

Simon Says Stamp Intense Black Ink Pad
Shop at:
SSS

Hero Arts Ink Pad Intense Black
Shop at:
SSS | SC | HA | AZ

Copic Blending Card X-press It Paper
Shop at:
SSS | AZ

Copic Clorless Blender Marker
Shop at:
SSS | AZ

Copic Sketch Marker Y11 Pale Yellow
Shop at:
SSS | AZ

Copic Sketch Marker Y13 Lemon Yellow
Shop at:
SSS | AZ

Copic Sketch Marker Y15 Cadmium Yellow
Shop at:
SSS | AZ

Copic Sketch Marker Y17 Golden Yellow
Shop at:
SSS | AZ

Copic Sketch Marker Y35 Maize
Shop at:
SSS | AZ

Copic Sketch Marker YR04 Chrome Orange
Shop at:
SSS | AZ

Copic Sketch Marker YR07 Cadmium Orange
Shop at:
SSS | AZ

Copic Sketch Marker RV10 Pale Pink
Shop at:
SSS | AZ

Copic Sketch Marker RV11 Pink
Shop at:
SSS | AZ

Copic Sketch Marker RV13 Tender Pink
Shop at:
SSS | AZ

Copic Sketch Marker RV14 Begonia Pink
Shop at:
SSS | AZ

Copic Sketch Marker R20 Blush Pink
Shop at:
SSS | AZ

Copic Sketch Marker R22 Light Prawn
Shop at:
SSS | AZ

Copic Sketch Marker RV29 Crimson
Shop at:
SSS | AZ

Copic Sketch Marker R29 Lipstick Red
Shop at:
SSS | AZ

Copic Sketch Marker R24 Prawn
Shop at:
SSS | AZ

Copic Sketch Marker R39 Garnet
Shop at:
SSS | AZ

Copic Sketch Marker BV08 Blue Violet
Shop at:
SSS | AZ

Copic Sketch Marker BV04 Blueberry
Shop at:
SSS | AZ

Copic Sketch Marker BV02 Prune
Shop at:
SSS | AZ

Copic Sketch Marker BV00 Mauve Shadow
Shop at:
SSS | AZ

Copic Sketch Marker B000 Pale Porcelain Blue
Shop at:
SSS | AZ

Copic Sketch Marker B00 Frost Blue
Shop at:
SSS | AZ

Copic Sketch Marker B02 Robin's Egg
Shop at:
SSS | AZ

Copic Sketch Marker B05 Process Blue
Shop at:
SSS | AZ

Copic Sketch Marker B21 Baby Blue
Shop at:
SSS | AZ

Copic Sketch Marker B32 Pale Blue
Shop at:
SSS | AZ

Copic Sketch Marker B34 Manganese Blue
Shop at:
SSS | AZ

Copic Sketch Marker BG32 Aqua Mint
Shop at:
SSS | AZ

Copic Sketch Marker BG15 Aqua Blue
Shop at:
SSS | AZ

Copic Sketch Marker BG18 Teal Blue
Shop at:
SSS | AZ

Copic Sketch Marker YG93 Grayish Yellow
Shop at:
SSS | AZ

Copic Sketch Marker YG95 Pale Olive
Shop at:
SSS | AZ

Copic Sketch Marker YG99 Marine Green
Shop at:
SSS | AZ

Copic Sketch Marker YG03 Yellow Green
Shop at:
SSS | AZ

Copic Sketch Marker YG17 Grass Green Bold
Shop at:
SSS | AZ

Copic Sketch Marker YG63 Pea Green
Shop at:
SSS | AZ

Copic Sketch Marker YG67 Moss
Shop at:
SSS | AZ

Copic Sketch Marker W1 Warm Gray
Shop at:
SSS | AZ

Copic Sketch Marker W3 Warm Gray
Shop at:
SSS | AZ

Copic Sketch Marker W5 Warm Gray
Shop at:
SSS | AZ

Copic Sketch Marker W7 Warm Gray
Shop at:
SSS | AZ

Copic Sketch Marker C3 Cool Gray Grey
Shop at:
SSS | AZ

Copic Sketch Marker C5 Cool Gray Grey
Shop at:
SSS | AZ

Copic Sketch Marker C7 Cool Gray
Shop at:
SSS | AZ

Copic Sketch Marker E000 Pale Fruit Pink
Shop at:
SSS | AZ

Copic Sketch Marker E00 Skin White
Shop at:
SSS | AZ

Copic Sketch Marker E02 Fruit Pink
Shop at:
SSS | AZ

Copic Sketch Marker E11 Barley Beige
Shop at:
SSS | AZ

Copic Sketch Marker E13 Light Suntan
Shop at:
SSS | AZ

Copic Sketch Marker E15 Dark Suntan
Shop at:
SSS | AZ

Copic Sketch Marker E31 Brick Beige
Shop at:
SSS | AZ

Copic Sketch Marker E33 Sand Beige
Shop at:
SSS | AZ

Copic Sketch Marker E37 Sepia Brown
Shop at:
SSS | AZ

Copic Sketch Marker E79 Cashew Dark Brown
Shop at:
SSS | AZ

Copic Sketch Marker V12 Pale Lilac
Shop at:
SSS | AZ

Copic Sketch Marker V15 Mallow Violet
Shop at:
SSS | AZ

Copic Sketch Marker V17 Amethyst Violet
Shop at:
SSS | AZ