Hello, friends! Today I have the next episode from my monthly "Color Layering with Yana" series to share featuring some beautiful poppies from Hero Arts. As you look at my cards, chances are, you'll notice that one of the cards has a big typo. Things happen. I didn't notice the typo until is was way too late and haven't had the chance to actually fix it on my project (heck, it even appeared like this on the Hero Arts blog!). But I wanted to acknowledge the fact that the typo is there 😀 . Happens to all of us, right? Tell me, what was the biggest mistake you've ever had on a handmade card?
The typo aside, here are the cards I made to share with you today using the Color Layering Poppy set.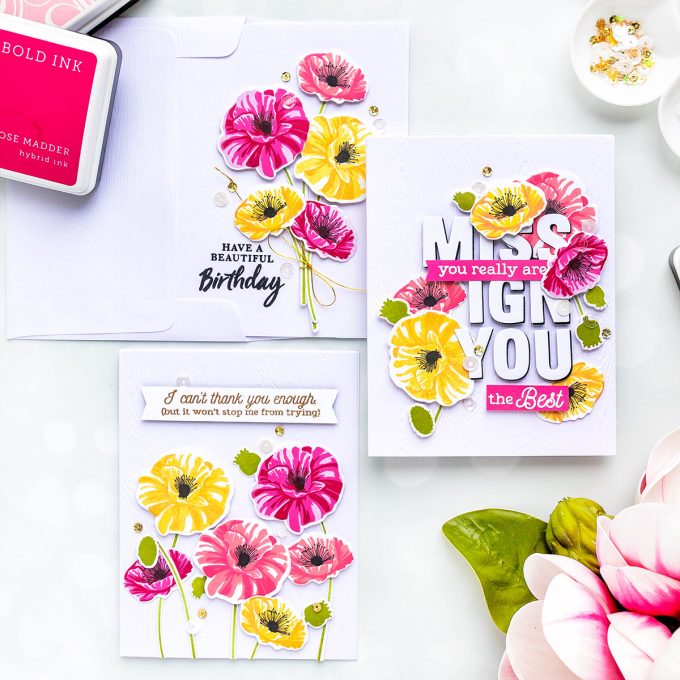 Like this project? Pin it and save for later | Curious about my project photography? Click for details. 
Welcome back for another episode of the Color Layering with Yana video series! In each one of my monthly videos I explore different ink pad and embossing powder color options for Hero Arts Color Layering sets and will hopefully inspire you to stamp! These videos are published on Hero's blog and Youtube channel on Mondays following the My Monthly Hero Blog Hops and I'm sharing them on my blog as well. 
VIDEO TUTORIAL
Watch my video tutorial below or on Youtube to learn how I made the cards I'm sharing today.
Like this video? Please give it a thumbs up and share with a crafty friend! Drop me a comment too, I love hearing from you!
CARDS DETAILS
When we think of poppies, we probably imagine beautiful red flowers. But poppies come in all sorts of colors, not necessarily red. You can easily use your other ink pad colors from Hero Arts to stamp poppies in yellow, pink and peach colors!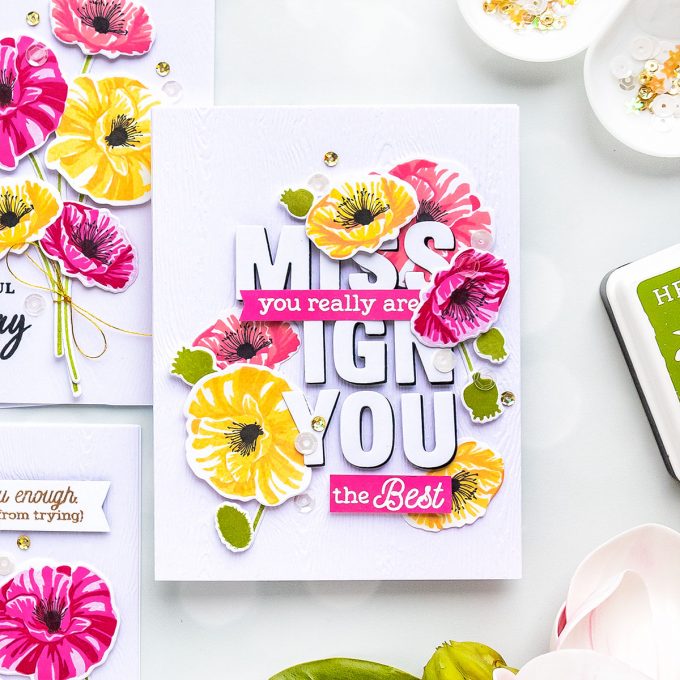 For my cards today I went with several Spring color combinations and very simple card layouts. I used:
I also tried using Orchid and Grape Juice inks, but these ended up being just a tad bit too dark for my taste so I didn't use those flowers. All of the green pieces were stamped in Moss.
After stamping my images I used coordinating dies and cut them out in my die cutting machine. I kept my cards very simple.
For my first card I die-cut letters to spell "missing you" (alas, making the typo) using coordinating dies from the Luggage Tag Alphabet set; I cut them from white and black cardstock, layered and offset slightly.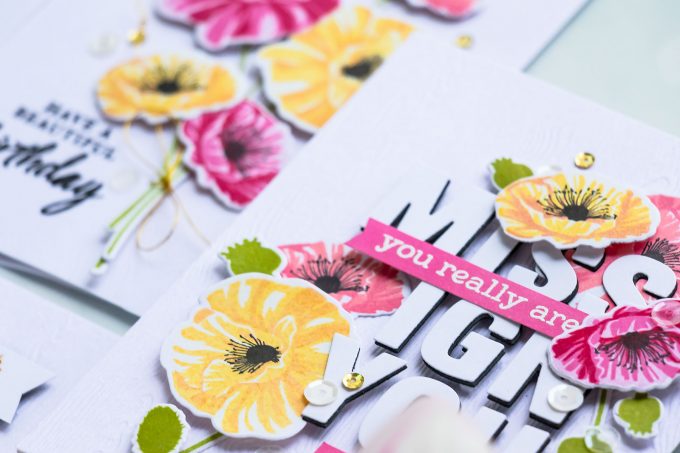 For the background panel for this card and also one other card I used White Woodgrain Cardstock – it has a beautiful woodgrain texture and works really well for clean and simple cards. I added a sub sentiment that reads – "you are really the best". I ink blended a piece of white paper using Rose Madder ink to have it match in color to the stamped poppies on my card and once it was dry I heat embossed a sentiment in white embossing powder. I also used sequins from the Champagne sequin mix and added a few here and there on this projects.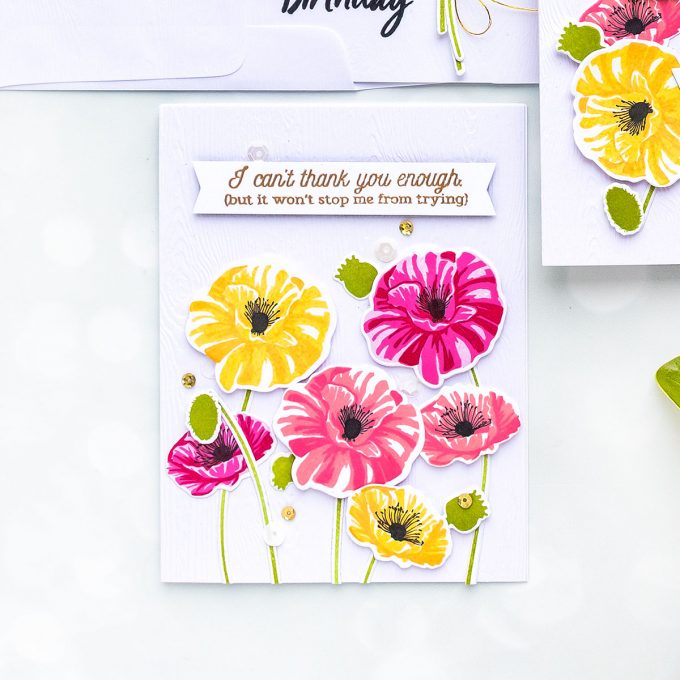 My card #2 features same poppies but on a stem this time – there are 2 stem images in this set and a coordinating die that will cut one of them out. I arranged them as if growing from the base of the case and added a beautiful sentiment heat embossed in gold over top.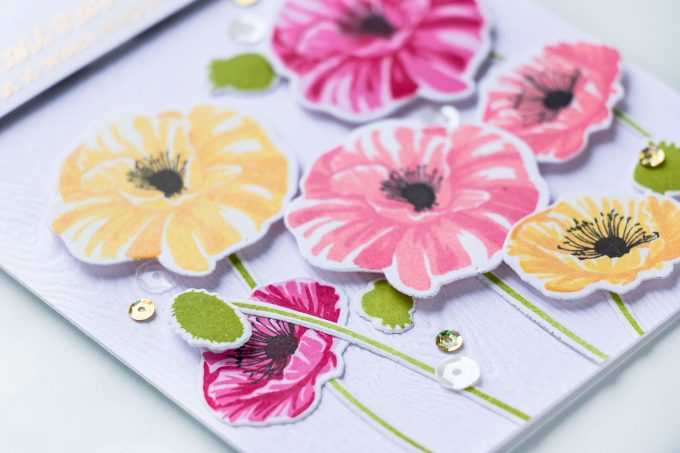 For my last card for today I used one of the Hero Arts Woodgrain Envelopes, I actually cut it to use the paper as the card front.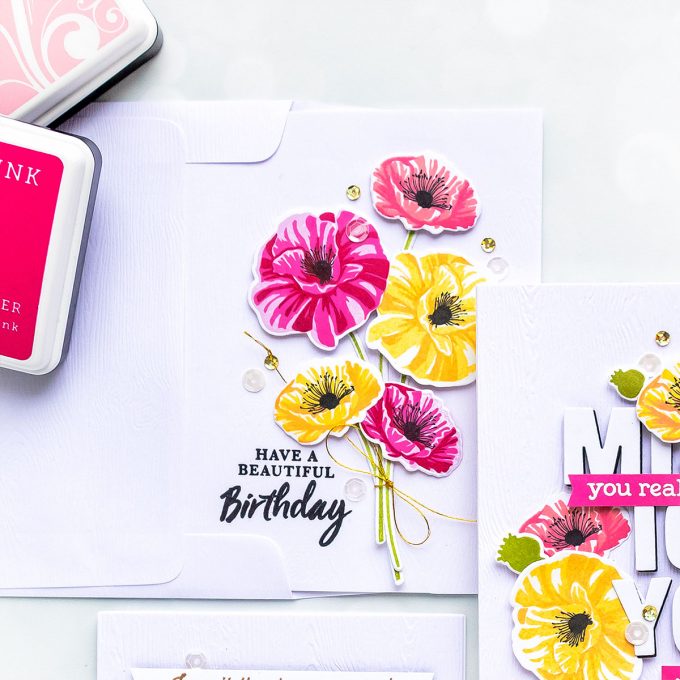 I did that because I wanted to stamp a sentiment directly on the card background and had I used regular woodgrain cardstock it would not have looked good, as the texture on that paper is quite pronounced and it would have interfered with stamping. The texture on the envelopes is not as pronounced, so stamping on it wasn't a problem.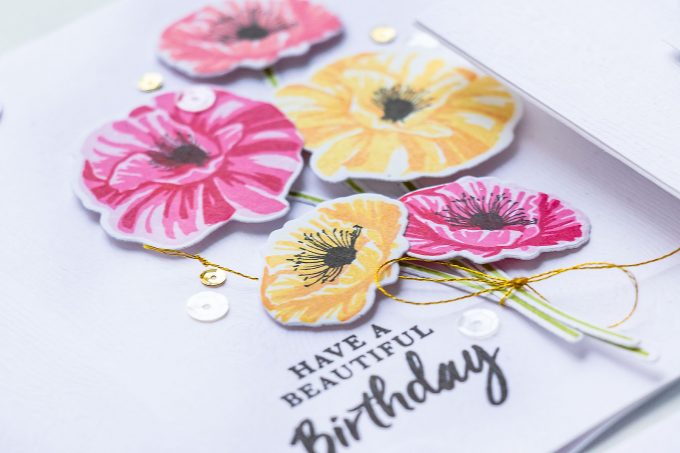 I hope enjoyed this fresh look at the Color Layering Poppy stamp set and my card ideas today!
Have fun stamping!
MORE COLOR LAYERING!
Do you enjoy Color Layering? Check out my Color Layering playlist on Youtube featuring various tips & tricks for using your Color Layering Stamps!
SUPPLIES
I'm listing the products I used below. Click on the link to go directly to the product. Where available I use compensated affiliate links which means if you make a purchase I receive a small commission at no extra cost to you. Thank you so much for your support!

Hero Arts Color Layering Poppy
Shop at:
SSS | SC | HA | AZ

Hero Arts Color Layering Poppy Frame Cuts
Shop at:
SSS | SC | HA | AZ

Hero Arts Color Layering Poppy Bundle
Shop at:
SSS | SC | HA

Hero Arts Clear Stamps You're Beautiful
Shop at:
SSS | SC | HA | AZ

Hero Arts Birthday Messages Stamps
Shop at:
SSS | SC | HA | AZ

Hero Arts Luggage Tag Alphabet Dies
Shop at:
SSS | SC | HA | AZ

Hero Arts Hero Hues Cardstock – Dove White
Shop at:
SSS | SC | HA

Hero Arts Hero Hues Cardstock – Pitch Black
Shop at:
SSS | SC | HA

Hero Arts Decorative Woodgrain Cardstock
Shop at:
SSS | SC | HA

Hero Arts Decorative Woodgrain A2 Envelopes
Shop at:
SSS | HA

Hero Arts Soft Yellow Ink Pad
Shop at:
SSS | SC | HA | AZ

Hero Arts Butter Bar Ink Pad
Shop at:
SSS | SC | HA | AZ

Hero Arts Soft Apricot Ink Pad
Shop at:
SSS | SC | HA | AZ

Hero Arts Soft Pink Ink Pad
Shop at:
SSS | SC | HA | AZ

Hero Arts Rose Madder Ink Pad
Shop at:
SSS | SC | HA | AZ

Hero Arts Crimson Ink Pad
Shop at:
SSS | SC | HA | AZ

Hero Arts Pale Tomato Ink Pad
Shop at:
SSS | HA | AZ

Hero Arts Fresh Peach Ink Pad
Shop at:
SSS | SC | HA | AZ

Hero Arts Moss Hybrid Ink Pad
Shop at:
SSS | SC | HA | AZ

Hero Arts White Detail Embossing Powder
Shop at:
SSS | SC | HA | AZ

Hero Arts Heat Embossing Gun
Shop at:
SSS | SC | HA | AZ

Hero Arts Gold Embossing Powder PW100
Shop at:
SSS | SC | HA | AZ

Hero Arts Champagne Sequin Mix
Shop at:
SSS | SC | HA | AZ

Spellbinders Deep Sea Die Cutting and Embossing Machine
Shop at:
SSS | SC | SB | AZ

Versamark Watermark Emboss Ink Pad
Shop at:
SSS | HA | AZ

EK Success Powder Tool Applicator
Shop at:
SSS | SC | AZ

Mini Misti Stamping Tool
Shop at:
SSS | SC | HA | AZ

Scor-tape 2 1/2 Inch Crafting Tape
Shop at:
SSS

Tonic Deluxe Adhesive Nuvo Glue
Shop at:
SSS | SC | AZ | TS

Crystal Ninja Crystal Katana Pick Up Tool
Shop at:
SSS | AZ