Welcome back to the 5th episode of the Color Layering with Yana video series! In each one of my monthly videos I explore different ink pad (and sometimes embossing powder) color options for Hero Arts Color Layering sets and will hopefully inspire you to stamp! These videos are published on Hero's blog and Youtube channel on Mondays following the My Monthly Hero Blog Hops and I'm sharing them on my blog as well. 

In this video I am taking a closer look at one of my personal favorite sets – the Color Layering Mangrove. This stamp set has so much potential and with a bit of alteration can be used for a number of ways, not just for mangrove trees. You might have already seen me use my leftover mangroves for my neighbourhood cards here.
Like this project? Pin it and save for later | Curious about my project photography? Click for details. 
VIDEO TUTORIAL
Watch my video tutorial below or on Youtube to learn how I made the cards I'm sharing today and see me explore various color combinations for this stamp set.
Like this video? Please give it a big thumbs up and share with a crafty friend! Drop me a comment too, I love hearing from you!
COLOR COMBOS FOR MANGROVES!
But first thing's first – let's take a look at some of the ink pad color options that work well for these trees. Hero Arts suggest ink pads for the Color Layering Mangrove are Forever Green, Green Apple, Caramel and Butter Bar. Beautiful colors that let you produce vibrant mangrove trees. I decided to skip using recommended colors today and try and find some other unexpected combinations that work. I tested and liked the following colors:
For the treetops:
For the tree trunks:
CARDS DETAILS
This stamp set has a set of coordinating dies that cut almost every image included in the set out. I used my dies and cut my stamped images out out. I set them aside and started working on the backgrounds for my cards. I feel like the backgrounds as just as important as the foregrounds of a project.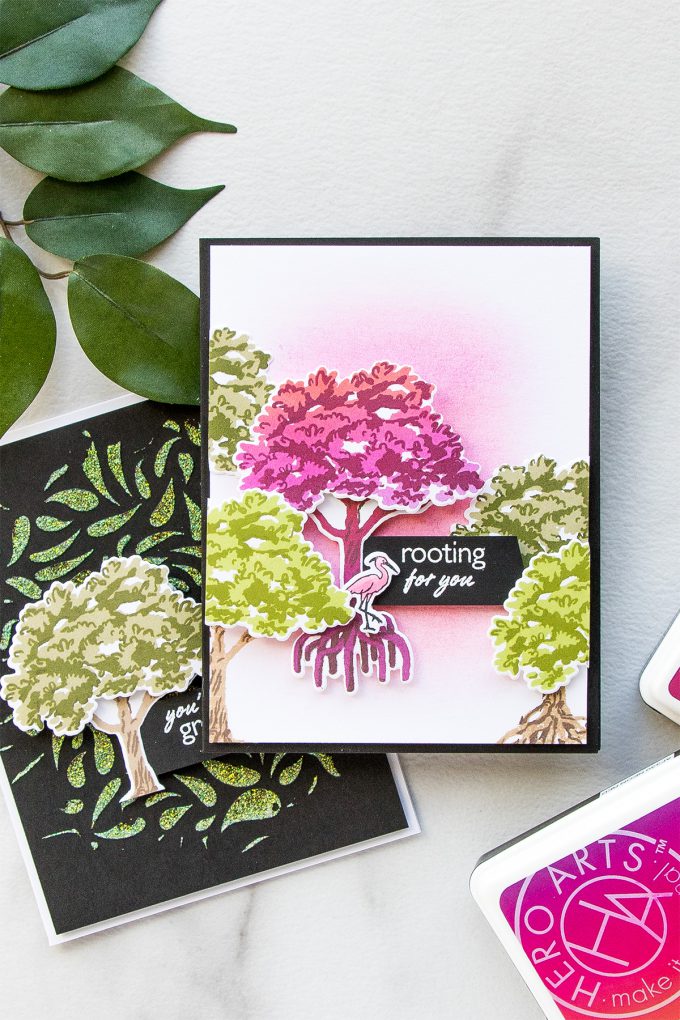 I used Neon Ombre Red to Purple ink pad along with a Dual Tip Blender Brush and blended a quick and easy ombre sunset like background. Since I was blending with an ombre pad I got that instant color transition and that I think, made it even easier to blend and have a beautiful and easy background in the end.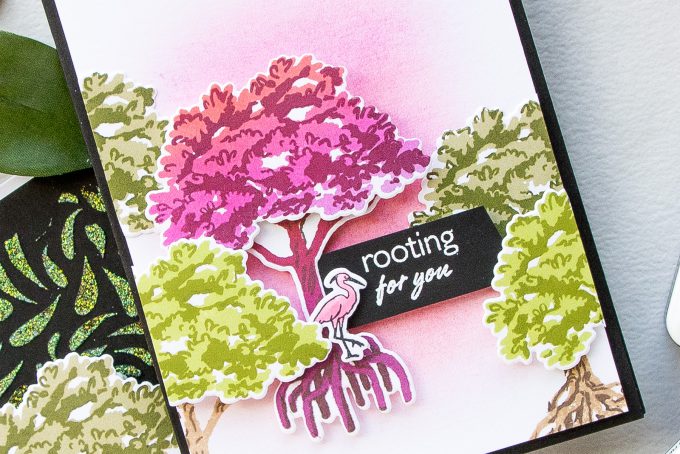 I used the red tree along with the red tree trunk and two other green tree tops for this card. I heat embossed Rooting For You in white embossing powder onto black cardstock, this is how I did all of my sentiments today.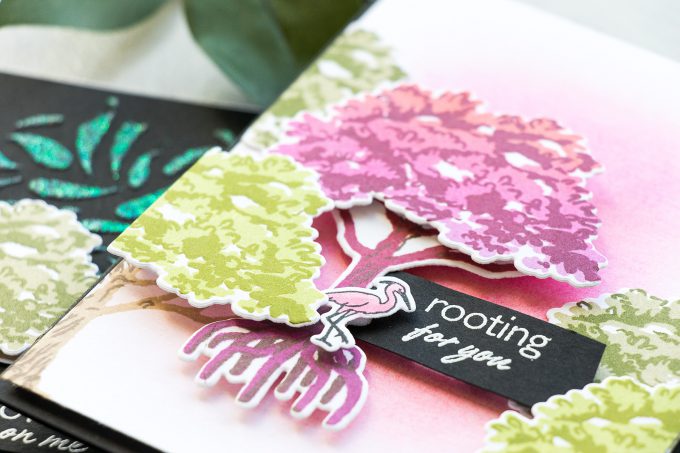 Since I had two more treetops here I went ahead and stamped two additional tree trunks, but directly onto the panel this time. Once my stamping was finished I used foam adhesive and foam mounted all of these elements in place.
After I foam mounted the two additional treetops I trimmed them as I didn't want them going outside the panel and by the way I trimmed this panel to 4 x 5 1/4″; I used the leftover pieces to add even more greenery to this card and made it look like a forest. Later I foam mounted this panel onto an A2 black card base and I added a white cardstock panel on the inside to write a greeting.
For my next background I used black cardstock along with Hero Arts Rain Dance stencil and glimmer paste.
For this card I didn't want to have a mangrove tree, but rather a regular tree. So I took my scissors and simply cut the roots portion of this image off and the minute I did it this tree trunk looked like it was designed like that and I couldn't tell it had anything else to it.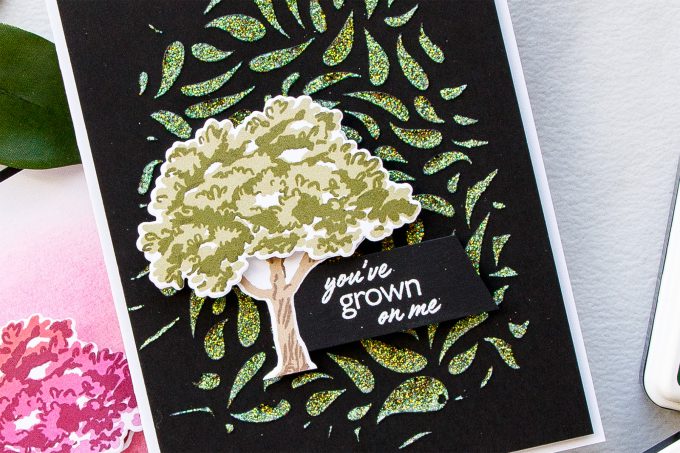 I foam mounted my regular tree along with a sentiment strip onto my background. For the sentiment I went with one that reads You've Grown on Me. To finish this card I foam mounted this panel onto an A2 white card base.
My last card for today features both of my neon stamped trees. I foam mounted them onto a white woodgrain card base made using Hero Arts wood grain paper – I love using this paper for my clean and simple cards. I used double layer of fun foam for the tree top for my yellow tree to elevate it above the tree trunk and than triple layer of foam adhesive for the red tree top to elevate it even more.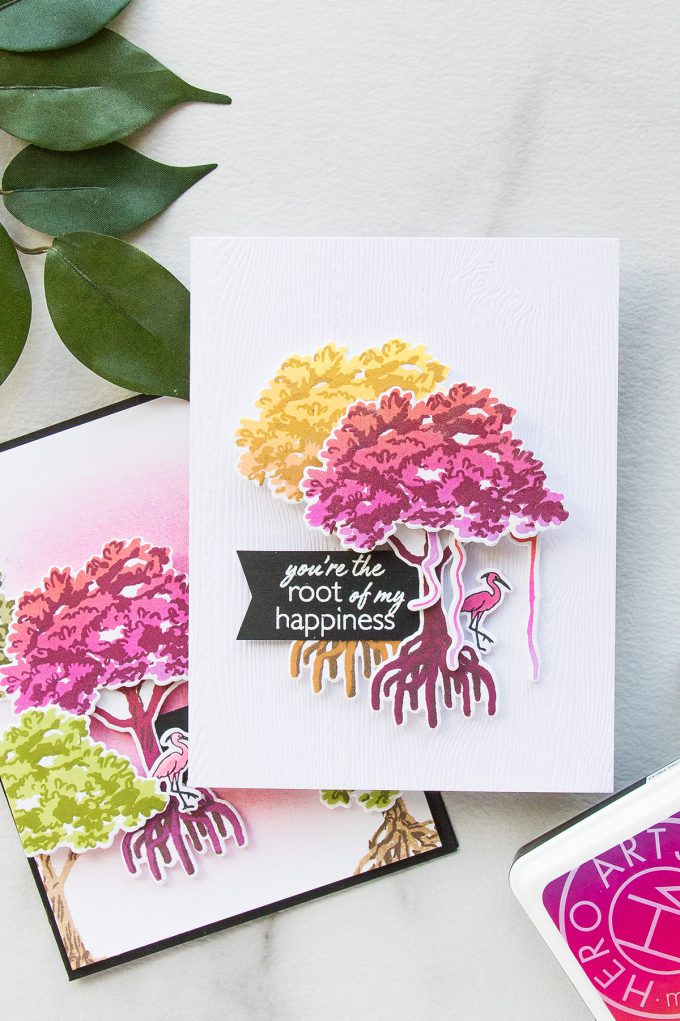 For this card I went with You're The Root Of My Happiness sentiment, I also added a pink flamingo and I made sure to add some air roots coming out from the tree. This Color Layering Mangrove stamp set has several little images to complement the mangrove image one of them being the air roots and there's actually 4 different roots to choose from. I used just 3 here.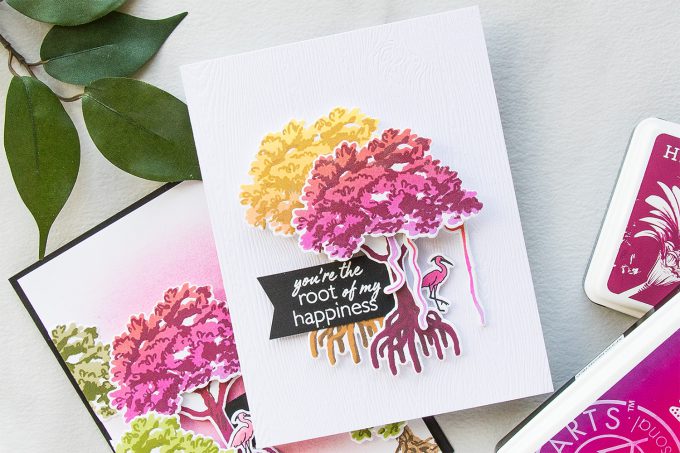 Other images are circles in the water – you can stamp those next to the roots of the tree trunk to make it look like as if they are going into the water and also there's an image of a fish if you'd like to add that to your water. So lots of fun things to play with.
Have you used this stamp set? Do you have a favorite combo for it? Share below! Have fun stamping!
MORE COLOR LAYERING!
Do you enjoy Color Layering? Check out my Color Layering playlist on Youtube featuring various tips & tricks for using your Color Layering Stamps!
SUPPLIES
I'm listing the products I used below. Click on the link to go directly to the product. Where available I use compensated affiliate links which means if you make a purchase I receive a small commission at no extra cost to you. Thank you so much for your support!

Hero Arts Clear Stamps Color Layering Mangrove
Shop at:
SSS | SC | HA

Hero Arts Color Layering Mangrove Bundle
Shop at:
SSS | SC | HA

Hero Arts Color Layering Frame Cuts Mangrove Die Set
Shop at:
SSS | SC | HA

Hero Arts Ombre Neon Chartreuse to Blue Ink Pad
Shop at:
SSS | SC | HA

Hero Arts Ombre Neon Red to Purple Ink Pad
Shop at:
SSS | SC | HA

Hero Arts Ombré Neon Yellow to Orange AF328
Shop at:
SSS | SC | HA | AZ

Hero Arts Forever Green Ink Pad
Shop at:
SSS | HA | AZ

Hero Arts Field Greens Ink Pad
Shop at:
SSS | SC | HA | AZ

Hero Arts Soft Olive Ink Pad
Shop at:
SSS | HA | AZ

Hero Arts Soft Brown Ink Pad
Shop at:
SSS | SC | HA | AZ

Hero Arts Cup O' Joe Ink
Shop at:
SSS | SC | HA | AZ

Hero Arts Pumpkin Pie Ink Pad
Shop at:
SSS | SC | HA | AZ

Hero Arts Hybrid Ink Pad Mulled Wine
Shop at:
SSS | SC | HA | AZ

Hero Arts Lime Green Ink Pad
Shop at:
SSS | SC | HA | AZ

Hero Arts Moss Hybrid Ink Pad
Shop at:
SSS | SC | HA | AZ

Hero Arts Pine Hybrid Ink Pad
Shop at:
SSS | SC | HA | AZ

Hero Arts Shadow Ink Pad Fresh Lawn
Shop at:
SSS | SC | HA

Hero Arts Ink Pad Intense Black Ink
Shop at:
SSS | SC | HA | AZ

Hero Arts Stencil Rain Dance Pattern
Shop at:
SSS | SC | HA

Simon Says Stamp Black Cardstock
Shop at:
SSS

Neenah 110 Lb Solar White Cardstock
Shop at:
SSS | AZ

Hero Arts White Embossing Powder PW110
Shop at:
SSS | SC | HA | AZ

Hero Arts Heat Embossing Gun PW200
Shop at:
SSS | SC | HA | AZ

Versamark Watermark Emboss Ink Pad
Shop at:
SSS | HA | AZ

Hero Arts Decorative Woodgrain Cardstock
Shop at:
SSS | SC

EK Success Powder Tool Applicator
Shop at:
SSS | SC | AZ

Tonic Moonstone Nuvo Glimmer Paste
Shop at:
SSS | SC

Copic Sketch Marker RV13 Tender Pink
Shop at:
SSS | AZ

Copic Sketch Marker Rv23 Pure Pink
Shop at:
SSS

Tonic Metal Palette Knife
Shop at:
SSS

Tim Holtz Tonic Craft Stamp Platform
Shop at:
SSS | SC | AZ

Tonic Aqua Shimmer Pen Nuvo 2 Pack 888n
Shop at:
SSS | SC | AZ

White Fun Foam 12 Pack 9 x 12
Shop at:
SSS | AZ

Scrapbook Adhesives Adhesive Sheets
Shop at:
SSS | AZ

Scrapbook Adhesives White Foam Squares
Shop at:
SSS | SC | AZ

Spellbinders Platinum Die Cutting Machine
Shop at:
SSS | SC | SPEL | AZ

Spellbinders Magnetic Handy Mat
Shop at:
SSS | SC | SPEL | AZ

Tonic Easy Clean Mat
Shop at:
SSS

Tonic Dual Tipped Blender Brush Nuvo 2 Pack
Shop at:
SSS | SC