Hello, friends! Today I have ink blended greeting cards to share using April 2020 My Monthly Hero Kit from Hero Arts as well as an older sentiment stamp set from my stash.
This month kit from Hero Arts features a large 6×8 clear stamp set, coordinating dies to cut the images out, beautiful specialty papers, an intense black ink pad and, my favorite part of this kit is an absolutely amazing stencil. When I saw this stencil for the first time I really blew my mind – all the various color combinations that can be used with this design came rushing into my head and I started ink blending colorful backgrounds right away.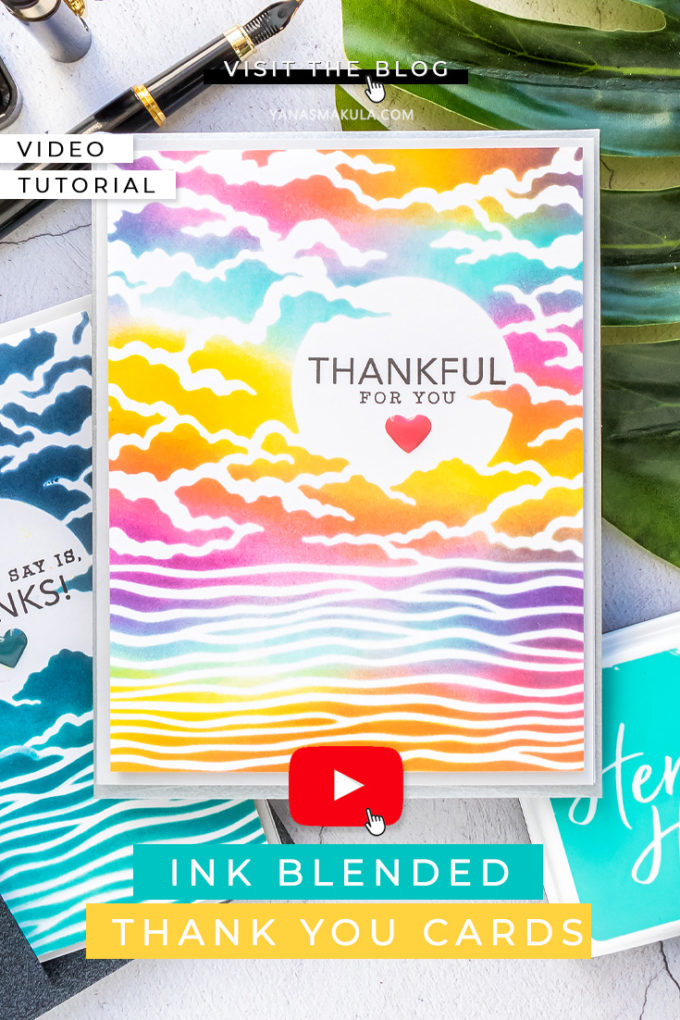 Like this project? Pin it and save for later | Curious about my project photography? Click for details. 
VIDEO TUTORIAL
As always, I filmed a video tutorial showing how to create this project from start to finish. I'm hoping you'll enjoy it. Watch it below or on my Youtube channel.
Like this video? Please give it a big thumbs up (you can do this on Youtube video page right under the video) and share it with a crafty friend! Leave me a comment too, I love hearing from you!
CARDS DETAILS
I made 6 cards using just this one stencil, they were so easy to make and I was feeling so much joy when using my inks and ink blending these backgrounds. During the current times, current restrictions, the quarantine I think we all feel a little bit down, I know some feel very much alone and isolated, I myself do feel very sad and depressed at times, but crafting is what keeps me going, crafting is what I look forward to every morning, crafting is what is putting a smile on my face and my crafty friends are the best friends in the world.
I want to mention how grateful I am to all the companies out there who design and manufacture products for us to create with. These are not just products, these are medicine that helps to keep us going, that helps us stay sane and still have a bit of joy in our lives despite the Coronavirus.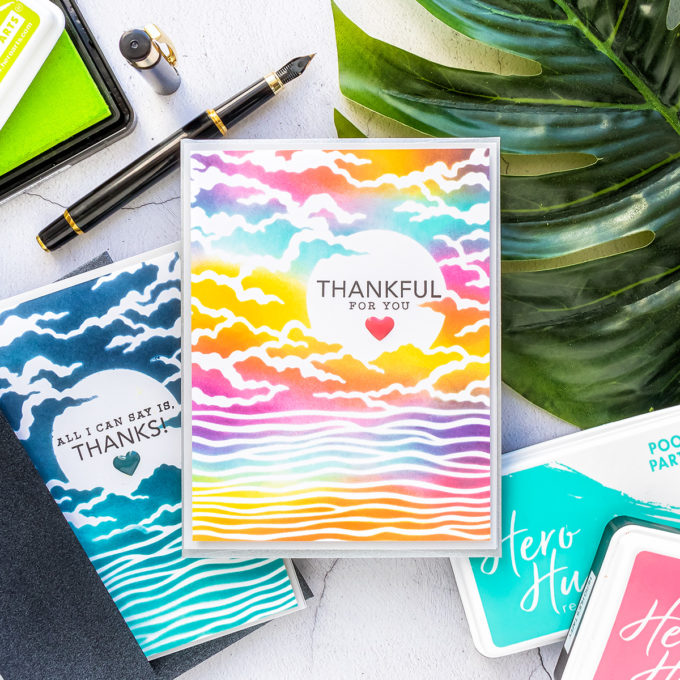 This stencil is what got me really excited and brought a huge smile to my face as I was making these cards. I pulled out a lot of inks from Hero Arts, I pulled out my ink blending tools and I just blended my heart out and created various colorful backgrounds.
I did use a lot of the ombre ink pads, especially Hero Arts Neon inks, I don't typically use neon inks for my cards as I find the colors a bit too vibrant even for my taste, but here I think they worked perfectly for these sunset backgrounds.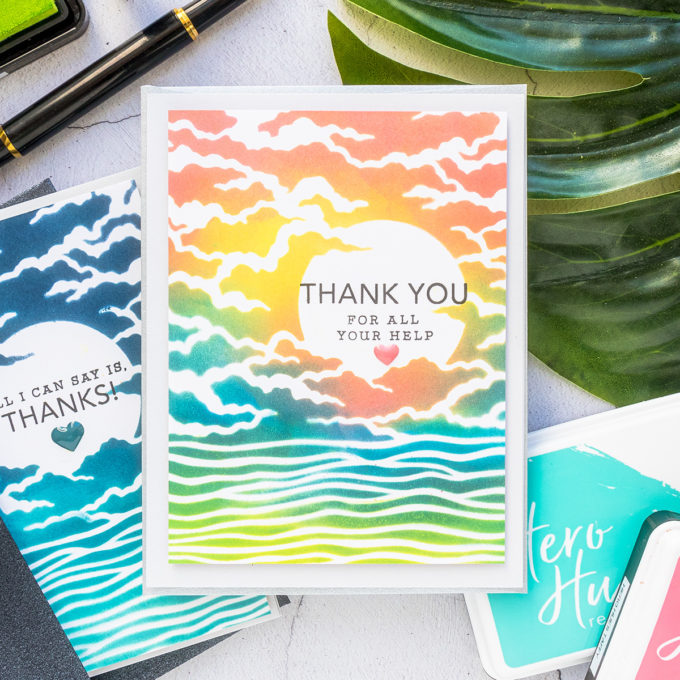 I used washi tape to secure the paper to the stencil, although you can also use spray adhesive to make the stencil sticky and that might actually make it easier to use it as there are some very fine details, little clouds that get caught up in the ink blending tool if your ink blending is too vigorous. I've later found that dabbing the ink instead of blending it, especially over those detail areas is the easiest way to apply the ink.
The color combinations which can be used with this stencil, I think, are truly limitless. You can have a dark blue, almost a night sky background, and sunset. You can have a purple sunset, you can have a pink and yellow sunrise, it doesn't have to be a sunset, it can be a sunrise too.
The waves at the bottom of the stencil don't have to be waves, they can be sand dunes, and therefore can be blended in various shades of yellow, orange and brown. They can be hills and can be blended in various shades of green if those are green hills, or pink, yellow, purple or any other floral color if those are blooming hills or fields.
You can also make these into a fantasy background and just use any colors you like, even if they don't really occur in nature. I like to think of this as my art and if I feel like using colors that aren't seen in a real setting, I can use colors that aren't seen in a real scene like this.
As I was ink blending my backgrounds I've found it easier to use Waffle Flower Mini Water Media Mat, it fits my stencil perfectly, allowing me to keep my work area nice and ink-free. I also used a smaller ink blending tool for some of the smaller areas, where I wanted to ink blend the ink over smaller areas to have as little ink overlap as possible.
I also ink blended on in just red. I used Taffy as my lightest red, well pink really as this is a pink color, next added a lot of Crimson and finished it all off with Raspberry ink. This is also one background where I sprayed Hero Arts White Shimmer Iridescent ink to add sparkly shimmer to my background.
The April kit comes with a beautiful stamp set picturing Australian fauna. I wanted to keep my cards very much on the simpler side, so I skipped using that stamp set and instead pulled out an older set from hero Arts with a variety of thank you sentiments. I just felt like I wanted to make Thank You cards – the stamp set I used is called Thank You Messages and I just stamped a Thank You inside the blank space that represents the sun or the moon.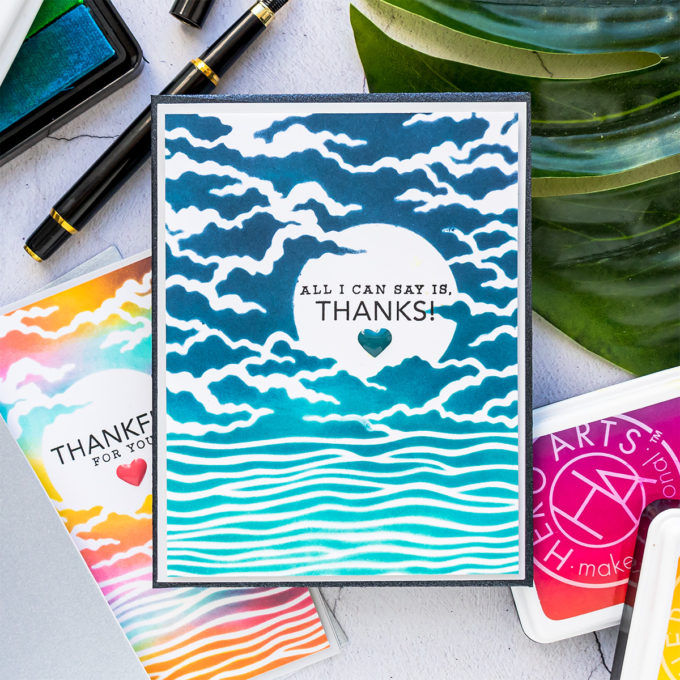 I trimmed my backgrounds down, some were cut to 4 x 5 1/4", some to 3 3/4 x 5" and foam mounted them to A2 light gray and kraft card bases.
Lastly, I wanted to add some embellishments, but at the same time I really wanted to keep these cards as simple as possible, so I went ahead and added an enamel heart to each and I tried to match the color of the heart to my stamping.
I had the best time designing and making these cards. Stay safe, stay healthy and have fun crafting!
HERO ARTS MY MONTHLY HERO KIT & ADD-ONS
Please note, this month shipping will be delayed. Currently we estimate that shipping will begin April 20. We know you are excited to get your kit and appreciate your patience as we work through delays during this time of COVID-19. We are sending love and support, as well as healing thoughts to those who know people who have fallen sick or are sick themselves.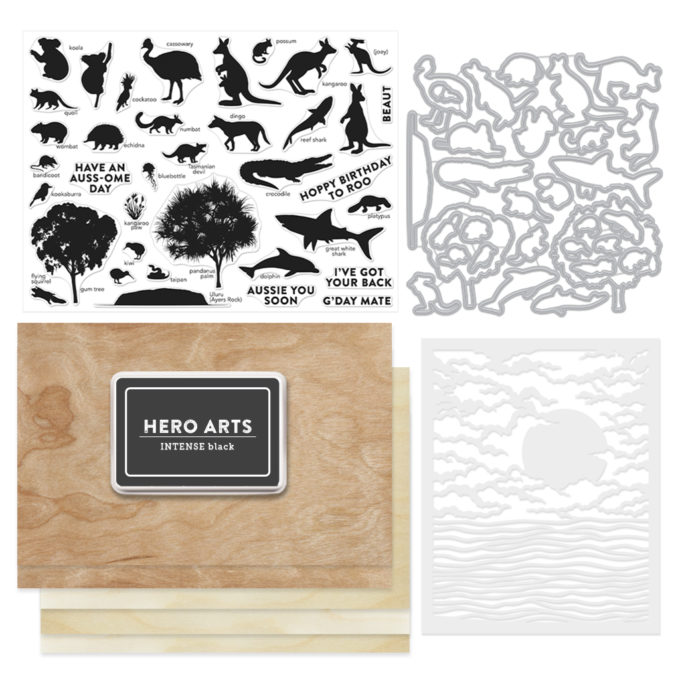 Hero Arts My Monthly Hero Kit April 2020
Shop at:
HA

Hero Arts CH330 We Are In This Together World Enamel Pin
Shop at:
HA

Hero Arts DI760 April Word Fancy Die (B)
Shop at:
HA

Hero Arts H6431 Koala on Branch
Shop at:
HA

Hero Arts DI759 Nature Border Fancy Die with Frame (F)
Shop at:
HA

Hero Arts DI753 Surfs Up Fancy Die Set (F)
Shop at:
HA

Hero Arts CG809 Eucalyptus Bold Prints
Shop at:
HA

Hero Arts DI754 Beach HeroScape Frame Cuts (C)
Shop at:
HA

Hero Arts CM447 Beach HeroScape
Shop at:
HA

Hero Arts DI755 Protea Flowers Frame Cuts (C)
Shop at:
HA

Hero Arts CM448 Protea Flowers
Shop at:
HA

Hero Arts DI756 Bandicoot & Friends Frame Cuts (C)
Shop at:
HA

Hero Arts CM449 Bandicoot & Friends
Shop at:
HA

Hero Arts DI757 Patterned Animals Frame Cuts (C)
Shop at:
HA

Hero Arts CM450 Patterned Animals
Shop at:
HA

Hero Arts DI758 Color Layering Joey Frame Cuts (B)
Shop at:
HA

Hero Arts CM451 Color Layering Joey
Shop at:
HA
BLOG HOP
Hero Arts
Michelle Short
Jessica Frost-Ballas
Channin Pelletier
Daniel West
Ilina Crouse
Debi Adams
Janette Kausen
Yana Smakula – you are here!
Lydia Fiedler
Jennifer McGuire
Julee Tilman
Maria Willis
Seeka
Laurie Willison
Amy Kolling
Libby Hickson
GIVEAWAY
Hero Arts is giving away one $50 gift card to one lucky commenter, picked randomly from comments left across the hop. Enter by Sunday, April 12th at 11:59 pm pacific, and the winner will be announced on the Hero Arts blog the following week.
SUPPLIES
I'm listing the products I used below. Click on the link to go directly to the product. Where available I use compensated affiliate links which means if you make a purchase I receive a small commission at no extra cost to you. Thank you so much for your support!

Hero Arts My Monthly Hero Kit April 2020
Shop at:
HA

Hero Arts Stamps Thank You Messages
Shop at:
SSS | SC | HA | AZ

Waffle Flower Mini Water Media Mat
Shop at:
SSS | SC

Neenah Classic Crest 80 Lb Desert Storm
Shop at:
SSS | AZ

Hero Hues Premium Cardstock Pebble
Shop at:
SSS | SC | HA | AZ

Hero Arts Hero Hues Cardstock Dove White
Shop at:
SSS | SC | HA

Hero Arts AF420 Taffy Reactive Ink
Shop at:
SSS | SC | HA | AZ

Hero Arts AF421 Fruit Punch Reactive Ink
Shop at:
SSS | SC | HA

Hero Arts Crimson Ink Pad
Shop at:
SSS | SC | HA | AZ

Hero Arts AF423 Lemon Drop Reactive Ink
Shop at:
SSS | SC | HA

Hero Arts AF424 Key Lime Fizz Reactive Ink
Shop at:
SSS | SC | HA

Hero Arts AF426 Pool Party Reactive Ink
Shop at:
SSS | SC | HA | AZ

Hero Arts AF427 Blue Raspberry Reactive Ink
Shop at:
SSS | SC | HA

Hero Arts AF428 Splash Reactive Ink
Shop at:
SSS | SC | HA | AZ

Hero Arts AF432 Grape Slush Reactive Ink
Shop at:
SSS | SC | HA | AZ

Hero Arts Ombre Pool To Navy Ink
Shop at:
SSS | SC | HA | AZ

Hero Arts Green Apple Reactive Ink
Shop at:
SSS | SC | HA

Hero Arts Ombre Neon Red to Purple Ink Pad
Shop at:
SSS | SC | HA | AZ

Hero Arts Ombré Neon Yellow to Orange
Shop at:
SSS | SC | HA | AZ

Hero Arts Ombre Spring Brights Ink Pad
Shop at:
SSS | SC | HA | AZ

Hero Arts Ombre Mermaid Ink Pad
Shop at:
SSS | SC | HA | AZ

Hero Arts Ombre Neon Chartreuse to Blue Ink Pad
Shop at:
SSS | SC | HA

Hero Arts Raspberry Jam Ink Pad
Shop at:
SSS | SC | HA | AZ

Hero Arts Ombre Meadow Ink Pad
Shop at:
SSS | SC | HA | AZ

Hero Arts White Iridescent Shimmer Spray
Shop at:
SSS | SC | HA | AZ

Spellbinders Circle Replacement Foam
Shop at:
SSS | SC | SB | AZ

Ranger Mini Round Ink Blending Tools
Shop at:
SSS | SC | AZ

FSJ Dauber Dowel Small (2 cm)
Shop at:
SB

Spray Adhesive
Shop at:
SSS

White Fun Foam 12 Pack 9 x 12
Shop at:
SSS | AZ

Simon Says Stamp Craft Tacky Glue
Shop at:
SSS