Welcome to the 4th Annual Handmade Holidays Blog Hop! A few years ago we were looking online for handmade gift ideas and thought it would be great if there was a resource dedicated JUST to handmade gift ideas.
Enter the Handmade Holidays hop! We've gathered over 100 of our creative blogger friends in the craft industry as well as some of our fellow product manufacturers to bring you a plethora of inspiring gift ideas you can make now to give to your friends, family, and colleagues.
Pin and bookmark these ideas for this holiday season and to use throughout the year! Each day of the hop features approximately 30 gift projects and you can "hop" from one blog to another to check them all out.
 A Gift Set of All Occasion Cards
I have a simple gift idea to share with you – an easy to create set of all occasion cards. I think this would make for a fun and inexpensive gift for a friend or a co-worker or even a family member.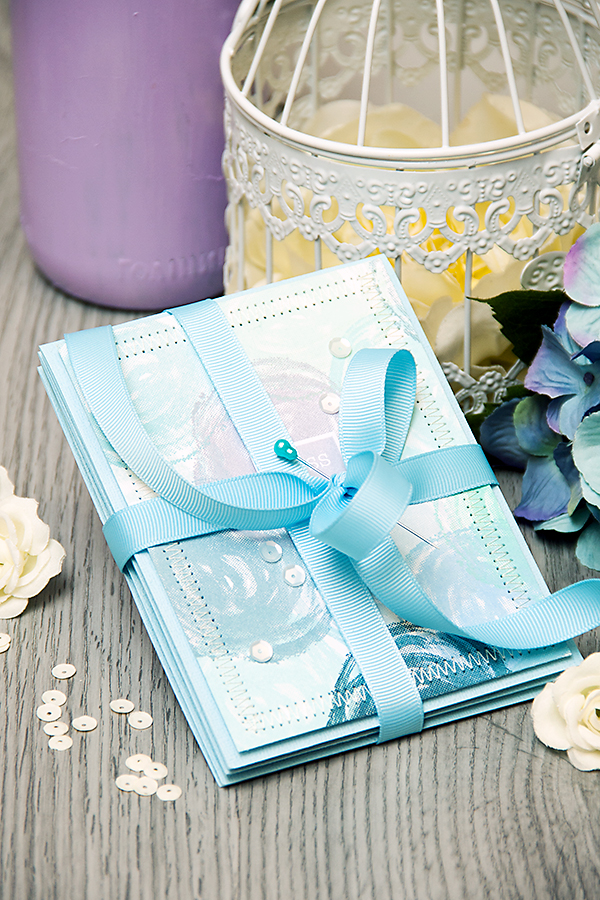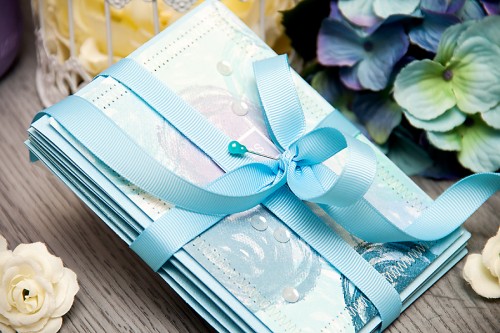 There are 4 cards in this set which include Miss You, Thank You, Congratulation and Happy Birthday. These are super easy and fun to make.
1. First start by creating a stamped peony background. I've already shared this technique in one of my previous posts here, but there's also a video showing how you can create this exact background using a different color combo:
You are going to need at least 4 stamped panels (stamp one Letter size piece of cardstock and trim into 4 pieces).
2. Ink your sentiment stamps and create several labels for your cards. Use Neat & Tangled Everyday Labels Stamp set and ClearSnap ColorBox pigment ink. Stamp all in one color or various colors if you like.
3. Cut your labels out leaving a small 1-2 mm border around them. This is just going to help these sentiments to stand out from the background.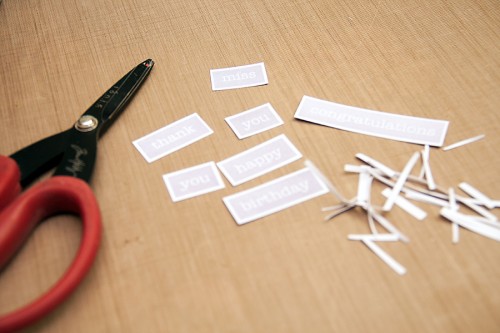 4. Use your sewing machine and add zig-zag stitching to each of your stamped background panels. Create four card bases using light blue cardstock.
5. Add small foam squares from Scrapbook Adhesives by 3L to the back of each of your panels and adhere to a card base.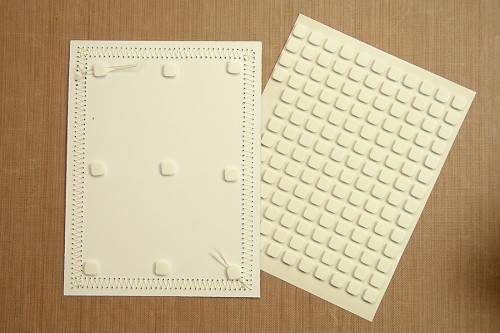 6. Use small self-adhesive clear plastic envelopes from Scrapbook Adhesives by 3L and adhere those to you stamped panels. Fill those in with various colors of sequins from Neat & Tangled:
7. Adhere stamped labels on top using some more foam adhesive. Stack cards together, tie with ribbon and add a small decorative pin: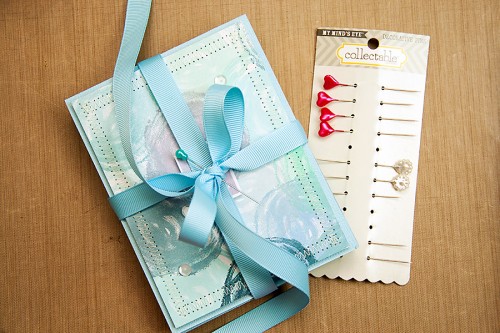 Enjoy! Your simple gift is ready!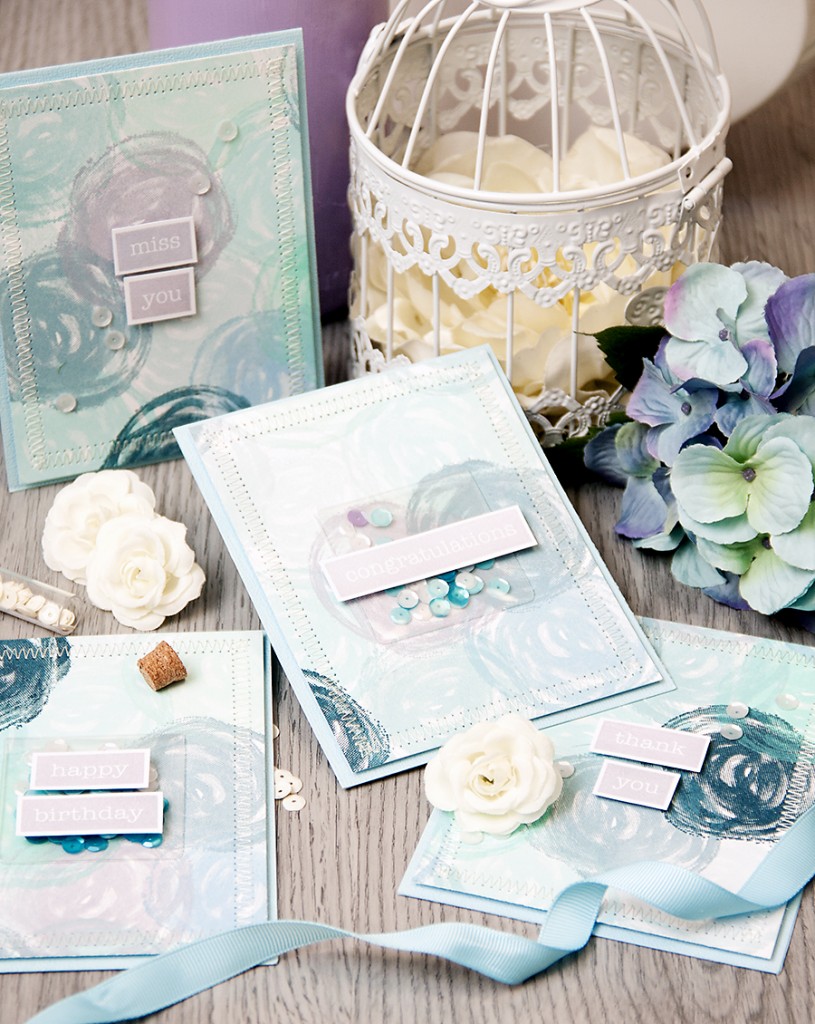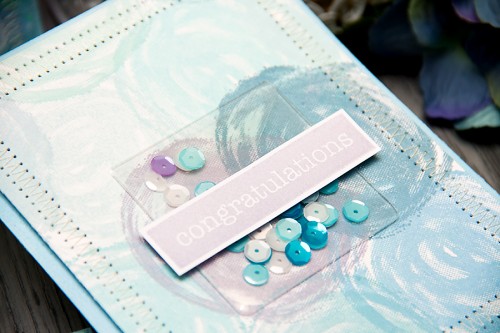 Hop Along!
Are you ready for lots more creative handmade gift ideas and projects??
Follow along on our blog hop! Simply click on each of the links below to be taken to that post with additional information and photos on how to create a handmade gift project. Have fun and pin away!
Follow our Handmade Holidays Gift Ideas Pinterest board for even more inspiration!
  Follow Jennifer Priest of RainMaker Media Works + Hydrangea Hippo's board Handmade Holidays on Pinterest.  
A huge thank you to our sponsors for this hop!
Please visit their blogs below and follow them. And be sure to come back tomorrow for another 30+ amazing Handmade Gift Ideas!
Clearsnap || Ellison Educational Equipment || Walnut Hollow || Graphic45 || Westcott || ICE Resin || Therm O Web || Rowland Industries || Scrapbook Adhesives by 3L || Pink and Main || Elizabeth Craft Designs || The Buckle Boutique || Neat and Tangled  
Additional Sponsorship provided to bloggers by:
  Sakura || Fairfield Processing