Hello, crafters. Have you ever made embossed card bases? Embossed not only the front but also the back of your cards? I've tried this recently using one of Simon's 3D embossing folders and I loved the result. I used regular size embossing folders for the cards I shared in that video. In this video, I'm working with larger size embossing folders from Spellbinders to create an embossed card base in a single pass.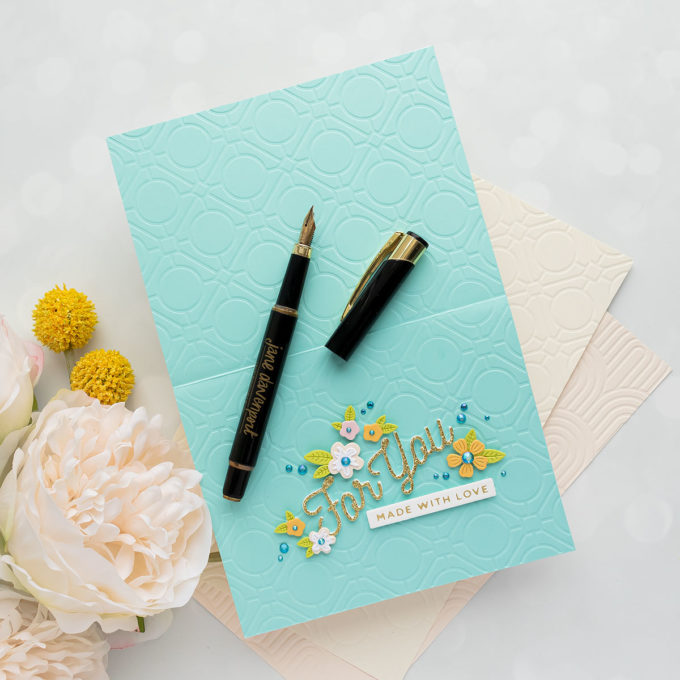 Like this project? Pin it and save for later | Curious about my project photography? Click for details. 
These are regular 2D embossing folders, but the size of these is much larger, they are 5 1/2 x 8 1/2". They emboss half of a letter sheet in a single pass. This size is versatile as it not only lets you create an embossed card front for larger size cards, but you can also create embossed card bases using these folders if your preferred card size is A2.
VIDEO TUTORIAL
Watch the video below or on my Youtube channel.
CARD DETAILS
The sandwich for these folders in Spellbinders Platinum, Platinum 6 and Limited Edition Aqua Machines is the same – base platform, embossing folder with the paper inside and one cutting plate on top. If you have a different die cutting machine – check out the Spellbinders website for sandwich instructions.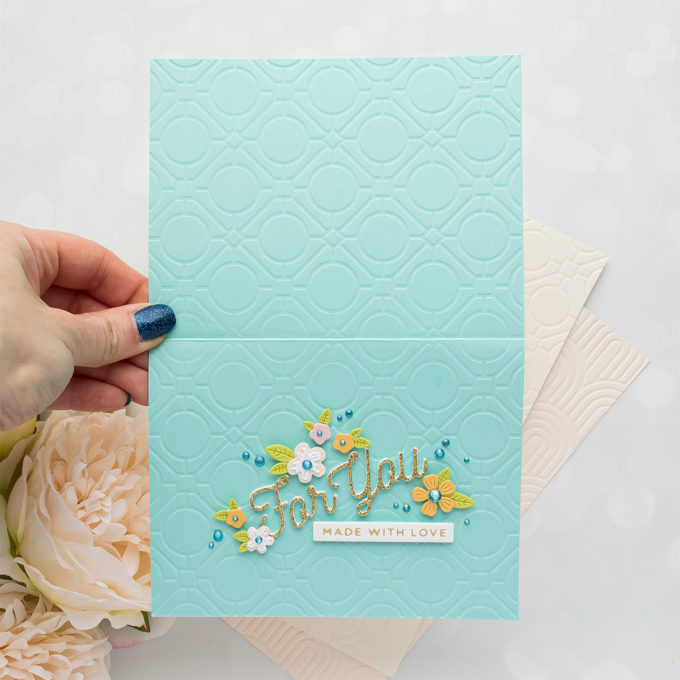 Once you've embossed your panel you'll need to score it at 4 1/4" to create an A2 card. As with any embossing folder – you have 2 sides, an embossed side where the design is raised and a debossed side, where the design is pressed into the paper. Depending on the design of the folder, I use embossed or debossed side, I think they are both very pretty.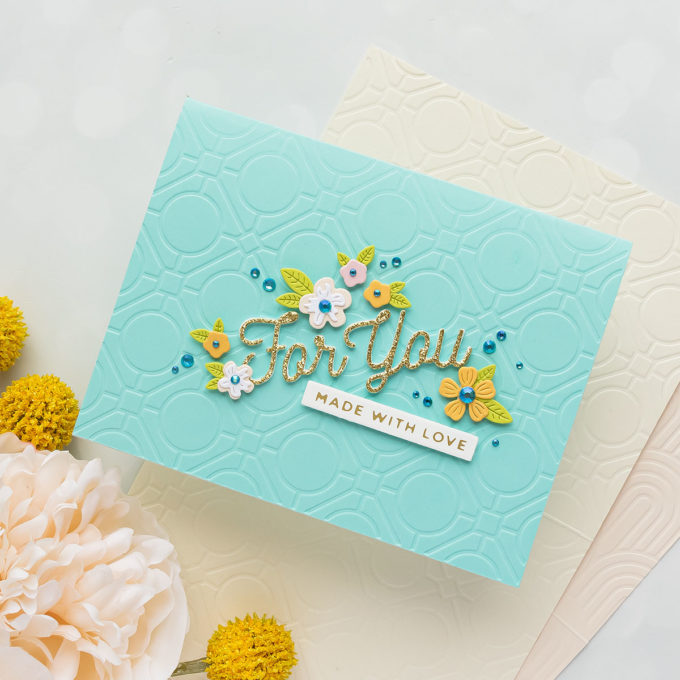 To make my card bases nice and pretty on the inside I added white cardstock on the inside of these cards. There are 2 ways to do it.
ADD A WHITE CARD BASE INSIDE
I used a white card base created from thinner cardstock, Neenah Solar White 80lb, and I added it onto the inside of the embossed card base. I had to trim the white card base down slightly to make sure it would fit inside and no white would stick outside. I used glue to adhere it to the inside of my card. I first adhered one flap, made sure it was aligned, and then adhered the other flap.
This is one way of creating an embossed card base. This gives a very thick base for a card. It is not flimsy, it is strong and durable.
When you use this method to create a card base when you adhere a full card base on the inside, your card won't completely open, it will not open flat. It will still open enough to write a message on the inside and it will stand on a shelf nicely without falling. But it will not open completely.
ADD WHITE CARDSTOCK PANELS INSIDE
Another method is to adhered white cardstock panels on the inside of the embossed card base, without covering the fold. This will allow your card base to open fully, but you'll be able to see the fold line from the inside of your card. I don't like this method, as I prefer the inside of my card to be completely covered, but this is a nice alternative. You can also just add one panel to the right-hand side flap to have room for your message and skip adding a panel to the left-hand side flap.
EMBELLISH YOUR EMBOSSED CARD BASES
So that's how you make embossed card bases for your cards using larger size embossing folders. From here, you can decorate your cards hoverer you want. I die-cut sentiments for mine using the Smooth Lines Mix & Match Sentiment set from Spellbinders from gold glitter paper and white fun foam. I adhered the gold glitter die cuts onto the foam die cuts to add dimension and I also glimmered a sub sentiment for each die-cut sentiment using Matte Gold foil, and my foiling was done on Spellbinders Specialty Glimmer cardstock. I knew I wanted to add flowers so I die cut many from various shades of yellow and pink cardstock using the Mini Blooms & Sprigs die set from Spellbinders, it is still my favorite set for little florals.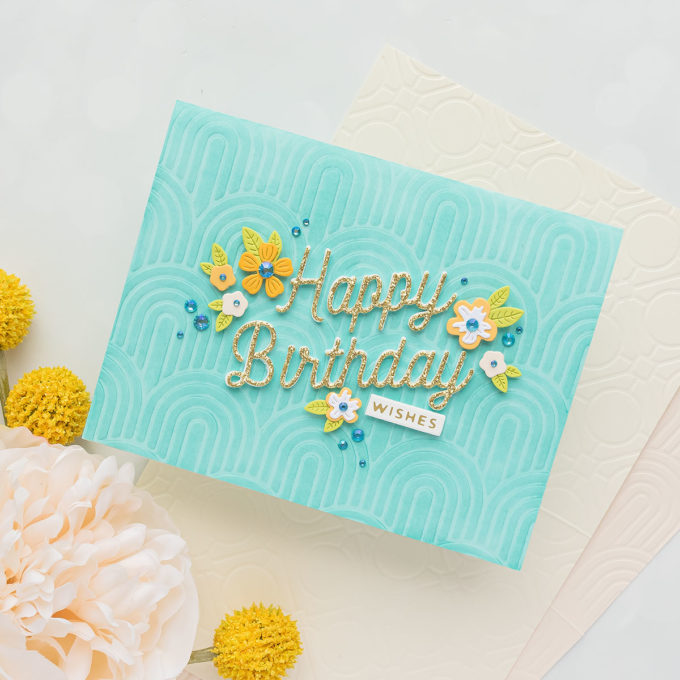 I couldn't help but use blue and yellow colors for these cards, the colors of the Ukrainian flag. I didn't go with the traditional vibrant blue, but I used various shades of blue here, I also added a pale yellow and a few pale pink colors.
While these cards are very simple, they pack a punch because of the embossed front and back and smooth inside. They give a nice tactile feeling when you hold them in your hand.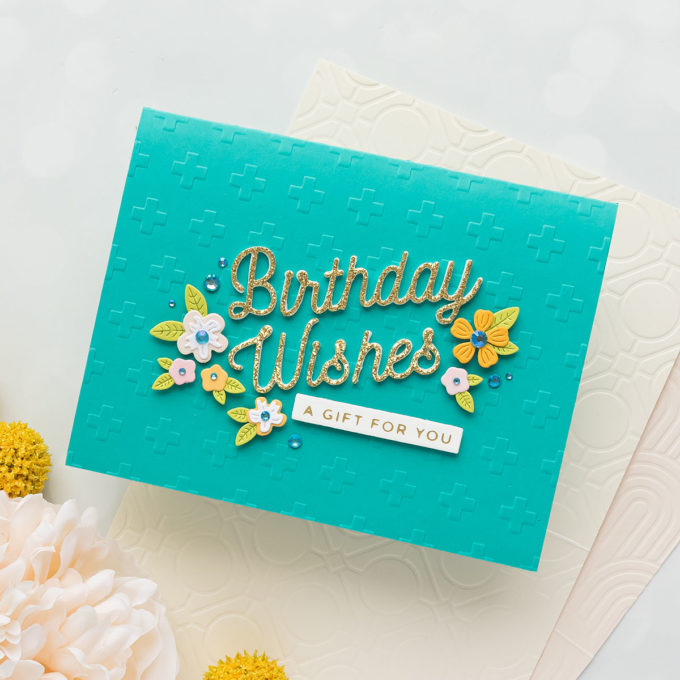 I wanted to thank you for your kindness and your continued support. I see all of your messages and dm's and they keep us going. I'm sorry I haven't been able to reply to everyone, I do my best, but I am also trying to stay off social media as much as possible as every time I'm there I just start crying and I can't stop.
I love you all and I hope this horror will end soon. In the meantime, I will continue to create cards and film videos whenever I can. I hope I'll see you next time!
SUPPLIES
I'm listing the products I used below. Click on the link to go directly to the product. Where available I use compensated affiliate links which means if you make a purchase I receive a small commission at no extra cost to you. Thank you so much for your support

Spellbinders This Plus This Embossing Folder
Shop at:
SC | SB

Spellbinders Optical Arches Embossing Folder
Shop at:
SSS | SC | SB

Spellbinders Geo Screen Embossing Folder
Shop at:
SSS | SC | SB

Spellbinders Loops Embossing Folder
Shop at:
SSS | SC | SB

Spellbinders Splatter Embossing Folder
Shop at:
SC | SB

Spellbinders Smooth Lines Mix & Match Sentiments Dies
Shop at:
SSS | SC | SB

Spellbinders Mini Blooms and Sprigs
Shop at:
SSS | SC | SB | AMZ

Spellbinders Mini Everyday Sentiments Glimmer
Shop at:
SSS | SC | SB | AMZ

Glimmer Specialty Cardstock 10 Sheet Pack
Shop at:
SSS | SC | SB

Glimmer Hot Foil – Matte Gold
Shop at:
SSS | SC | SB | AMZ

Glassboard Studio True White Glass Craft Mat | YANA20 for 20% Off
Shop at:
GBS

Glassboard Studio Super Strong Magnets | YANA20 for 20% Off
Shop at:
GBS

Limited Edition Platinum 6 Aqua Die Cutting and Embossing Machine
Shop at:
SB

Spellbinders Platinum 6 Die Cutting Machine
Shop at:
SSS | SC | SB | AMZ

Spellbinders Platinum Die Cutting Machine
Shop at:
SSS | SC | SB | AMZ

Spellbinders A2 White Card Bases – Side Fold – 25 pack
Shop at:
SB

Neenah 80lb Solar White Cardstock
Shop at:
SSS | AMZ

Simon Says Stamp Cardstock Gold Glitter
Shop at:
SSS

Spellbinders Pink Sand Color Essentials Cardstock
Shop at:
SB

Spellbinders Glacier Color Essentials Cardstock
Shop at:
SB

Spellbinders Alabaster Color Essentials Cardstock
Shop at:
SB

Spellbinders Peridot Color Essentials Cardstock
Shop at:
SB

Spellbinders Teal Topaz Color Essentials Cardstock
Shop at:
SB

Spellbinders Waterfall Color Essentials Cardstock
Shop at:
SB

Spellbinders Barely Peach Color Essentials Cardstock
Shop at:
SB

Hero Arts Hero Hues Premium Cardstock Peony
Shop at:
SSS | SC | CCC | AMZ

Spellbinders Tool 'n One
Shop at:
SSS | SC | SB | AMZ

Fun Foam Sheets
Shop at:
SSS | SB | AMZ

Bearly Art Mini Precision Craft Glue
Shop at:
SSS | SB | AMZ