Hello, friends. Today I have an inspirational video for you featuring new products from Spellbinders and not just any products, but because it's July, Christmas products. I don't know about you, but I've actually gotten used to starting on my Christmas cards as early as mid-Summer, and in a way, I am grateful to all the paper crafting companies who begin releasing their Christmas products so early in the year. This way I'm less likely to put off my Christmas cardmaking until the last minute.
Like this project? Pin it and save for later | Curious about my project photography? Click for details. 
VIDEO TUTORIAL
Watch the video below or on my Youtube channel.
CARD DETAILS
Spellbinders has several fabulous Christmas collections this month and my favorite is called Parcel & Post. The main die in this collection is, of course, the beautiful old-fashioned mailbox, and then everything else builds on top of it. The mailbox die set comes with beautiful florals, so the mailbox itself is evergreen. You can use it for many types of cards. But this collection also includes Christmas foliage to decorate the mailbox and Valentine's day decor to make it Valentine's day mailbox, if you want.
I've decided to make my mailboxes red, as I was making Christmas cards. It's funny, I think every country uses a different color for their mailboxes. They are red in the UK, blue in the US and here in Ukraine, the mailboxes are bright yellow. So you see where I'm going with this – you can make the mailbox the color of the mailbox in your country, or you can go with a different color or even use patterned paper.
I die cut my mailboxes from 3 colors of red cardstock from Spellbinders – Poppy Field, Pomegranate, and Phone Booth and I just mixed the colors of each piece.
Once you've assembled your mailbox, there are so many ways to embellish it. This collection comes with several embellishment options and I have used the Parcel & Post Christmas decorations die set to embellish my mailboxes – I love that that set contains candy canes and different types of foliage and greenery.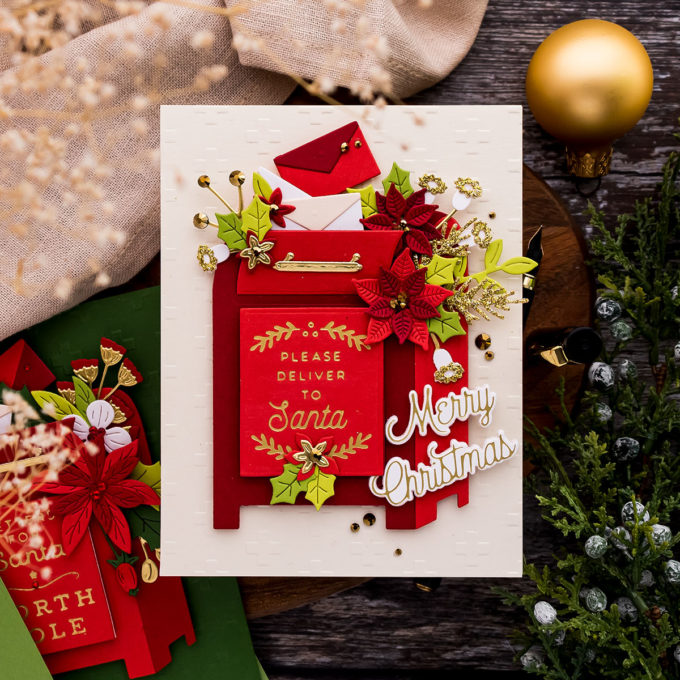 But you can also use the Christmas dies you already have in your stash. Abobe, for example, is the last year's Christmas blooms die set – and it works just as well for decorating the mailbox. You have the big and small poinsettias, the foliage, the berries, and everything in between.
This year there's a new version of the Christmas blooms, called Holiday Blooms and if you are looking the get this set you can also use it to embellish the mailbox as well. With my mailboxes all decorated I foam mounted them onto the embossed background which I adhered to the A2 card bases. I used the This Plus This embossing folder with the little crosses as background for all 3 of my cards.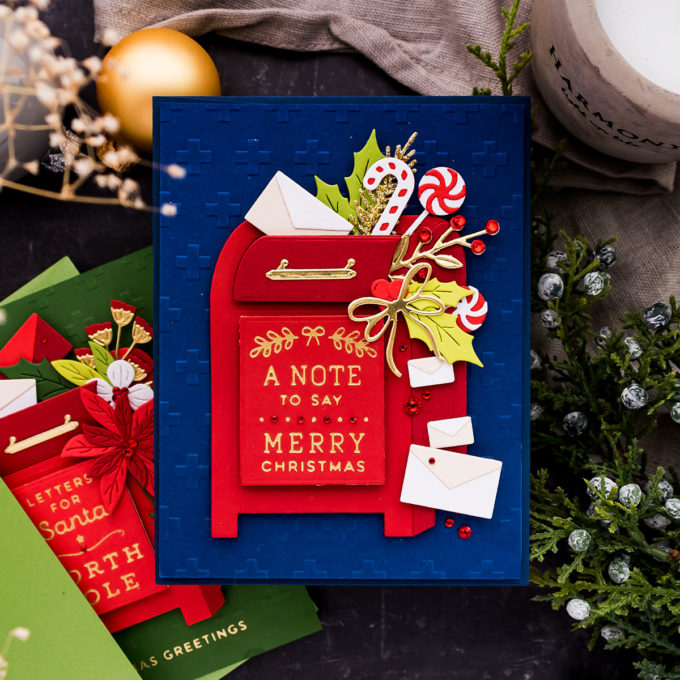 Have fun crafting!
SUPPLIES
I'm listing the products I used below. Click on the link to go directly to the product. Where available I use compensated affiliate links which means if you make a purchase I receive a small commission at no extra cost to you. Thank you so much for your support!

Spellbinders Parcel & Post Die Bundle
Shop at:
SC | SB

Spellbinders Parcel & Post Mailbox Etched Dies
Shop at:
SC | SB

Spellbinders Parcel & Post Christmas Decorations Etched Dies
Shop at:
SC | SB

Spellbinders Parcel & Post Heart Decorations Etched Dies
Shop at:
SC | SB

Spellbinders All-occasion Mailbox Greetings Glimmer Hot Foil Plate
Shop at:
SC | SB

Spellbinders Christmas Mailbox Greetings Glimmer Hot Foil Plate
Shop at:
SC | CCC

Spellbinders Parcel & Post Sentiments Clear Stamp Set
Shop at:
SC | SB

Spellbinders Christmas Blooms Dies
Shop at:
SSS | SC | SB | AMZ

Spellbinders Holiday Blooms Etched Dies
Shop at:
SC | SB

Spellbinders Merry Glimmer Sentiments Glimmer Hot Foil Plate & Die Set
Shop at:
SC | SB

Spellbinders This Plus This Embossing Folder
Shop at:
SC | SB

Spellbinders Platinum 6 Die Cutting Machine
Shop at:
SSS | SC | SB | AMZ

Spellbinders Platinum Die Cutting Machine
Shop at:
SSS | SC | SB | AMZ

Limited Edition Platinum 6 Aqua Die Cutting and Embossing Machine
Shop at:
SB

Glassboard Studio True White Glass Craft Mat | YANA20 for 20% Off
Shop at:
GBS

Spellbinders Universal Plates System
Shop at:
SSS | SC | SB

Spellbinders Extended Cutting Plates
Shop at:
SSS | SC | SB

Spellbinders Glimmer Hot Foil System
Shop at:
SSS | SC | SB | AMZ

Glimmer Hot Foil – Matte Gold
Shop at:
SSS | SC | SB | AMZ

Spellbinders A2 White Card Bases – Side Fold – 25 pack
Shop at:
SB

Spellbinders Poppy Field Color Essentials Cardstock 8.5″ X 11″
Shop at:
SB

Spellbinders Pomegranate Color Essentials Cardstock 8.5″ X 11″
Shop at:
SB

Spellbinders Phone Booth Color Essential Cardstock
Shop at:
SB

Tonic Studios 8.5 Inch Paper Trimmer
Shop at:
SC | AMZ | GBS

Jewel Picker Tool
Shop at:
SSS | SC | SB | JD | AMZ

Bearly Art Mini Precision Craft Glue
Shop at:
SSS | SB | AMZ

White Foam Squares
Shop at:
SSS | SC | SB | AMZ