Hello! Today's blog post and video focus on different types of cardstock for hot foil stamping. I've seen numerous comments and questions online, on Facebook, on Instagram, and also here on my blog asking why the hot foil stamping doesn't work, why won't it foil perfectly, why am I not getting good foil coverage, what am I doing wrong?
The answer is: you are not doing anything wrong.
You are simply using the incorrect type of paper for your project. This simple realization took me quite a long time to figure out; when I just started using my Glimmer Hot Foil System from Spellbinders I was told that it is best to foil on smooth, non-textured paper. And this is the rule I went by for a very long time. While this rule is certainly true, there is much more to it. Keep reading to learn more.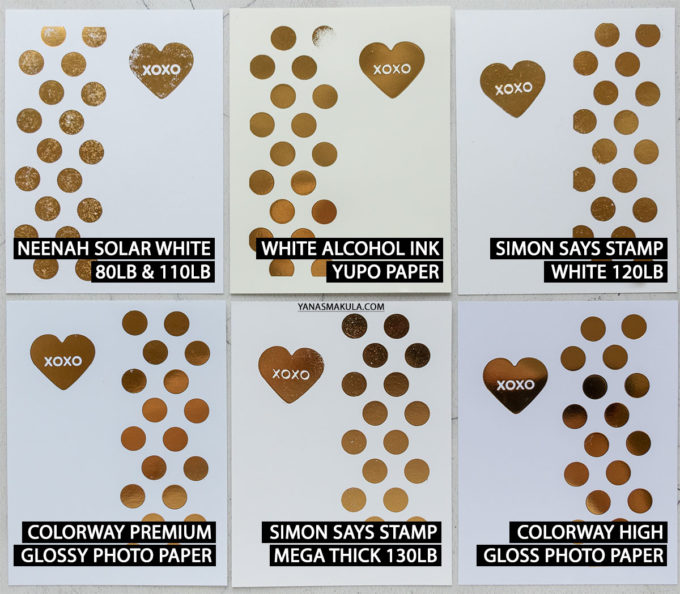 If you've been making cards for some time now, you might know that there are different types of papers for different types of projects. For example, if you want to work with alcohol markers, there is specialty Copic marker paper that is designed to work with alcohol markers to give you the best results. The same goes for watercolor, there is watercolor paper to give you the best watercolor results. The same goes for alcohol inks, there is the best paper for that; there are specialty papers for ink blending, and so on.
So when you think about it, all of these techniques require the right tools, the best tools, to get the job done, to give you the best results. The same applies to hot foil stamping. You can't just take any paper and expect to have perfect results. No. You need to pick the best paper for this particular job. It is that simple, but it is vital.
VIDEO TUTORIAL
Watch the video below or on my Youtube channel.
Like this video? Please give it a big thumbs up (you can do this on Youtube video page right under the video) and share it with a crafty friend! Leave me a comment too, I love hearing from you!
Over my 3 years working with the Glimmer Hot Foil System I've found several types of paper that work best when it comes to hot foiling. I am sure there are still many other papers to discover, and I'm sure I'll discover more papers in the future, but for now – these are the papers that I've found work the best for hot foil stamping.
For the sake of this demonstration, I picked one glimmer plate and foiled it in the same color of foil on all papers. The plate I picked is the Polka Dot Strip and the reason I picked it is because it has a lot of solid space and usually the more solid the plate is, the harder it is to get a perfect foiled result using it. I also used the snarky hearts plates – they are just as solid, and they make for a great test plate for this demo. 
I am testing 7 papers in this video. If there are papers you'd like me to test, leave me a comment below, I'll try to purchase that paper, test it and share my findings in a 2nd episode of "Best Cardstock for Hot Foil Stamping".
Overall, this is my least favorite paper to foil on. This paper is okay if you need to foil a thin line sentiment, but not my first choice for anything more substantial. Sometimes, even the thin line sentiments don't foil too well on Neenah. Neenah is fantastic paper for stamping, for the card bases, even for coloring, but it just doesn't work for hot foiling.
My rating: 2 out of 5.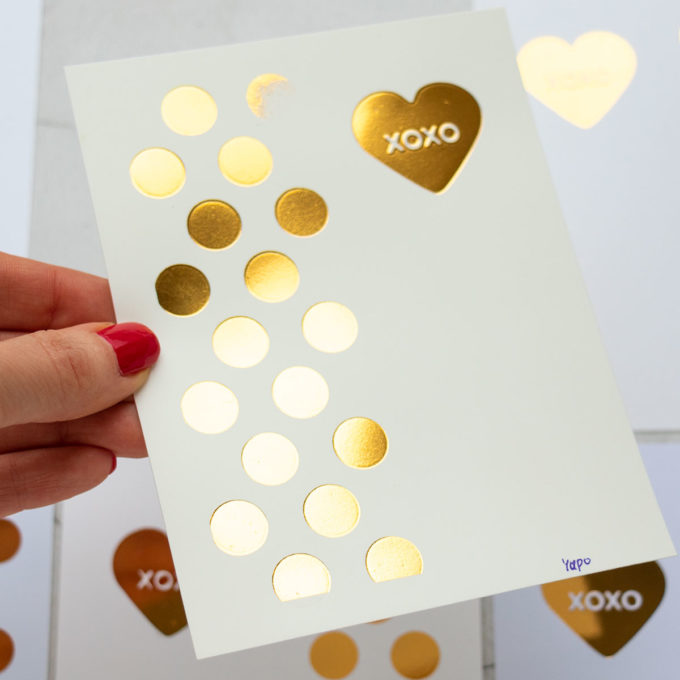 Yupo will give you a foiled result that looks so incredible, you'll think it was professionally done. To me, Yupo is one of the best papers to foil on.
My rating: 5 out of 5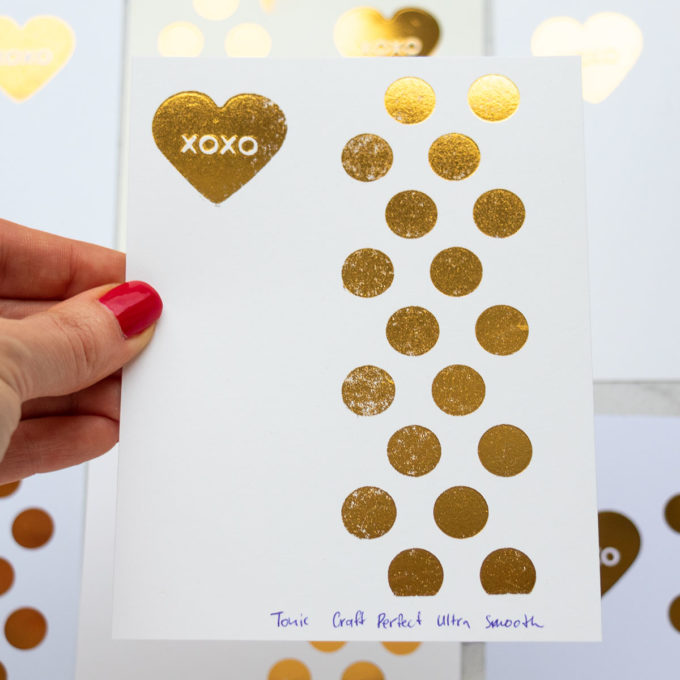 The name of this paper intrigued me as you do need something perfectly smooth, the smoother the surface of the paper the better. But this paper didn't quite stand to the test. It is great cardstock for all sorts of things, hot foiling is simply not one of them. It foiled about the same as did the Neenah Solar White. I'd say this paper is good for foiling small, thin line sentiments.
My rating: 2 out of 5.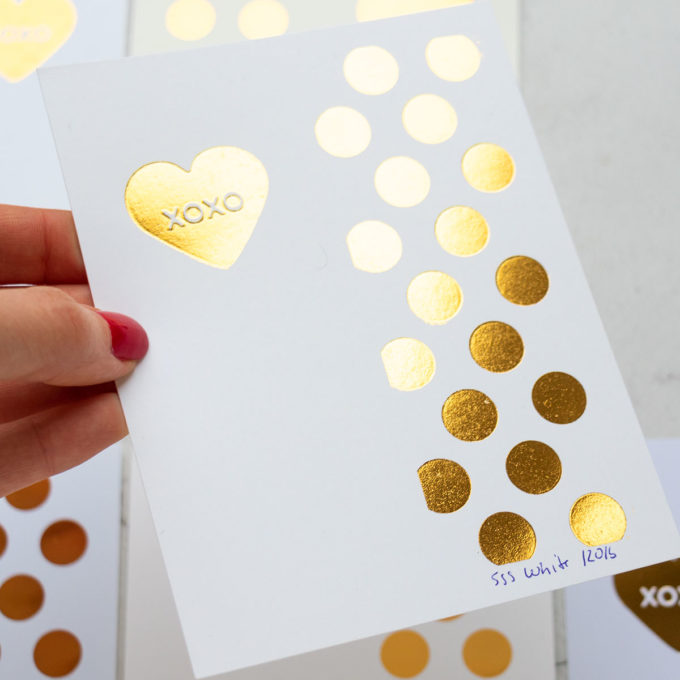 Next, I tested Simon Says Stamp White 120lb cardstock (Ultra Thick White), this paper is super smooth. The results you'll have with this paper are nearly perfect, almost as good as on Yupo Paper. This is fantastic paper to foil on. There are minor imperfections, but overall I am very pleased with this cardstock and with the foiled results I can get when using it.
My rating: 4 out of 5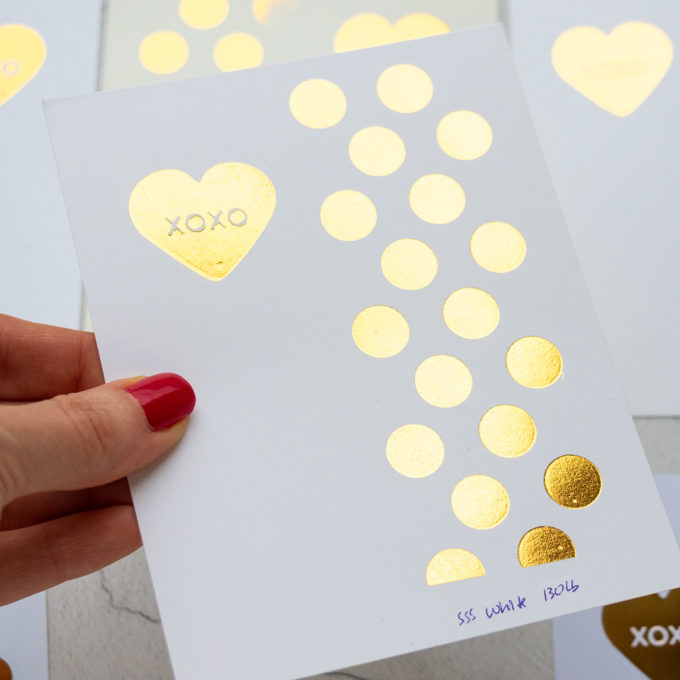 Next, I tested Simon Says Stamp White 130lb cardstock (Mega Thick), this is the one I typically reach for when I want to foil something. This paper is almost as good as Yupo, but it is cheaper compared to Yupo and the results are almost as good. Because of how thick this paper is, you also have a letterpressed effect with the foil being pressed deep into the paper. It has a nice tactile feeling and looks very professional.
My rating: 4 out of 5
Next, I ventured into a different territory and foiled on glossy photo paper. There are all sorts of photo papers out there, different brands, different thicknesses, I used 2 kinds of glossy photo paper from ColorWay. One is thinner and it is almost a bit see thought. It also has a blue tint to it, compared to Simon Says Stamp 130lb cardstock. The other photo paper is a bit thicker, not see-through, and not quite as blue, but not like the Simon Says Stamp 130lb cardstock.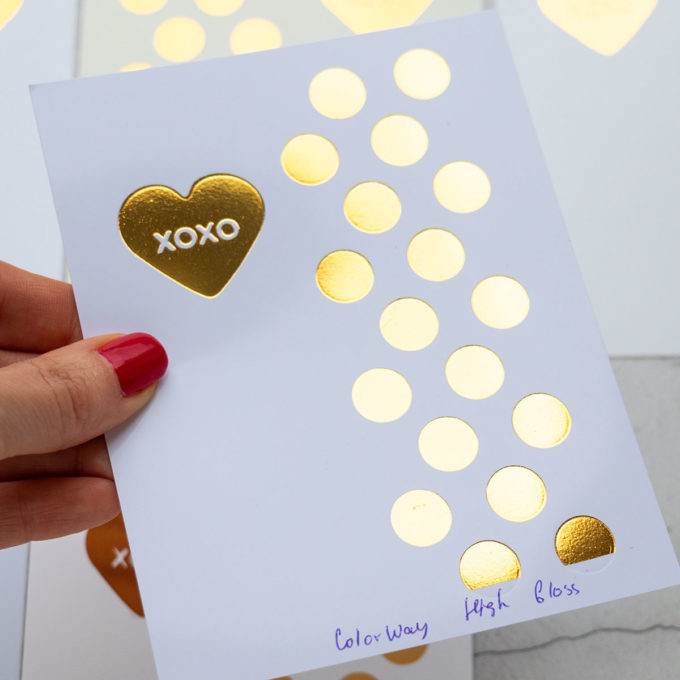 This paper is somewhat tricky to use. Because of the top coating this paper has, I have found you need to add a sheet of printer paper to your glimmer machine to protect the photo paper. If you don't add the printer paper, the heat from the glimmer machine will affect the coating on the photo paper and the photo paper will stick to the glimmer platform surface.
This paper foils like butter! The glossy photo paper is somewhat similar to Yupo paper.
My rating: 5 out of 5
There are slight difficulties when using this paper. It is very different from regular cardstock. If you tape something onto this paper, you won't be able to completely remove the tape, no matter how low tack it is, it will sort of melt into the surface of the paper and will leave a dirty mark. This paper also behaves differently when you ink blend or stamp on it. So something to keep in mind.
This experiment shows you that paper matters a great deal. The smoother the paper, the better results you will have. Specialty papers, such as Yupo or Glossy Photo paper will give you the best results even the using the trickiest foil plates.
Leave me a comment below and let me know if there are papers you'd like me to test, I'll try to purchase that paper, test it and share my findings in a 2nd episode of "Best Cardstock for Hot Foil Stamping".
SUPPLIES
I'm listing the products I used below. Click on the link to go directly to the product. Where available I use compensated affiliate links which means if you make a purchase I receive a small commission at no extra cost to you. Thank you so much for your support!

Yupo Paper Various
Shop at:
SSS | SC | TS

ColorWay High Glossy ColorWay Photo Paper
Shop at:
AZ

Simon Says Stamp White Cardstock 120LB
Shop at:
SSS

Simon Says Stamp Mega Thick White Cardstock 130#
Shop at:
SSS

Neenah 80LB Solar White Cardstock
Shop at:
SSS | AZ

Neenah 110 Lb Solar White Cardstock
Shop at:
SSS | AZ

Tonic White Ultra Smooth Card Craft Perfect Cardstock
Shop at:
SSS | TS

Spellbinders Glimmer Hot Foil System
Shop at:
SSS | SC | SB | AZ

Spellbinders Quick Trimmer
Shop at:
SSS | SC | SB | AZ

Spellbinders Quick Trimmer Replacement Blades
Shop at:
SSS | SC | SB | AZ

Spellbinders Platinum 6 Die Cutting Machine
Shop at:
SSS | SC | SB | AZ

Spellbinders Glimmer Hot Foil Roll – Polished Brass
Shop at:
SSS | SC | SB | AZ

Spellbinders Polka Dot Strip Glimmer Hot Foil Plates
Shop at:
SSS | SC | SB | AZ

Spellbinders Snarky Hearts Glimmer Hot Foil Plate & Die Set
Shop at:
SB