Hello everyone and thank you so much for stopping by today to celebrate Altenew & My Sweet Petunia Blog Hop (more on that below).
As I sat down to create a card I'm featuring in this post I struggled with the perfect color combination. And this is something I often find difficult when I create cards. I have a few go-to color combos that I use often and consider to be my favorite, but when I come across new colors I often become puzzled as I have no clue how to combine them to have beautiful color combinations on my cards.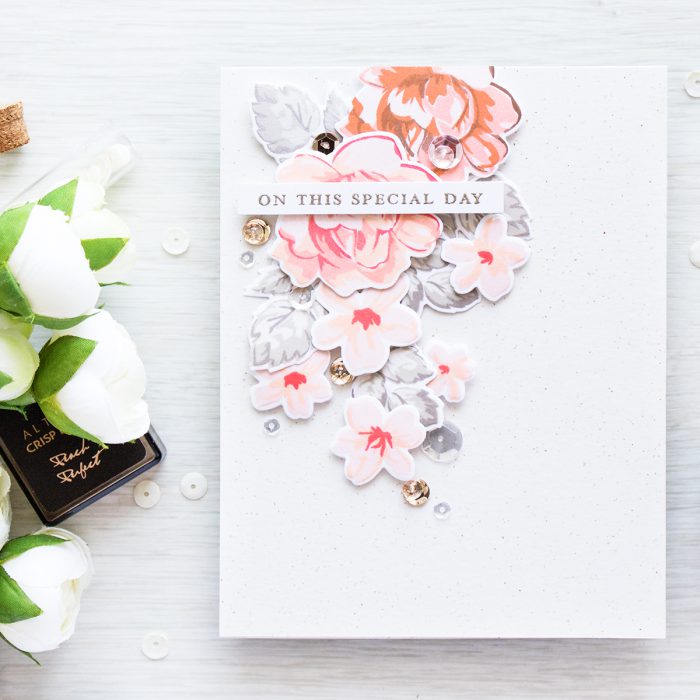 Like this project? Pin it and save for later!
A few years ago when I stepped away from scrapbooking and started doing a lot more Clean & Simple cardmaking I created a Color Guide for myself to use; I still use it almost every time I make a card.
I believe I've mentioned it briefly in one of my videos a few years ago, but I wanted dedicate a separate post to it as I really find it to be a very helpful tool especially when it comes to stamping. So hopefully, if you are also struggling with selecting colors for your handmade cards you'll also find this useful.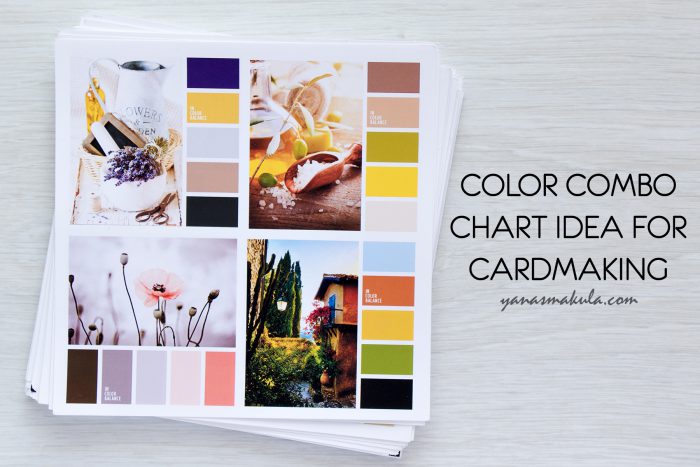 VIDEO TUTORIAL
I filmed a video tutorial where I talk about my Color Combo chart in detail, you can watch it below or on my Youtube channel:
Like this video? Please give it a big thumbs up and share with a crafty friend! Drop me a comment too, I love hearing from you!
UPDATED TO ADD
I've had a few people ask me how to make collages with 4 color palettes (instead of one) to print. I made mine in Adobe Photoshop and printed from Photoshop. But there are a lot of free online apps that can be used to create similar collages. I've filmed a quick screen capture video to show you how you can make a collage in this app (I just googled "create collage online" and this was the first one I found, but there are many others out there). I hope this will be helpful to those of you struggling with printing several images onto one sheet.
COLOR COMBO CHART
It is actually very easy to make a color combo chart like I have here. Go to Pinterest and search for Color Palette. The search will return a huge amount of various beautiful images along with color combinations pulled from those images.
Its usually the image itself that I look at first, rather than the actual colors. If I find the image inspiring and if I think the colors shown there are colors I can see myself using on a card, I save the image onto a folder on my computer.
Once I have a decent amount of images saved I go ahead and print them. I use photo paper rather than regular printer paper to print these so that I get true vibrant colors and so that the paper is a little bit more durable. I use the cheapest matte photo paper available as I don't think you need to spend a lot of money on high quality photo paper to print these, the cheapest option works for me.
I printed and trimmed mine to be 6×6 inches as this is a nice size for my desk. Usually anything bigger is a bit too overwhelming for me and takes too much room, so this size works for me. But you can print these in whatever size works best for you. You can also cut these up and put on a book ring so all images stay together or in a file storage system. I keep mine loose on a pile, this way I can easily and quickly flip thought my collection.
CARD DETAILS
For the card I'm sharing today I was inspired by Peach and Gray color combo. I don't think I've ever used it before, so it was definitely a fun one to try. I added a hint of Rose Gold by using Rose Gold sequins from Pretty Pink Posh and I think that helped to warm the card a bit as otherwise it was rather cold.
I used Altenew's Vintage Flowers stamps with matching dies to stamp and die cut the flowers and the leaves. MISTI ended up being very helpful in terms of aligning images and spending less time stamping these. I used the following colors on ink from Altenew (all linked below): Blush, Peach Perfect, Rouge, Crimson, Paper Bag, Dark Chocolate.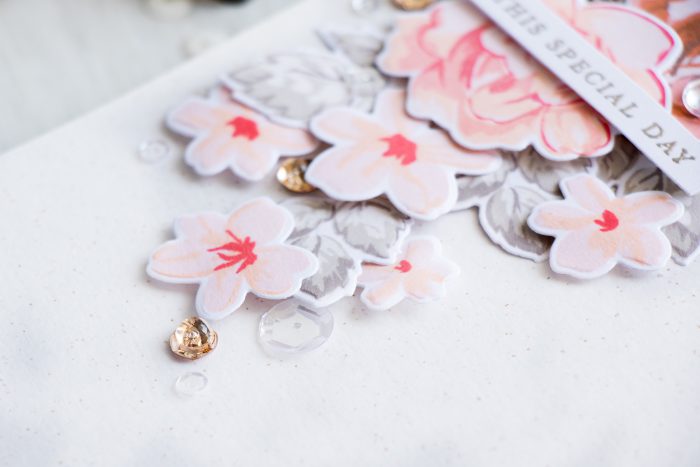 To create the sentiment I heat embossed "On This Special Day" using Platinum embossing powder from Hero Arts, the sentiment is from Thinking of You set.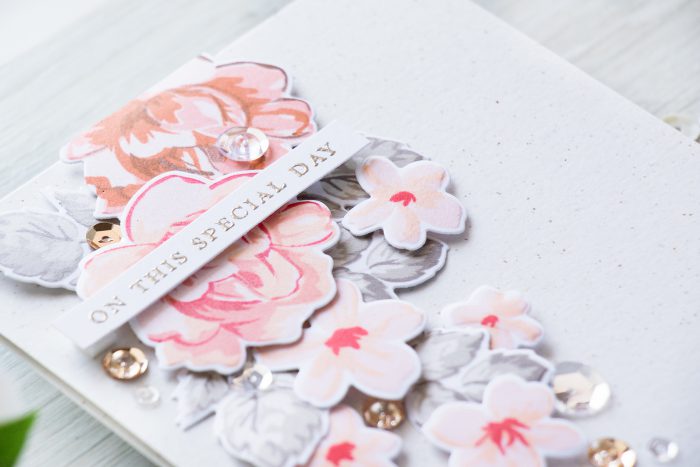 GIVEAWAY
There are TWO mini MISTIs from My Sweet Petunia and THREE $30 gift certificates from Altenew up for grabs. Winners will be picked randomly from the comments across all of the blogs in the hop. Winners will be announced on the My Sweet Petunia and Altenew blogs on July 3, 2016.
BLOG HOP

If you arrived from Ilina Crouse – you are on the right track as I am the last stop on this hop. You can also start at the beginning at Altenew blog.
SUPPLIES
I'm listing the products I used below. Click on the link to go directly to the product. Where available I use compensated affiliate links which means if you make a purchase I receive a small commission at no extra cost to you. Thank you so much for your support!

EK Success Craft Tweezers
Shop at:
SSS

Neenah 80 Solar White Paper Pack 250 Sheets
Shop at:
SSS

ScraPerfect Perfect Crafting Pouch Multi-Purpose Craft Tool
Shop at:
SSS

Versamark Watermark Emboss Ink Pad
Shop at:
SSS | HA

Spellbinders Artisan X-plorer Die Cutting Machine
Shop at:
SSS | SC

Hero Arts Platinum Embossing Powder PW117
Shop at:
SSS | HA

Pretty Pink Posh Sparkling Clear Sequins Mix
Shop at:
SSS | PPP

Ranger Glossy Accents Glue Dimensional Adhesive
Shop at:
SSS | SC | PPP

Pretty Pink Posh 4MM Clear Droplets (small)
Shop at:
SSS | PPP

Altenew Red Sunset Crisp Dye Ink Pad Pack
Shop at:
SSS

Altenew Blush Crisp Dye Ink Pad
Shop at:
SSS

Altenew Crimson Crisp Dye Ink Pad
Shop at:
SSS

Altenew Evening Gray Crisp Ink Pad
Shop at:
SSS

Altenew Moon Rock Crisp Dye Ink Pad
Shop at:
SSS

Altenew Morning Frost Crisp Dye Ink Pad
Shop at:
SSS

Altenew Rouge Crisp Dye Ink Pad
Shop at:
SSS

Altenew Thinking of You Stamp Set
Shop at:
SSS

Altenew Spicy Yogurt Cardstock
Shop at:
SSS

Fenstone Decorative Element
Shop at:
AN

Altenew Paper Bag Crisp Dye Ink Pad AN166
Shop at:
SSS

Altenew Dark Chocolate Crisp Dye Ink Pad AN196
Shop at:
SSS

Altenew Peach Perfect Crisp Dye Ink Pad AN190
Shop at:
SSS

Altenew Warm Gray Oval Set Crisp Dye Ink Pads
Shop at:
SSS

Crystal Ninja CRYSTAL KATANA Mixed Media Pick Up Tool
Shop at:
SSS

Altenew Vintage Flowers Stamp Set
Shop at:
SSS

Altenew Vintage Flowers Die Set
Shop at:
SSS

Pretty Pink Posh 6MM METALLIC ROSE GOLD Sequins
Shop at:
SSS

Mini MISTI Stamping Tool
Shop at:
SSS | SC