Hello everyone! In this video, I have simple Christmas cards to share with the new Spellbinders Dancing Christmas collection. These are interactive cards where a part of the die-cut critter moves or dances.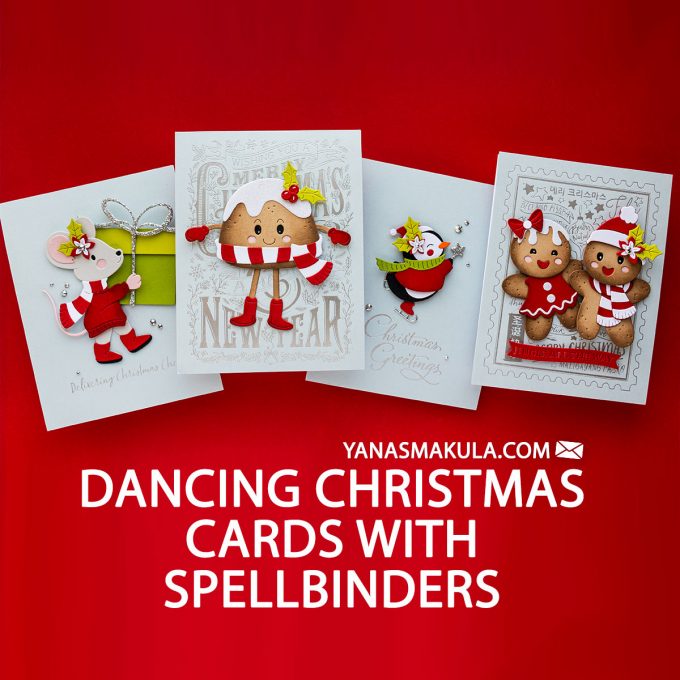 I love these interactive dies from Spellbinders, and there are many different Dancing dies, there was just a Dancing Halloween collection released last month. I love interactive cards in general, but sometimes the interactivity component can be a little bit too complicated to build, and these interactive cards are very easy, it really doesn't get any easier than this, you just need a foam square or foam circle to make this interactive element work.
VIDEO TUTORIAL
Watch the video below or on my Youtube channel.
There are 4 dies in this collection – the Dancing Penguin, is the smallest die set from this release, it's an S3 die and the penguin looks like he is ice skating. He is just very handsome and absolutely adorable. You can easily fit 2 penguins on a portrait card or 3 if you make a landscape card or even more if you opt for a slimline card. Imagine a row of these darling penguins skating on your card.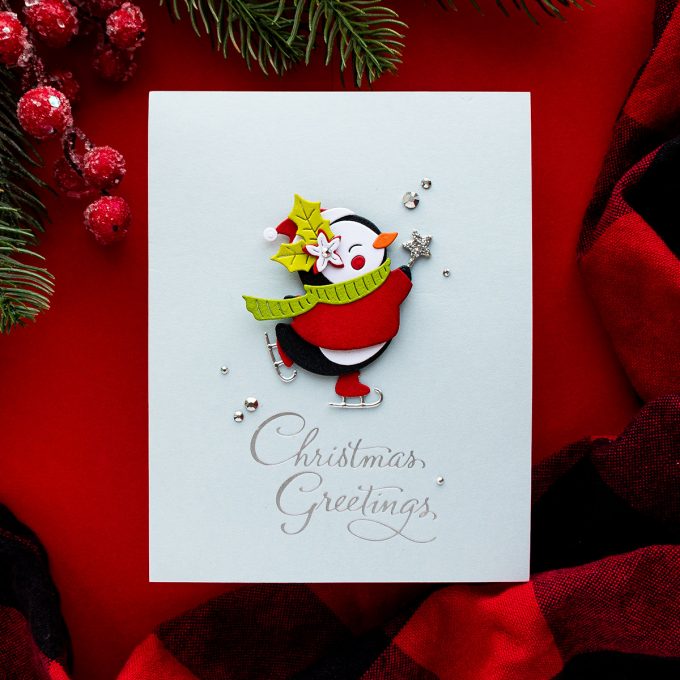 There's also a dancing mouse, and the mouse is pretty big, he is holding a giant gift with a big bow and he is walking, he is on his way to give the gift. You can have the mouse hold something else, he doesn't have to hold the gift, he can hold a Christmas Tree, he can hold flowers, he can hold an envelope or a card, or nothing, he doesn't have to hold something.
There's also a set with the Pudding, which is utterly adorable, the pudding has arms and legs and the legs swing from side to side.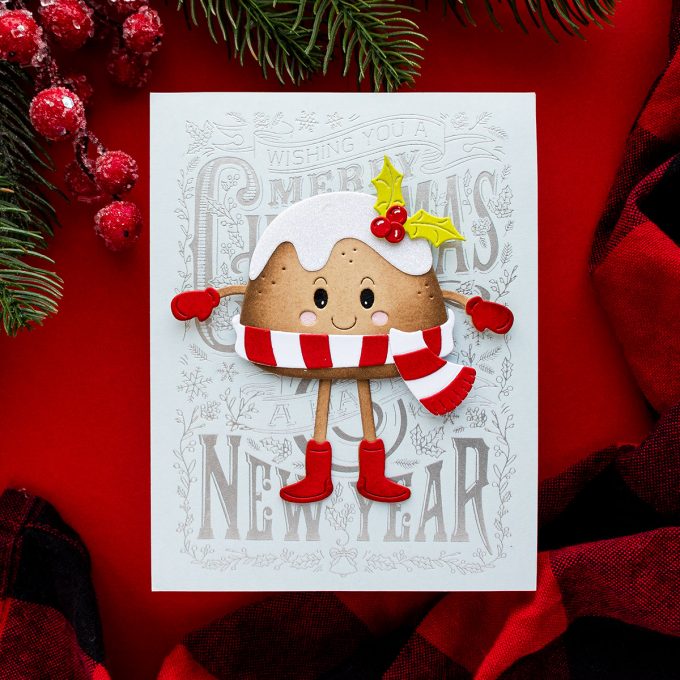 Finally, the last die set in this collection is a set with Gingerbread Boy and Girl and their bodies move from side to side.
I paired my Dancing Christmas characters with BettePress plates and hot foil stamping – I love the result!
SUPPLIES
I'm listing the products I used below. Click on the link to go directly to the product. Where available I use compensated affiliate links which means if you make a purchase I receive a small commission at no extra cost to you. Thank you so much for your support!

Spellbinders Dancin' & Giftin' Mouse Etched Dies
Shop at:
SSS | SC | SB USA | SB UK

Spellbinders Dancin' Gingerbread Etched Dies
Shop at:
SSS | SC | SB USA | SB UK

Spellbinders Dancin' Figgy Pudding Etched Dies
Shop at:
SSS | SC | SB USA | SB UK

Spellbinders Dancin' Penguin Etched Dies
Shop at:
SSS | SC | SB USA | SB UK

Spellbinders Dancin' Christmas Sentiments Clear Stamp Set
Shop at:
SSS | SC | SB USA | SB UK

Spellbinders Merry Christmas World Press Plate
Shop at:
SSS | SC | SB USA | SB UK

Spellbinders Christmas Greetings Press Plate
Shop at:
SSS | SC | SB USA | SB UK

Spellbinders Christmas Icons Press Plate
Shop at:
SSS | SC | SB USA | SB UK

Spellbinders Merry Christmas & Happy New Year Press Plate
Shop at:
SSS | SC | SB USA | SB UK

Spellbinders Monoline Stars Embossing Folder
Shop at:
SSS | SC | SB USA | SB UK

Spellbinders Christmas Blooms Dies
Shop at:
SSS | SC | SB USA | SB UK | AMZ

Spellbinders Make It Merry Sentiments Etched Dies
Shop at:
SSS | SC | SB USA | SB UK

Spellbinders Make It Merry Paper Pad
Shop at:
SSS | SC | SB USA | SB UK

Spellbinders Quick Trimmer
Shop at:
SSS | SC | SB USA | SB UK | AMZ

Spellbinders Quick Trimmer Replacement Blades
Shop at:
SSS | SC | SB USA | SB UK | AMZ

Spellbinders Glimmer Hot Foil Roll – Matte Silver
Shop at:
SSS | SC | SB USA | SB UK

Spellbinders Pop-Up Die Cutting Glitter Foam Sheets – Gold & Silver
Shop at:
SSS | SC | SB USA | SB UK

Spellbinders Detail Tweezers
Shop at:
SSS | SC | SB USA | SB UK | AMZ

Spellbinders Mirror Silver Cardstock
Shop at:
SB USA | SB UK

Spellbinders Brushed Black Cardstock
Shop at:
SC | SB USA | SB UK

Spellbinders Glacier Color Essentials Cardstock
Shop at:
SC | SB USA | SB UK

Spellbinders Onyx Color Essentials Cardstock
Shop at:
SB USA | SB UK

Spellbinders Poppy Field Color Essentials Cardstock
Shop at:
SC | SB USA | SB UK

Spellbinders Persimmon Color Essentials Cardstock
Shop at:
SC | SB USA | SB UK

Spellbinders Rainforest Color Essentials Cardstock
Shop at:
SC | SB USA | SB UK

Spellbinders Peridot Color Essentials Cardstock
Shop at:
SC | SB USA | SB UK

Spellbinders Platinum 6 Die Cutting Machine
Shop at:
SSS | SC | SB USA | SB UK | AMZ

Spellbinders New & Improved Platinum 6 Machine With Universal Plate System
Shop at:
SSS | SC | SB USA | SB UK

Spellbinders Tool 'n One – White
Shop at:
SSS | SC | SB USA | SB UK | AMZ

Spellbinders Best Ever Craft Tape 0.25″
Shop at:
SSS | SC | SB USA | SB UK

Spellbinders Silver Mix Color Essential Gems
Shop at:
SSS | SC | SB USA | SB UK

Spellbinders Best Ever Craft Tape
Shop at:
SSS | SC | SB USA | SB UK | AMZ

Spellbinders 9″ Pro Shears
Shop at:
SSS | SC | SB USA | SB UK

Glassboard Studio True White Glass Craft Mat
Shop at:
GBS

Glassboard Studio Super Strong Magnets
Shop at:
GBS

Jewel Picker Tool
Shop at:
SSS | SC | SB USA | SB UK | AMZ

Bearly Art Mini Precision Craft Glue
Shop at:
SSS | SB USA | AMZ

Spellbinders White Foam Adhesive Squares Mix – 1mm
Shop at:
SC | SB USA

White Foam Squares
Shop at:
SSS | SC | SB USA | AMZ

Simon Says Stamp Blending Brushes Small
Shop at:
SSS

Simon Says Stamp Lipstick Red Ink Pad
Shop at:
SSS

Simon Says Stamp Pawsitively Saturated Ink Pad Mocha
Shop at:
SSS