Hello crafters! In this video, I have lots of Christmas cards to share all created using the Stitched for Christmas collection from Spellbinders. The Stitched for Christmas is a collection of dies designed with stitching on paper in mind. These are all Christmas-themed and are great for detailed stitched cards. I say detailed and I mean one-of-a-kind cards, unique cards. Stitching takes quite a bit of time, so this is not something I'd mass produce, I know I'd want to, but I'd probably instead make a bunch of different cards, at least slightly different, where I'd try different colors of thread and paper.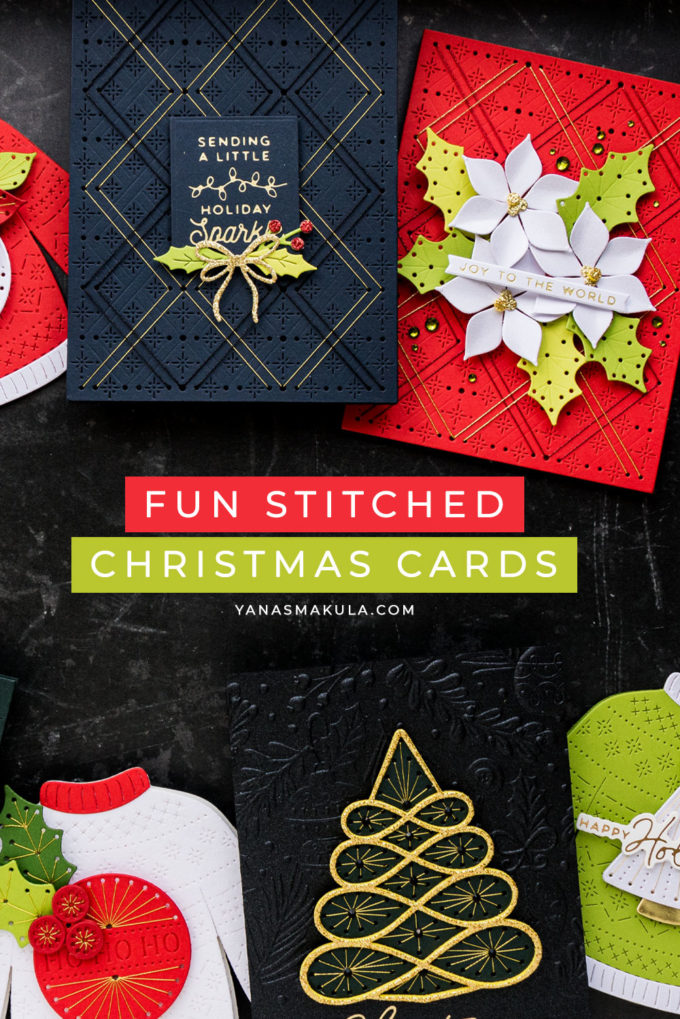 Like this project? Pin it and save it for later | Curious about my project photography? Click for details. 
VIDEO TUTORIAL
Watch the video below or on my Youtube channel.
STITCHED CHRISTMAS SWEATER
First up we have this super large Stitched Christmas sweater die, this is about the size of an A2 card. You can have it horizontal if you want to fit it completely, if you place it on a vertical card base, the sleeves go outside the card. You can also use it on a 5×7 card or 6×6 if you enjoy making cards in that size, I'm typically an A2 card kind of girl. You can also use this die to create a shaped card.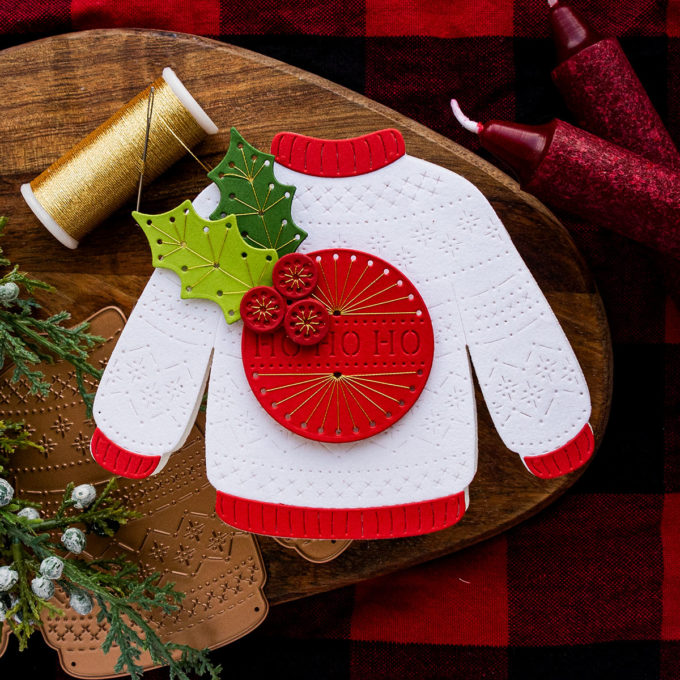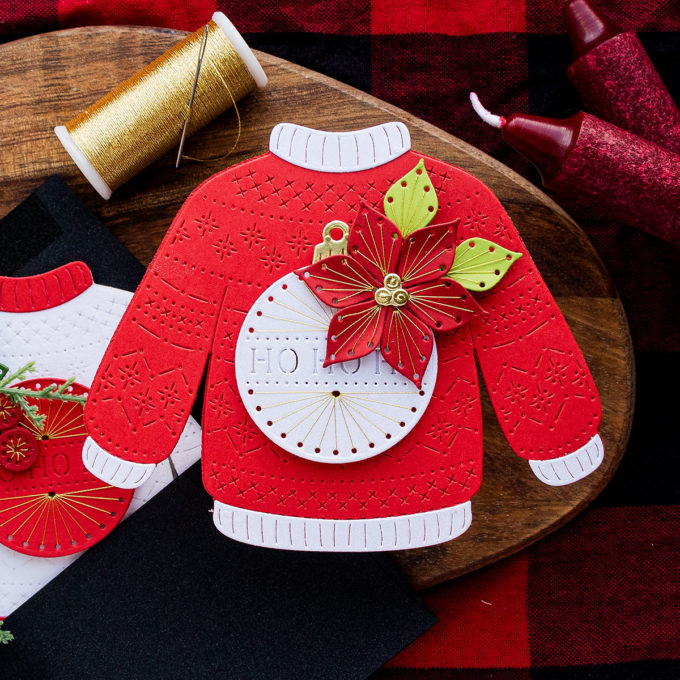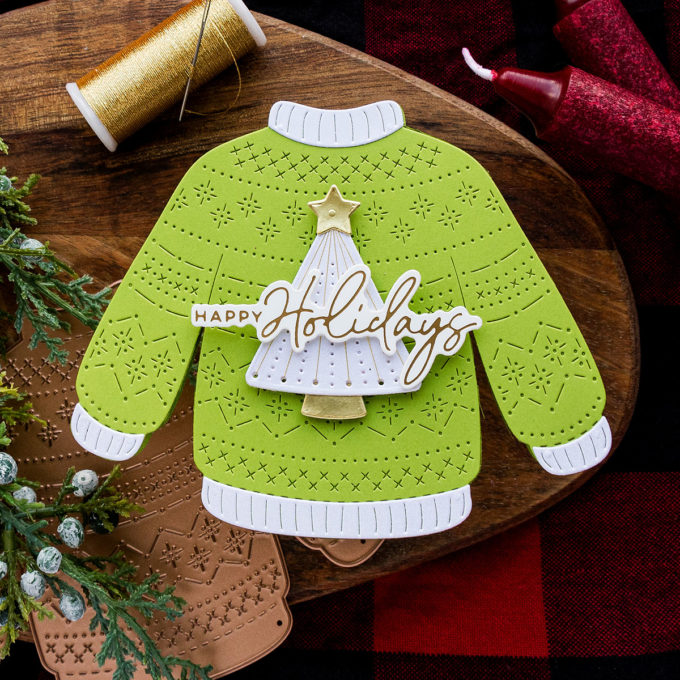 You also have additional dies in this set to put on top of your sweater or use separately. The sweater itself is not stitched, it is perforated.
STITCHED CHRISTMAS TREE
Next is the Stitched Christmas Tree set. This is a really nice size, it fits the A2 card perfectly with room to add a sentiment above or below the tree. You can also use just the stitching layer and die-cut it into a card base for a one-layer card and again.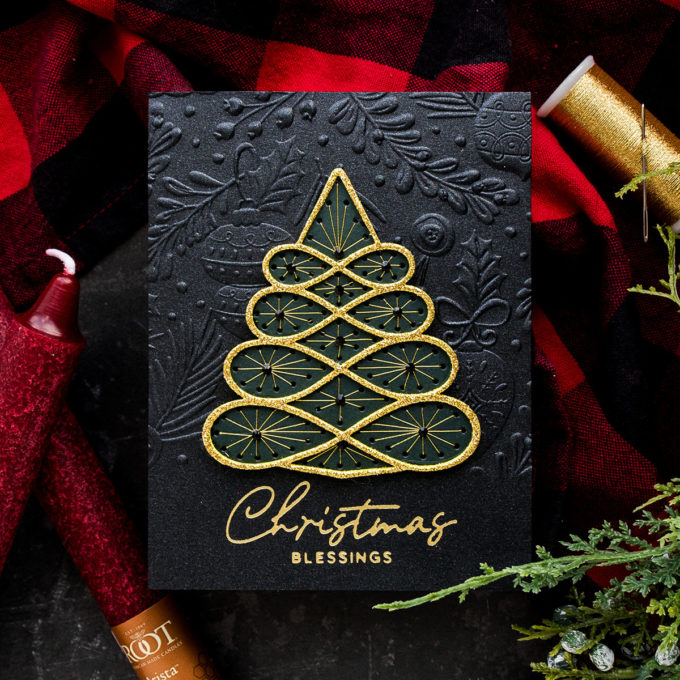 STITCHED POINSETTIA & HOLLY
Next, we have the Stitched Poinsettia & Holly die. There's a stitched poinsettia and a solid poinsettia, 2 different leaves, a stitched insert, and an outline, there's a little flower center for the poinsettia, and the dies to create stitched berries for the holly leaves.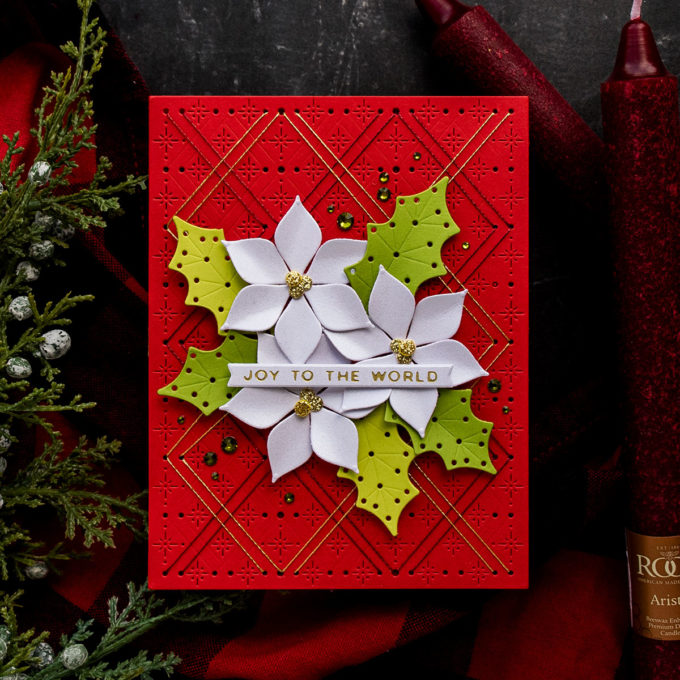 STITCHED BACKGROUND DIE
The last die in this collection is my favorite and it is the most versatile, it can be used beyond the Christmas cards, this is the Stitched Starry Argyle. It is a full A2 card panel. This die creates beautiful backgrounds and there are even lines that impress into the paper and tell you where the stitched lines need to go. You can stitch a bunch of those and just have them ready as backgrounds for when you are creating cards.
I hope you've enjoyed the card ideas and feel inspired to create! Have fun stitching!
SUPPLIES
I'm listing the products I used below. Click on the link to go directly to the product. Where available I use compensated affiliate links which means if you make a purchase I receive a small commission at no extra cost to you. Thank you so much for your support!

Spellbinders Stitched Poinsettia & Holly Etched Dies
Shop at:
SSS | SC | SB USA | SB UK

Spellbinders Stitched Starry Argyle Etched Dies
Shop at:
SSS | SC | SB USA | SB UK

Spellbinders Stitched Christmas Sweater Etched Dies
Shop at:
SSS | SC | SB USA | SB UK

Spellbinders Stitched Christmas Tree Etched Dies
Shop at:
SSS | SC | SB USA | SB UK

Spellbinders Essential Christmas Greetings Glimmer Hot Foil Plate
Shop at:
SSS | SC | SB USA | SB UK | AMZ

Spellbinders Parcel & Post Christmas Decorations Etched Dies
Shop at:
SSS | SC | SB USA | SB UK

Spellbinders Christmas Mailbox Greetings Glimmer Hot Foil Plate
Shop at:
SSS | SC | SB USA | SB UK

Spellbinders Parcel & Post Mailbox Etched Dies
Shop at:
SSS | SC | SB USA | SB UK

Spellbinders 3D Embossing Folder of the Month Club
Shop at:
SB USA | SB UK

Spellbinders Essential Arches Etched Dies
Shop at:
SSS | SC | SB USA | SB UK | AMZ

Spellbinders A Merry Little Christmas Sentiments Glimmer Hot Foil Plate & Die Set
Shop at:
SSS | SC | SB USA | SB UK

Spellbinders Glimmer Hot Foil – Matte Gold
Shop at:
SSS | SC | SB USA | SB UK | AMZ

Spellbinders Glimmer Hot Foil System (Platinum)
Shop at:
SC | SB USA | SB UK

Spellbinders Glimmer Hot Foil System (Bronze)
Shop at:
SSS | SC | SB USA | SB UK | AMZ

Spellbinders Tool 'n One
Shop at:
SSS | SC | SB USA | SB UK | AMZ

Glassboard Studio Super Strong Magnets
Shop at:
GBS

DMC Tapestry Needles Size 22
Shop at:
SB USA

DMC Variegated Floss Bundle
Shop at:
SB USA | AMZ

DMC Essential Holiday Diamant Metallic Thread Bundle
Shop at:
SB USA

Dmc Essential Metallics Diamant Metallic Thread Bundle
Shop at:
SB USA

Magnetic Vent Cover
Shop at:
AMZ

Simon Says Stamp Chipboard Bundle Pack of 5 Sheets
Shop at:
SSS

Spellbinders Glacier Color Essentials Cardstock
Shop at:
SC | SB USA | SB UK

Spellbinders Brushed Black Cardstock
Shop at:
SC | SB USA | SB UK

Spellbinders Alabaster Color Essentials Cardstock
Shop at:
SB USA

Spellbinders Mirror Gold Cardstock
Shop at:
SC | SB USA | SB UK

Spellbinders Poppy Field Color Essentials Cardstock
Shop at:
SC | SB USA | SB UK

Spellbinders Indigo Color Essentials Cardstock
Shop at:
SB USA

Spellbinders Pomegranate Color Essentials Cardstock
Shop at:
SB USA | SB UK

Spellbinders Brushed White Cardstock
Shop at:
SC | SB USA

Spellbinders Snowdrift Color Essentials Cardstock
Shop at:
SB USA

Spellbinders Rainforest Color Essentials Cardstock
Shop at:
SC | SB USA

Spellbinders Forest Color Essential Cardstock
Shop at:
SB USA

Simon Says Stamp Pawsitively Velvet Luxury Cardstock Classic
Shop at:
SSS

Simon Says Stamp Pawsitively Velvet Luxury Cardstock Snow White
Shop at:
SSS

Simon Says Stamp Pawsitively Velvet Luxury Cardstock Shades of Blue
Shop at:
SSS

Spellbinders New & Improved Platinum Machine With Universal Plate System
Shop at:
SSS | SC | SB USA | SB UK | AMZ

Spellbinders New & Improved Platinum 6 Machine With Universal Plate System
Shop at:
SSS | SC | SB USA | SB UK

DMC Light Gold Diamant Metallic Thread
Shop at:
SB USA

Scor-Pal Mini Scor-Buddy Scoring Board
Shop at:
SSS | AMZ

Spellbinders Pop-up Die Cutting Glitter Foam Sheets – Gold
Shop at:
SB USA | SB UK

Spellbinders Universal Plate System (P6 Accessory Bundle)
Shop at:
SB USA | SB UK

Spellbinders Xl Universal Plate System
Shop at:
SB USA | SB UK

Spellbinders Best Ever Craft Tape
Shop at:
SSS | SC | SB USA | SB UK | AMZ

Spellbinders Best Ever Craft Tape 0.25″
Shop at:
SSS | SC | SB USA

Spellbinders Onyx Mix Color Essential Gems
Shop at:
SSS | SB USA | SB UK

Spellbinders Green Mix Color Essential Gems
Shop at:
SSS | SC | SB USA

Glassboard Studio True White Glass Craft Mat
Shop at:
GBS

Bearly Art Mini Precision Craft Glue
Shop at:
SSS | SB USA | AMZ

Simon Says Stamp Thin 3d Foam Squares Black and White
Shop at:
SSS