Hello friends! I'm back with another post featuring Spellbinders October Club Kits (note Spellbinders Clubs are now available in the UK!). October typically means Christmas when it comes to kits from Spellbinders and Christmas being my favorite holiday I couldn't wait to share my favorites from this month.
Spellbinders Clubs are easy and fun because there is no minimum commitment and one can join/cancel any time from the account (you don't need to reach out to Customer Support to do it, it is all straightforward). You can read the total Clubs FAQ HERE.
My absolute fave for October is the Large Die of the Month. It is a set to create stitched ornament and display. While I am not particularly fond of the display part, I do see myself using it as I don't have anything like that in my stash. It is an easy-to-put-together set to create a display for pretty much anything, which is especially handy for the Holidays.
I find the tone-on-tone stitching looks best for the ornament – I cut this one from red cardstock and stitched it with a shade darker red thread. So pretty!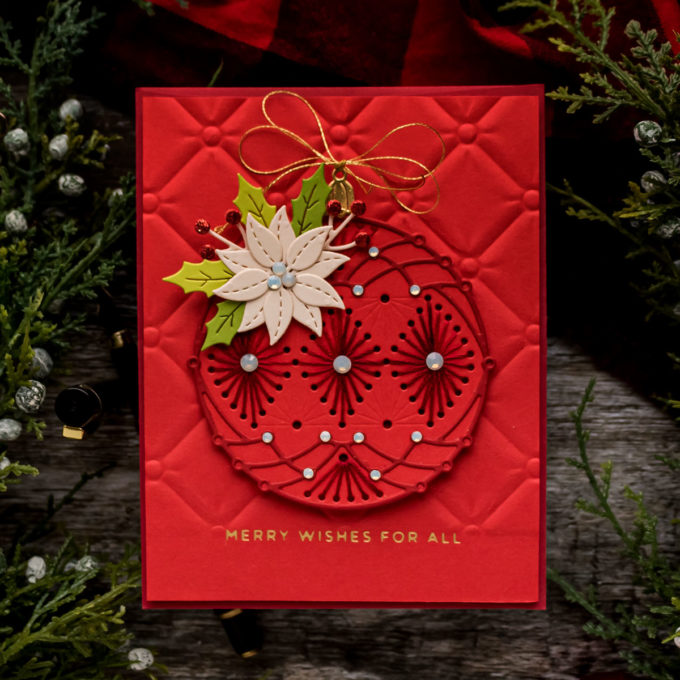 I did partial embossing for the background (watch this video for the how-to) using Tufted 3D Embossing Folder, foiled a sentiment in Matte Gold foil, and added my stitched ornament on top and embellished with Opal gems. Simple, yet effective.
Here's the project I made using the Display dies with the stitched ornament inside. This measures 5 x 7″:
GLIMMER KIT OF THE MONTH
My next favorite this month is the Glimmer Kit. I am fond of stamping and to me, Glimmer is like stamping on a whole new level. I foiled the poinsettia spray in Matte Gold Foil on Simon's 130lb cardstock (I love this paper for foiling + Copic coloring).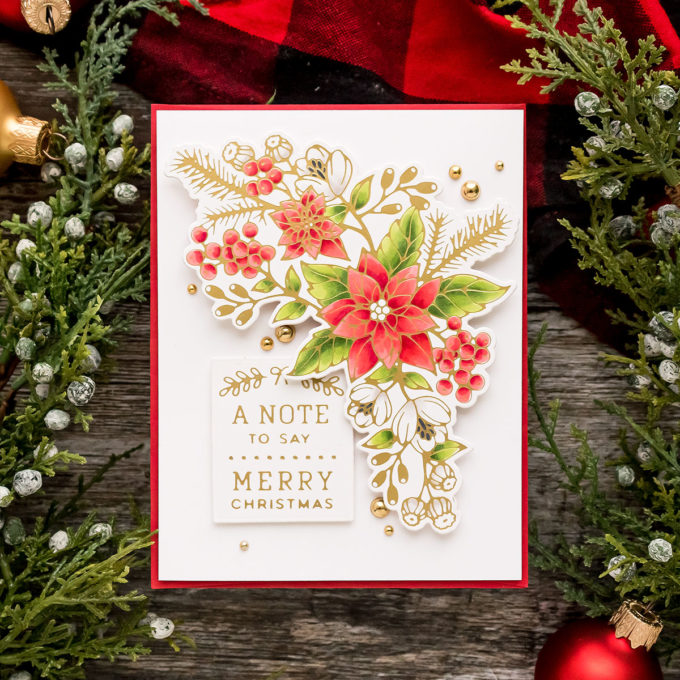 I didn't use the sentiment from the kit (I am not a fan of that font), but I added one created with glimmer plates from the Parcel & Post Collection – All-occasion Mailbox Greetings. I embellished this card with Fashion Gold dots.
Here's another card I made using the same kit, this time I added a color spray and also used an oval solid glimmer shape to utilize the negative foil piece: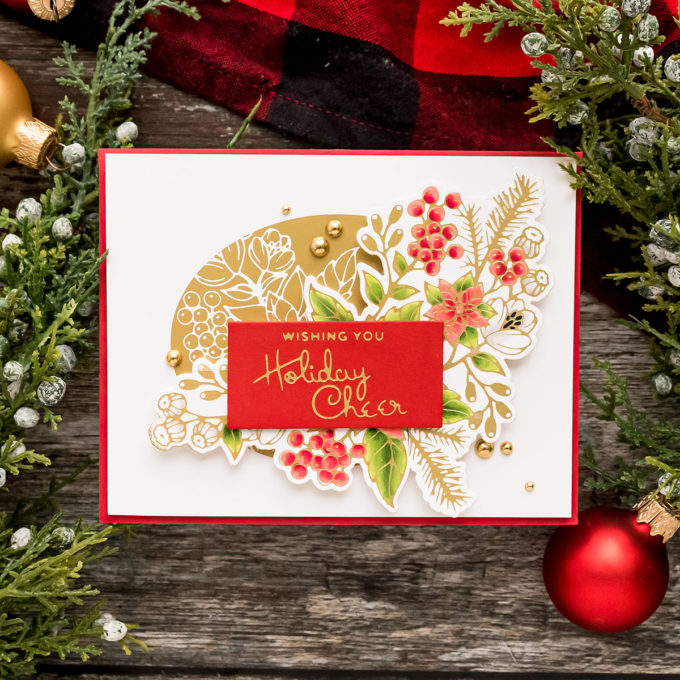 If you don't have a hot foil system, you can get the Clear Stamp & Die of the Month kit, it features a very similar image. I stamped 2 sprays (heat embossed in Gold Embossing Powder for a similar look) and colored them in the same way.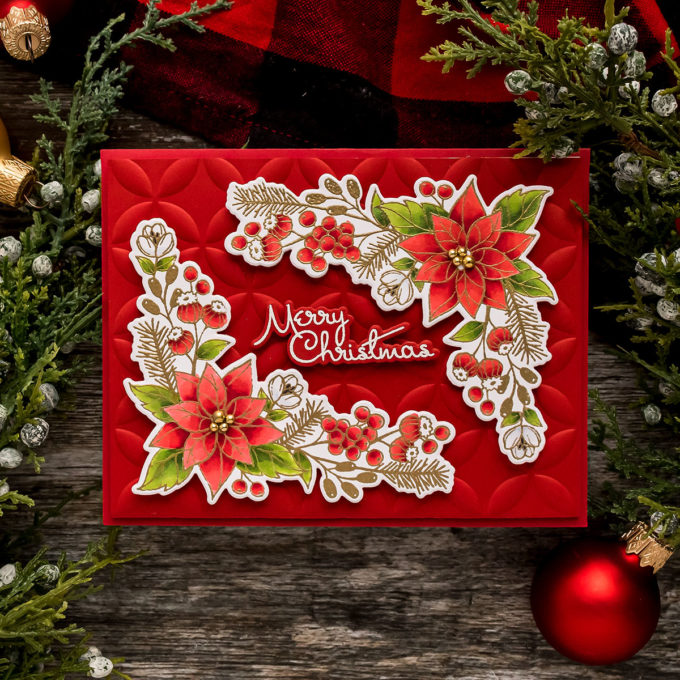 I added the images onto a Circle Illusion 3D embossed background and just used Fashion Gold dots for the poinsettia centers, without any additional embellishments.
Lastly, I love the Embossing Folder this month. It is a 2D folder, with a beautiful Christmas design.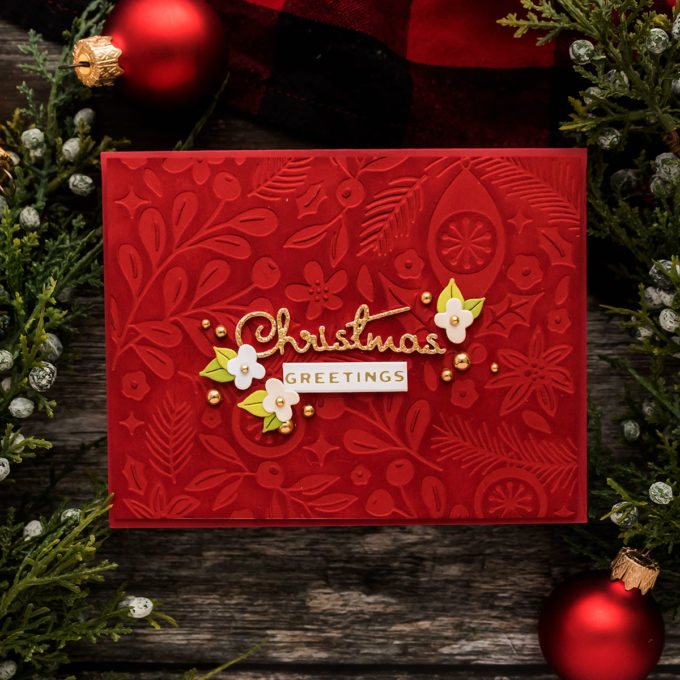 I embossed it on Phone Booth cardstock and used Watermark ink on the debossed side to create a darker effect. The sentiment was made by combining the Small Die of the Month "Christmas" cut from Gold Glitter Foam Sheet and "Greetings" foiled in Matte Gold. The small flowers also come from the Small Die of the Month for October.
Spellbinders Clubs are of great value and quality. There are multiple "value" Club options available, too, if you wish you get multiple Clubs. The best one is the Total Package. Check the other Value Clubs HERE.
SUPPLIES
I'm listing the products I used below. Click on the link to go directly to the product. Where available I use compensated affiliate links which means if you make a purchase I receive a small commission at no extra cost to you. Thank you so much for your support!

Spellbinders The Total Package Club Membership
Shop at:
SB USA | SB UK

Spellbinders Small Die Of The Month Membership
Shop at:
SB USA | SB UK

Spellbinders Large Die Of The Month Membership
Shop at:
SB USA | SB UK

Spellbinders Glimmer Hot Foil Kit of the Month Club
Shop at:
SB USA | SB UK

Spellbinders Clear Stamp & Die of the Month Club
Shop at:
SB USA | SB UK

Spellbinders Embossing Folder of the Month
Shop at:
SB USA | SB UK

Spellbinders All-occasion Mailbox Greetings Glimmer Hot Foil Plate
Shop at:
SSS | SC | SB USA | SB UK

Spellbinders Tufted 3d Embossing Folder
Shop at:
SSS | SC | SB USA | SB UK

Spellbinders Christmas Magic Hot Foil Plates
Shop at:
SSS | SC | SB USA | SB UK

Spellbinders Circle Illusion 3d Embossing Folder
Shop at:
SSS | SC | SB USA | SB UK

Spellbinders Tool 'n One
Shop at:
SSS | SC | SB USA | SB UK | AMZ

Limited Edition Platinum 6 Aqua Die Cutting and Embossing Machine
Shop at:
SB USA | SB UK

Spellbinders Platinum 6 Die Cutting Machine
Shop at:
SSS | SC | SB USA | SB UK | AMZ

Spellbinders Platinum Die Cutting Machine
Shop at:
SSS | SC | SB USA | SB UK | AMZ

Spellbinders Universal Plates System
Shop at:
SSS | SC | SB USA | SB UK | AMZ

Glimmer Hot Foil – Matte Gold
Shop at:
SSS | SC | SB USA | SB UK | AMZ

Spellbinders Pop-Up Die Cutting Glitter Foam Sheets – Gold & Silver
Shop at:
SSS | SC | SB USA | SB UK

Simon Says Stamp Mega Thick White Cardstock 130LB
Shop at:
SSS

Spellbinders Gold Embossing Powder
Shop at:
SSS | SC | SB USA

Spellbinders Clear Embossing & Watermark Ink Pad
Shop at:
SSS | SC | SB USA

Spellbinders Phone Booth Color Essential Cardstock
Shop at:
SB USA

Spellbinders Fashion Gold Embellishments
Shop at:
SSS | SC | SB USA

Spellbinders Color Essentials Gems in Opal
Shop at:
SSS | SC | SB USA | SB UK

Bearly Art Mini Precision Craft Glue
Shop at:
SSS | SB USA | AMZ

DMC Tapestry Needles Size 22
Shop at:
SB USA

DMC Variegated Floss Bundle
Shop at:
SB USA | AMZ

DMC Color Essentials Floss Bundle Neutrals
Shop at:
SB USA

DMC Color Essentials Floss Bundle Warm
Shop at:
SB USA

DMC Color Essentials Floss Bundle Cool
Shop at:
SB USA