Hello crafters! Today I have several cards to share featuring the Spellbinders June 2020 Club Kits. Spellbinders has 5 different Clubs to choose from at the moment, and I'll show you inspiration using products from 4 of these clubs – the Card Kit of the Month, the Small Die of the Month, the Large Die of the Month and the Hot Foil Glimmer Kit of the Month. All of these Clubs are available as stand-alone subscriptions, but if you'd like to join all 4 and save on the cost of the Clubs and also save on shipping if you are located outside the USA, there's a Glimmer Groupie Club that includes all 4 of those subscriptions.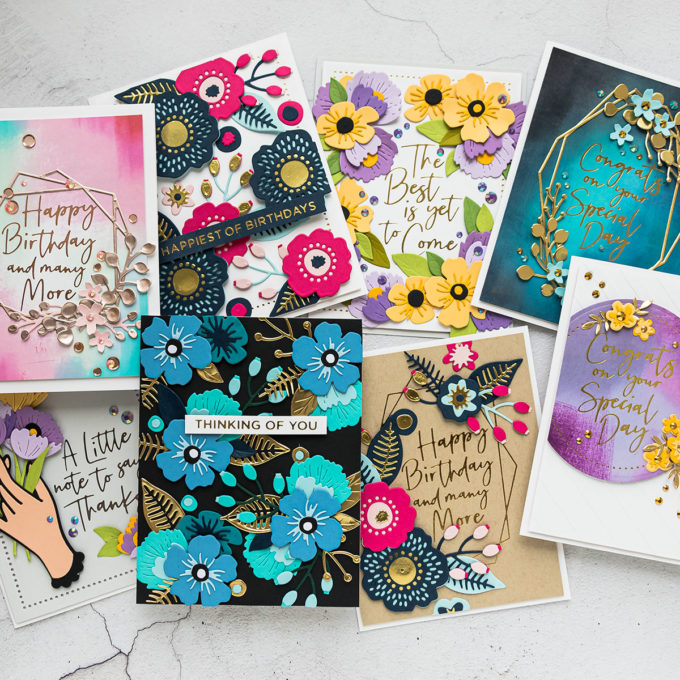 Like this project? Pin it and save for later | Curious about my project photography? Click for details. 
VIDEO TUTORIAL
As always, I filmed a video tutorial showing how to create this project from start to finish. I'm hoping you'll enjoy it. Watch it below or on my Youtube channel.
Like this video? Please give it a big thumbs up (you can do this on Youtube video page right under the video) and share it with a crafty friend! Leave me a comment too, I love hearing from you!
CARD KIT
I'm going to start with the Card Kit of the Month. I hardly ever share projects made with the Spellbinders Card Kits, but only because I am not of a card kit person, I prefer separate dies or stamps like in the other Spellbinders Clubs, the kit this month, however, has caught my eye because of the amazing flower dies included in this kit.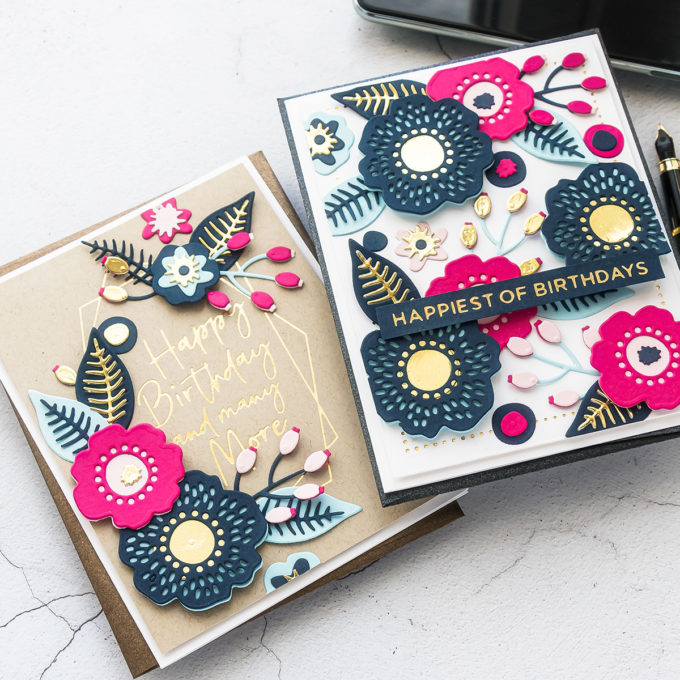 Each flower is designed so that there are several layers to it and the layers can be mixed and matched, giving you more options as to how your flowers and layers can be combined and assembled. Truly, a very versatile set for making flowers for your projects.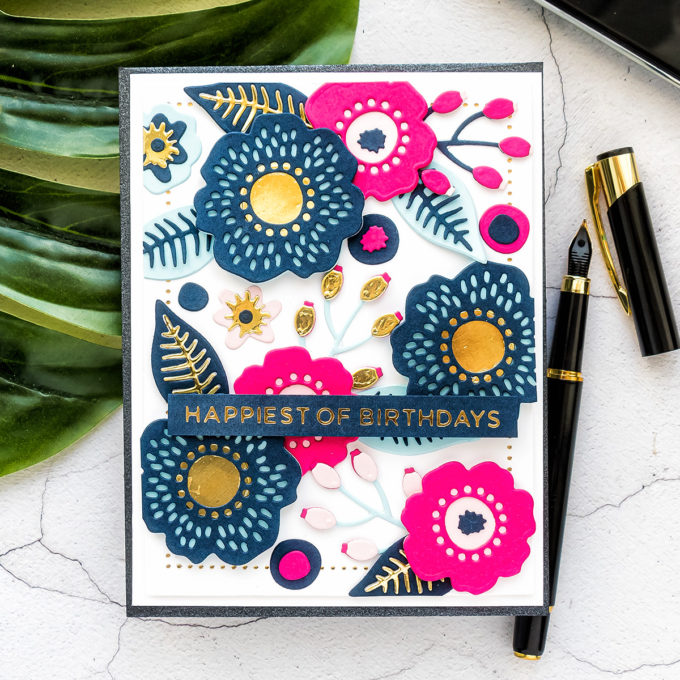 My first card features a die-cut floral pattern. My goal was to make a die-cut floral pattern for this card and so I arranged the flowers starting with the 3 largest flowers. Next, I added my smaller flowers and than started adding the leaves and berry branches to build my background. I love this process – using individual pieces to make one custom pattern and I never get tired of doing this.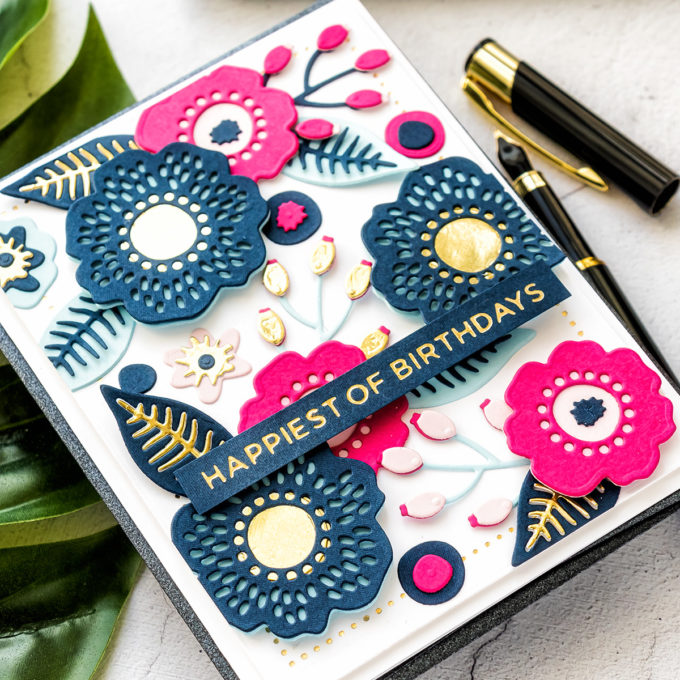 You can have a variety of looks by arranging your flowers differently, using different colors of cardstock for the flowers and leaves, and even using different, nonwhite cardstock colors for your background. The colors of cardstock I used for my die cutting all come from the card kit.
I foiled a panel of white cardstock using Spellbinders Essential Glimmer Rectangle plate and cut it out using a coordinating rectangle die. Next, I used foam adhesive and glue and adhered die cuts to create a pattern. Having adhered everything I used my scissors and cut the excess pieces off. I foam mounted this panel onto an A2 white card base from my kit and I added a foiled sentiment that reads "Happiest of Birthdays" made using Spellbinders More Sentiments Glimmer Hot foil Plate. The foiling on the sentiment works really well together with the gold mirror cardstock I used for my die cutting here.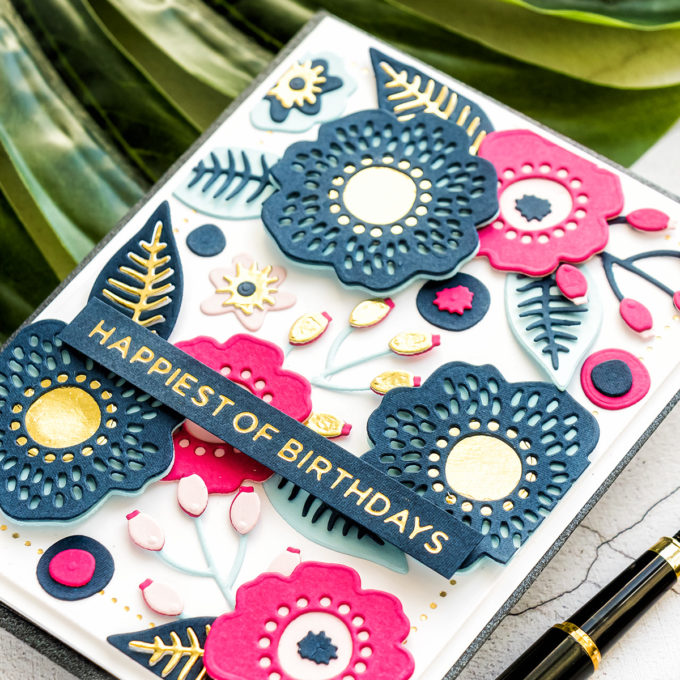 CARD KIT + GLIMMER KIT
I had some leftover flowers from all of that die-cutting and so I used them to make another card. I first foiled a frame using the Geometric Glimmer Hot Foil plate on kraft cardstock. Next, I foiled a gorgeous sentiment that reads Happy Birthday and Many more and comes from June Glimmer Hot Foil Kit of the Month.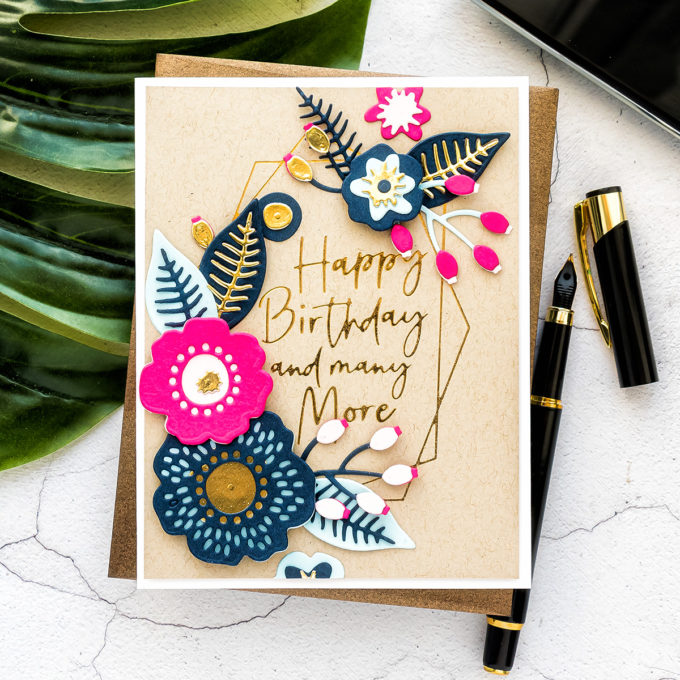 I've adhered die cut flowers to my panel using a mix of glue and foam adhesive squares; I added florals in the opposite corners of the frame. My sentiment was intentionally foiled a bit off to the right to allow for a bit heavier flower placement on the left.
CARD KIT + SMALL DIE
The next card shows the use of floral dies from both the Card Kit of the Month and the Small Die of the Month. I used various shades of blue along with lots of gold and added the flowers to a black background for a very contrasting look.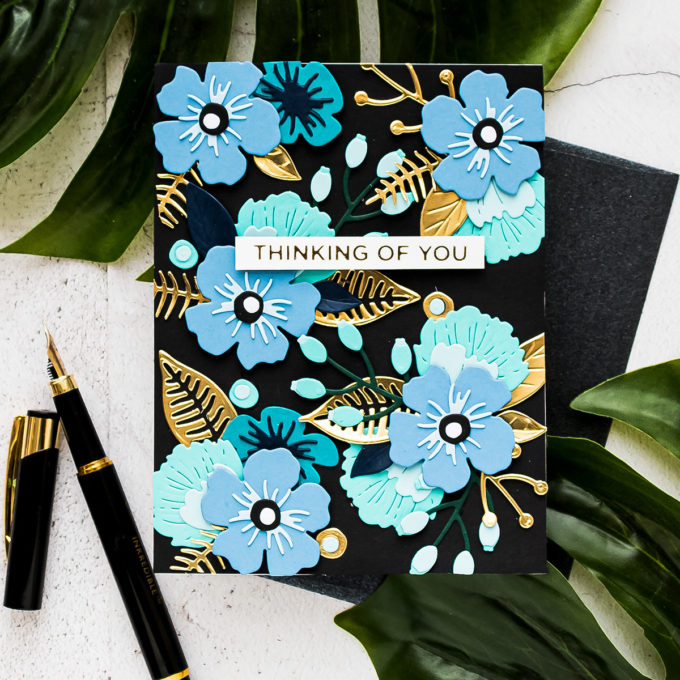 The Small Die of the Month includes more gorgeous flowers and even a hand die to create a die-cut hand that is holding a bouquet or just a single flower. The flower die is expertly done and looks very delicate and feminine on the card. You will need to look for some skin tone cardstock in your stash to die cut the hand from, I used FSJ Peaches and Cream cardstock for the card idea shared below. You can also die-cut it from white cardstock and use a coloring medium to color it the desired skin tone.
SMALL DIE + GLIMMER KIT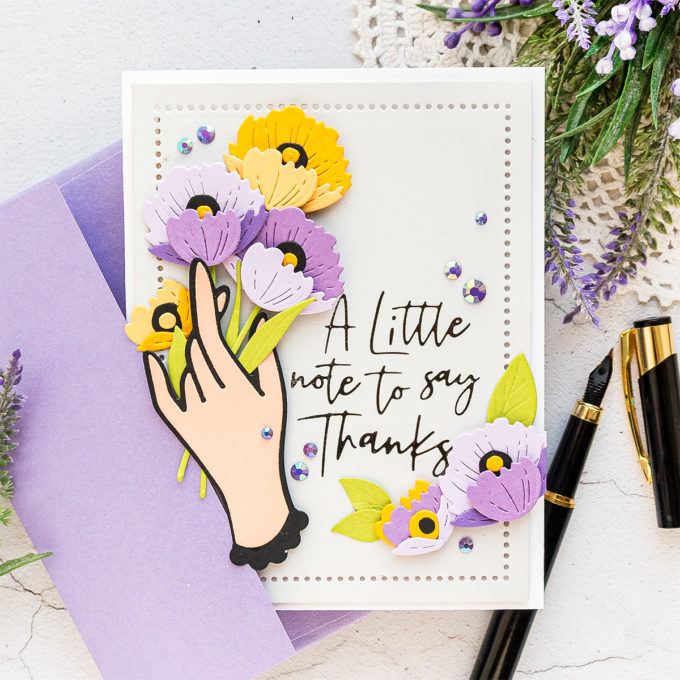 I did a very simple card with the Small Die of the Month – I once again foiled a sentiment using the Glimmer Kit of the Month for June, those gorgeous sentiments, I die cut the panel using Essential Rectangle die and insert and foam mounted my panel onto A2 white card base. Next, I went with various shades of purple and yellow and die cut several pretty flowers. I embellished the card using Purple jewels from Pretty Pink Posh.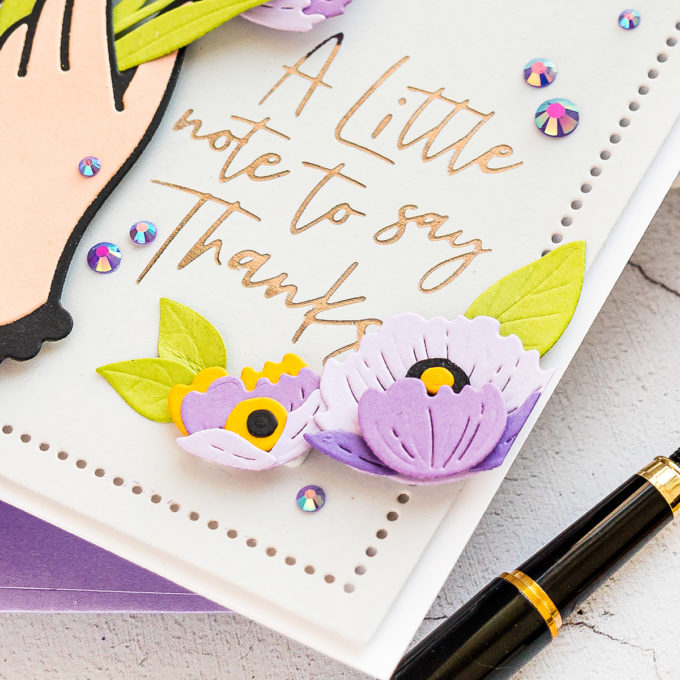 Here's another card made using these dies and same color combo, I just used a different flower arrangement and different foiled sentiment in the center.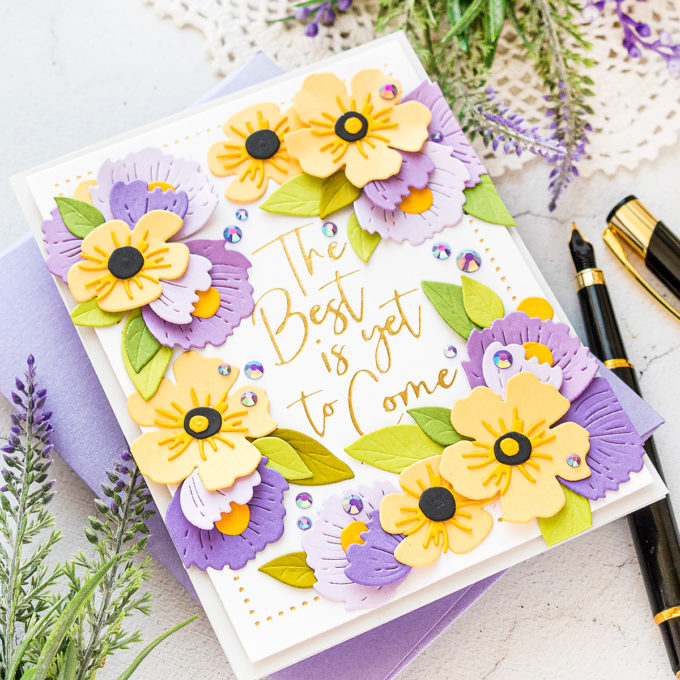 LARGE DIE + GLIMMER KIT
I also want to share a quick look at the Large Die of the Month for June. This includes 2 stunning geometric frames, similar to that foiled frame I showcased earlier as well as some beautiful greenery. I made some quick abstract backgrounds using ink pads, the technique I teach in the Spring Card Camp 2 from Online Card Classes and I foiled a birthday sentiment on this panel. Next, I foam mounted the panel to A2 white card base, added a square frame, I cut it from Rose Gold mirror cardstock from Tonic Studios to match the foiling on the panel – I used rose gold foil to foil the sentiment.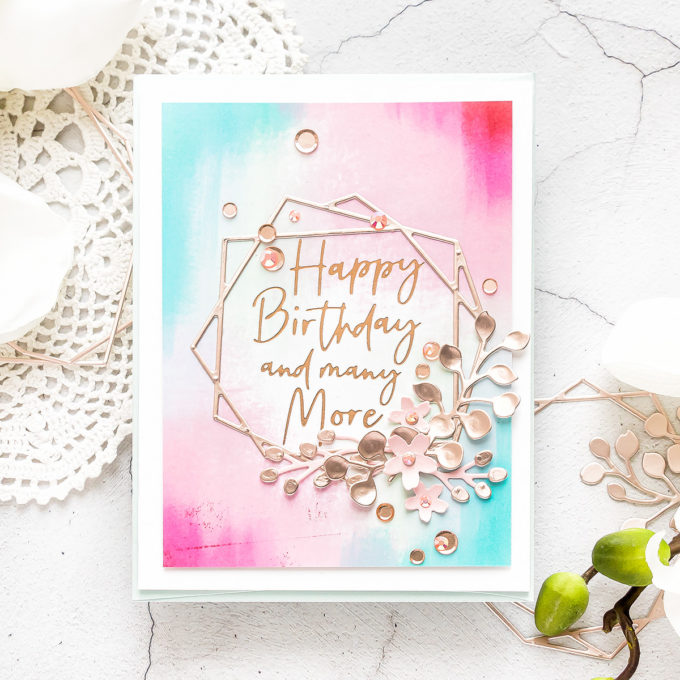 The 2nd card made using this kit was created similarly, I made a dark blue abstract background, I foiled sentiment and I added 2 oval frames cut from gold mirror cardstock.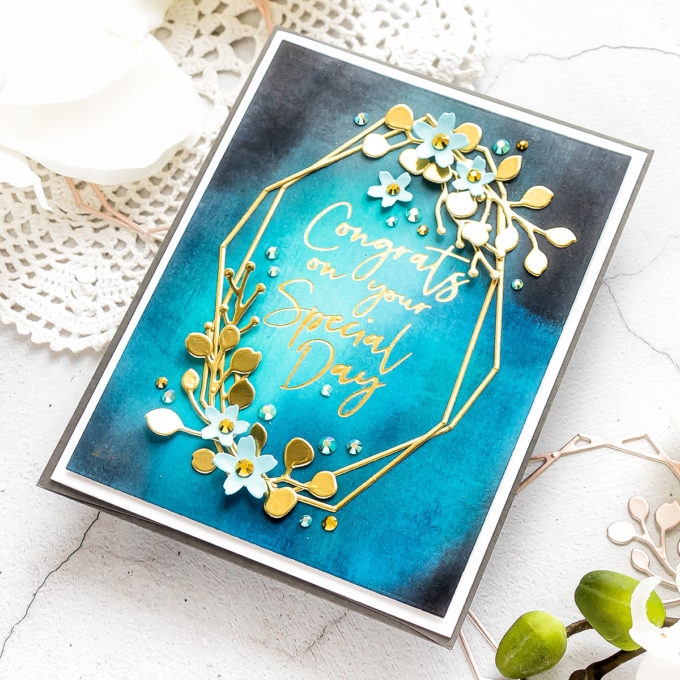 Then you just add the beautiful die-cut greenery, add some flowers if you like, and embellish the cards with gems, jewels or sequins – whichever you prefer.
SPELLBINDERS CLUB KITS
Spellbinders has several value Clubs available if you'd like to join more than one Club. You can join and cancel anytime as well as skip your subscription up to 5 times.
CONCLUSION
Let me know if you enjoyed this type of post/video, showing multiple Clubs from Spellbinders and also mixing the products from various clubs to make my cards. Let me know if you'd like to see videos like his done again in the future, and if you have any suggestions, too.
Thanks for joining me today! Have fun die-cutting!
SUPPLIES
I'm listing the products I used below. Click on the link to go directly to the product. Where available I use compensated affiliate links which means if you make a purchase I receive a small commission at no extra cost to you. Thank you so much for your support!

Spellbinders Glimmer Groupie Value Club Membership
Shop at:
SB | TS USA

Spellbinders Card Kit of the Month Membership
Shop at:
SB

Spellbinders Small Die Of The Month Membership
Shop at:
SB

Spellbinders Large Die Of The Month Membership
Shop at:
SB

Spellbinders Glimmer Hot Foil Kit of the Month Club
Shop at:
SB

Spellbinders Die Hard Value Club Membership
Shop at:
SB

Spellbinders Kit & Caboodle Value Club Membership
Shop at:
SB

Spellbinders Essential Rectangles
Shop at:
SSS | SC | SB | AZ

Spellbinders Essential Glimmer Rectangles Hot Foil Plates
Shop at:
SSS | SC | SB | AZ

Spellbinders Geometric Floral Glimmer Hot Foil Plate
Shop at:
SSS | SC | SB

Spellbinders More Sentiments Glimmer Hot Foil Plate
Shop at:
SSS | SC | SB

Spellbinders Hot Foil Roll – Gold
Shop at:
SSS | SC | SB | AZ

Glimmer Hot Foil Roll – Black
Shop at:
SC | SB | AZ

Glimmer Hot Foil – Rose Gold
Shop at:
SC | SB | AZ

Spellbinders Glimmer Hot Foil Roll – Polished Brass
Shop at:
SSS | SC | SB | AZ

Spellbinders Glimmer Hot Foil System
Shop at:
SSS | SC | SB | AZ

Spellbinders Deep Sea Die Cutting Machine
Shop at:
SSS | SC | SB | AZ

Spellbinders Platinum 6 Die Cutting Machine
Shop at:
SSS | SC | SB | AZ

Spellbinders Main Attraction Magnetic Die Finder
Shop at:
SSS | SC | SB | AZ

Pretty Pink Posh Metallic Gold Jewels
Shop at:
SSS | AZ | PPP

Pretty Pink Posh Metallic Rose Gold Confetti
Shop at:
SSS | PPP

Pretty Pink Posh Sea Glass Jewels
Shop at:
SSS | PPP

Pretty Pink Posh Metallic Rose Gold Jewels
Shop at:
SSS

Pretty Pink Posh Sugar Plum Jewels Mix
Shop at:
SSS | PPP

Pretty Pink Posh Amethyst Jewels
Shop at:
SSS | PPP

Crystal Ninja Crystal Katana Pick Up Tool
Shop at:
SSS | AZ | PPP

FSJ Grand Pro Shears
Shop at:
SB

FSJ Details Pro Shears
Shop at:
SC | SB

Tonic Burnished Rose Mirror Card Satin Effect Cardstock
Shop at:
SSS | SC

Neenah 80LB Solar White Cardstock
Shop at:
SSS | AZ

Neenah Classic Crest 80 Lb Desert Storm
Shop at:
SSS | AZ

Simon Says Stamp Fog Gray Cardstock
Shop at:
SSS

FSJ Peaches and Cream 8.5×11 Cardstock
Shop at:
SB

FSJ Pineapple Smoothie 8.5 x 11 Cardstock
Shop at:
SB

FSJ Grape Fusion 8.5 x 11 Cardstock
Shop at:
SB

FSJ Lavender Fusion 8.5 x 11 Cardstock
Shop at:
SB

FSJ Pretty Amethyst 8.5 x 11 Cardstock
Shop at:
SB

FSJ Summer Days 8.5 x 11 Cardstock
Shop at:
SB

FSJ Tin Pail 8.5×11 Cardstock
Shop at:
SB

White Foam Squares
Shop at:
SSS | SC | SB | AZ

Journey Craft Glue
Shop at:
SC | SB