It's the 1st of the month and this means there are new Club Kits from Spellbinders! I wanted to share my favorites with you in this post. Because I work for Spellbinders I get to see and play with their kits well in advance and every month I'm swooning over the designs.
This month my favorites include the Small Die – it is a stitching set, a Large Die – a typewriter, a Glimmer – this one is filled with beautiful sentiments, and Clear Stamp – which is a typewriter with clever messages. Definitely, lots of products to keep busy crafting and creating beautiful cards.
I used the largest oval from the Small Die of the Month and stitched it using Ombre Pink thread. The rest was filled with beautiful blooms from the Large Die of the Month. The sentiment comes from a non-Club set, the Smooth Lines Mix & Match Sentiments set.
The card below also combines the Small and the Large Dies, but it doesn't feature any stitching. I simply die cut the border and kept it free from stitching. I love how the stitching dies create a feeling of lace on cards, it is very pretty. I used the Be Bold Uppercase Alphabet Dies (recently featured HERE) to create a sentiment.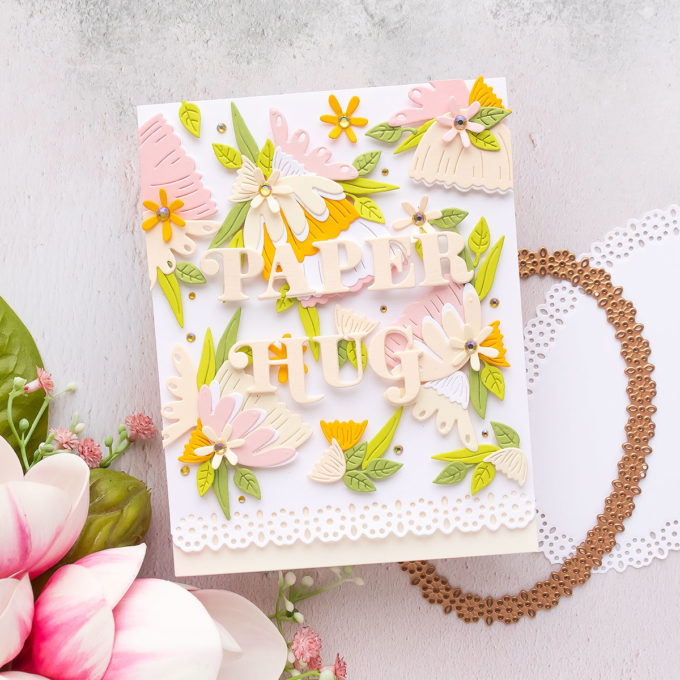 The next cards feature the Large Die of the Month – a fabulous typewriter. It is so detailed, you can even customize the colors of the keys (provided you have the patience). The typewriter die cut is pretty big – it easily takes up all the space on an A2 card, and can also be used to make a shaped card:
I paired both of these typewriters with foiled sentiments made using the February Glimmer of the Month.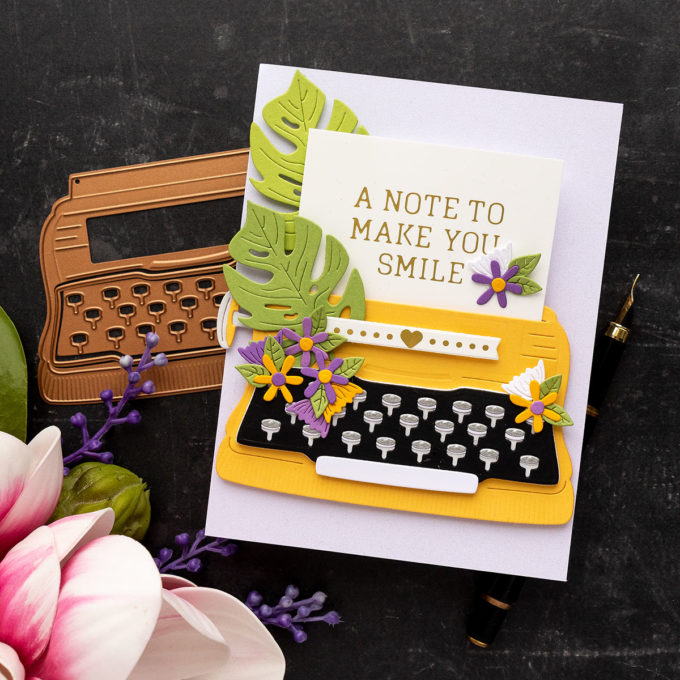 The Clear Stamp & Die of the Month for February is also adorable, featuring a typewriter and darling sentiments. I paired it with an embossed background created using February Embossing Folder of the Month: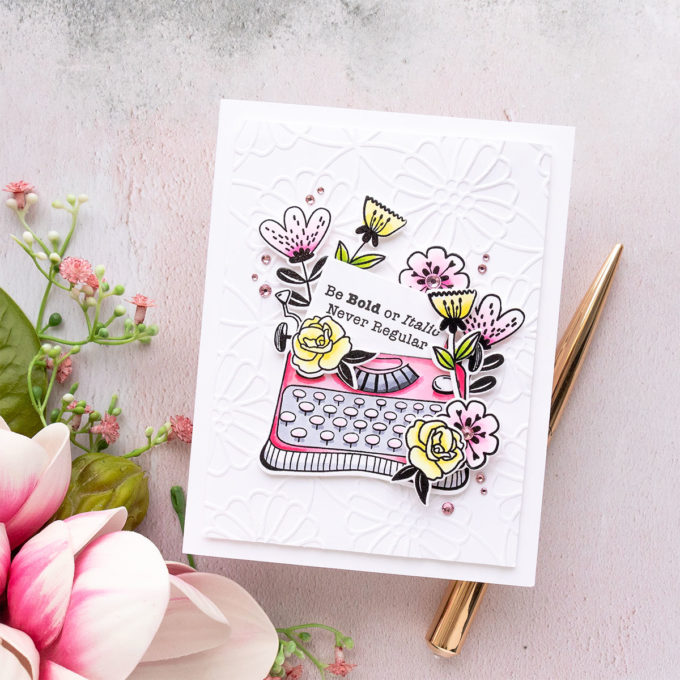 And speaking of the Embossing Folder Club, the embossing folder is a whopping 5 1/2 x 8 1/2″ allowing you to create any size projects you want. Here are the cards I made: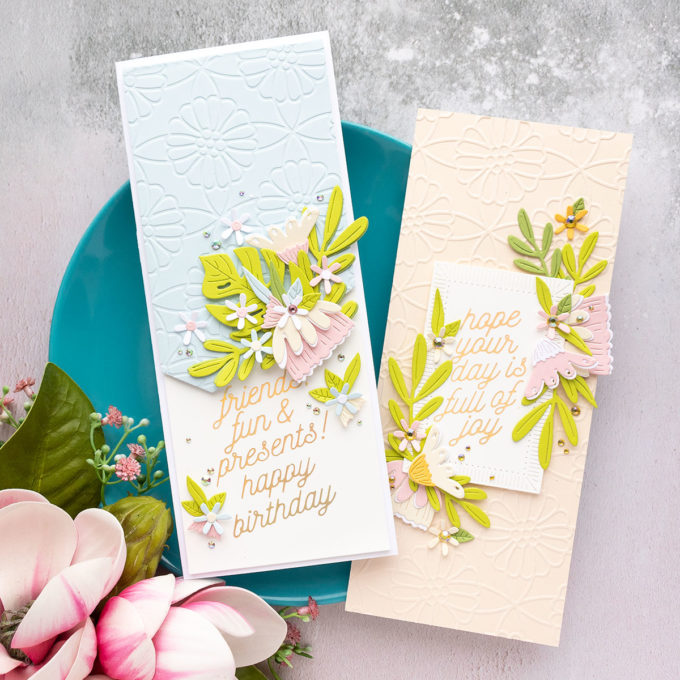 One shows the front embossed design (peach), and the other one shows the back of the embossed design (light blue). Both fabulous.
If you want to get all of these products, your best bet is to sign up for the Total Package Value Club (you'll also receive the Card Kit and the APG Die of the Month). Spellbinders Clubs have no minimum commitment, you can cancel anytime.
SUPPLIES
I'm listing the products I used below. Click on the link to go directly to the product. Where available I use compensated affiliate links which means if you make a purchase I receive a small commission at no extra cost to you. Thank you so much for your support!

Spellbinders The Total Package Club Membership
Shop at:
SB

Spellbinders Small Die Of The Month Membership
Shop at:
SB

Spellbinders Large Die Of The Month Membership
Shop at:
SB

Spellbinders Glimmer Hot Foil Kit of the Month Club
Shop at:
SB

Spellbinders Clear Stamp + Die of the Month Club
Shop at:
SB

Spellbinders Embossing Folder of the Month
Shop at:
SB

Spellbinders Cardstock
Shop at:
SB

Be Bold Uppercase Alphabet Etched Dies
Shop at:
SSS | SC | SB

Smooth Lines Mix & Match Sentiments Etched Dies
Shop at:
SSS | SC | SB

Spellbinders Glimmer Hot Foil System
Shop at:
SSS | SC | SB | AMZ

Limited Edition Platinum 6 Aqua Die Cutting and Embossing Machine
Shop at:
SB

Spellbinders Tool 'n One
Shop at:
SSS | SC | SB | AMZ

DMC Variegated Embroidery Floss, Assorted, 36-Pack
Shop at:
SB | AMZ