Today I have 5 cards to share created with the Spellbinders October 2021 Card Kit of the Month. I don't typically share card kit videos on my blog & Youtube channel, most of the time I prefer to use my stamps, my dies to make my cards and I'm not big on using patterned paper. But this particular kit from Spellbinders had me feeling very inspired and after I had finished making the card and video that I usually make every month for Spellbinders, I kept on playing with the kit supplies and I made 4 additional cards. The 5th card and video tutorial can be found on the Spellbinders YouTube channel.
Like this project? Pin it and save for later | Curious about my project photography? Click for details. 
VIDEO TUTORIAL
Watch the video below or on my Youtube channel.
Like this video? Please give it a big thumbs up (you can do this on Youtube video page right under the video) and share it with a crafty friend! Leave me a comment too, I love hearing from you!
DETAILS
What I loved most about this Card Kit is the die set. There are 3 main dies – outer rim die, this is a very pretty label shape; detailed insert, it adds beautiful dot cut out details to the label, and another insert with a dot and stars background, this last one has a cut line on the edge, so it will cut this shape out. You can mix and match these 3 dies to create various cutouts. I used these dies for all 5 cards.
All my cards feature quite a similar layout – a sheet of patterned paper covering the front of my card with a pretty label popped up on top, either in the center or a little bit closer to the top.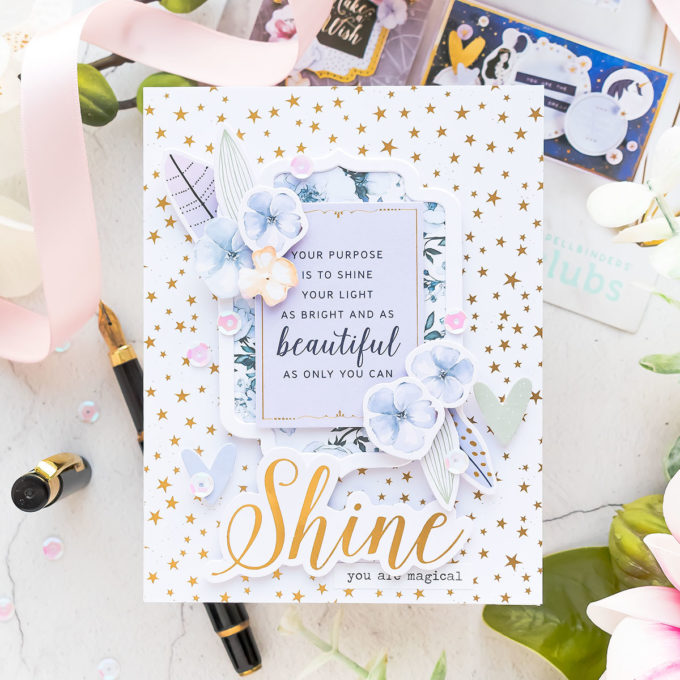 The label works as the focal point and it typically houses a sentiment. You get so many different embellishments in this kit – there are stickers, both simple cardstock stickers, and epoxy stickers, there are pre-printed die cuts, and there are 2 of each, including both image die cuts and sentiment die cuts and even a sheet with gold foil sentiment stickers. So quite a lot of pieces.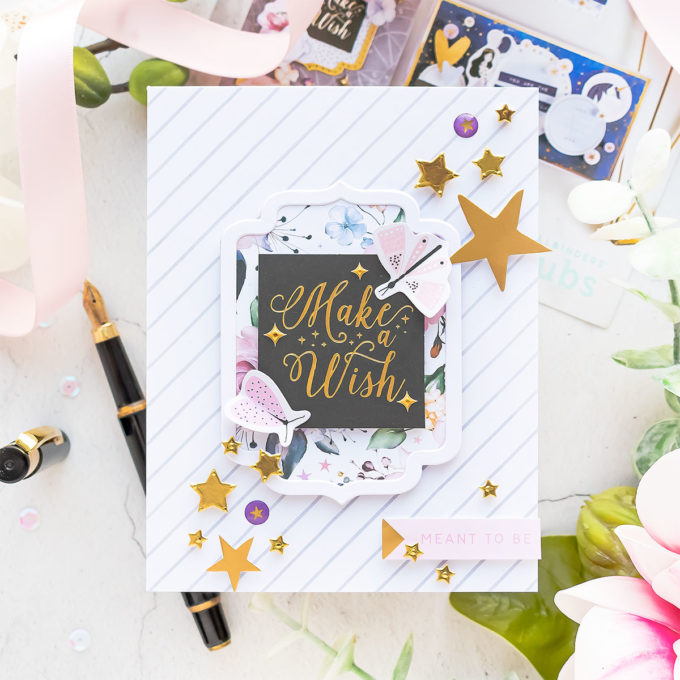 And this is the 5th card, you can watch video tutorial for this project on the Spellbinders Youtube channel: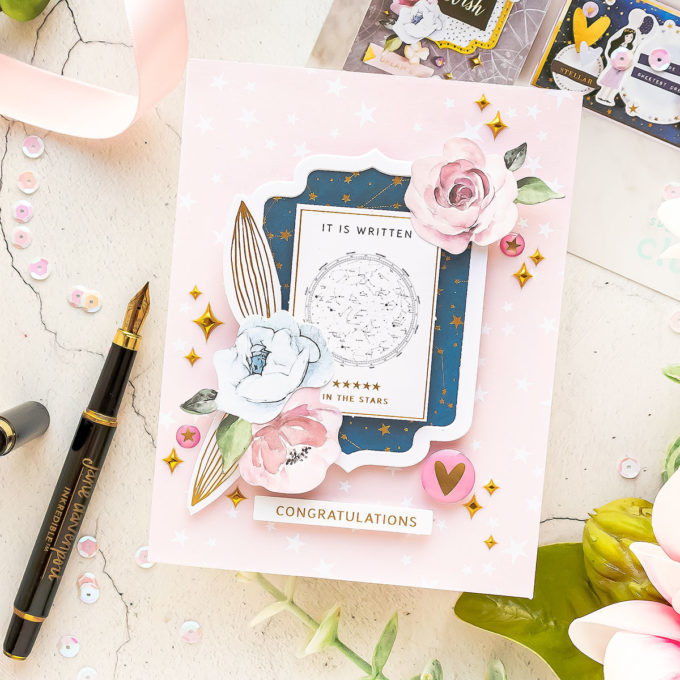 SPELLBINDERS CARD KIT OF THE MONTH
The Spellbinders Card Kits are available as a part of a monthly Club subscription only. You need to be a Club member to get this kit. But, what is great about the Spellbinders Club is that there is no minimum commitment, you can join and cancel any time, so if you wanted to get just this one kit and not stay subscribed for the next month you could. Although Spellbinders Kits are quite fantastic and I've always been a fan. Sadly, I don't always have the time to share inspiration with these kits on my YouTube channel, I should say I rarely have time to share the inspiration here, but I do try whenever I feel really inspired. I do create a lot of the projects and videos you see on the Spellbinders website and youtube channel and I get to work with nearly every one of their kits. And I will say that they are very well designed.
This card kit is $38.5, USA shipping is included in the cost. Spellbinders does ship their kits internationally to select locations and the shipping cost varies based on the destination, you can look that up on their website.
I hope you enjoyed this video and I am so thankful you've joined me today! Have fun crafting!
SUPPLIES
I'm listing the products I used below. Click on the link to go directly to the product. Where available I use compensated affiliate links which means if you make a purchase I receive a small commission at no extra cost to you. Thank you so much for your support!

Spellbinders Card Kit of the Month Membership
Shop at:
SB

Spellbinders Platinum Die Cutting Machine
Shop at:
SSS | SC | SB | AZ

Bearly Art Mini Precision Craft Glue
Shop at:
SSS | SB | AZ

White Foam Squares
Shop at:
SSS | SC | SB | AZ