With Enough Coffee Anything Is Possible – this sentiment from Simon's February '17 kit inspired me to create this card. I wanted to use a smart and quirky image to convey the meaning of the sentiment. Following my example of a "Pretend Peacock" card I decided to create a Sherlock Holmes kind of cat. Because, well, with enough coffee, anything IS possible.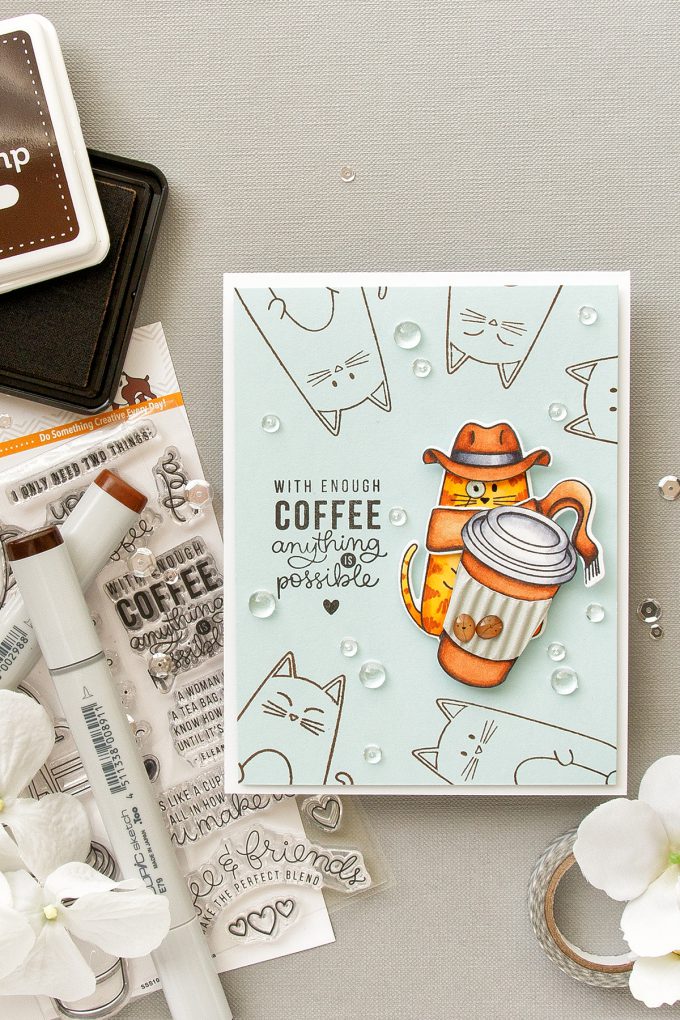 Like this project? Pin it and save for later
CARD DETAILS
I used one of the cat images from the Christmas Cats stamp set to create a main character for my project. You can also use a dog image if you are a dog person or any other critter, really. I did struggle for a bit as the coffee cup I wanted to use is a bit too large for the cat, but because I couldn't really find any critter image bigger than the cat, I went with what I had.
I also stamped a scarf and I knew I needed to add a fun hat to complete the look. I didn't have stand-alone hat images like that in my stash, but I did find a perfect hat in the Critter Costume Party and so I stamped that image, die-cut and and cut the bottom part out using scissors.
I also wanted my cat to wear glasses, but again, I didn't have a perfect stamp to use for that, so I looked for a circle and a curve and used those to stamp a monocle, I think that really added a lot to the whole "detective cat" kind of look.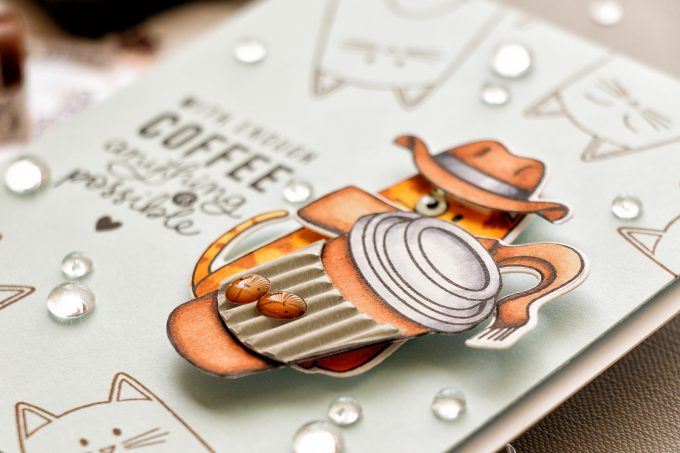 I stamped an oversized coffee cup and added corrugated sleeve (stamp on the back of corrugated paper and cut it out following the line on the back to avoid doing stamping on the front).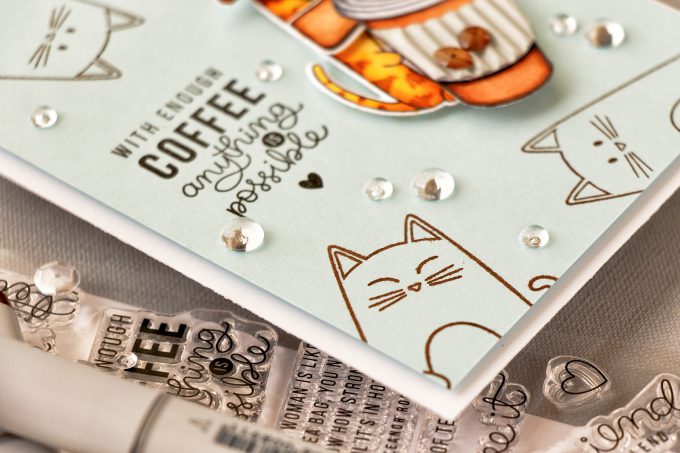 I used Copic markers to do my coloring (I went with my usual color combos – I am listing exact colors I used below) and also added little coffee stickers onto the sleeve.
I stamped "With Enough Coffee Anything Is Possible" sentiment using black ink onto Simon's Sea Glass cardstock (it matched in color to the monocle). I wanted to add some additional stamping to the background, but I didn't want to do any more coloring to keep the attention on the detective cat. So I simply stamped additional cat images using Simon's Dark Chocolate ink framing the main panel.
After I foam mounted this panel onto an A2 top folding white card base I also adhered several clear droplets in 2 two sizes – 4mm and 6mm and that finished my card.
P.S. I failed to mention I added a generous amount of glossy accents to the monocle. Unfortunately, glossy attached itself to the hat, too. If you plan to re-create this card, add glossy accents first, wait for it to dry and later foam mount the hat on top of the cat's head.
SUPPLIES
I'm listing the products I used below. Click on the link to go directly to the product. Where available I use compensated affiliate links which means if you make a purchase I receive a small commission at no extra cost to you. Thank you so much for your support!

Simon Says Stamp Card Kit Subscription
Shop at:
SSS

Simon Says Stamp Card Kit of the Month February 2017
Shop at:
SSS

Simon Says Stamp Christmas Cats
Shop at:
SSS

Simon Says Stamp Christmas Cats Wafer Dies
Shop at:
SSS

Simon Says Stamps and Dies Christmas Cats Set
Shop at:
SSS

Simon Says Clear Stamps Coffee and Tea
Shop at:
SSS

Simon Says Stamps and Dies Critter Costume Party
Shop at:
SSS

Simon Says Stamp Critter Costume Party Wafer Dies
Shop at:
SSS

Simon Says Clear Stamps Critter Costume Party
Shop at:
SSS

Simon Says Stamp Sea Glass Cardstock
Shop at:
SSS

Simon Says Stamp Intense Black Ink Pad
Shop at:
SSS

Simon Says Stamp Dark Chocolate Ink
Shop at:
SSS

Doodlebug Latte Love Sprinkles Shapes Assortment
Shop at:
SSS

Neenah 80 Solar White Paper Pack 250 Sheets
Shop at:
SSS

Sakura Quickie Glue Pen
Shop at:
SSS

Pretty Pink Posh 4MM Clear Droplets (small)
Shop at:
SSS

Pretty Pink Posh 6MM Clear Droplets (medium)
Shop at:
SSS

White Fun Foam 12 Pack 9 x 12
Shop at:
SSS

Best Creation Big Squares 3D Foam Tape Adhesive
Shop at:
SSS

Martha Stewart Mini Scoring Board
Shop at:
SSS

Be Creative Tape 3mm Sookwang
Shop at:
SSS

Copic Colorless Blender Marker
Shop at:
SSS

Copic Sketch Marker Y35 Maize
Shop at:
SSS

Copic Sketch Marker YR04 Chrome Orange
Shop at:
SSS

Copic Sketch Marker YR07 Cadmium Orange
Shop at:
SSS

Copic Sketch Marker B00 Frost Blue
Shop at:
SSS

Copic Sketch Marker C3 Cool Gray Grey
Shop at:
SSS

Copic Sketch Marker C5 Cool Gray Grey
Shop at:
SSS

Copic Sketch Marker C7 Cool Gray
Shop at:
SSS

Copic Sketch Marker E33 Sand Beige
Shop at:
SSS

Copic Sketch Marker E37 Sepia Brown
Shop at:
SSS

Copic Sketch Marker E79 Cashew Dark Brown
Shop at:
SSS