Hi everyone! I'm busy – busy packing for a trip to CHA, we are leaving in just a few days and I want to make sure I have all of my posts and videos ready to go while I will be away.
Today I'm sharing a clean Sending You Love & Hugs card using goodies from Simon! This is a simple one layer card with a bit of stamping and dimensional die cutting.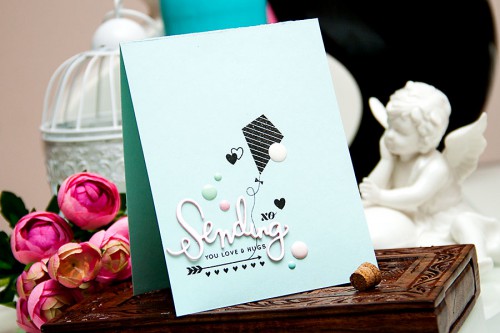 First I stamped a kite and a string using black ink. Than die cut the word Sending several times out of pink cardstock. The top layer was cut out of white. I had some left over paper pink laying on my table to I decided to utilize it to give my die cut a bit of dimension. Next I stamped the You Love & Hugs, an arrow and hearts also in black. I also added the XO abot the die cut and stamped a few small hearts. To embellish my card and to tie that pink onto the design I added a few enamel dots in various colors.