Let me start by saying, yes, I know, there aren't any purple daffodils in nature. But who knows, maybe there are some unknown yet to be discovered species of purple daffodils out there.
After I wrote this I went and googled purple daffodils and actually found a few images. Who would have imagined there are actual purple daffodils out there? Anyhow, I wanted to step away from the traditional yellow and white and use a different color to color my flowers, I was making a Birthday card for my Mom and she loves purple so I decided to use purple to color my daffodils.
Like this project? Remember to pin it and save for later!
This can can be easily turned into a Mother's Day by using a different sentiment, I've already made a Mother's Day card this year (I'll share it later, it also has hints of purple) and I needed a Birthday one so that's what I made. I used Simon's gorgeous white woodgrain cardstock, I've had it in my stash for at least two years and I think this is the first time I actually used it on a card.
I die cut a beautiful Mother's Day card front using Simon's Full Card Mom die and trimmed a few pieces off. I foam mounted the largest M letters directly onto the card base (I used the same woodgrain card for the base and for the die cut) and adhered the rest using Multi Medium Adhesive in Matte finish. This created a bit of dimension on my card as well as a faux embossed illusion.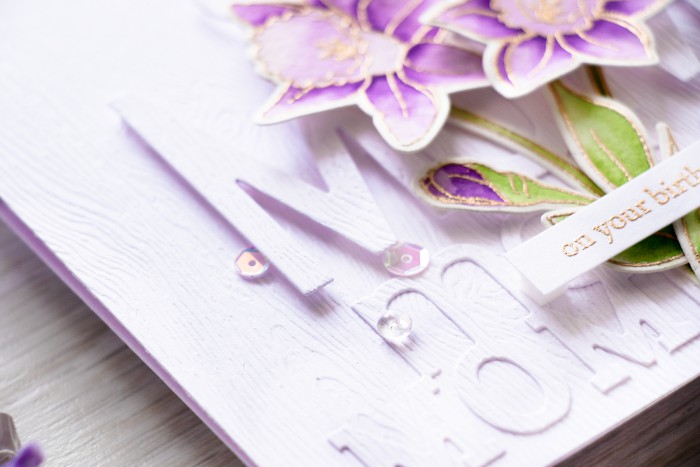 My daffodils were heat embossed using beautiful Rose Gold Embossing powder onto Arches Cold Press Watercolor Paper. I seriously cannot stress enough how happy I am with this particular type of paper for my watercolors, it is truly the best one!
I used two colors for my images – purple and green from the Gansai Tambi Watercolor Set and did wet on wet watercoloring. Next I die cut the images out using matching dies and arranged onto my die cut Mom words.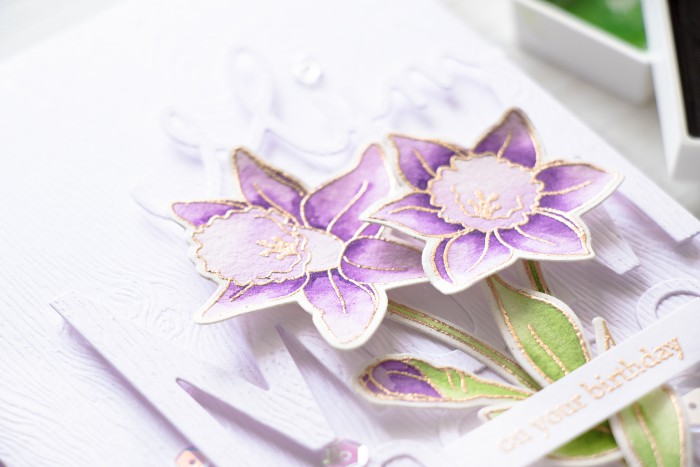 Because I was making a Birthday card I also heat embossed "On Your Birthday" sentiment using the same Rose Gold Embossing Powder and foam mounted that over the leaves. As a final touch I adhered a few sequins and clear drops from Pretty Pink Posh.
SUPPLIES