Its that time of the month again, Simon is introducing their new February Card Kit! Beautiful floral prints, lots of gold foil accents and tons of fun pinks. I made this card about 10 mins after I opened the box with my kit – couldn't resist putting a few pieces together to create a fun quick project.
The sticker sheet in the kit is very unique – it has the same word stickers printed in ombre pinks – going from the very light, almost white pink to a dark almost red color. So I pulled one of each color and arranged them onto a clear block (so that I didn't have to adhere them down just yet) and started looking for a fun patterned paper to go with the stickers. I decided to use this beautiful floral watercolor pattern and just foam mounted the sentiment stickers on top of it. I also added a small thin strip of black cardstock and 2 sequin hearts from my kit and also a couple additional sentiment stickers to complete the look.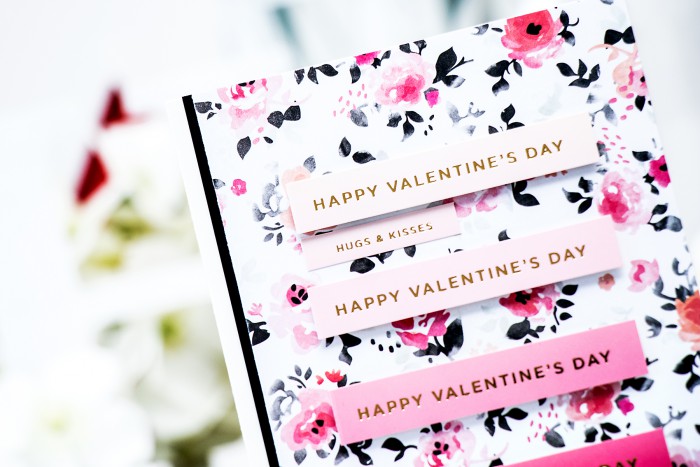 CARD KIT & SUBSCRIPTION
You can subscribe to Simon Says Stamp card kit of the month program for $24.95 plus shipping and handling. Kits can also be purchased individually at Simon Says Stamp store for $29.95 plus Shipping and Handling where you can also buy many of the elements of the kit separately.
SUPPLIES