Hello and welcome back for another Yippee For Yana video! In today's video, I am sharing some of my favorite Copic marker colors while making a Fall Thank You card. I also have a bonus project for you, too!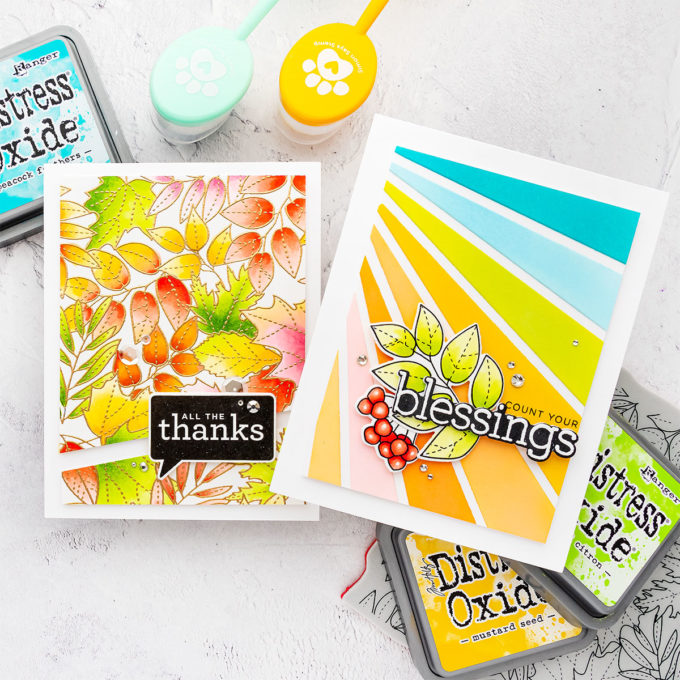 Like this project? Pin it and save for later | Curious about my project photography? Click for details. 
VIDEO TUTORIAL
Watch the video below or on my Youtube channel.
Like this video? Please give it a big thumbs up (you can do this on Youtube video page right under the video) and share it with a crafty friend! Leave me a comment too, I love hearing from you!
CARD DETAILS
I picked the "All Leaves" background stamp and it features a plethora of Fall leaves. These can all be colored in different colors, so they are perfect to illustrate some of my favorite Copic Marker color combos.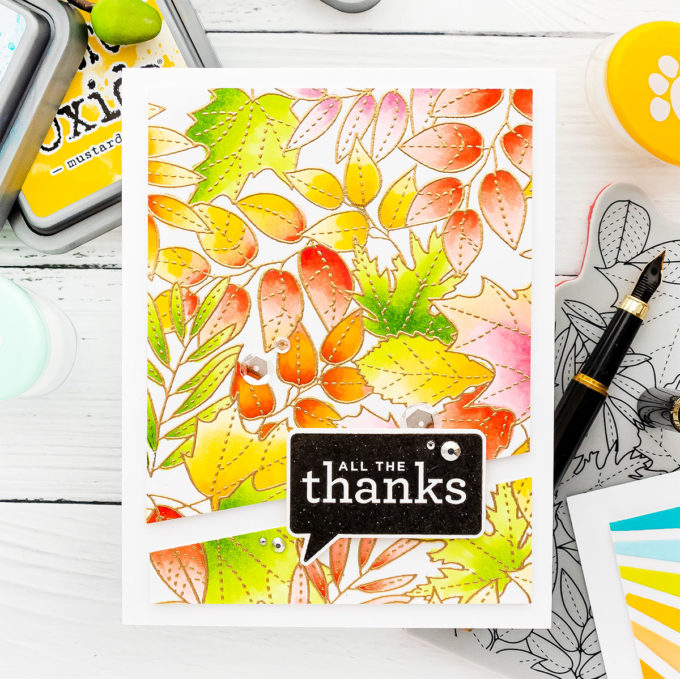 I am using Simon's #120 LB cardstock for all of my stamping and ink blending. I love using this paper lately for nearly all of my crafting. I used MISTI stamping tool and stamped the All Leaves background in Memento Tuxedo Black ink. I have picked several Fall Copic Marker colors for this card – red, pink, yellow, orange, and green. And I have 3 to 4 markers in each color family.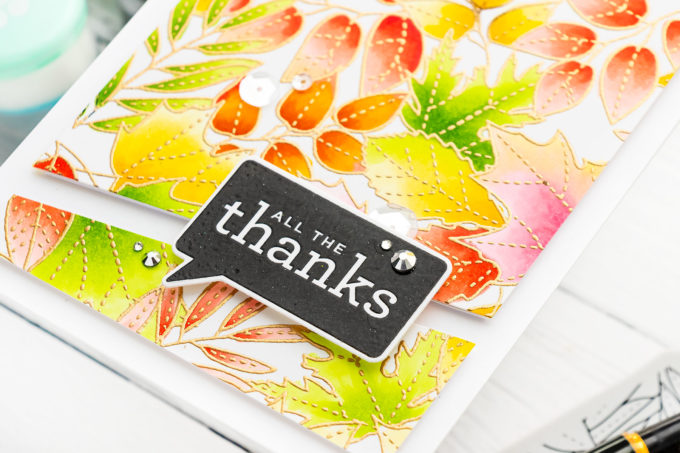 These are my go-to colors and also colors that blend well and work well together.
Green:
My lightest color is YG01, although I also like to use YG00 for even lighter green. Next, I add my medium color – YG03. This is another one that I use nearly every time I color with Copics. In this case, this is a medium color, but if I aim for a darker green, I then use this as my lightest color and proceed with YG17 as the medium. Here I am using the YG17 as the darkest color. Again, if I wanted this green to be darker, I would add YG67 on top to intensify the shadows. Here, I am aiming for lighter, softer versions of these colors.
Red:
R20 is the lightest color I like to use when coloring something red. It is a very soft pale color and it is one that works well for blush. Next, I add R22, which is a slightly darker red, yet still very pale, compared to other reds. To deepen the color I bring in R24 – this is a very beautiful bright red and one I use very often. Here, it is one of the darkest colors, but I also often use it as the lightest color for my coloring followed by R27 and R39 or even R89 for very deep dark red.
Pink:
As for the pinks – I do have several favorite combos. Here I am using RV10 as the lightest color although RV00 is also another pale pink that makes a beautiful base.
Next, I used RV11, this one is called Pink and I find it to be just an overall pretty, somewhat muted pink. I am finishing this combo with R85 – Rose red color, and this one is a very rich deep pink color. I also like to use RV34, it is a little bit more intense compared to R85.
You don't really see pink leaves in nature, but I wanted to include hints of pink in my project today, so I colored some leaves pink.
Yellow:
I start with Y11 – this is a pretty Pale Yellow color, it makes a nice base. It is somewhat muted, very soft, and calm yellow. Next, I add Y08, which is Acid Yellow and it is a very bright vibrant color. And I top it off with Y17, this is called Golden Yellow and it is exactly that – very rich, warm yellow color.
Orange:
When it comes to Orange color – this is not something I use very often, I probably only reach for my orange markers during fall as I am making fall cards. I like to use YR18 as the darkest orange, this is a vibrant color, next I add YR15 as the medium orange and I like to use the Golden Yellow, Y17 as the lightest orange – it works really well with the other 2 colors.
CONCLUSION
So there you have it – a quick run through of some of my favorite Copic marker color combinations. There are a lot more, of course, Copic markers are fantastic because they work so well and blend so well together and allow you to color your heart out.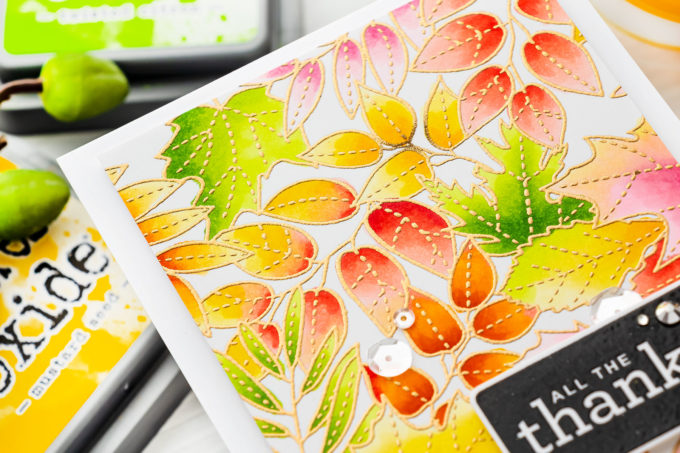 I trimmed this panel to 3 3/4 x 5" and heat embossed sentiment that reads "All The Thanks" – from Cathy Zielske All The Thanks stamp set. I stamped it in Versafine Onyx Black ink and heat embossed in clear embossing powder. I also used a coordinating die and cut the sentiment out.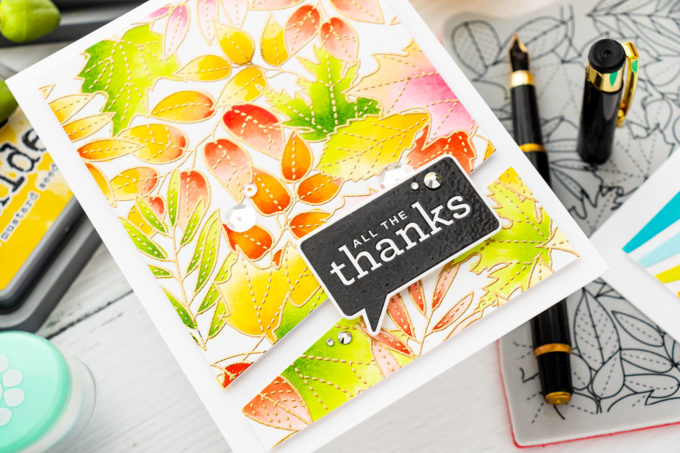 I wanted to add some interest to this background, so I decided to cut it diagonally and split into 2 backgrounds. Once cut, it was foam mounted onto the card and added the sentiment overtop.
I used Pretty Pink Posh Sparkling Clear Sequins and Spellbinders Silver mix gems to embellish this card.
Bonus Card Idea!
As I was going through my stamp sets I came across the Autumn Leaves set from Simon that features the same leaves as on the background I used for the previous card.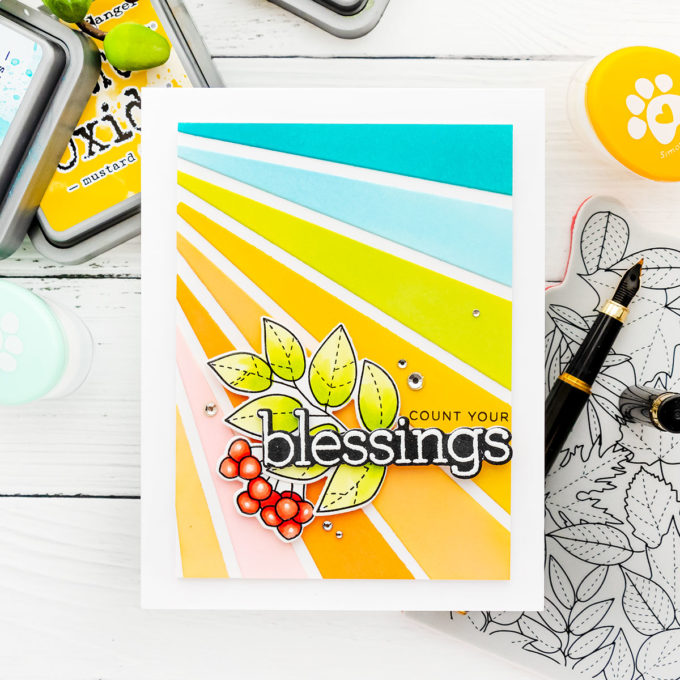 I stamped the leaves in the same way and colored using my Copic markers. I used reds for the berries and here I added a darker R27 color to deepen the shadows a bit further. The leaves I started with the lighter green, YG00, used YG01 as medium color and YG03 as the darkest color for much lighter green leaves. I didn't do heat embossing in gold this time, but I did re-stamp the image outlines in VersaFine Only Black ink for have a darker black outline to these and coated them with clear embossing powder. VersaFine takes a little longer to dry, so to help speed it along I like to heat set it with clear embossing powder.
I also created a sentiment for this card using the same All The Thanks Stamp set from CZ, but this time I heat embossed the word Blessings in white embossing powder onto black pearlescent cardstock and cut it out using a coordinating die.
To make a background for this card, I wanted to do something edgy, and colorful,  used Spellbinders Color Block Slices die and I cut it 8 times from Simon's 120lb cardstock. I picked several colors of Distress Oxide inks to add color to each slice.
I used Simon's new ink blending brushes and blended one color onto each of the slices coloring them in. I used: Tumbled Glass, Peacock Feathers, Scattered Straw, Mustard Seed, Spiced Marmalade, Spun Sugar.
I positioned the slices onto a 4 1/4 x 5 1/2" white cardstock panel leaving small white gaps in between the slices. You can cluster them all together, but this way the background ends up looking a bit too intense, so I often like to space them out and leave white gaps between the colors.
I trimmed this panel to 3 1/2 x 4 3/4" and foam mounted it onto the A2 white top folding card base. I stamped "count your" above the word "blessing" directly onto one of the slices. And adhered the rest of the pieces in place. Lastly, I added some Silver gems from Spellbinders and used a white gel pen to add white dot highlights onto the red berries.
So that's it from me for today. I hope you've found this blog post and video useful and feel inspired to create. Have fun crafting!
SUPPLIES
I'm listing the products I used below. Click on the link to go directly to the product. Where available I use compensated affiliate links which means if you make a purchase I receive a small commission at no extra cost to you. Thank you so much for your support!

Simon Says Cling Stamp All Leaves
Shop at:
SSS

Simon Says Clear Stamps Autumn Leaves
Shop at:
SSS

Simon Says Stamp Autumn Leaves Wafer Dies
Shop at:
SSS

Simon Says Stamps and Dies Autumn Leaves
Shop at:
SSS

Spellbinders Color Block Slices Dies
Shop at:
SSS

Cz Design Stamps and Dies All the Thanks
Shop at:
SSS

Cz Design Clear Stamps All the Thanks
Shop at:
SSS

Cz Design Wafer Dies All the Thanks
Shop at:
SSS

Spellbinders Platinum Die Cutting Machine
Shop at:
SSS

Simon Says Stamp Blending Brush Set Large
Shop at:
SSS

Simon Says Stamp White Cardstock 120LB
Shop at:
SSS

Neenah 110 Lb Solar White Cardstock
Shop at:
SSS

Tsukineko Versafine Onyx Black Ink
Shop at:
SSS

Tonic Onyx Black Pearlescent Cardstock
Shop at:
SSS

Memento Tuxedo Black Ink Pad
Shop at:
SSS

MISTI STAMPING TOOL
Shop at:
SSS

Copic Markers
Shop at:
SSS

Hero Arts Clear Embossing Powder
Shop at:
SSS

HERO ARTS CLEAR EMBOSSING & WATERMARK INK
Shop at:
SSS

EK SUCCESS POWDER TOOL APPLICATOR
Shop at:
SSS

Simon Says Stamp Antique Gold Embossing Powder
Shop at:
SSS

HERO ARTS HEAT EMBOSSING GUN
Shop at:
SSS

Simon Says Stamp Dot Runner and 2 Refills
Shop at:
SSS

Sakura Classic White Gelly Roll Pens Set of 3
Shop at:
SSS

Copic Sketch Marker Y08 Acid Yellow
Shop at:
SSS

Copic Sketch Marker RV00 Water Lily
Shop at:
SSS

Copic Sketch Marker RV10 Pale Pink
Shop at:
SSS

Copic Sketch Marker RV11 Pink
Shop at:
SSS

Copic Sketch Marker R20 Blush Pink
Shop at:
SSS

Copic Sketch Marker Y11 Pale Yellow
Shop at:
SSS

Copic Sketch Marker Y17 Golden Yellow
Shop at:
SSS

Copic Sketch Marker YR18 Sanguine
Shop at:
SSS

Copic Sketch Marker R22 Light Prawn
Shop at:
SSS

Copic Sketch Marker RV34 Dark Pink
Shop at:
SSS

Copic Sketch Marker R24 Prawn
Shop at:
SSS

Copic Sketch Marker R27 Cadmium Red
Shop at:
SSS

Copic Sketch Marker R39 Garnet
Shop at:
SSS

Copic Sketch Marker YR15 Pumpkin Yellow
Shop at:
SSS

Copic Sketch Marker R89 Dark Red
Shop at:
SSS

Copic Sketch Marker R85 Rose Red Medium Pink
Shop at:
SSS

Copic Sketch Marker YG00 Mimosa Yellow
Shop at:
SSS

Copic Sketch Marker YG01 Green Bice
Shop at:
SSS

Copic Sketch Marker YG03 Yellow Green
Shop at:
SSS

Copic Sketch Marker YG17 Grass Green
Shop at:
SSS

Copic Sketch Marker YG67 Moss
Shop at:
SSS

Spellbinders Silver Mix Color Essential Gems
Shop at:
SSS

Bearly Art Mini Precision Craft Glue
Shop at:
SSS

Tonic Studios 8.5 Inch Paper Trimmer
Shop at:
SSS

White Foam Squares
Shop at:
SSS

Tim Holtz Distress Oxide Ink Pad Spiced Marmalade
Shop at:
SSS

Tim Holtz Distress Oxide Ink Pad Mustard Seed
Shop at:
SSS

Tim Holtz Distress Oxide Ink Pad Tumbled Glass
Shop at:
SSS

Tim Holtz Distress Oxide Ink Pad Spun Sugar
Shop at:
SSS

Tim Holtz Distress Oxide Ink Pad Peacock Feathers
Shop at:
SSS

Tim Holtz Distress Oxide Ink Pad Scattered Straw
Shop at:
SSS

Pretty Pink Posh Sparkling Clear Sequins Mix
Shop at:
SSS