Hello and welcome back for another Yippee For Yana video! In this episode, I will show you how to create hot foil backgrounds with the help of your non-background glimmer plates. Think of this as repeat pattern stamping, but instead of using clear or red rubber stamps we are going to use hot foil plates. I have a few tips to share in this video to make the foiling process go smoothly and quickly. If you are new to Hot Foiling, be sure to check out my 7 Hot Foil Stamping Tips video.
Like this project? Pin it and save for later | Curious about my project photography? Click for details. 
VIDEO TUTORIAL
As always, I filmed a video tutorial showing how to create this project from start to finish. I'm hoping you'll enjoy it. Watch it below or on my Youtube channel:
Like this video? Please give it a big thumbs up (you can do this on Youtube video page right under the video) and share with a crafty friend! Leave me a comment too, I love hearing from you!
CARDS DETAILS
I love the Mermaids Forever Glimmer Plate by Jane Davenport and I know it will make a fabulous background for some nautical cards when paired with Simon's "Your Light" stamp set.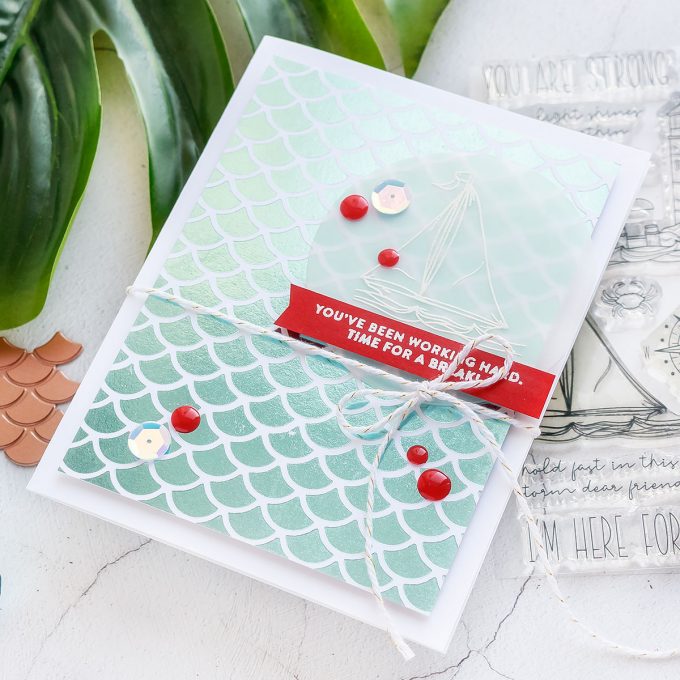 The plate, of course, is smaller than an A2 card, it can be used on both portrait and landscape cards, but you'll need to foil it several times on the background to have one continuous pattern.
This is rather easy to do with the help of low tack tape. I am foiling on Neenah Solar White 110 lb cardstock today. To foil the background I added a piece of wide low tack tape to create a hinge to attach my glimmer plate to the paper, next, using grid lines of my work surface I align the cardstock and also align the die on top of it. Also, I'm starting at the top and moving down making sure the tape will not be placed over the already foiled section.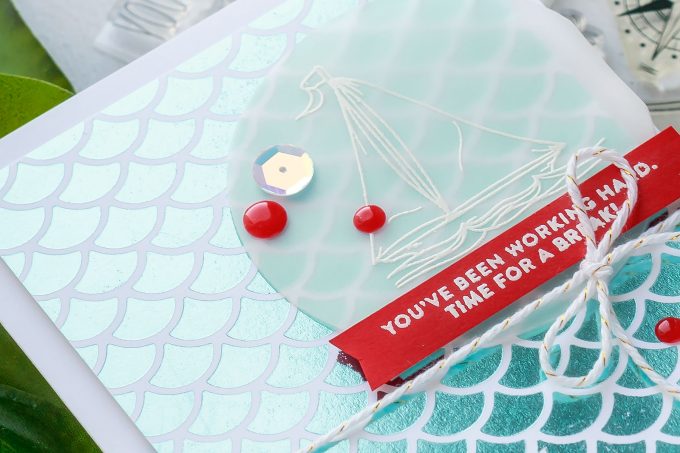 Once aligned I press the washi tape strip in place to secure my plate on the paper. This will give me a top row of these mermaid scales or waves. I'm using Skybright foil to foil this piece and to foil the entire background – it makes up for a beautiful sea. Using a sharp pair of scissors I cut my foil to a strip, I eyeball it and try to match it in width to the width of my glimmer plate and once cut simply slide it under the plate. The only significant thing here is to try and cut the foil on a straight line. Using scissors with long blades helps.
Meanwhile, my glimmer hot foil machine has been heating up and is now hot and ready to foil. I'm sending the sandwich slowly through my die cutting machine and back and returning the platform back to the docking station so that it remains hot for the next round.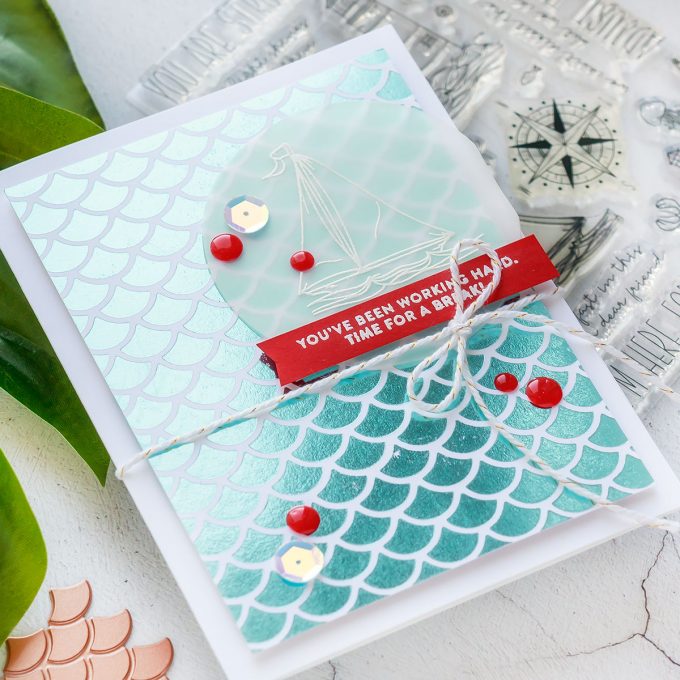 Now I need to remove the glimmer plate, peel the foil, reposition the plate and add foil all while the glimmer plate is hot. So what do you do? You can wait for the plate to cool off and that might take several minutes, or you can use this trick.
Wear a glove!
I have one of those curling irons that doesn't have a clamp and so there's a glove included with the iron to be able to wrap the hair strand around the curling wand and hold it in place while it curls it. The glove protects the hand from the heat. I can use it here when doing hot foiling to handle the hot glimmer plate and also protect my hand from all heat.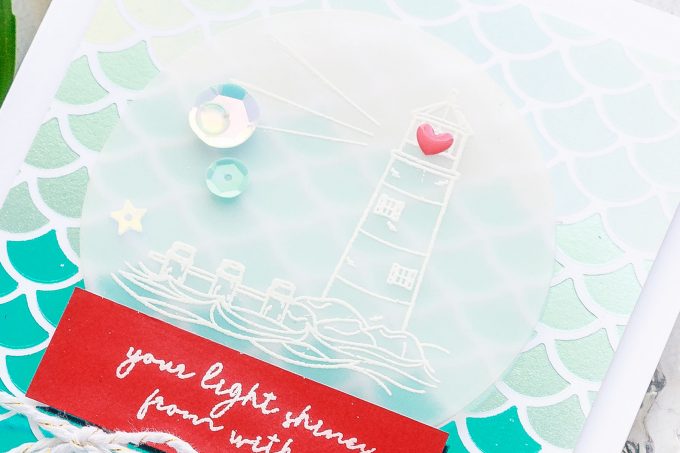 Holding the paper with my non-gloved hand I remove the glimmer plate with my gloved hand and re-position in on the paper aligning with the previously foiled design to have one continuous background for my card. Having the glove on this makes it very easy to move the glimmer plate and position it where I need it.
I repeat the process several times to foil the entire background.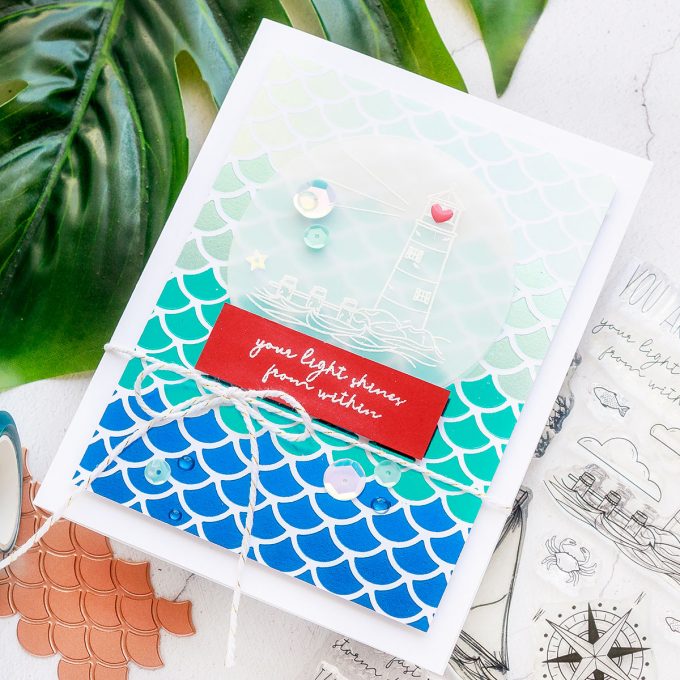 I also have another background done in a similar way but using several colors of foil for an ombre look – Cobalt Blue, Teal, Skybright and Prism.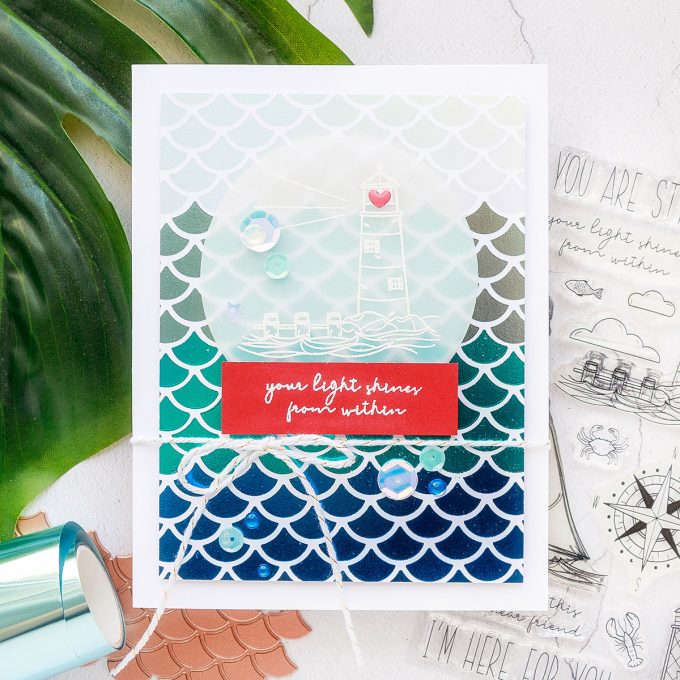 To turn these backgrounds into cards I trimmed them down slightly, and to create little nautical scenes I also die-cut circles from vellum and cardstock strips from red cardstock. I white heat embossed images and sentiments and using foam adhesive I assembled these cards.
I also hid little pieces of foam adhesive squares under small sequin or enamel dot embellishments to add more support and more adhesive to the vellum circles.
Here is a look at these cards once finished. I hope you will give this approach a try, have fun hot foil stamping!
SUPPLIES
I'm listing the products I used below. Click on the link to go directly to the product. Where available I use compensated affiliate links which means if you make a purchase I receive a small commission at no extra cost to you. Thank you so much for your support!

Simon Says Clear Stamps Your Light
Shop at:
SSS

Spellbinders Mermaids Forever Glimmer Hot Foil Plate
Shop at:
SSS

Spellbinders Show Ponies Glimmer Hot Foil Plate
Shop at:
SSS

Spellbinders Glimmer Hot Foil System
Shop at:
SSS

Spellbinders Deep Sea Die Cutting Machine
Shop at:
SSS

Spellbinders Glimmer Hot Foil Roll – Prism
Shop at:
SSS

Spellbinders Glimmer Hot Foil – Teal
Shop at:
SSS

Spellbinders Skybright Glimmer Foil
Shop at:
SSS

Spellbinders Cobalt Blue Glimmer Foil
Shop at:
SSS

Neenah 110 Lb Solar White Cardstock
Shop at:
SSS

Simon Says Stamp Schoolhouse Red Cardstock
Shop at:
SSS

Simon Says Stamp Embossing Ink Pad
Shop at:
SSS

Hero Arts Heat Embossing Gun
Shop at:
SSS

Hero Arts White Detail Embossing Powder
Shop at:
SSS

White Foam Squares
Shop at:
SSS