Hello, friends! Today I have a quick tip for you on using Glitter Foam Sheets. What are Glitter Foam Sheets? Think glitter sheets, the usual, paper covered with glitter that we all love and use so much, especially when we make Holiday cards. Now put that glitter onto a sheet of fun foam and imagine all the different colors. Not just the different colors of glitter, but also the different colors of fun foam, under that glitter, to match the glitter.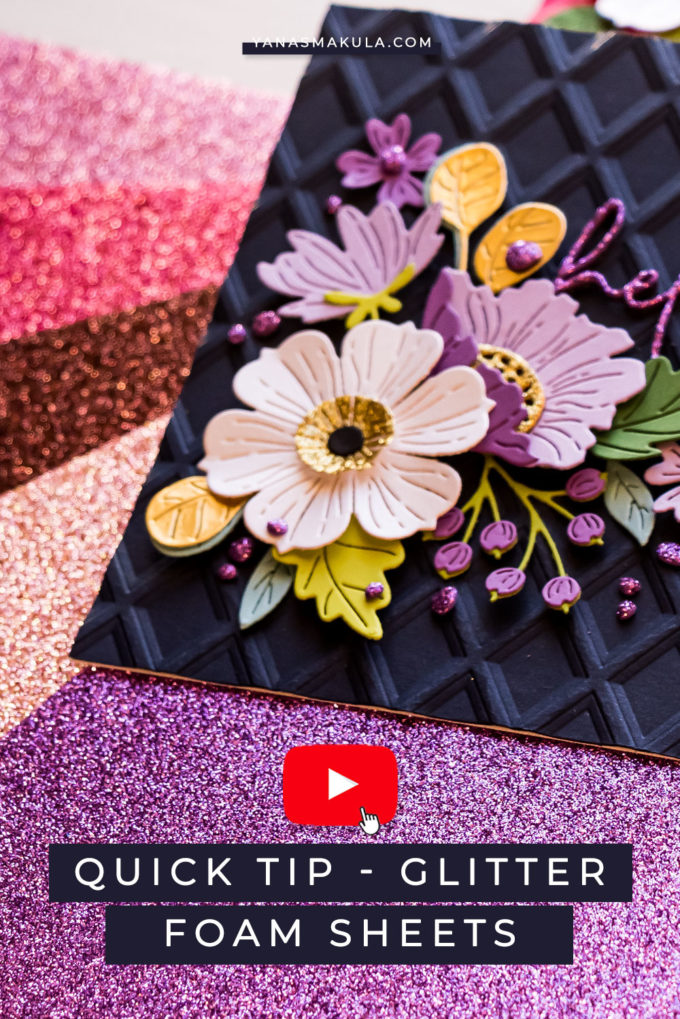 Like this project? Pin it and save for later | Curious about my project photography? Click for details. 
VIDEO TUTORIAL
Watch the video below or on my Youtube channel.
CARDS DETAILS
Spellbinders has a pretty good selection of glitter foam sheets and they are amazing. They come in packs of 10 sheets, 2 colors in one pack, so 5 sheets of each color and that's a lot of glitters. The sheets are very high quality, and the glitter doesn't shed one bit, so you can be safe, you will not have a hot glitter mess on your desk, the foam is good quality foam, one you can easily die cut, it squishes as it goes through the machine, but it pops back up and remains dimensional.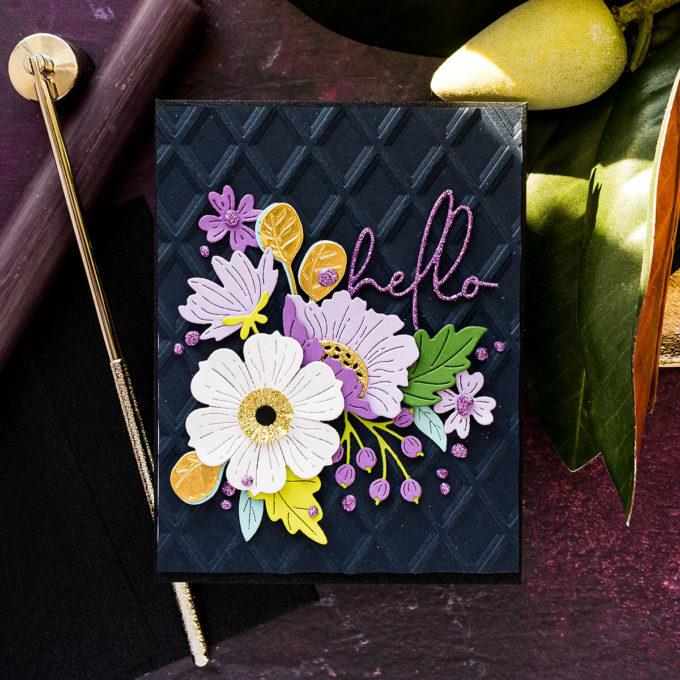 The glitter fun foam is fantastic for die cutting, this material makes for a great die cut, I particularly love to use it for sentiments. Think about creating glitter pop-up sentiments for your cards. First of all, we tend to pop the sentiments up anyway, as we prefer the added dimension to this part of the card and we often like to use glitter cardstock then making our sentiments so the glitter fun foam does the double duty for you – you already have the dimension, because you are using the fun foam instead of cardstock and you already have glitter because the fun foam already has glitter added to it.
Glitter sentiments are of course the obvious choice, but what else can we use the glitter fun foam sheets for? I love using them to create my own embellishments, think little gems, little sequins. You can use a confetti die and create various size foam glitter die cuts to use as embellishments to dress up your cards.
I used some of my new favorite supplies to make the cards I'm sharing in today's post. I dry embossed the background for these cards using the Dimensional Diamonds 3D Embossing Folder, it is one of the newer folder designs from Spellbinders, I love all of their 3D Embossing folders, the designs are simply amazing and the depth of the embossing is phenomenal. Plus these folders are very good quality and work perfectly well.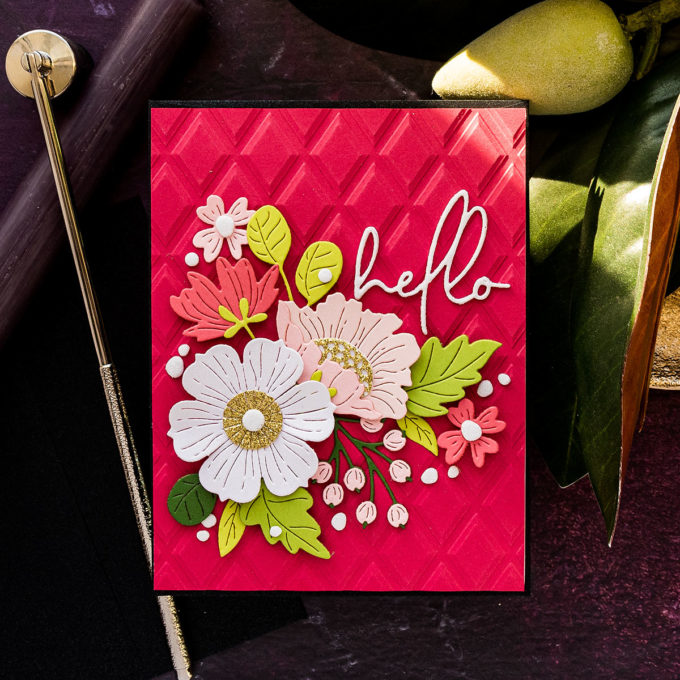 I also die-cut flowers using the Club Blooms dies, this is the Large Die of the Month from Spellbinders for the Month of January 2023. I added a "Hello" die cut to create a sentiment for my card. The "Hello" comes from my upcoming collection called Anemone Blooms. This collection is launching on January 10th on the Spellbinders best and it features an anemone die and glimmer plate and several sentiments dies and glimmer sets. So stay tuned for that! I will be sharing more about it once it goes live.
Have fun die-cutting!
SUPPLIES
I'm listing the products I used below. Click on the link to go directly to the product. Where available I use compensated affiliate links which means if you make a purchase I receive a small commission at no extra cost to you. Thank you so much for your support!

Spellbinders Large Die Of The Month Membership
Shop at:
SB USA | SB UK

Spellbinders Hello Friend Sentiments Hot Foil Plates
Shop at:
SSS | SC

Spellbinders Wonderful Script Sentiments Dies
Shop at:
SSS | SC

Spellbinders Dimensional Diamonds 3d Embossing Folder
Shop at:
SSS | SC | SB USA | SB UK

Glassboard Studio True White Glass Craft Mat | YANA20 for 20% Off
Shop at:
GBS

Spellbinders Platinum 6 Die Cutting Machine
Shop at:
SSS | SC | SB USA | SB UK | AMZ

Spellbinders Platinum Die Cutting Machine
Shop at:
SSS | SC | SB USA | SB UK | AMZ

Spellbinders Universal Plates System
Shop at:
SSS | SC | SB USA | SB UK | AMZ

New & Improved Platinum Machine With Universal Plate System
Shop at:
SSS | SC | SB USA | SB UK | AMZ

New & Improved Platinum Six Machine With Universal Plate System
Shop at:
SSS | SC | SB USA | SB UK

Simon Says Stamp Cardstock Gold Glitter
Shop at:
SSS

Spellbinders Tool 'n One – White
Shop at:
SSS | SC | SB USA | SB UK

Spellbinders Pop-Up Die Cutting Glitter Foam Sheets – Gold & Silver
Shop at:
SSS | SC | SB USA | SB UK

Spellbinders Pop-up Die Cutting Glitter Foam Sheets – Red & Green
Shop at:
SSS | SC | SB USA | SB UK

Spellbinders Pop-up Die Cutting Glitter Foam Sheets- Peacock Feathers
Shop at:
SSS | SC | SB USA | SB UK

Spellbinders Pop-up Die Cutting Glitter Foam Sheets- Painted Desert
Shop at:
SSS | SC | SB USA | SB UK

Spellbinders Pop-up Die Cutting Glitter Foam Sheets – Black & White
Shop at:
SSS | SC | SB USA | SB UK

Spellbinders Pop-up Die Cutting Glitter Foam Sheets- Shimmering Tropics
Shop at:
SSS | SC | SB USA | SB UK

Spellbinders Pop-up Die Cutting Glitter Foam Sheets- Peony Pinks
Shop at:
SSS | SC | SB USA | SB UK

Spellbinders Beeswax Color Essentials Cardstock
Shop at:
SC | SB USA

Spellbinders Pink Sand Color Essentials Cardstock
Shop at:
SC | SB USA

Spellbinders Purple Mist Color Essentials Cardstock
Shop at:
SB USA

Spellbinders Lilac Blossom Color Essentials Cardstock
Shop at:
SC | SB USA

Spellbinders Brushed White Cardstock
Shop at:
SC | SB USA

Spellbinders Wild Berry Color Essentials Cardstock
Shop at:
SC | SB USA

Spellbinders Teal Topaz Color Essentials Cardstock
Shop at:
SC | SB USA

Spellbinders Mahogany Color Essentials Cardstock
Shop at:
SB USA

Spellbinders Dahlia Color Essentials Cardstock
Shop at:
SC | SB USA

Spellbinders Indigo Color Essentials Cardstock
Shop at:
SB USA

Spellbinders Rainforest Color Essentials Cardstock
Shop at:
SC | SB USA

Spellbinders Peridot Color Essentials Cardstock
Shop at:
SC | SB USA

Spellbinders Fern Color Essentials Cardstock
Shop at:
SC | SB USA

Spellbinders Crimson Color Essentials Cardstock
Shop at:
SB USA

Spellbinders Saffron Color Essentials Cardstock
Shop at:
SB USA

Spellbinders Mirror Gold Cardstock
Shop at:
SC | SB USA

Stamp N Storage 8.5 X 11 Paper Sleeve
Shop at:
SSS | SC

Jewel Picker Tool
Shop at:
SSS | SC | SB USA | SB UK | AMZ

Bearly Art Mini Precision Craft Glue
Shop at:
SSS | SB USA | AMZ

White Foam Squares
Shop at:
SSS | SC | SB USA | AMZ

Tonic Spring-cut Fine Tip Detail Scissors
Shop at:
SSS | AMZ