Hello all and thank you for stopping by today to help celebrate Hero Arts Planner Catalog and planner goodies (more about this below)!
I enjoy planning and I probably sometimes plan more than I actually do, but for me this is a good way to stay organized and keep up with my busy blog schedule. I rarely plan anything other than my crafty blog life, so the only permanent planner I have is my crafty one.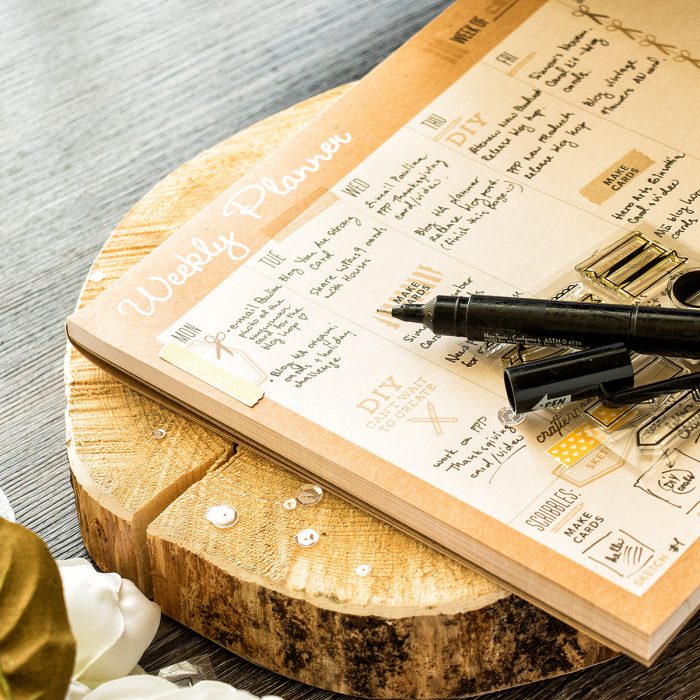 Like this project? Pin it!
I keep two versions of my blog planner – a detailed monthly calendar in a spreadsheet online (there I can move things around easily and type up more info if needed) and a weekly less details but more sketchy paper planner. This blog post is about the second one.
My paper planner usually consists of a list of tasks I need to focus on during this week; I can also make notes as to what I've planned, draw quick card sketches and cross out the things I've already accomplished (the last part is my most favorite by far, lol!). Here I have Hero Arts Planner Pad (I keep it on my desk by my computer at all times) filled out for this week.
I used a few stamps and also some stamp & die sets to decorate it and break it up into sections. I wanted to add some color to my planner, but also didn't want it to be too colorful and distracting, so I went with 3 colors – Soft Brown, Butter Bar and Tide Pool. The Soft Brown looks just like the pre-printed brown color on the pad and yellow and teal are nice complimentary colors (I used my Pinterest Inspiration & Color board to come up with good color combo ideas).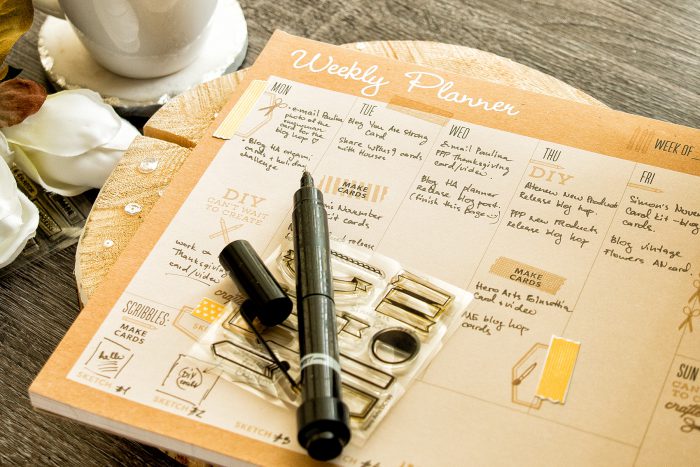 The stamp set I was most excited about in this Planner release is the Arts & Crafts one. Here I used a number of little icons and messages to stamp various little bits in my planner. I also stamped several tabs from them Flags stamp & cut set using same Soft Brown ink and finally added several faux washi tape accents. Some where stamped directly onto the planner (like those you see behind the "Make Cards" section) and some were stamped in Butter Bar and Tide Pool onto white cardstock and die cut.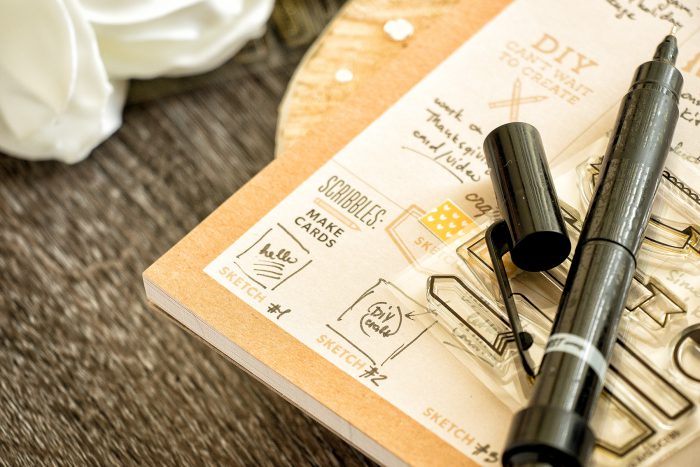 PLANNER CATALOG
If you enjoy planning and keeping things organized (be it your blog or anything else) – this release is perfect for that! Come take a look at all new planner products in Hero Arts store.
HOP ALONG WITH US

Join us for a fun blog hop filled with lots of creative inspiration!
The Hero Arts Blog
Kelly Purkey
Jennifer McGuire
Yana Smakula – you are here!
May Sukyong Park
Mariana Grigsby
Amy Tsuruta
Amy Tan
Wanda Guess
Lydia Fiedler
Jen Carlson
Barbara Picinich
Brooke Takara
Krista Wells
Jamie Waters
Nadia Azni
Kari Stiles
Libby Hickson
GIVEAWAY!
Hero Arts is giving away three $25 shopping sprees, drawn from comments left across all blogs in the hop. Please comment by Wednesday, October 19 at 11:59pm PT and Hero Arts will announce the winner the following week.
SUPPLIES
I'm listing the products I used below. Click on the link to go directly to the product. Where available I use compensated affiliate links which means if you make a purchase I receive a small commission at no extra cost to you. Thank you so much for your support!

Hero Arts Weekly Planner Pad
Shop at:
SSS | HA | AZ

Hero Arts Clear Stamps Kelly's Arts And Crafts Planner
Shop at:
SSS | HA | AZ

Hero Arts Stamp And Cuts Kelly's Flags
Shop at:
SSS | HA | AZ

Hero Arts Stamp And Cuts Kelly's Tape
Shop at:
SSS | HA | AZ

Hero Arts Snow Layering Papers PS610
Shop at:
SSS | SC | HA | AZ

Hero Arts Soft Brown Ink AF170
Shop at:
SSS | SC | HA | AZ

Hero Arts Tide Pool Ink Pad AF223
Shop at:
SSS | SC | HA | AZ

Hero Arts Butter Bar Ink Pad AF207
Shop at:
SSS | SC | HA | AZ