Hello everyone and thanks so much for stopping by to help celebrate the launch of Hero Arts February My Monthly Hero Kit (more about the kit, blog hop and giveaway below). I have a 6 card ideas to share using this month kit and add-on items. This kit is all about birds and feathers and fun bird phrases. So if you like birds – this kit might be just the one for you!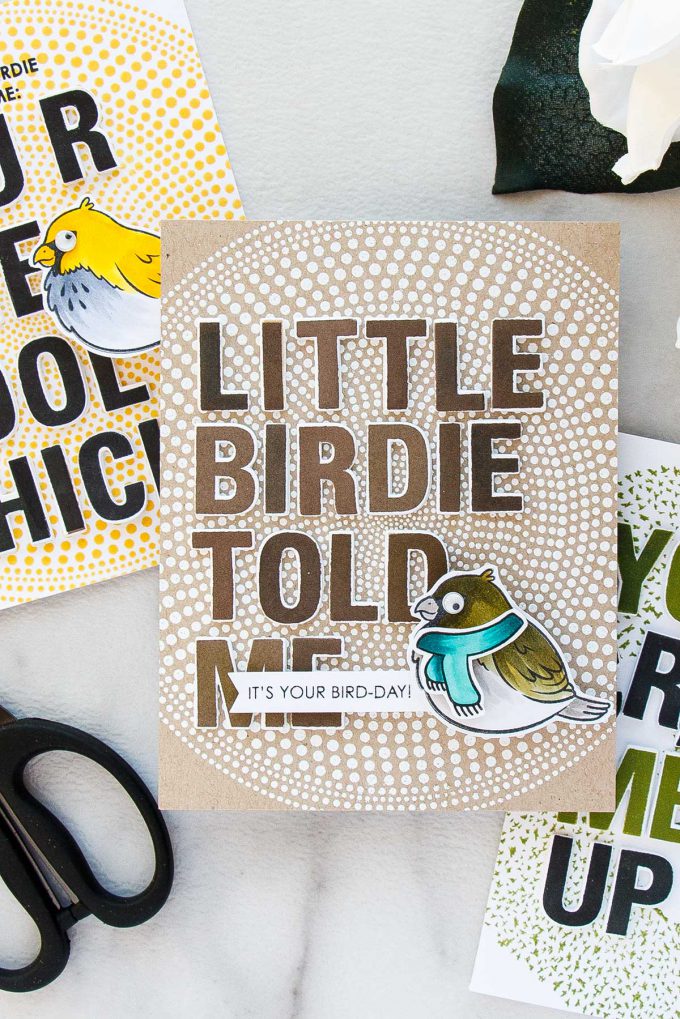 Like this project? Pin it and save for later | Curious about my project photography? Click for details. 
If you are visiting my blog for the first time or have not yet subscribed – be sure to do so! I share lots of handmade projects every week delivering them straight to your inbox! I also occasionally share information about crafty sales and new product releases I love. Subscribe here.
VIDEO TUTORIAL
As always, I filmed a video tutorial showing how to create this project from start to finish. I'm hoping you'll enjoy it. Watch it below or on my Youtube channel.
Like this video? Please give it a big thumbs up (you can do this on Youtube video page right under the video) and share with a crafty friend! Leave me a comment too, I love hearing from you!
CARDS DETAILS – WOBBLER & GOOGLY EYE BIRDS
I'm going to start by showing a few card I made using one of the add-on stamp & die sets – Cardinal Stamp & Die, this set happens to be my favorite from the entire release so of course I made a bunch of cards using it.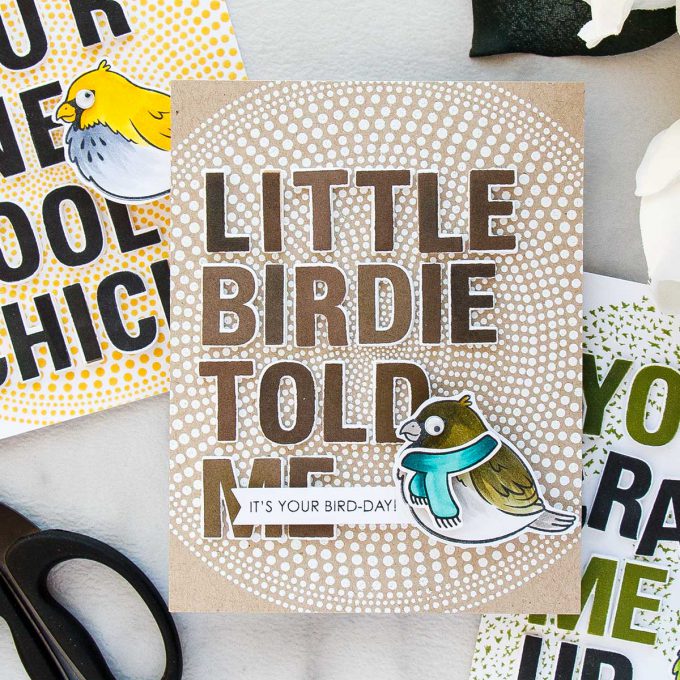 I didn't really know what I wanted to do at first, I knew I loved the bird image and I also knew I wanted to try and color it using bold and bright colors. So I stamped a bunch of birds in Hero Arts Intense Black ink (the kind of ink that is best suited for Copic markers) and colored my birds using various colors of Copics. I don't have all of the colors for you guys, but basically these are the colors and combos from my Copic Color Combo chart.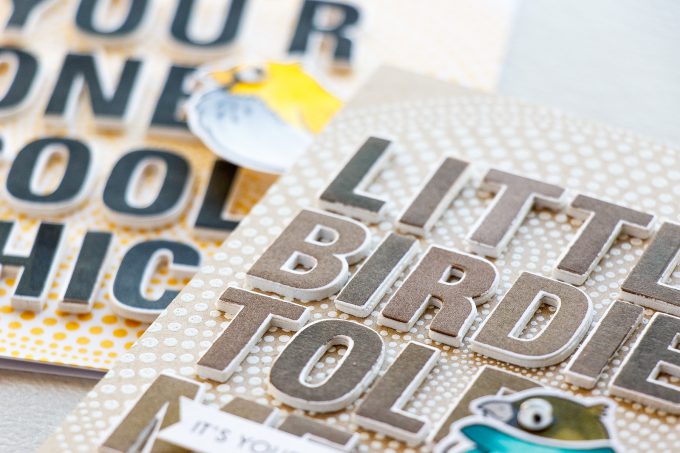 I did very simple coloring and made sure to leave the underbelly of the birds white. I added a bit of color to the head, back and tail as well as the chest area and I used 2 colors for each bird.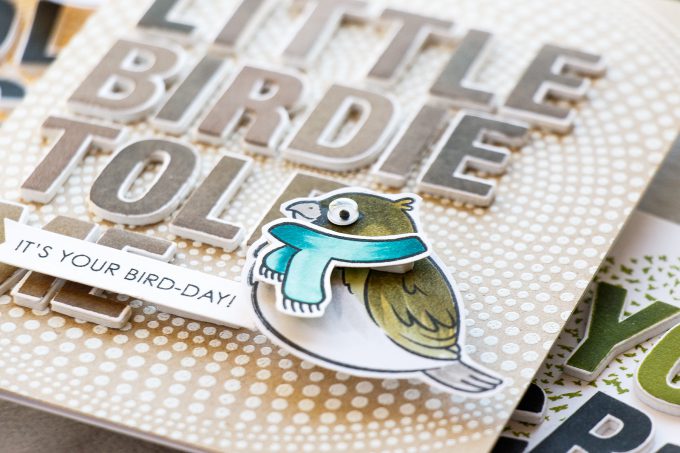 To create a backgrounds for my cards I used two new background stamps from Hero – Sunburst Bold Print and Swirl of Starlings Bold Print. I used white embossing powder and Neenah Desert Storm cardstock, Butter Bar ink and Hero Arts White Layering Paper and also Moss ink and again Layering paper to create these backgrounds.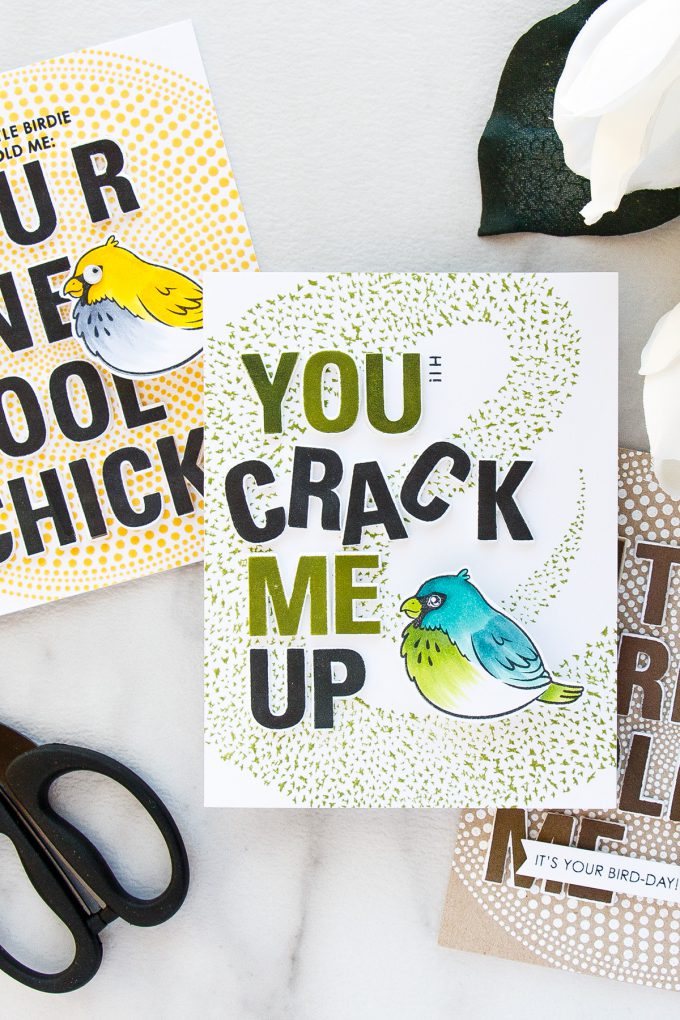 I wasn't sure how I'd like these stamps, but after I stamped them I really warmed up toward them, especially the Swirl of Starlings one – I think it's just such a cool print and it adds just the right amount of something fun to your card.
I was inspired by the various sentiments in this month kit so I decided to use them for my cards, but spell them out using Hero's Alpha stamps and dies. I used Luggage Tag Alphabet to die-cut and stamp all of the letters to spell out You Are One Cool Chick, You Crack Me Up and Little Birdie Told Me.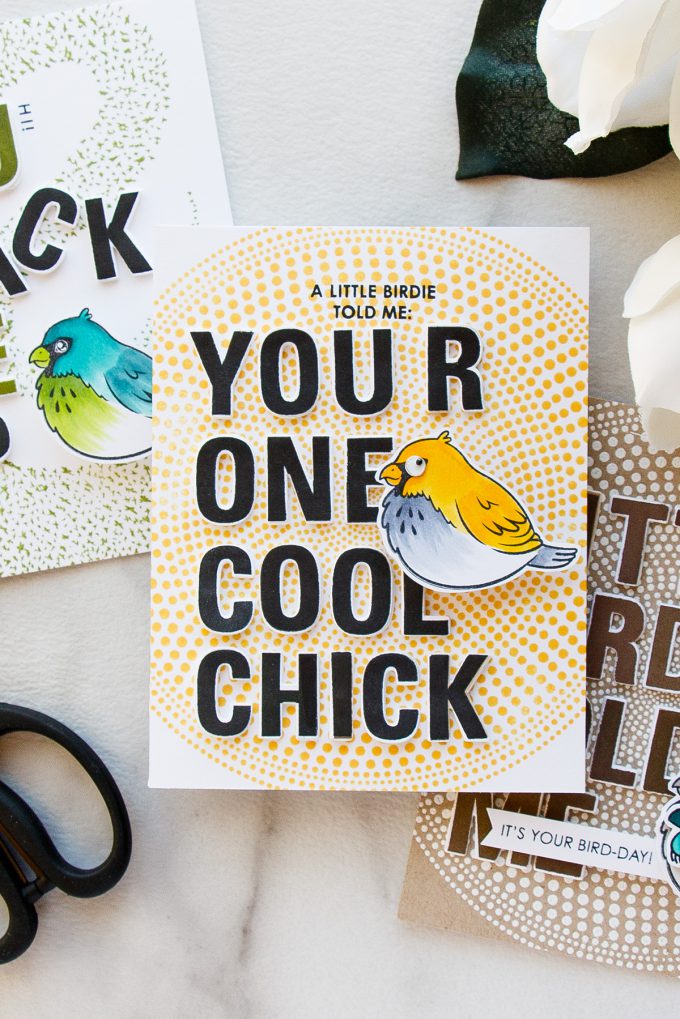 These messages took center stage on my cards along with a bird next to each message. To add a touch of humor to these cards I used a mini wobbler to adhere the bird in place so it wobbles and also added a googly eye to the bird's eye to make it extra funny.
COLORFUL FEATHER FRAME CARD
Moving on to the next card! This one is using stamps from the kit itself as well as the add on stamps (to create sentiments). I picked 3 feather images from the main kit and also 3 colors of Hero Arts ombre inks – yellow, pink and teal. I did my stamping on new paper from Hero Arts – Radiant White Cardstock, it's very nice and thick, 120 LB, and it is cut to 4 x6 inches. On the packaging it says that it can be used a Calendar Refill Kit for the Hero Arts Calendar set, I don't have that set so I knew right away I'd be using this paper for stamping.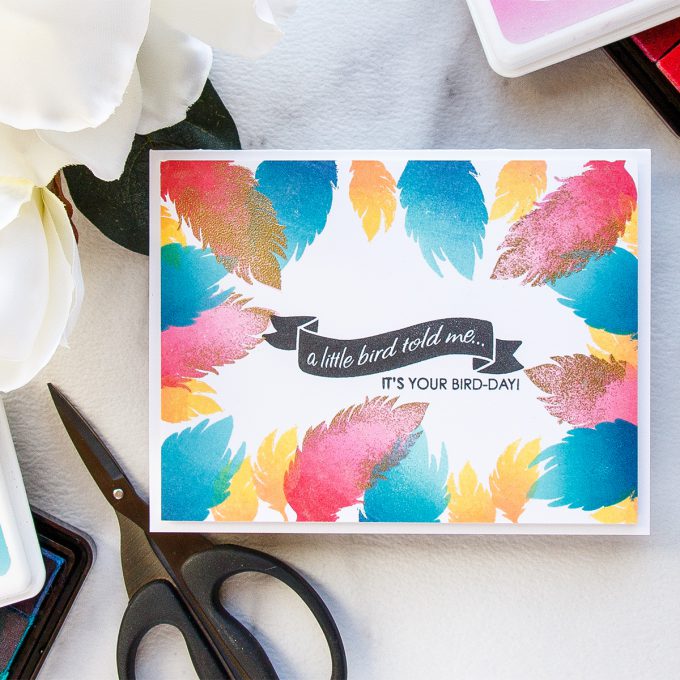 I love my paper nice and thick, so this one is definitely a winner in my book. I loved stamping on this paper, I also later did Copic coloring and I loved how this paper took both regular ink from the ink pad and alcohol ink from the marker. I'm no pro when it comes to different papers and things like that, so I can't go into technical details, I just know that I like how my inks and my markers worked on this paper.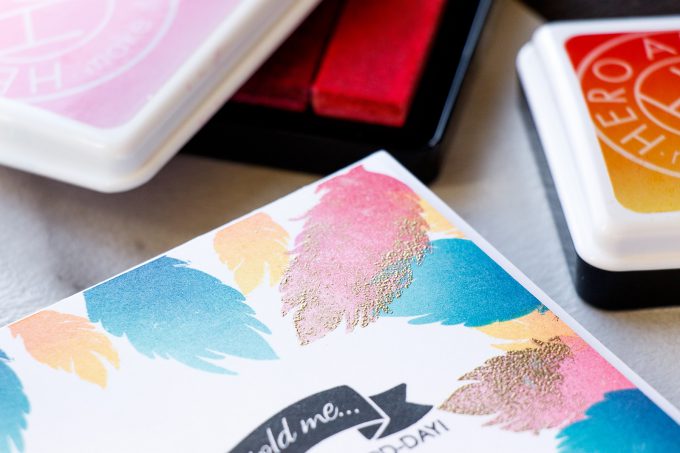 I used the feather images to stamp a feather frame for this card and I made sure to use each image with just one ink color. I also overlapped my images a bit. Once my stamping was done I used same stamps but embossing ink and I inked up just the tips of the images and added gold embossing powder to make it look like as it the ends of the feathers had a bit of gold on them.I popped my stamped panel up onto an A2 top folding card base and added a Little Bird Told Me… It's Your Bird-Day sentiment.
HEY GULL-FRIEND CARD
Moving on! For my next card I once again was inspired by a sentiment from this month kit – Hey Gull-friend. I wanted to use that sentiment but I also wanted to maintain the colors of a seagull – white, yellow and gray. I grabbed Butterbar, Wet Cement and Fog inks pads and stamped just a random bird pattern on my card using those links as well as 3 solid bird images from the main kit. This was once again just basic pattern stamping that I've shared many many times in the past on my Youtube channel.
Once my colorful stamping was done I stamped Hey Gull-friend in black ink onto multiple areas of the card and added same Bird-Day sentiment white heat embossed on black paper. I also foam mounted this panel onto a card base, this time I used Fog cardstock from Simon.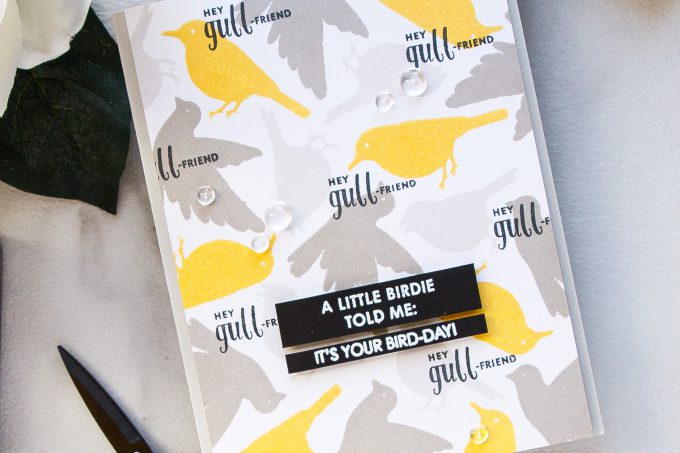 YOU CRACK ME UP CARD
One last card idea to share! This one is once again stamped a pattern using an add on stamp set – Chirp Stamp & Cut set. I used the nest image from there and stamped a nest pattern in Soft Brown ink onto Radiant White cardstock. What's cool about this nest is that the middle portion is designed to accommodate the egg images that come in this set – you have solid eggs and there's also an image with one egg cracked and a little chick coming out of it and that goes really well with the You Crack Me up sentiment.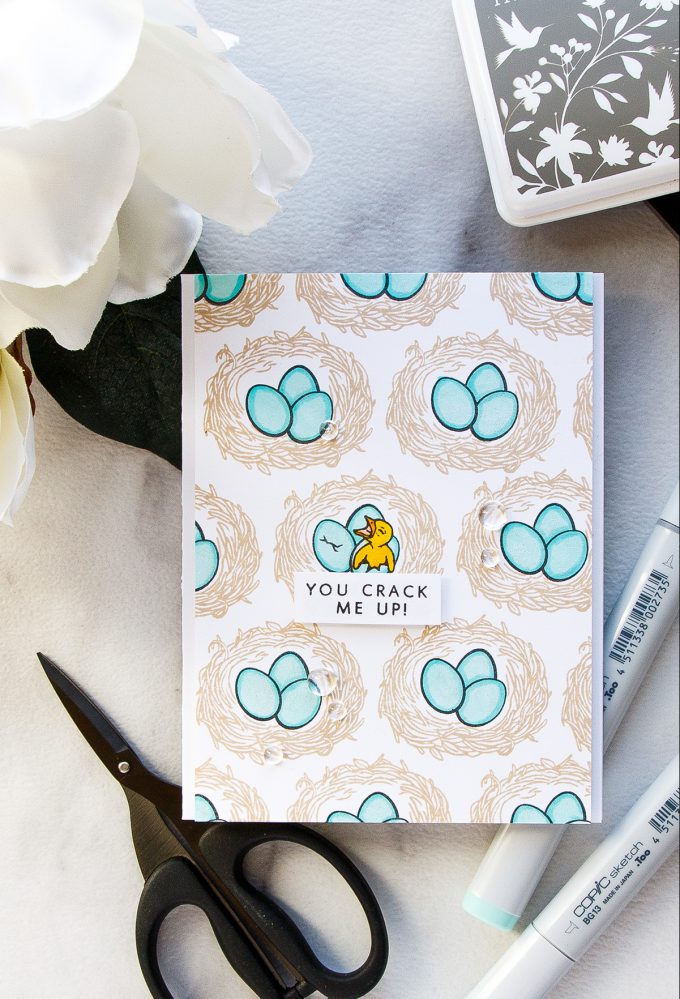 I stamped one cracked egg image in one of the nests and next filled the other nests with the solid eggs.To add color I used my Copics and colored these very light blue using the BG11 and GB13 markers. I added You Crack me up sentiment, added a bit of shimmer to the eggs using my Tonic Aqua Shimmer Pen and embellished with a few of clear droplets.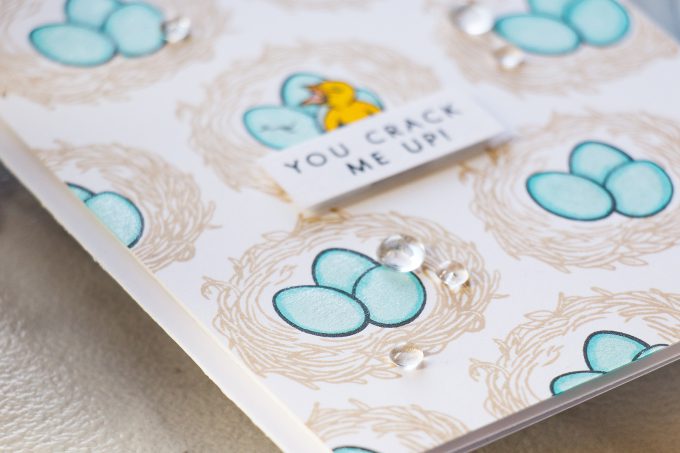 The kit is available for a limited time only – once it's gone, it's gone. If you love it – better grab it now!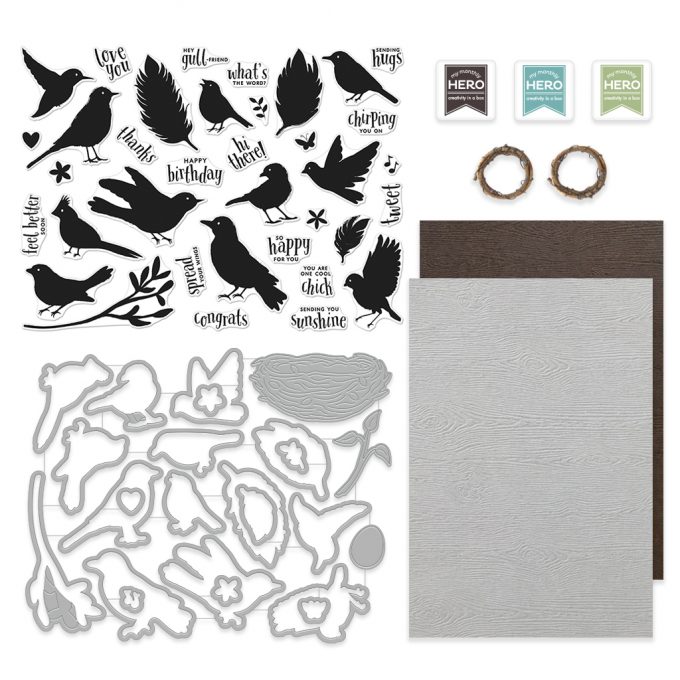 You can now subscribe to receive the kit monthly and never miss one!
KIT & KIT ADD-ONS
There are several optional add-on items:

Hero Arts My Monthly Hero February 2018
Shop at:
HA

Hero Arts Clear Stamps Hummingbirds
Shop at:
SSS | HA

Hero Arts Frame Cuts Hummingbirds Die Set
Shop at:
SSS | HA

Hero Arts Clear Stamps a Little Birdie Told Me
Shop at:
SSS | HA

Hero Arts Frame Cuts a Little Birdie Told Me Die Set
Shop at:
SSS | HA

Hero Arts Clear Stamps Come Fly With Me
Shop at:
SSS | HA

Hero Arts Stamp and Cuts Chirp Set
Shop at:
SSS | HA

Hero Arts Stamp and Cuts Cardinal Set
Shop at:
SSS | HA

Hero Arts Rubber Stamp Starling on Branch
Shop at:
SSS | HA

Hero Arts Cling Stamp Sunburst Bold Prints
Shop at:
SSS | HA

Hero Arts Cling Stamp Swirl of Starlings Bold Prints
Shop at:
SSS | HA
HOP ALONG WITH US!
The Hero Arts Blog
Jennifer McGuire
Yana Smakula – you are here!
May Park
Emily Midgett
Jessica Frost-Ballas
Wanda Guess
Lydia Fiedler
Amy Tsuruta
Janette Kausen
Michelle Short
Ilina Crouse
Clare Prezzia
Libby Hickson
GIVEAWAY!
Hero Arts is giving away one kit as a prize to one blog reader – selected from the comments across all of the blogs in the hop so be sure to leave a comment for your chance to win! Giveaway closes Sunday, February 11th at 11:59pm, and the winner will be announced the following week.
SUPPLIES
I'm listing the products I used below. Click on the link to go directly to the product. Where available I use compensated affiliate links which means if you make a purchase I receive a small commission at no extra cost to you. Thank you so much for your support!

Hero Arts My Monthly Hero February 2018
Shop at:
HA

Hero Arts Clear Stamps a Little Birdie Told Me
Shop at:
SSS | HA

Hero Arts Clear Stamps Come Fly With Me
Shop at:
SSS | HA

Hero Arts Stamp and Cuts Chirp Set
Shop at:
SSS | HA

Hero Arts Stamp and Cuts Cardinal Set
Shop at:
SSS | HA

Hero Arts Cling Stamp Sunburst Bold Prints
Shop at:
SSS | HA

Hero Arts Cling Stamp Swirl of Starlings Bold Prints
Shop at:
SSS | HA

Hero Arts Radiant White Cardstock
Shop at:
SSS

Hero Arts Luggage Tag Alphabet Stamp Set
Shop at:
SSS | SC | HA | AZ

Hero Arts Luggage Tag Alphabet Dies
Shop at:
SSS | SC | HA | AZ

Spellbinders Platinum Die Cutting Machine
Shop at:
SSS | SC | SPEL | AZ

Hero Arts Gold Embossing Powder PW100
Shop at:
SSS | SC | HA | AZ

Hero Arts White Embossing Powder PW110
Shop at:
SSS | SC | HA | AZ

Hero Arts Heat Embossing Gun PW200
Shop at:
SSS | SC | HA | AZ

Versamark Watermark Emboss Ink Pad
Shop at:
SSS | HA | AZ

ScraPerfect Crafting Pouch
Shop at:
SSS | AZ

Hero Arts Snow Layering Papers
Shop at:
SSS | SC | HA | AZ

Simon Says Stamp Black Cardstock
Shop at:
SSS

Neenah Classic Crest 80 Lb Smooth Desert Storm
Shop at:
SSS | AZ

Simon Says Stamp Fog Gray Cardstock
Shop at:
SSS

Hero Arts Ink Pad Intense Black Ink
Shop at:
SSS | SC | HA | AZ

Hero Arts Ombre Pool To Navy Ink
Shop at:
SSS | SC | HA | AZ

Hero Arts Soft Brown Ink Pad
Shop at:
SSS | SC | HA | AZ

Hero Arts Butter Bar Ink Pad
Shop at:
SSS | SC | HA | AZ

Hero Arts Cup O' Joe Ink
Shop at:
SSS | SC | HA | AZ

Simon Says Stamp Fog Dye Ink Pad
Shop at:
SSS

Hero Arts Wet Cement Ink Pad
Shop at:
SSS | HA | AZ

Hero Arts Moss Hybrid Ink Pad
Shop at:
SSS | SC | HA | AZ

Hero Arts Ombre Butter To Orange Ink AF309
Shop at:
SSS | SC | HA | AZ

Hero Arts Ombre Pink To Red Ink AF306
Shop at:
SSS | SC | HA | AZ

Art Impressions Mini Action Wobble
Shop at:
SSS | SC

Action Wobble Springs 12 Pack Wobblers
Shop at:
SSS

Action Wobble Springs 6 Pack Wobblers
Shop at:
SSS

Tim Holtz Tonic Craft Stamp Platform
Shop at:
SSS | SC | AZ

Tonic Studios 8.5 Inch Paper Trimmer
Shop at:
SSS | SC | AZ

Crystal Ninja Crystal Katana Mixed Media Pick Up Tool
Shop at:
SSS | AZ

Tonic Aqua Shimmer Pen Nuvo 2 Pack 888n
Shop at:
SSS | SC

White Fun Foam 12 Pack 9 x 12
Shop at:
SSS | AZ

Stick It Adhesive Handy Pack 5 Sheets
Shop at:
SSS | SC | AZ

Scrapbook Adhesives Adhesive Sheets
Shop at:
SSS | AZ

Scrapbook Adhesives White Foam Squares
Shop at:
SSS | SC | AZ

Tonic Deluxe Adhesive Nuvo Glue
Shop at:
SSS | SC

Pretty Pink Posh 4MM Clear Droplets (small)
Shop at:
SSS

Pretty Pink Posh 6MM Clear Droplets (medium)
Shop at:
SSS

Darice Paste on Eyes Googly Wiggly Me4
Shop at:
SSS