Hello! Sharing the new episode from my monthly "Color Layering with Yana" series with Hero Arts featuring Beach HeroScape Color Layering stamp set.
The Color Layering Beach HeroScape stamp set has a gorgeous layering image of the water to help you build a beautiful shore. Unlike other Color Layering videos I've done in the past, in this video I am not going to focus on various colors of ink one can use with this stamp set, instead, I'm going to show you various scene examples one can build using this set. I had the best time stamping these images and going through my stash of stamps and looking for other stamp sets I can combine with this one to create unique scenes for my handmade cards. And I have honestly just scratched the surface of all the various possibilities.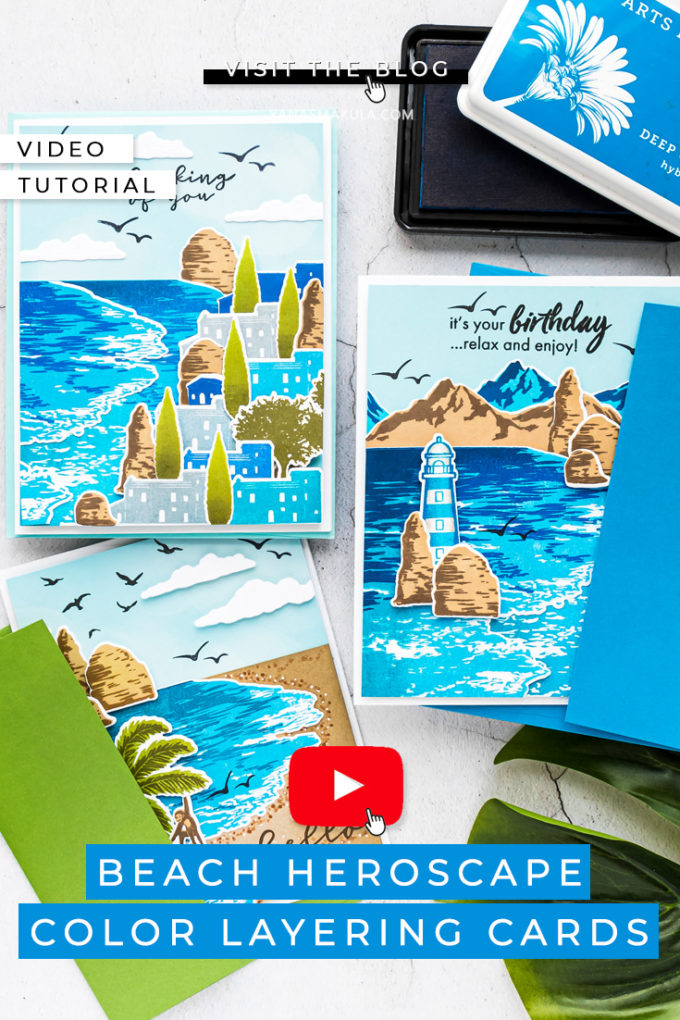 Like this project? Pin it and save for later | Curious about my project photography? Click for details. 
VIDEO TUTORIAL
As always, I filmed a video tutorial showing how to create this project from start to finish. I'm hoping you'll enjoy it. Watch it below or on my Youtube channel.
Like this video? Please give it a big thumbs up (you can do this on Youtube video page right under the video) and share it with a crafty friend! Leave me a comment too, I love hearing from you!
CARD DETAILS
I stamped the water image using several colors of ink to add color variation. I used Splash and Aquatic for the bottom layer, Indigo, and Navy for the bottom layer. I also used Blue Hawaii and Navy for some of the other cards I will share today.
Hero Arts has many ink pads with various shades of blue available, nice true blue color, blue-green colors, very light blues, and very dark blues, so there are several possibilities to stamp this image and make it in any color you like. And you can also go on the wild side and perhaps use sunset or sunrise colors and even stamp the water in pinks and purples.
There is a coordinating die available that will cut this image out. It's an open edge die, so it will not cut all the way around but will leave the opposite side intact. You can trim that using your paper trimmer or you can use that to your advantage and create a card with a clever opening. You simply have more options with this coordinating die.
Basic Seaside Scene
My first project features a simple, basic scene using this stamp set. I created a beach by ink blending Soft Brown ink over the Sand cardstock, I also added dots with Copic markers and a white pen. The sky was made using a panel of Arctic cardstock.
I combined this set with an older Color Layering stamp set from Hero Arts – I used the Color Layering Palm Tree and coordinating dies (watch the video tutorial for this set HERE) and even added a little money hanging in the tree. I die-cut fluffy clouds using dies from the HeroScape Lavender and Tulip Field sets and stamped seagulls in the sky to complete this scene. So you can see I pulled various stamp sets together to create this scene and it was really fun to do.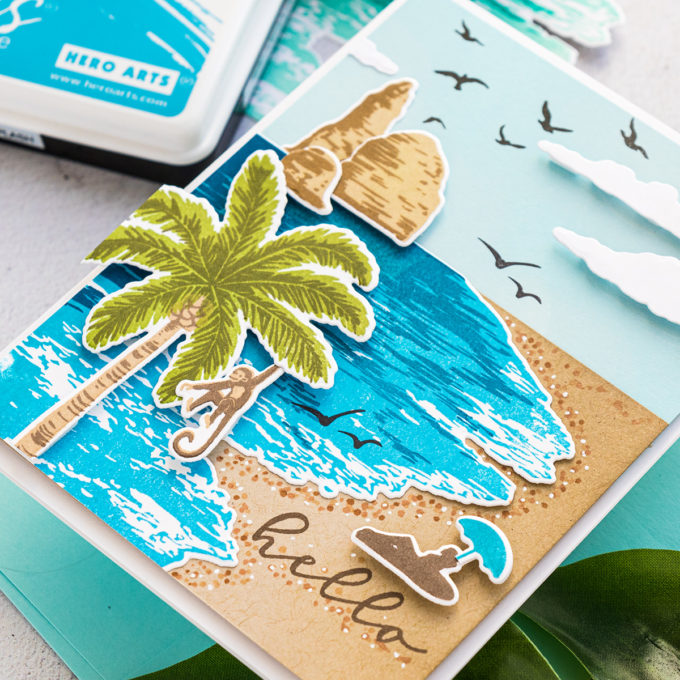 Sea & Mountains Scene
For my next project, I decided to add mountains to the horizon line, add a lighthouse to the sea and layer 2 water images to extend the water.
I started with a panel of Arctic cardstock cut to 4 x 5 1/4" and I used glue to adhere the 2 water die cuts onto the panel. I basically extended the water all the way across my card and I just needed 2 die cuts to do that.
Next, I decided to add the mountains to the scene I used the Hero Arts Mountains at the Lake stamp set and coordinating dies. I featured this set in my previous episode and I encourage you to check it out for more stamping ideas. I stamped 2 mountain ridges, one in brown using Cup of Joe and Soft Brown ink and also one in blue using Splash and Navy inks.
I love how you'd sometimes see beautiful rocks coming out of the sea, so I decided to re-create that look on this card and so I added several rocks up at the top and 2 more down at the bottom to create a really rocky shore.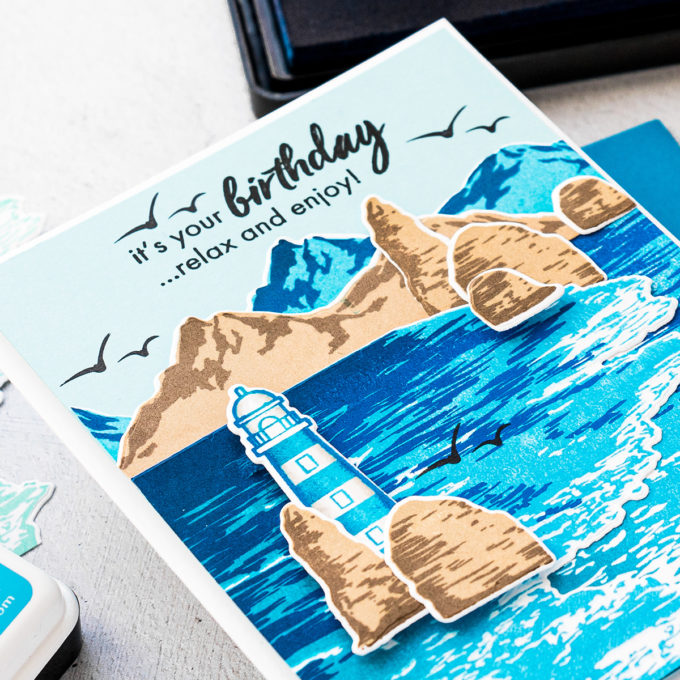 I also wanted to add a lighthouse to this scene, it felt like it would be a nice addition, so I pulled a lighthouse image from another stamp set from Hero Arts, Seas The Day Seagulls set, and I did some creative stamping to add dimension to this image. I first stamped it in Splash ink onto white cardstock. Here I once again used my MISTI stamping tool as I knew I'd need to stamping this image multiple times for the look I had in mind. Next, I used a slightly darker blue, Aquatic ink, and I inked up just the sides of the lighthouse keeping the center portion free from any ink, this added some shading to my image. And lastly, I used even darker blue, Indigo, to have even darker edges of the lighthouse. I double and even triple stamped this image to have the desired look and used a coordinating die cut it out.
I stamped sentiment for this card that reads – "It's Your Birthday, Relax and Enjoy" and this sentiment comes from the Mountains at the Lake stamp set.
I also stamped several seagulls flying in the sky and also over the sea and I used black ink for that. I foam mounted my panel onto an A2 white side folding card base and that finished this card.
Coastal Town Scene
For my next project idea, I was inspired by Mediterranean coastal towns, like Santorini, where the sea is hitting the cliffs and the houses and buildings are scattered up the steep hills.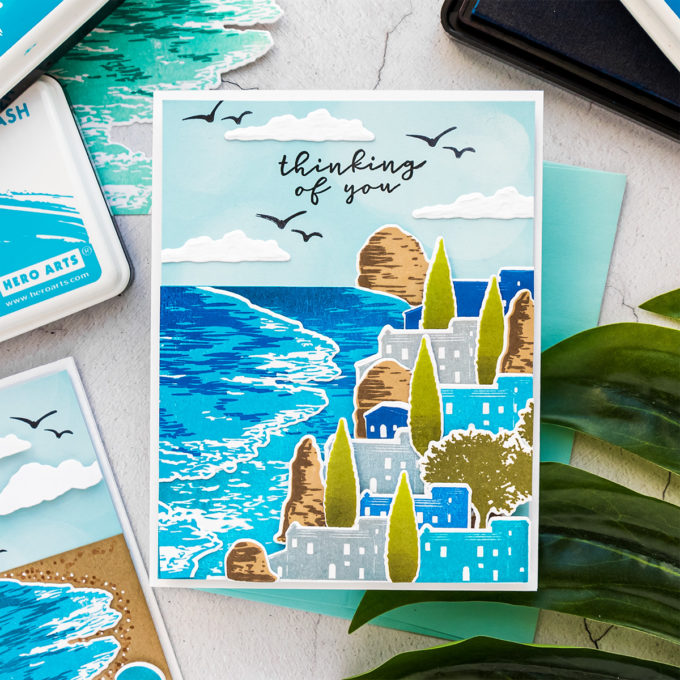 To re-create that look I once again stamped and cut out one water die cut. I also prepared many other die cuts using stamps from Hero Arts Tulip and Lavender Fields HeroScape sets. I stamped and cut out a tree and several clouds from the Tulip set as well as the houses, a large and small houses, several trees and clouds from the Lavender sets. I used the same colors of inks as I did before and stamped the houses in various shades of blue. The trees were stamped using Green Ombre ink and the clouds were simply die cut using coordinating dies, the stamping part was omitted.
To add some softness to my panel I added a bit of white ink with the help of my ink blending tools. I just dabbed white ink directly onto the upper portion of the panel to mimic clouds, I've shared this technique before – it is one of my favorites to create a soft sky background.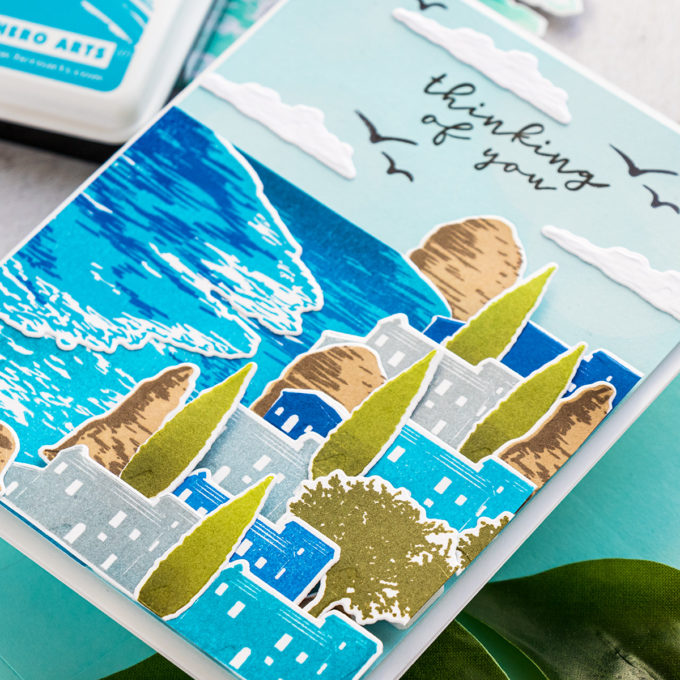 I also stamped and cut out several rocks and I used the same Soft Brown and Cup of Joe inks as I did on the other cards to stamp these images. I adhered water using glue and then worked from the top down adding houses, rocks, and trees having them cascade from the top down onto the card. The trees were mostly used to fill in any gaps and hide the seams between the images.
I stamped a sentiment that reads "Thinking Of You" up in the sky above my scene, I added soft white clouds and also added several stamped seagulls in the sky.
These cards were an absolute pleasure to make and I'm looking forward to using the Beach HeroScape stamp set with other Hero Arts sets again in the future. I can see making many more stunning scenes for my handmade cards.
Have fun stamping!
MORE COLOR LAYERING!
Do you enjoy Color Layering? Check out my Color Layering playlist on Youtube featuring various tips & tricks for using your Color Layering Stamps!
SUPPLIES
I'm listing the products I used below. Click on the link to go directly to the product. Where available I use compensated affiliate links which means if you make a purchase I receive a small commission at no extra cost to you. Thank you so much for your support!

Hero Arts CM447 Beach HeroScape
Shop at:
SSS | SC | HA

Hero Arts DI754 Beach HeroScape Frame Cuts (C)
Shop at:
SSS | SC | HA

Hero Arts Color Layering Palm Tree
Shop at:
SSS | SC | HA | AZ

Hero Arts Color Layering Palm Tree Frame Cuts (C)
Shop at:
SSS | SC | HA | AZ

Hero Arts Color Layering Mountains at the Lake
Shop at:
SSS | SC | HA | AZ

Hero Arts Mountains at the Lake Dies
Shop at:
SSS | HA | AZ

Hero Arts Clear Stamps Tulip Field Heroscape
Shop at:
SSS | SC | HA | AZ

Hero Arts Frame Cuts Dies Tulip Field Heroscape
Shop at:
SSS | HA

Hero Arts Tulip Field Color Layering Heroscape
Shop at:
SSS | SC | HA

Hero Arts Clear Stamps Lavender Field Heroscape
Shop at:
SSS | SC | HA | AZ

Hero Arts Frame Cuts Dies Lavender Field Heroscape
Shop at:
SSS | HA | AZ

Hero Arts Lavender Field Color Layering Heroscape
Shop at:
SSS | SC | HA

Hero Arts Seas The Day Seagulls
Shop at:
SSS | SC | HA | AZ

Hero Arts Seas the Day Seagulls Frame Cuts
Shop at:
SSS | SC | HA | AZ

Hero Arts Hero Hues Cardstock – Sand
Shop at:
SSS | SC | HA | AZ

Hero Arts Hero Hues Cardstock Arctic
Shop at:
SSS | SC | HA | AZ

Spellbinders Deep Sea Die Cutting Machine
Shop at:
SSS | SC | SB | AZ

Hero Arts Soft Brown Ink Pad
Shop at:
SSS | SC | HA | AZ

Hero Arts Cup O' Joe Ink
Shop at:
SSS | SC | HA | AZ

Hero Arts AF428 Splash Reactive Ink
Shop at:
SSS | SC | HA | AZ

Hero Arts AF429 Blue Hawaii Reactive Ink
Shop at:
SSS | SC | HA | AZ

Hero Arts Navy Ink Pad
Shop at:
SSS | SC | HA | AZ

Hero Arts Unicorn White Pigment Ink Pad
Shop at:
SSS | HA | AZ

Hero Arts Ombre Lime to Forever Green Ink Pad
Shop at:
SSS | SC | HA | AZ

Hero Arts Hybrid Ink Pad Aquatic
Shop at:
SSS | SC | HA | AZ

Hero Arts Indigo Ink Pad AF341
Shop at:
SSS | SC | HA | AZ

Copic Sketch Marker E31 Brick Beige
Shop at:
SSS | AZ

Copic Sketch Marker E33 Sand
Shop at:
SSS | AZ

Hero Arts Misti Regular Black
Shop at:
SSS | SC | HA

White Foam Squares
Shop at:
SSS | SC | SB | AZ

Journey Craft Glue
Shop at:
SC | SB

Sakura Classic White Gelly Roll Pens Set of 3
Shop at:
SSS | AZ