Hello, crafters. I have several personalized Birthday and Anniversary cards to share featuring some cool techniques with stencils, inks, and hot foil stamping.
I am working with the Celestial Zodiac collection from Spellbinders to make these cards. One of the cool products from this release is the layered moon stencil. It is a 4 layer stencil to create a layered, ink blended moon. This collection also features 12 constellations as well as some foil plates with sentiments and a background star plate.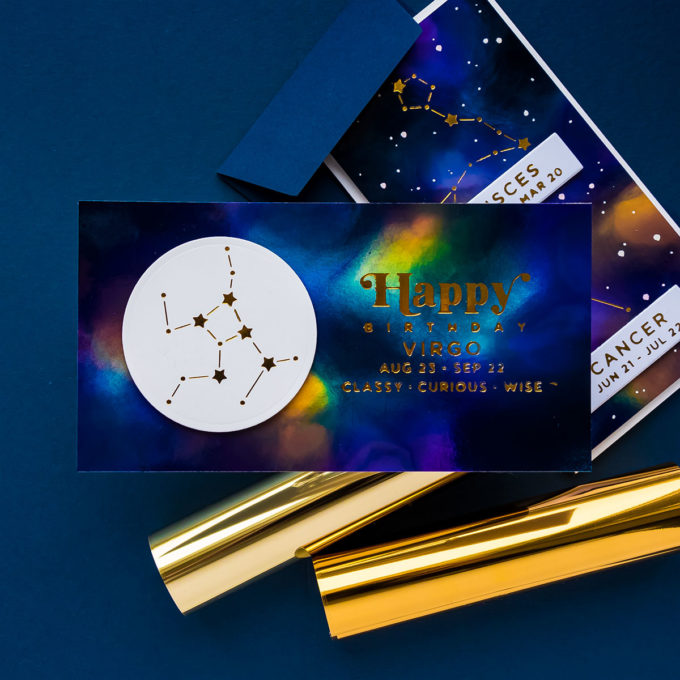 Like this project? Pin it and save for later | Curious about my project photography? Click for details. 
VIDEO TUTORIAL
Watch the video below or on my Youtube channel.
Like this video? Please give it a big thumbs up (you can do this on Youtube video page right under the video) and share it with a crafty friend! Leave me a comment too, I love hearing from you!
CARD DETAILS – IN A SKY FULL OF STARS YOU SHINE THE BRIGHTEST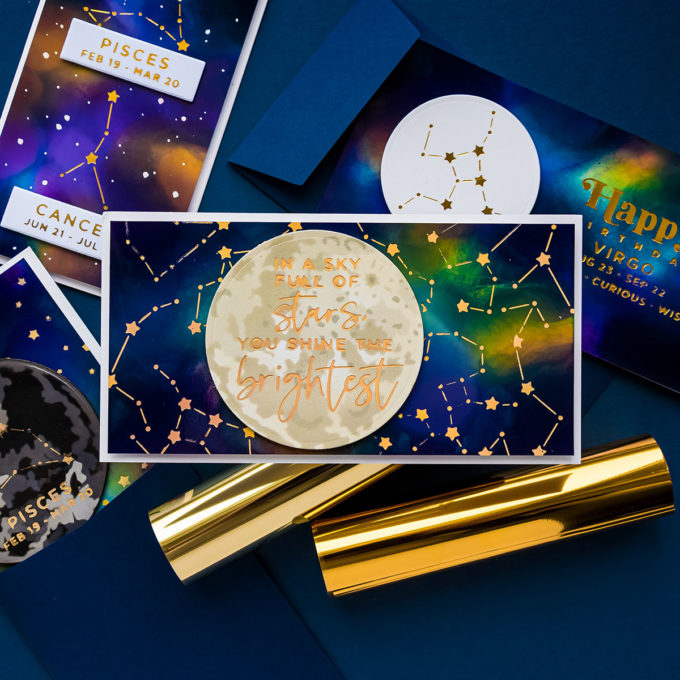 Featuring: Layered Moon Stencil, Celestial Sentiments, all 12 constellations
HAPPY BIRTHDAY VIRGO CARD
Featuring: Virgo, Scalloped Rectangle with Sentiments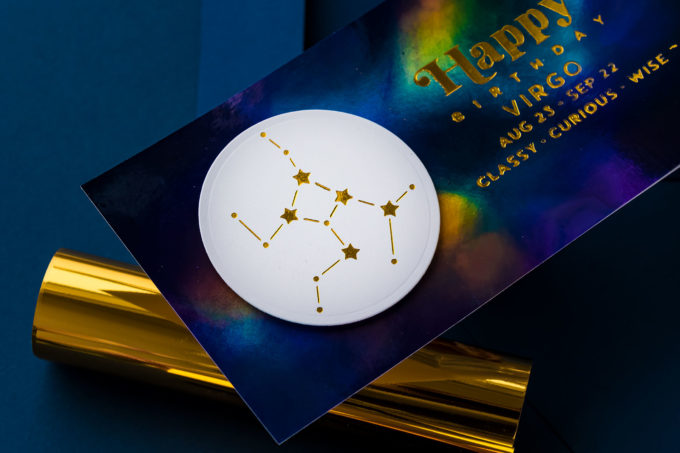 PISCES BIRTHDAY CARD
Featuring: Layered Moon Stencil, Pisces, Celestial Star Background
PISCES & CANCER ANNIVERSARY CARD
SUPPLIES
I'm listing the products I used below. Click on the link to go directly to the product. Where available I use compensated affiliate links which means if you make a purchase I receive a small commission at no extra cost to you. Thank you so much for your support!

Scalloped Rectangle Glimmer Essentials with Sentiments
Shop at:
SB

Spellbinders Layered Full Moon Stencil
Shop at:
SSS | SC | SB | AZ

Spellbinders Libra Glimmer Hot Foil Plate
Shop at:
SSS | SC | SB

Spellbinders Scorpio Glimmer Hot Foil Plate
Shop at:
SSS | SC | SB

Spellbinders Sagittarius Glimmer Hot Foil Plate
Shop at:
SSS | SC | SB

Spellbinders Aquarius Glimmer Hot Foil Plate
Shop at:
SSS | SC | SB

Spellbinders Pisces Glimmer Hot Foil Plate
Shop at:
SSS | SC | SB

Spellbinders Aries Glimmer Hot Foil Plate
Shop at:
SSS | SC | SB

Spellbinders Taurus Glimmer Hot Foil Plate
Shop at:
SSS | SC | SB

Spellbinders Gemini Glimmer Hot Foil Plate
Shop at:
SSS | SC | SB

Spellbinders Cancer Glimmer Hot Foil Plate
Shop at:
SSS | SC | SB

Spellbinders Leo Glimmer Hot Foil Plate
Shop at:
SSS | SC | SB

Spellbinders Virgo Glimmer Hot Foil Plate
Shop at:
SSS | SC | SB

Spellbinders Capricorn Glimmer Hot Foil Plate
Shop at:
SSS | SC | SB

Spellbinders Celestial Star Background Glimmer Hot Foil Plate
Shop at:
SSS | SC | SB | AZ

Spellbinders Celestial Sentiments Glimmer Hot Foil Plate
Shop at:
SSS | SC | SB

Spellbinders Glimmer Hot Foil System
Shop at:
SSS | SC | SB | AZ

Spellbinders Hot Foil Roll – Gold
Shop at:
SSS | SC | SB | AZ

Spellbinders Quick Trimmer
Shop at:
SSS | SC | SB | AZ

Spellbinders Quick Trimmer Replacement Blades
Shop at:
SSS | SC | SB | AZ

Spellbinders Platinum 6 Die Cutting Machine
Shop at:
SSS | SC | SB | AZ

ColorWay High Glossy ColorWay Photo Paper
Shop at:
AZ

Glimmer Hot Foil Roll – Aura
Shop at:
SSS | SC | SB | AZ

Neenah 80LB Solar White Cardstock
Shop at:
SSS | AZ

Neenah 110 Lb Solar White Cardstock
Shop at:
SSS | AZ

Simon Says Stamp Duckling Ink Pad
Shop at:
SSS

Simon Says Stamp Maliblue Ink Pad
Shop at:
SSS

Simon Says Stamp Premium Dye Ink Pad Soft Navy
Shop at:
SSS

Simon Says Stamp Deep Purple Dye Ink Pad
Shop at:
SSS

Spellbinders Circle Replacement Foam
Shop at:
SSS | SC | SB | AZ

Ranger Mini Round Ink Blending Tools
Shop at:
SSS | SC | AZ

Spellbinders Jane Davenport Snow Queen Story Time Paint Pen
Shop at:
SSS | SB | AZ

Sakura Classic White Gelly Roll Pens Set of 3
Shop at:
SSS | SC | BL

Spellbinders Best Ever Craft Tape
Shop at:
SSS | SC | SB

Tonic Studios 8.5 Inch Paper Trimmer
Shop at:
SSS | SC | AZ | TS

White Foam Squares
Shop at:
SSS | SC | SB | AZ

FSJ Grand Pro Shears
Shop at:
SB