This post is also available in Українською мовою
Доброго ранку! Сьогодні хочу показати вам дуже незвичне запрошення на День Народження, яке я зробила для конкурсу Galery Idol від журналу Paper Crafts Magazine. Основною вимогою для листівки стартового туру цього конкурсу є використання скотчу (паперового, тканинного і т.д.).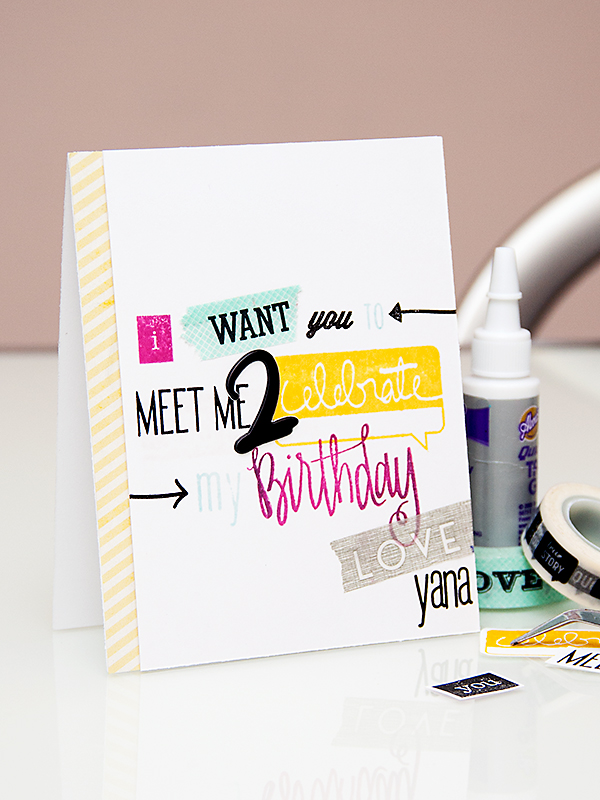 По правді кажучи я не фанат цього матеріалу, і хоч різноманітних мотків паперового скотчу у мене досить багато, використовую я його рідко. Тому зробити листівку із його використанням для мене виявилося справжньою проблемою. Тим не менше, я почала шукати натхнення у повсякденному житті і згадала детективний телесеріал Castle, який ми з Лесиком зараз дивимося. А який детектив без викрадення і записки із вимогою викупу? Саме так і з'явилася ідея для цієї листівки.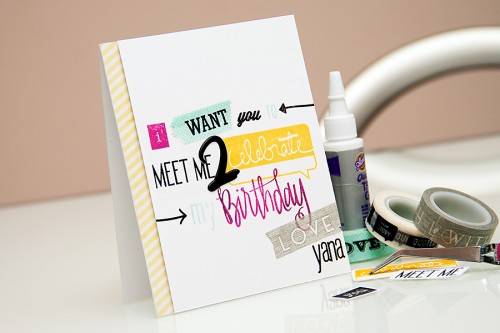 Я переглянула свій арсенал паперових скотчів, відібрала ті, що містять слова. Далі подумала над реченням, у якому ці слова можна використати і таким чином отримала текст запрошення. Далі підібрала додаткові слова із різних наборів штампів та використала різні кольори чорнила.
В результаті отримала такий текст: I want you to meet me to celebrate my Birthday. Love, Yana.  І переклад: Я хочу щоб ти зустрів(ла) мене для святкування мого Дня Народження. З любв'ю, Яна.