This post is also available in Українською мовою
Як ви вже напевно зрозуміли, головною цікавою новиною тижня є наш скрап зліт, який, нагадую, відбудеться наступної суботи!
Обов'язково зареєструйтесь та відвідайте його (особливо, якщо ви живете неподалік і вам не потрібно довго добиратися до Тернополя). Усі деталі ось тут. І не забудьте – кожному зареєстрованому учаснику – подарунок від Dovecraft!
Листівки:
Листівка любовная серенада – чудовий приклад використання штампів Feathered Friends від Dovecraft;
Fruit Fusion – чудові фруктові листівки із новими релізами від Papertrey Ink;
Flower Fusion #4 & Think Big Favorites #4 – прості, але дуже милі листівки із великою кількістю штампінгу;

Сторінки:
Guest Designer | American Crafts (feat. the Silhouette) – декілька яскравих сторінок (та листівок), що ілюструють використання електронної машинки для вирізання;
WOW #92: Wooden Bobbin Butterflies – сторінка, основним декором якої є метелики із дерев'яними котушками від ниток (дуже креативно!);
scrapbooking & quilling – квіллінг в скрапі (квіллінговий банер та заголовок сторінки);
Announcing the Winner – декілька сторінок (та один неперевершений декор в рамці) до Дня Матері;
bite-sized scrapbooking – чудова сторінка із фігурним бордюром у формі будиночків;
Happy Mother's Day and Sketch #73 – скетч та сторінки до нього;
Sketch 237 – ще один скетч та сторінки до нього;

Альбоми:
Різне:
Якщо ваша робота потрапила у підбірку "Цікавого за тиждень" Ви можете розмістити наступний банер у своєму блозі.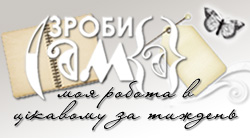 Для цього просто скопіюйте код і вставте його у бокову панель свого блогу (код потрібно вставляти в віджет HTML/JavaScript):
[php]<a href="https://www.yanasmakula.com"><img title="Цікаве за тиждень від Зроби Сам(А)" src="https://www.yanasmakula.com/wp-content/uploads/zs.jpg" alt="Зроби Сам(А)" >[/php]