This post is also available in Українською мовою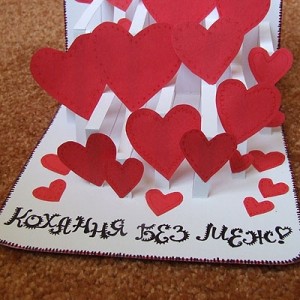 Черговий випуск цікавого за тиждень. Насолоджуйтесь та надихайтесь!
Укр+рос блоги:
МК про кефирчик – від Мелком по небу. Не зовсім пор кефір, але тим не менше такий МК завжди згодиться.
Cердечна відкритка-сюрприз! – давно збираюся таку зробити, але ніяк не доходять руки. Листівка по справжньому від душі.
Листівки – особливо сподобался листівка, що схожа на вечірню сумочку.
30 Років – надзвичайно сподобалася ця листівка незвичної форми.
Пригласительные на свадьбу піратської тематики.
Іншомовні блоги:
Відео:
Ep. 403 – Fiskars Border and Corner punch – кутовий+бордюрний дирокол від Fiskars. Як на мене не дуже зручний.
Technique Tuesday Video: Creating the look of distress stickles using glitter & Crystal Effects glue – ефект зістареного глітеру.
Friday Highlight: mini album – дуже красивий міні альбом.