WAYS TO SUPPORT UKRAINE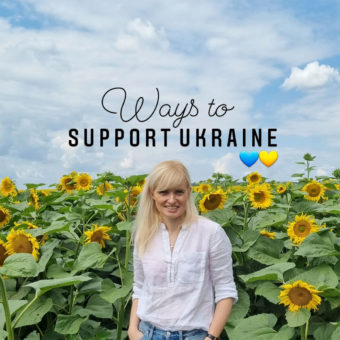 My name is Yana Smakula and I am Ukrainian. I am located in Western Ukraine along with my husband and family. We stand strong and united and determined to win this war. We need all the help we can get. I created this page to keep all info in one place. This is where you can find the latest updates from me, information on how you can help, and reports on what we have purchased with your help.
From the bottom of my heart – thank you! Your help, support, kind words, encouragement mean so much to me and keep us going. THANK YOU!
Jump to section:
WAYS TO DONATE MONEY
There are numerous places where you can donate to help Ukraine (including the army, refugees, children, and so on). I am focused on helping our army to fight Russia we also focus on getting supplies to the civilians who still remain in the occupied areas.
NATIONAL BANK of UKRAINE for ARMY
The National Bank of Ukraine has decided to open a special fundraising account to support the Armed Forces of Ukraine. Donate here.
NATIONAL BANK of UKRAINE for HUMANITARIAN ASSISTANCE
The National Bank of Ukraine Opens Fundraising Account for Humanitarian Assistance to Ukrainians Affected by Russia's Aggression. Donate here.
HELP UKRAINIAN PARAMEDICS
SAVELIFE.IN.UA
Donate to fund the Ukrainian armed forces. You can donate here.
SEND MONEY DIRECTLY TO US
You can send money to our PayPal. We now have a separate Ukrainian account, it doesn't have any limits and there are no fees – lesyk77@hotmail.com. THANK YOU!
My friend from work, Denzil Quick (Denzil is VP of Business Development at Spellbinders), is helping us gather money to help buy supplies for the army. If you want to help and if you , reach out to Denzil freeukrainenow2022@gmail.com.
Here's a photo of the three of us (my hubby Oles, Denzil, and me). This was taken several years ago in Frankfurt, Germany at the CreativeWorld show: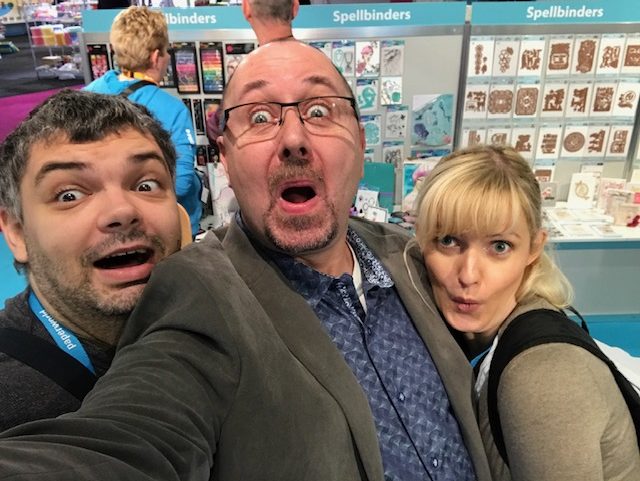 Denzil wrote this letter to his friends, sharing it (and all further updates) with his permission:
I hope and pray that you will take a moment to read this in full. About 8 years ago Renee and I moved to Arizona so I could start a new job with Spellbinders Paper Arts. Within the first few weeks I had the chance to meet Yana and eventually Oles who were one of our international distributors and design team members from the Ukraine. We immediately stuck up a friendship that is very strong to this day. The two of them embody more of the American spirit than 99% of Americans that I know including myself.

These two friends are amazingly entrepreneurial, talented, smart, funny, honest and embrace the spirit kindness along with an always positive attitude. I can not say enough wonderful things about them both. At one point they got a temporary visa and worked in our office in Phoenix for 18 months and it was wonderful. After that visa expired we tried to get a full time visa but the bureaucracy of the government was/is a crazy slow process, then Yana's mom got sick with cancer and she stayed in the Ukraine to help her….then Covid and well, you know that story. Now two years later their beautiful country was attached by Satan or his earthly facsimile.

Yana and Oles still consult with us on a full time basis and I speak with one of the two of them almost daily, they have never changed, still positive and happy. As the war intensifies they have decided to stay and fight…the LOVE FREEDOM and I would expect nothing less from them. Many collages of mine/ours in the Arts & Crafts industry know Yana, she has a YouTube channel with over 40K followers and she is crazy talented. Many of those same people who know her have asked me "how can I help?" Here is your chance.

Oles has set up a network of freedom supporters and we are able to get much needed supplies to them and their freedom fighters in Ukraine. Obviously, we cannot send anything that is banned such as weapons or ammunition, that is for our government to do and they better fucking do it now. However, there are many things that we can send and I have sent things myself but the list is growing and they have an organization of 500+ to defend their town. They need things like radios (old fashioned type) with weather reports, walkie talkies, knee pads, eye protection, batteries, drones for observation and many, many other items. For the moment their group of 500+ is OK with food and water but we are planning dry goods in the future if this rages on those supply lines might be disrupted.

If I'm sending you this email it is because I would do the same for you if you were in this dire situation. We have a short window as the Russian troops are making progress every day. I've never asked for a dollar from anyone in my life, but I am asking you if you can give anything, please send me an email. If you can't I still love you the same. I am setting up a separate email so it is not mixed in with all of my other personal emails. This is not a tax deductible donation, there is no time to set up the 501c3. They need help now. However, I assure you that 100% of any help you could give will go towards supplies.

If you are not familiar Yana and Oles below are a couple of links of Yana. They are your friends, and neighbors who are now in a bunker and fighting for freedom. Thank you for your consideration, I have lived an incredibly blessed life and this is a true calling to help. If you can help, please send me and email to:

freeukrainenow2022@gmail.com

Live free or die,

Denzil
MONDAY MARCH 7TH 2022 UPDATE
Hello Everyone, me again.

Once again, the outpouring of love and support from the creative community is amazing. I know that Yana, Oles and the people we have touched in the Ukraine are beyond grateful for the support the people in this group and around the world have given to them.

I was able to connect with Yana and Oles a few times today and they are doing well and are safe. Yana was working on some cards for social media, not even a war can stop her passion…that is true love. Yana is a true Warrior Princess and Oles is our Warrior with a pocket protector.  🙂

We have new people joining us everyday so if I repeat myself, I apologize as I try to get them up to speed on our accomplishments and where the donations are going.

Just a quick total, if we are not over $30K in donations, we are a stone's throw away. We have global contributors and have 4 different currencies going on so we try to double and triple check the math. Of the $30K, that includes about $6K worth of checks that are committed and being mailed to me so they are not in the bank yet. So thrilled to see the response, we would have never dreamed this would grow like it has.

We also had an issue with some Zelle payments that are hung up and I did contact Zelle today via email and the auto response said I should have an answer tomorrow. I will reach out to individuals if Zelle needs anything so if your Zelle payment has not been posted give it a few days. Venmo has been great so far.

Tonight was a lot of work, I'm not going to lie. Most of the sources for trauma medical equipment and supplies in Europe and Poland in particular are out of inventory because of the war. As I touched on before, we try to source locally so 100% of your donations go to the actual supplies and not logistics.  Today I asked my boss Marc at Spellbinders if we can source medical supplies in the U.S., will Spellbinders pay for the freight to get them to Poland and then across the border and he agreed. Thank you Marc!! (He is copied on this email.)  We think this is temporary as supplies are rushing to the area and we are told they will be back in stock shortly.  As soon as they are, we are also ready with money to spend.

So, this evening I purchased 50 Celox Hemostatic Gauze, 30 Emergency Tourniquets, and 6 full Trauma first aid kits (the same thing first responders use) that were available at U.S. suppliers.  We have to adapt, overcome and improvise.  That's about $4K worth of medical supplies because of this amazing group.  Tomorrow, Oles is acquiring another thermal camera for a unit of fighters that are located in Kyiv.  As you see in the news they are taking lots of civilian losses but the freedom fighters that are a mix of civilians and military are giving them hell and inflicting lots of damage to the Russian military.   We are ready to purchase thousands of dollars of medical supplies the moment they are back in stock and will let you know when that happens.

Lastly, I never dreamed in a million years I would be doing this.  When the war started we all felt helpless and when talking with Yana and Oles, this whole thing just kind of happened organically because you all were asking "how can I help?"  It started because of you.  We are simply facilitators because of your desire to help others in need.  I know many of you are contributing because you love Yana but I'm going to tell you that not only does none of this go to Yana or Oles, they have put in thousands of  dollars of their own money to this effort.  They are doing this work sometimes at home, sometimes in a shelter to help their fellow country men and women stay free.

The need is beyond our imagination as we sit at home watching this unfold on our TVs or internet it feels like it is both a world away but next door at the same time.  The next step is to contact your political representatives and let them know Red or Blue, we do not care, this has got to stop NOW.  We must do greater sanctions to stop a truly mad-man.  We are sitting in 1937 and we know how that went, if this escalates the world could be a very different place in the blink of an eye.

Our passion has brought us together, our love for humanity has given us this purpose, our courage must tell our leaders that we are in charge and it is problems like this for which they were elected.  Now I'm off of my soapbox.;-)  Love you all.

For a FREE Ukraine!
Denzil
TUESDAY MARCH 8TH 2022 UPDATE
Hello to my creative friends.

Above all else, Yana and Oles are still safe.  Our hearts are with the friends and families of those Ukrainians who are not as lucky and who have been killed or are homeless because of this monster.

I want to give you a quick update on the supplies and then talk about a few things that I have received questions on.

Today, Oles spoke with the local person in charge of the logistical supplies to discuss the needs they have.  He said they need 3 things 1) hand 2-way radios for local communication (non-cell phone) 2) Medical Supplies 3) a way to transport the supplies.

It sounds like they are getting lots of medical supplies from us, the red cross and many other organizations who are doing a great job, but unfortunately the demand is still larger than the supply.  With all of the medical, food and other supplies going from Poland to the Ukraine, it is a challenge to move things around once across the border.  Most cars in the Ukraine are small, not a lot of pick-up trucks like we have here in the U.S.  What trucks they do have are being used for military purposes.

To help with needs #1 and #3,  today Oles purchased Radios from the UK, which will be ready for service in a few days, they are in transit. He is also working with his Polish contacts to purchase a small used toyota pick-up for a couple thousand dollars to ferry supplies from the Polish border to a checkpoint in the Ukraine for division to local fighters and first responders from Lviv to Kyiv.

For need #2, I spoke to the Polish consulate today and we tried to figure out how we can send medical supplies to Poland without needing to pay an import Tax when they arrive.  We think that we have a solution and are sending the order from yesterday out as a test.  If that works, the U.S. has virtually anything we need, but freight is still an issue. We would still prefer to purchase locally in Poland but if they are out of stock, we will improvise.

After a crazy good Saturday, Sunday and Monday today slowed down on fundraising but it allowed us to make calls and purchases and get supplies moving. I got a little too excited yesterday because it looks like after a couple of donations today we are sitting over $29K but just shy of $30K for this amazing group. Well done!!!  Once Oles purchases the transportation, we will look at our balance and make a big buy of medical supplies to exhaust most of our funds unless the local officials change the needs as the situation on the ground changes.

Now for a few notes. I reached out to Zelle again regarding a few transfers that still show pending.  No word back from them, I will give them one more day.  I received the first few checks and am depositing them so we will have those funds available shortly.

I have had a few people who have asked about donating medical supplies they have or holsters and gun belts and other equipment.  I wish we could do all of those things but we are simply not set up for that.  This was a small idea that took-off.  It's just Yana, Oles, me and a couple of helpers in Poland.  However, the Red Cross is an amazing organization and they are world-wide, I'm sure if you have medical supplies they might be able to help.

I've tried to answer all of the "one-off" questions that I have received but if you have anything, please send me your questions.  Lastly, this is not a Spellbinders charity.  Yana Oles and I happen to work for Spellbinders and they are helping us but this is just one amazing woman with a big voice connecting with you all and a couple of guys who are pretty good at getting shit done efficiently.  We saw a need, you all wanted to help and we have collectively made a very positive impact.

I was talking with my cousin a few hours ago and he was a Navy Officer and a very smart guy, he said 90% of winning a war is logistics.  The numbers of tanks and troops and airplanes matter but if the soldiers die from wounds, are not fed and watered, if the trucks don't have fuel or tires, you lose the war.  The Russians have the numbers for now, but we have the fight in us, we have the passion for FREEDOM and we have some bad-ass crafters that are really pissed off.

I will leave you with this…I was chatting with Yana today and I told her how mad and how pissed off I was (I don't like feeling that way). She gave me good advice to stay mad, stay pissed off and use that as power to feed the motivation to win.  I made a promise to Oles and Yana that after they win this war, I'm going to Ukraine to help them to clean-up and rebuild.  I hope to see you there soon.

For a FREE Ukraine!

Denzil
WEDNESDAY MARCH 9TH 2022 UPDATE
Hello Everyone,

It is late, I'm tired so I will be brief.  I hope everyone follows Yana on Instagram.  If you do, you were able to see a quick video of Yana while they were dropping off some medical supplies that we all purchased along with a couple of generators.  We did receive a handful of additional donations today to officially take us over $30K total.  Right now Oles and I are focused on building and working on relationships with manufacturers and suppliers.  One item that we have bought a lot of is for trauma injuries and it is called Celox Rapid Gauze.  It is a hemostatic gauze that stops bleeding.  It is becoming increasingly difficult to find in Europe but that is one of the things we are shipping from the U.S.

The area where Yana and Oles live in western Ukraine has not been devastated the way you see in the east, north and south.  The Russian military is slowed and stuck in many places by very strong resistance and some brave military and civilian forces are taking it to them.  Therefore, most of the medical supplies we have been sending out are going to harder hit areas.  The fog of war is a real thing and our role is to get the supplies there safe and sound and let the local military and emergency officials that Oles works with determine the final destination.  They also prioritize the needs day by day.  The needs are more than can be filled so it is a balancing act for the amazing people on the ground.

Today I received my first big chunk of checks from being mailed on Monday.  So we are building up the funds to acquire a big bulk buy of medical supplies and other items.  We have a big shipment from the U.S. on its way to Poland and it sounds like unfortunately they are really needing them with the civilian casualties.  No words can express the Gratitude from Yana and the Ukrainian people that we are helping.

Thank you all for another productive day.

For a Free Ukraine!
Denzil
THURSDAY MARCH 10TH 2022 UPDATE
Hello Everyone,

Once again, we are happy to say that Yana and Oles are fine and safe. However, we are very sad and (I know I am) angry that the war rages on because of one man. It was another busy day and again I will try to be brief. This weekend I will give a more detailed update as to everything happening.

I think our total donations are just over $34K and for any new members to the email, we have 4 different currencies we are working with so it is hard to get an exact amount everyday but it is within $50. That does include $5K of checks that are committed but not yet received. Also a little housekeeping, the Zelle issue seems to be fixed. They had to reset my email and it seems to be good now. If you have sent a Zelle payment and it is still pending, let me know.

So of the roughly $29K in spendable donations we have taken in (minus the outstanding checks) We have spent roughly $23K so far. Most of the recent purchases have been medical supplies with a mix between locally sourced in Poland and Europe and some from the U.S. The U.S. shipment is inbound to Poland and we are testing to see if our shipping protocol allows us to ship things for relief without paying the VAT taxes normally paid on products sent from abroad. If that works, we will send another large order shortly. If it does not work, we will continue to try and get products from Europe unless that is not an option.

In addition to the medical supplies, Oles also purchased some weapon cleaning supplies for the soldiers to be able to properly clean and maintain their weapons. The medical supplies are in and out to various areas that need the help. Oles is in contact with the officials who help determine needs and locations daily. The coordination on the ground is terrific and the speed at which everyone is reacting is going to defeat the Russians.

We had another great day for requests, I sent out over 50 emails to people who inquired today. My last thought before I run is that the love and kind words from everyone is amazing. Yana is one tough woman but is so grateful for the kind words and support you are giving to her country.

Thank you for your support!

For a FREE Ukraine!
Denzil
FRIDAY MARCH 11TH 2022 UPDATE
Hello Gang,

Yes, another late night but it was a good night. As always I'm going to lead with the news that Yana, Oles and their families are still safe. Some of the recent shelling has been closer and they did need to go to the bunker 3 times today but they are still OK. Next, if anyone wants to be removed from this nightly email, just send me a note and I will take you off of the list, not a problem.

It was a good night because when I stopped at the mailbox on my way home from work there were just over $5K in checks in there. YEA!!! Thank you all so much. We also had some additional donations today to take our total up to about $36K total received and a few thousand more that is pledged but not received yet. So my friends, that is kicking ass. 😉

I'm going to do an update on all of the things we are buying with the donations this weekend but I want to tell you something. When we first started doing this, we had no idea what to expect. We were up for it because of your desire to help but we never dreamed how big it would become. When thinking about how to collect the money, I really didn't want to offer checks as an option but I decided to do it. Man-o-man am I glad that we did. Not just because of the additional funds that we received but if you all could read some of the notes that I have received, it is truly heartwarming. From a simple "God Bless" to personal stories of struggle and triumph they are all very touching. I can't thank you all enough. If you wrote a check and sent a note I want to let you know that I photographed every single one and am sending them to Yana and Oles to see. Once this war is over, I will ship it to them so they can see the ink and feel the paper that a friend touched and gave for a great cause.

I want to share something that one donner shared with me and I am passing along to you.

When I was a boy, and I would see scary things in the news, my mother would say to me, "Look for the helpers. You will always find people who are helping."

To this day, especially in times of disaster, I remember my mothers words and I am always comforted by realizing that there are still so many helpers – so many caring people in this world." Fred Rogers

Thank you for sending those words Teri. These words are perfect for this group. I know we all want Yana and Oles to be safe. However, if she were not there, we would all not be connected as we are. She is our beacon that unites us and we are all the helpers together. I know this war is going to end in a Ukrainian victory but I also know that Yana is there for a reason, I know that Yana has such a powerful creative voice for a reason and I know that what we are doing is the most important work I have done in my life.

Oles sent me a note today that said they heard from a commander on the ground in Kyiv that they were using one of the thermal vision optics we sent from Poland and it was extremely valuable. That is at the heart of the fighting. Money that crafters raised for a friend is helping the resistance to tyranny and embrace freedom on the other side of the planet.

I'm off to bed and will send more detailed updates this weekend.

For a FREE Ukraine!
Denzil
SATURDAY MARCH 12TH 2022 UPDATE
Hello Everyone,

I did chat with Oles today and they are still safe but as we all see in the news the story is not good for many areas of Ukraine. If you've been getting this daily update, I apologize if I repeat some things over the next couple of days as we have had many new people join our group.

Below I have included a list of the supplies that we as a group have purchased. The list shows what category the supply is a part of, a more specific description when possible, the quantity and who it went to. Oles is doing a great job to keep track of the information on his end and I am also trying to do the best with keeping track on my end. It is literally like herding cats…the chaos of war, the priorities rapidly change as the situation on the ground changes. We have purchased drones and thermal equipment which are several thousand dollars each as well as office supplies and everything in between. Like I mentioned before, we are trying to purchase locally to save time and money. Next I want to talk a little about medical supplies.

We also have several veterans, first responders and medical professionals as well as spouses of veterans in this group and I thank you all for your service and sacrifices. Everyone in every branch of the military has probably had some first aid training along the way. In a combat situation or in this case if you are an innocent civilian and you are the victim of a gunshot or some other traumatic injury there is no time to take you someplace for care. And now the Russians have probably bombed the local hospitol anyway. It is in the field intervention to save a life. One of the most serious threats is bleeding to death for these kinds of injuries. A product that is called Celox Rapid is an amazing hemostatic gauze that stops serious bleeding. However, it is not cheap. It costs about $45 a pack and we have purchased more than 200 packs in total. The supply in Europe has all but stopped as it is unfortunately in high demand. We still have some supply in the U.S. but it is getting tighter. No easy way to say this but the positive and negative side of this is for every $50 we spend on this product it could be saving a life that might not otherwise survive. The message that Oles is getting from the people in charge is that they need more because the Ukrainianes are not giving up and the worst may be in front of us vs behind us. The best thing we could hope for would be a coup by the Russians themselves and end this now.

This is the list of supplies our group has supplied as of yesterday.
| | | | |
| --- | --- | --- | --- |
| Category | Purchase | QTY | Recipient |
| Office Supplies | Various Medical Supplies | Boxes | Ternopil Territorial defence / ТРО |
| Medical Supplies | Various Medical Supplies – Drugs | Boxes | Ternopil Territorial defence / ТРО |
| Tactical Supplies | Themovision Night Vision | 1 | Kyiv Territorial Defence / KTPO |
| Medical Supplies | Tourniquets | 10 | on the way / в дорозі |
| Tactical Supplies | Long Range Drone | 1 | Ternopil Territorial defence / ТРО |
| Tactical Supplies | Sleeping bags | 10 | Ukrainian Army/ ЗСУ |
| Personal Protection | Boots | 14 | Ternopil Territorial defence / ТРО |
| Personal Protection | Knee protection | 14 | Ternopil Territorial defence / ТРО |
| Tactical Supplies | PowerBanks | 2 | Ukrainian Army/ ЗСУ |
| Personal Protection | Goggles | 45 | Ternopil Territorial defence / ТРО & ЗСУ/Ukrainian Army |
| Tactical Supplies | Chainsaw and accessories | 1 | Ternopil Territorial defence / ТРО |
| Office Supplies | Laptop | 1 | Ternopil Territorial defence / ТРО |
| General Supplies | Hardware Tools | 17 | Ternopil Territorial defence / ТРО |
| Office Supplies | Office Supplies | 24 | Kyiv Territorial Defence / KTPO |
| Office Supplies | Laptop Dell 630 | 1 | Ternopil Territorial defence / ТРО |
| Office Supplies | Printer Cartridges | 5 | Ternopil Territorial defence / ТРО |
| Office Supplies | Ajax HomeSiren | 5 | Ternopil Territorial defence / ТРО |
| Tactical Supplies | Tactical Gloves | 75 | on the way / в дорозі |
| Medical supplies | Celox Rapid Hemostatic Gauze | 50 | on the way / в дорозі |
| Medical supplies | Tourniquets | 30 | on the way / в дорозі |
| Medical supplies | First Aid Trauma Kits | 6 | on the way / в дорозі |
| Tactical Supplies | Radio Walkie-talkie | 12 | on the way / в дорозі |
| General Supplies | Hardware Tools | Boxes | Ternopil Territorial defence / ТРО |
| Tactical Supplies | Weapon Oil | 2 | Ternopil Territorial defence / ТРО |
| Medical supplies | few boxes / пару ящиків | Boxes | Миколаїв гуманітарна допомога |
| Medical supplies | few boxes / пару ящиків | Boxes | Миколаїв гуманітарна допомога |
| Tactical Supplies | Electricity generators | 2 | Ukrainian Army/ ЗСУ |
| Cleaning supplies | few boxes / пару ящиків | Boxes | Ukrainian Army/ ЗСУ |
| General Supplies | Tools for vehicle repair | Boxes | Ternopil Territorial defence / ТРО |
| Hygiene Supplies | box / ящик | Box | Ternopil Territorial defence / ТРО |
| Office Supplies | box / ящик | Box | Ternopil Territorial defence / ТРО |
| Medical supplies | box / ящик | Box | Ternopil Territorial defence / ТРО |
| Tactical Supplies | Tactical Gloves | 75 | Ternopil Territorial defence / ТРО |
| Medical supplies | Celox Rapid Hemostatic Gauze | 8 | on the way / в дорозі |
| Tactical Supplies | Nikon Pro 1000 Rangefinder | 1 | Ukrainian Army/ ЗСУ |
| Medical supplies | Celox Rapid Hemostatic Gauze | 20 | on the way / в дорозі |
| Medical supplies | Celox Rapid Hemostatic Gauze | 50 | on the way / в дорозі |
So, early on in the war we purchased a lot of medical supplies, then it was more tactical and now it is leaning back to medical supplies. Fortunately, many checks came in yesterday and we had another wave of donors, which has helped us to break the $40K dollar mark, which leaves us all speechless. We have about $13K available to spend because of the past couple of days and are working on another thermal optic and obviously more first aid supplies.

Our gratitude to the people on this email is immeasurable. It is heartwarming to know that the one thing we put above creativity is life and helping others. Thank you for supporting our friends and making them stronger.

For a FREE Ukraine!
Denzil
SUNDAY MARCH 13TH 2022 UPDATE
Hello Everyone,
When I woke up this morning, I had a couple of voice mails, one from Yana and one from Oles. They were safe and headed to the border to pick up some supplies. Not to sound like a broken record…if you're under 40 that is when it repeats itself….but all of this is possible because of everyone on this email. Thank you, thank you, thank you!!! We serve as a facilitator to your desire to help. It is a complete honor and privilege to do what we are doing. When I get tired, I think about the people of Kyiv and that is motivation and I can draw from your support.

Now for a little housekeeping. We keep a very detailed accounting of every donation and match names with email addresses, dates, amounts and the like. However, I am missing a few email address and would like to match those up. Sometimes peoples names are not a part of their email profile because they are super stealthy or they might make a Zelle or Venmo donation under a spouses name or whatever. We have also had several people tell friends about us and we have received donations from non-crafters and people who have never sent me an email (removed part of the email with the names).

Next, I need everyone to pray, cross your fingers and toes, meditate, dream, whatever is your best way of putting good juju into the air. As I have mentioned in a few updates, this product called Celox is literally a life saver and we have purchased a lot of it but the demand is high. We reached out to the U.S. representative a few days ago and she replied back today and is putting us in contact with the European contact to try and buy this product in bulk in Europe. If we can do that, you will be the second to know, just after Oles. That could really allow us to make a large buy and hopefully save, money, time and logistic resources.

We did procure some additional things that I will update later in the week. I know that during our friendship through the years Yana and I have talked about the days when Ukraine was under the USSR and Russia's control. She was very young during that time but has always talked about those days will never happen again and they will fight if that time ever came, it did and we are here to support them. I respect their strength and support their fight. I also pray with all of you that this ends soon. Your love and support carries the torch for a Ukrainian victory. Until tomorrow.

For a FREE Ukraine!

Denzil
MONDAY MARCH 14TH 2022 UPDATE
Good Monday night….well Tuesday morning depending on where you might be.

Another rough day in this senseless war but some good news is that our friends Yana and Oles are still safe. I was able to connect with Yana this morning and for them yesterday was constant in and out of the bunker with air raid sirens regularly sounding. The Russians are expanding their indiscriminate bombing throughout the country as their troops on the ground continue to take significant losses. Freedom is more powerful than tyranny.

It was another good day for fundraising and lots going on. Today, we collected several more checks and some Venmo donations which totaled another $3K. That brings our grand, global total to $49K and some change…almost $50K. That just boggles my mind, of the generosity of the craft & creative community and friends. Pat yourself on the back, you all are amazing.

Now for some of the daily purchases and supplies this group has provided. First, I wish I could share the video but I did attach a few screenshots instead. You know how guys are anyway when they get a new tool, (kinda like you are when you get a new die or stamp lol) we get all excited. Well, imagine getting a new generator when you are in a war and the enemy is forcing intermittent power outages. That is exciting! The two attached screenshots are from the Ternopli police saying "thank you" to this group for delivering a new generator. This is our 3rd generator donation in total, the first 2 were to the Ukrainian Army.

We have also acquired another night vision scope in Poland as well as 100 additional pair of tactical gloves. The last 75 went quickly and they asked for more. Also 10 Tactical back-packs and some additional firearm cleaning supplies. Tomorrow the contact in Poland believes they have found a quality used truck to shuttle supplies from the boarder to the troops. We will keep you posted on that. We also had some communication with the people at Celox in the UK and are trying to get set-up with an account or at least a discount on a large purchase, we are ready to purchase $10-$12K of this important supply. We have a few hundred that we purchased in the US and are on the way but the global supply is really starting to squeeze tight.

We have more than a dozen new people who emailed me today and I signed them up for this nightly update and like always, if you don't want the update, just drop me a note and asked to be removed from the nightly update.

I apologize if you have sent me an email and I have not responded. I try to reply to all that I can. Every night I audit incoming and outgoing funds to maintain our fiduciary duty to the cause and our donors, then I try to notify people who have mailed me a check or a few cash donations, to let them know it has arrived, then I try to reply to about 20-50 emails a night, then I work on Oles' purchase list, then I write and send this email out. If you have any questions and you don't hear back in 24-48 hours, ask again, it probably got buried. lol

Thank you all for making this possible. We will help freedom win the day.

For a FREE Ukraine.

Denzil
TUESDAY MARCH 15TH 2022 UPDATE
Hello Friends,

OK, I know I tend to ramble at times so today I will try to be brief, I promise. lol Yes, I did Skype a little this morning with Yana and Oles and yes, they were in the bunker but were able to leave and all is safe with them. However, all over Ukraine the need for medical and tactical supplies continue.

You know Yana, Oles and now me a little. Oles and I are more behind the scenes guys. But I don't think I have emphasized the importance of our friends in Poland who are really critical to everything. None of this would work, none of it would be possible if we didn't have a couple of guys who are receiving shipments every day and taking them to the border. I don't have permission to share their names yet so I won't but if they say it is OK, I will do that. All the money we raised and all of the work we do is all for not without these heros. Please keep them in your thoughts and prayers as they keep us moving.

The big news of the day is we found a vehicle that runs well and is function over form. lol I mentioned a few days ago that the local Police and Freedom Fighters need a larger vehicle to shuttle not only the supplies that we are delivering but supplies from other groups too. Things get to the border and then need to make the journey into the war zone. It needs to be big enough to also haul food, medical and tactical supplies that need to be moved from the border to distribution locations and beyond. Attached is a picture of our purchase of the day for a little less than $2500 we got a well loved SUV that runs well and will get the job done even though it might not be so pretty.

We had another handful of checks that came in today and pushed us over the $50K total. You all are amazing. I'm going to sign off and get some rest.

For a FREE Ukraine!!

Denzil
WEDNESDAY MARCH 16TH 2022 UPDATE
Hello Everyone,

So my day started off terrific this morning as I actually got to do a video Skype with Yana and Oles. They had to spend the night in the bunker last night but are doing well and are EXTREMELY grateful for not only the financial generosity of the creative community but also the emotional support that we have given to her and the Ukrainian people. They both looked great but these are obviously very stressful times and knowing that someone has your back is so important.

We are one small group of people with a common passion who joined together to try and make a difference in this senseless war. I don't have a lot of new news on the fundraising, it was a slow day but gave us a break to breath and plan a little. We have a lot of supplies that are in transit and the troops on the ground feel pretty good about everything except for the continued need of medical supplies which is always our number one priority.

In war, as in life, you don't know what you don't know and you don't know what tomorrow brings, you must be nimble. They asked us to hold off on the tactical supplies because with the vehicle, gloves and recent supplies they are getting they feel good at the moment. They understand we are small compared to some huge organizations but we fill a void in their support because they can ask Oles for something and they have it quickly.

They can never match the number of bombs or tanks or planes as the Russians but they are going to win with better tactics, passion and a better supply chain. The Ukrainians are very much like the Americans in the Revolutionary war who were a rag-tag fighting force that defeated the biggest military in the world through superior tactics and by winning the war but only won a handful of battles. Many of the Russian troops don't even know why they are fighting and the Ukraininas are fighting for their survival.

Oles had a little time while in the bunker and is putting together a website that shows what we spent money on and will try to have more contact information and things like that. As soon as it is ready I will send out a link in the update.

Off to bed and finally a bit of an early night.

For a FREE Ukraine!
Denzil
THURSDAY MARCH 17TH 2022 UPDATE
Hello My Ukrainian loving friends!!!

I was able to connect with Yana and Oles again this morning and they are still safe and healthy. The second week of the war is exhausting for them with many nights now spent in their shelter but they are doing well, are strong and very grateful for your generosity, love and strong support.

If you have been following Yana for any amount of time, the very cute exterior and amazing paper crafting skills might fool you because she is a badass on the inside. 🙂 She is busy from the time she wakes up and often works until 1:00 am, she loves being creative, even now with everything going on, she still makes time to create, she says it is therapy and I totally get that. If you happen to watch the news and feel like banging your head against the wall, please take a little you time and make a card…fixing a hole in the wall is more expensive.

Yes, yesterday was a slower day but today made up for it. When I Got home, I had 12 checks in the mail and many other Venmo and Zelle donations so we are still kicking tail. I will give another complete wrap up this weekend when I have a little more time. However, I did want to let you know that today I was able to find another 100+ of the Hemostatic Gauze (totaling $5,500 in purchases) that the military and rescue workers have been asking for. That is a big get because they are in tight supply. All possible by this group and they will ship tomorrow to Poland. The truck that we purchased in Poland should be in action in this weekend which is also a big help to the guys and gals on the ground getting supplies where they need to go.

If you have seen the news lately, you might have heard that the Russian military on the ground are kinda getting their lunch handed to them by the Ukrainian fighters. They have not been able to advance and are stuck in positions around the large cities in the east. It does not come without a great cost as many military and civilian lives have been lost in eastern, central and southern Ukraine. Therefore, many of our supplies (Especially medical) are on trains and caravans heading east to the harder hit areas.

A few people have commented on they like the pictures so I have asked Oles to take a few photos of some of the supplies we provide with the police or military when he has an opportunity. I'll post those when I get them. Great idea.

The generosity of this group has been overwhelming like I have said before. But I get to see all of the kind notes first hand and then pass along to Yana in copy or photographs.

I'm going to leave you tonight with something Mary from Wisconsin sent me as a part of a note and a check.

May the small deeds of ordinary people help keep the darkness at bay…

We are doing that…together. The collective efforts and resources of this group and people around the world will keep the freedom loving people of the Ukraine FREE. Bless you all and thank you again.

For a FREE Ukraine.

Denzil
FRIDAY MARCH 18TH 2022 UPDATE
Hello Everyone,

As always I'm leading with the news that Yana, Oles and their families are fine and safe. The missiles that are hitting Lviv in Western Ukraine are closer to them but still some ways away. Yana also has had some beautiful and insightful posts about her life over the past few weeks of this terrible and unjustified war.

I know I have said how amazed and proud we are of this community many times but since I talked about the origin of how this started, our list has grown by 200%, so let me try to briefly recap. Yana, Oles and I all work for Spellbinders Paper Arts and although they are in the Ukraine, we speak on Skype almost daily, even if it is for 2 minutes. We have a great friendship and I love their passion for creativity and their entrepreneurial spirit. At the start of this war, we were all a little surprised. Yes, we saw the news of the Russians building up troops on the border but I thought it was to use as leverage against NATO to try and get something Putin wanted.

So when it started Yana, Oles, me and a few others all were buying stuff with our money and doing what we could to help the war fighters. I started a new checking account called Ukraine Donations and sent an email to some industry friends and family thinking I might get $1K and within 24 hours it was a lot more. Honestly, I didn't even think about how I was going to get the money. lol Several people asked me about Zelle and Venmo. I had used Zelle a couple of times to send money but never to receive money. I knew what Venmo was but had never used it and didn't have an account. Like many of you, I'm more old school, cash, check or credit card. lol

So, I set up those accounts questioning if it was even worth my time. Then Yana asks me if she could repost the letter I sent out, she did and it exploded. Our goal was to raise a few thousand dollars for some personal protective gear for fighters that didn't have any and for some medical supplies to help those who need it. The response was great. Unfortunately the needs in Ukraine are growing but thanks to all of you our support is also growing. Today, I get 10 to 50 new requests to donate everyday. With our initial thoughts of raising a few thousand dollars through the collective effort of Yana's passionate creative following, I know that we will cross $60K this weekend. All because of this group.

Like we mentioned before 100% goes directly to the supplies and shipping it to Poland from its origin. We take nothing for overhead, nothing for our time, this is a labor of love and helping those who need it. I get a lot of emails throughout the day but do not get to respond until I get home from work, so your patience is kindly appreciated. Everyone has been so warm and wonderful. This week we built up some funds to buy a larger quantity of medical supplies, which we have purchased a lot of but we also had a stronger than expected week of donations coming in so our cash on hand stayed about the same thanks to your generosity. World-wide donations total about $58K. I will audit this weekend and we have spent about $42K+ of that with more committed when inventory arrives. We thought donations would slow down and we anticipated being down to $5K or so by now but we had a strong week again and will be making lots of calls tomorrow to turn the available funds into needed supplies.

If you are a person of faith or if you are not, I love you all the same because your kindness and generosity has given our friends Yana and Oles purpose to help fight and defend freedom, which you have said is worth the investment of your hard earned money. Never take another day for granted, be it rain, snow or sunshine, freedom is never free. Until tomorrow.

For a FREE Ukraine!

Denzil
SATURDAY MARCH 19TH 2022 UPDATE
Hello My Creative Friends,

It never gets old to say Yana, Oles and their families are still safe and well.

So, today was once again very steady with continued donations and growing this email list. We had 13 new people inquire today along with over $2300 new donations on a Saturday. That brings our total to Just over $63K world wide and about 310 people on this list. Hats off to some passionate….yet pissed off crafters. 😉 Tomorrow I will send a more comprehensive list but in total we have over $50K worth of tactical support and medical supplies in the hands of, or in route to the Ukrainian heros who are strong, courageous and who are winning this fight.

If you are new to the email, one of our recent purchases was a used SUV from Poland that the territorial defence unit is using to shuttle supplies from the Polish border to internal distribution points and locations that need the supplies. Lots of aid is making it to the border, but lots of aid is needed. Getting it into Ukraine and to the civilians and warriors who need it is a logistical challenge and thus the need for the vehicle. In fact, they asked us for a second vehicle, which Oles has located and arranged for that purchase today.

Many organizations like the Red Cross do wonderful work and some are doing full-on airlifts of medical supplies and we are grateful for that. However, our small, nimble size has allowed Oles to work with the local guys and gals to fill-in the immediate needs that we can support them with in real time. That is why they love us, they ask, we deliver.

I do have one request before I let you go. If anyone has a contact at FedEx or UPS who can help us with streamlining the documentation needed for Polish customs would be helpful. We have reached out to both directly and received very limited help. As Europe runs out of medical supplies and we have to send more from the US, we want to make sure the paperwork is ready to go when it arrives in country.

Yana, Oles and the people who they are helping with your generosity are forever grateful and committed to a free Ukraine. Please know that all donations, big or small, have been spent with thoughtfulness and love for brothers and sisters across the planet that we have never met. Thank you and as always…

For a FREE Ukraine!
Denzil
SUNDAY MARCH 20TH 2022 UPDATE
Hello my beautiful and creative friends!

As always, I'm going to lead with Yana and Oles news. Yes, they are safe and healthy for which we are all very grateful. I chatted with Yana briefly and Oles a little more today. He said that they were able to get to the market today and although the food selection was not great, they did stock up on enough to last a while. We also talked a little about refugees from the east.

Yana and Oles are located a little more in the west of Ukraine but not as far west as Lviv, which you have probably seen on the news lately? Lviv is the newest and closest city to Poland to get bombed by the Russians in recent days. The slow advance by the Russian army because of fierce resistance has allowed parts of the interior of Ukraine to be more safe (for now) than the south or east. With that greater safety has come hundreds of thousands of refugees that is a huge humanitarian effort in and of itself. Poland has taken in more than 2M refugees, which is mind boggling.

To date we have taken in between $63K and $64K in donations for crafters and friends. For the new folks, that is total global donations and we have received donations in 4 different currencies so it is a challenge to get it to the penny. I can tell you that in the U.S. alone we have taken in $43,581.80 to be exact. We have purchased roughly $49K in non weapon supplies for the local police, first responders, the territorial defenders and the Ukrainian Army. It has been a mix between tactical, medical and search and recovery items…whatever they need. We anticipated donations to slow this week so our spend slowed down as we were also spending more time working on the logistics. However, our donations have continued to come in at a very rapid pace and at the end of this week, we have roughly $15K available to spend and we were expecting to be down to about $5K so great job to everyone who is contributing to make this possible.

In war, the objectives, needs and tactics change rapidly. With the influx of refugees, Oles is working with the local officials to see if there is any reprioritization of needs based on new realities on the ground. There are some amazing organizations that specialize in this kind of aid and response. We can not feed 1M people on $15K but we can help officials in countless ways. We fill a different void as more of a rapid reaction to fill those problems that pop-up and they need something quickly.

I read every email and handwritten note that you send even though I might not be able to respond to every one. Some notes make me smile, some make me fired up. The most common thing I hear is "I wish I could do more or send more." Let me tell you first hand that it all does truly add up. Your kindness has helped the fighters, helped the medics and will help a nation of brave people fight a brutal tyrant while most leaders in the world sadly watch and are paralized to act, you my friends have acted. That is what good people do. Thank you for your continued love, support, well wishes to our friends Yana and Oles as well as all of the financial donations that help strangers we will never know. Tonight heros fight in Ukraine and angels are reading this email. God bless you all and a nation that fights to be free.

For a FREE Ukraine!

Denzil
OUR VIDEO UPDATES