Hello friends! I can't believe how quickly time goes by, it's nearly Christmas! Just a few more days. As promised, I'm sharing another card I posted during my Simon's Instagram Takeover back in November, see previous project here.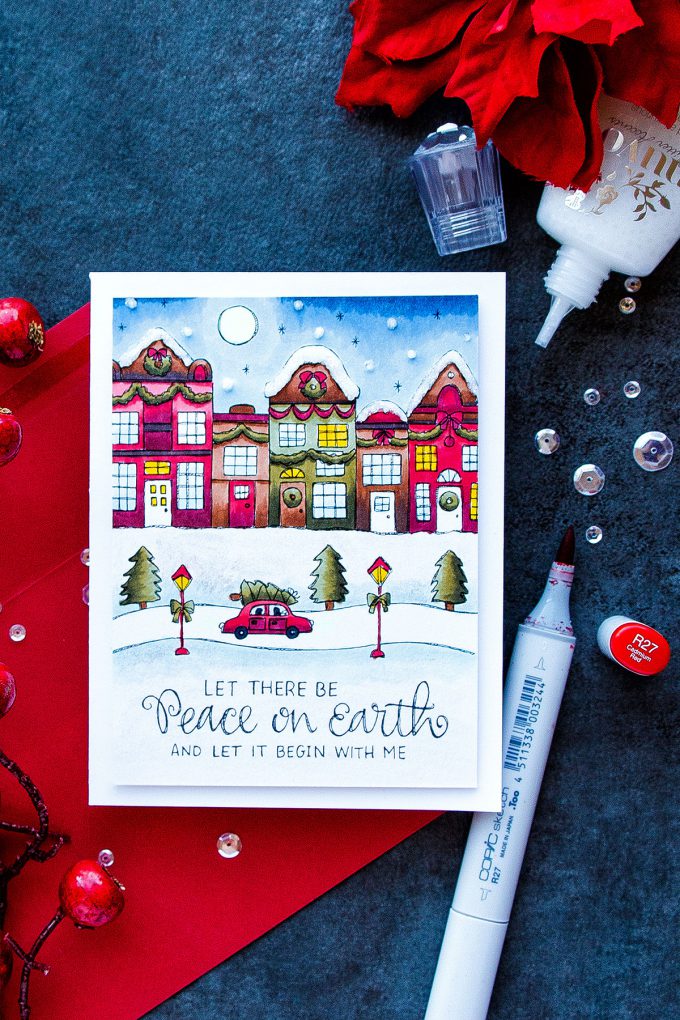 Like this project? Pin it and save for later | Curious about my project photography? Click for details. 
CARD DETAILS
I used my Copic markers to color this print (I'm listing all colors below in my supply list). Since I was doing my coloring on watercolor paper it took quite a bit of marker, so you have to be careful. You certainly can color with Copics or other alcohol markers on watercolor paper, but because of the way this paper is designed (it is made to absorb a lot of water) it will suck a lot of the marker and you'll end up using more marker than you would have used on regular or alcohol marker friendly paper. I personally love to color on watercolor paper with my Copics, but it's a matter of taste, I think.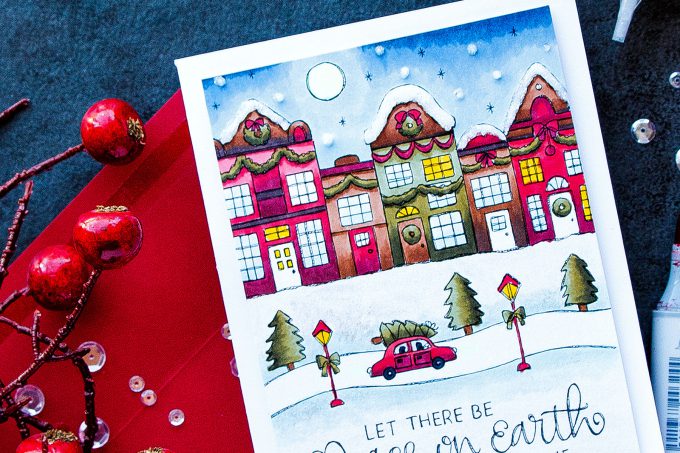 I colored houses using several colors and also colored sky dark blue to make it look as if this was night time. I also used a shimmer per fron Tonic to add a generous amount of shimmer to the snow and covered the rooftops of my house with glitter glue.
Here's a step by step collage – click to enlarge this photo.

SUPPLIES
I'm listing the products I used below. Click on the link to go directly to the product. Where available I use compensated affiliate links which means if you make a purchase I receive a small commission at no extra cost to you. Thank you so much for your support

Simon Says Stamp Suzy's Watercolor Prints
Shop at:
SSS

Neenah 110 Lb Solar White Cardstock
Shop at:
SSS

Scor-Pal Mini Scor-Buddy Scoring Board
Shop at:
SSS

Scor-Tape 1/8 Inch Crafting Tape
Shop at:
SSS

Copic Sketch Marker Y19 Napoli Yellow
Shop at:
SSS

Copic Sketch Marker R22 Light Prawn
Shop at:
SSS

Copic Sketch Marker R27 Cadmium Red
Shop at:
SSS

Copic Sketch Marker R29 Lipstick Red
Shop at:
SSS

Copic Sketch Marker R89 Dark Red
Shop at:
SSS

Copic Sketch Marker B000 Pale Porcelain Blue
Shop at:
SSS

Copic Sketch Marker B00 Frost Blue
Shop at:
SSS

Copic Sketch Marker B21 Baby Blue
Shop at:
SSS

Copic Sketch Marker B45 Smoky Blue Smokey
Shop at:
SSS

Copic Sketch Marker B99 Agate Dark Blue
Shop at:
SSS

Copic Sketch Marker YG93 Grayish Yellow
Shop at:
SSS

Copic Sketch Marker YG95 Pale Olive
Shop at:
SSS

Copic Sketch Marker YG99 Marine Green
Shop at:
SSS

Copic Sketch Marker E33 Sand Beige
Shop at:
SSS

Copic Sketch Marker E37 Sepia Brown
Shop at:
SSS

Copic Sketch Marker E79 Cashew Dark Brown
Shop at:
SSS

Tonic Fresh Snowfall Nuvo Glitter Accents
Shop at:
SSS

White Fun Foam 12 Pack 9 x 12
Shop at:
SSS

Tonic Aqua Shimmer Pen Nuvo 2 Pack 888n
Shop at:
SSS