Hello friends! A few days ago I posted a video where I shared my creative process and all the decisions (and indecisions) I make when I design a card. It was heartwarming to read all of your comments and feedback and I'm so happy you have found that video useful.
Today I'd like to share something different, but something that in a way continues the topic of cardmaking – I'd like to share my go-to cardmaking formula, I call it a perfect cardmaking formula (only in a way that it works perfectly for me when I make Clean & Simple cards). I'm also sharing a way to replace one of the elements I use in my formula with something that can be found in pretty much everybody's stash.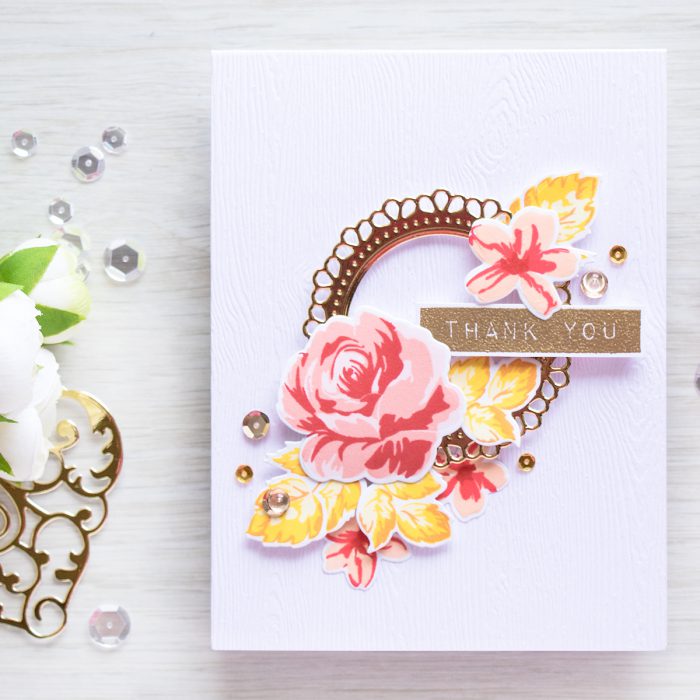 Like this project? Pin it and save for later!
VIDEO TUTORIAL
I'm sharing a video tutorial, watch it below or on Youtube:
THE FORMULA
So my formula is simple: white card base (usually using specialty cardstock like woodgrain, spicy yogurt or simple colored card) + gold frame or gold die cut (usually using Altenew's Antique Trims) + a large floral or a floral cluster + sentiment. Simple as that. I use this combo when I have a hard time coming up with a good design idea for a card and it has never let me down. See some ideas below (click the photo to go to that blog post):
One of the elements in this formula, gold die cut, can be created using dies and gold mirror cardstock (or silver if you are a silver kind o girl). I pulled out my Spellbinders' dies and experimented a bit to see what frames/dies cuts I could make for my cards. I only made 8 examples (I wanted to show them in my video and I didn't want the video to be very long, showing 7 on photos below as the 8th one is used on a card), but I look forward to making additional examples using dies from Spellbinders and other companies.
I chose Spellbinders to show as an example as they have very fancy and detailed dies and also because I have a lot of their designs (and I truly love their dies). See below the photos of the die cut + the names of the sets I used to create them. I also have all of these sets linked below.
Dies listed: Pierced Delight, Majestic Circles, Standard Circles, Royal Circles, Gold Rounds, Heart & Flutter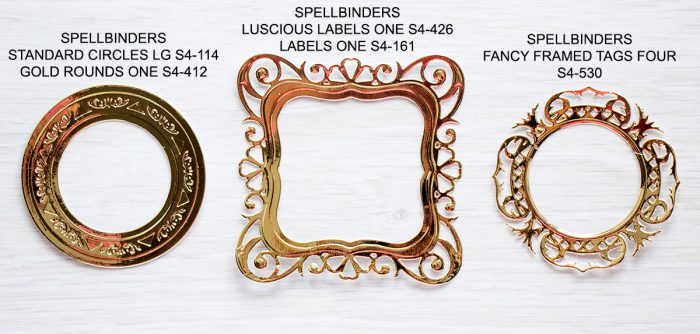 Dies listed: Luscious Labels One, Labels One, Fancy Framed Tags Four
CARD DETAILS
The frame I used for my card was created using a different set, Triple Tear. It is simple, yet elegant and I felt it was a perfect match for this project. To stick with my formula I went with white woodgrain cardstock from Simon Says Stamp (Altenew has identical card). For the flowers I used Altenew's Vintage Flowers and matching dies. I did use a completely new color combo for me and I went with Peach and Yellow colors.
I used my mini MISTI stamping tool to stamp these and if you watch my video you can see how easy and quickly I was able to stamp two sets of flowers and leaves. I don't use MISTI for all of my stamping, but it does work wonderfully for stamping color layering stamp sets and for stamping on textured paper such as watercolor paper.
For the sentiment I used one of my all time favorite sets, Labels Love, and heat embossed Thank You in gold embossing powder onto white cardstock cut it out and foam mounted over the frame. I couldn't resist adding several sequins and clear drops to finish this project.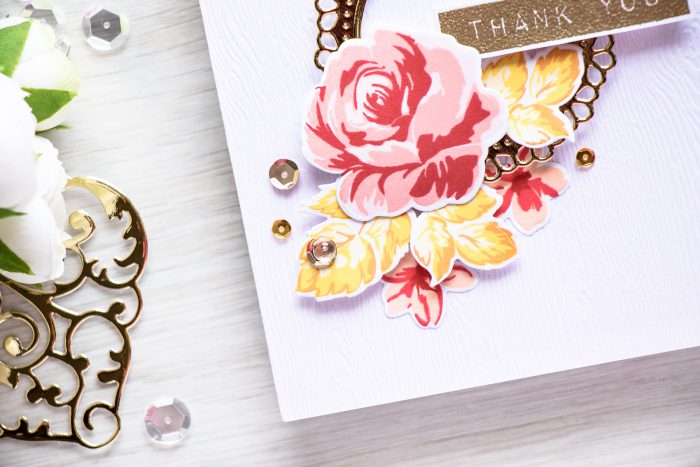 SUPPLIES
I'm listing the products I used below. Click on the link to go directly to the product. Where available I use compensated affiliate links which means if you make a purchase I receive a small commission at no extra cost to you. Thank you so much for your support!

Spellbinders Majestic Circles Dies
Shop at:
SSS | SPEL | AZ

Spellbinders Standard Circles LG Dies
Shop at:
SSS | SC | SPEL | AZ

Spellbinders Platinum Die Cutting Machine
Shop at:
SSS | SC | SPEL | AZ

Spellbinders Platinum 6 Die Cutting Machine
Shop at:
SSS | SC | SPEL | AZ

Spellbinders Fancy Framed Tags Four Dies
Shop at:
SC | SPEL | AZ

Spellbinders Labels One Dies
Shop at:
SSS | SC | SPEL | AZ

Spellbinders Triple Tear Dies
Shop at:
SSS | SC | SPEL | AZ

Spellbinder Hearts and Flutter Dies
Shop at:
SSS | SC | SPEL | AZ

Spellbinders Pierced Delight Dies
Shop at:
SSS | SC | SPEL | AZ

Spellbinders Royal Circle Dies
Shop at:
SSS | SPEL | AZ

Spellbinders Gold Rounds One Dies
Shop at:
SSS | SPEL | AZ

Spellbinders Luscious Labels One Dies
Shop at:
SC | SPEL | AZ

Pretty Pink Posh 4MM Clear Droplets (small)
Shop at:
SSS | RAH

Pretty Pink Posh 4MM Metallic Gold Sequins
Shop at:
SSS

Mini Misti Stamping Tool
Shop at:
SSS | SC | AZ

Altenew Label Love Stamp Set
Shop at:
SSS | AN

Altenew Vintage Flowers Stamp Set
Shop at:
SSS | AZ | AN

Altenew Vintage Flowers Die Set
Shop at:
SSS | AN

Altenew Vintage Flowers Clear Stamp and Die Bundle
Shop at:
SSS | AN

Altenew Peach Perfect Dye Ink Pad
Shop at:
SSS | AN

Altenew Summer Afternoon Oval Set Dye Ink Pads
Shop at:
SSS | AN

Altenew Red Sunset Dye Ink Pad Pack
Shop at:
SSS | AN

Altenew Gold Mirror Cardstock
Shop at:
AN

Altenew Woodgrain White Cardstock
Shop at:
AN

Simon Says Stamp Woodgrain Cardstock White
Shop at:
SSS

DoCrafts Gold & Silver A4 Mirror Board Pack
Shop at:
SSS | AZ

ScraPerfect Crafting Pouch
Shop at:
SSS | AZ

Hero Arts Gold Embossing Powder PW100
Shop at:
SSS | SC | HA | AZ

Versamark Watermark Emboss Ink Pad
Shop at:
SSS | HA | AZ

Ranger .5 Oz. Multi Medium Matte Adhesive
Shop at:
SSS | SC | AZ

Scrapbook Adhesives Thin White Foam Squares
Shop at:
SSS | AZ