Hello, friends! Today I have a Christmas card to share using the latest, November 2019 My Monthly Hero Kit from Hero Arts. Because of my extensive travels this year, family issues and my work I had to skip several of the previous releases of the Hero Arts kits, and they have had some really fabulous kits in the past month. I'm very excited to be able to join this release and share my take on the kit with you.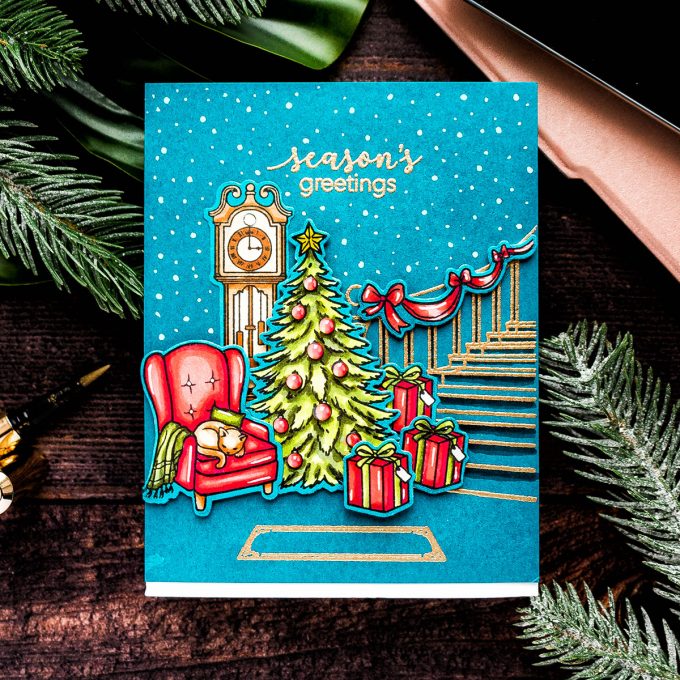 Like this project? Pin it and save for later | Curious about my project photography? Click for details. 
I have just one project to share, but it incorporates many of the techniques I've been using, loving and sharing in my recent videos and that is coloring with Copic markers, heat embossing on colored cardstock and using dark colors of cardstock to make a statement on the card.
VIDEO TUTORIAL
As always, I filmed a video tutorial showing how to create this project from start to finish. I'm hoping you'll enjoy it. Watch it below or on my Youtube channel.
Like this video? Please give it a big thumbs up (you can do this on Youtube video page right under the video) and share it with a crafty friend! Leave me a comment too, I love hearing from you!
CARD DETAILS
I pre-planned my card layout – I have some stamps from the kit pulled out and layered, I planned to use coordinating dies to cut many of the images out, color them and use them on a gorgeous dark teal background.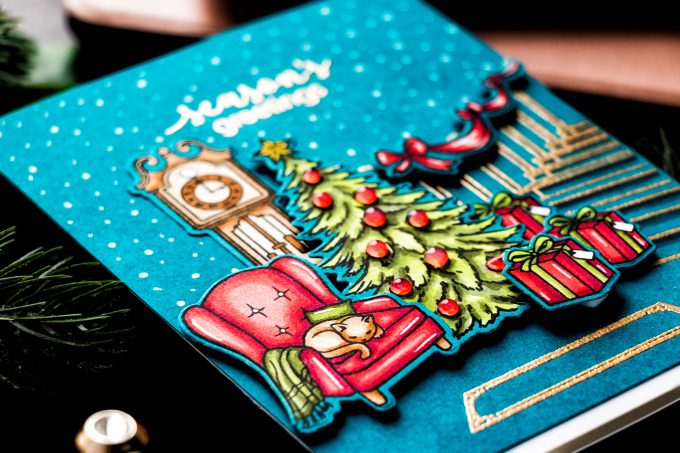 First, I picked the images I wanted to color. I stamped them in Intensified Black ink, colored using Copic markers and cut out with the help of coordinating dies. I used the following marker colors:
G99, G94, and YG03 to color the tree, pillow, blanket, and ribbons on the gifts.
R39, R27, R24, to color the ornaments, chair, gifts, and garland.
E39, E33, E31 to color the clock and cat.
C7 and C5 to add shading to the staircase
Next, I used Brass embossing powder and heat embossed the staircase, mat, and sentiment on Hero Arts Adriatic cardstock. To eliminate the white outline to my stamped and die cut images I used a BG09 marker and colored outlines teal. This is one of my favorite tricks when it comes to die-cut images that have been colored on white and need to go onto a colored background. It's not hard to find a Copic marker that matches the background color and simply color those white outlines to have them match the background.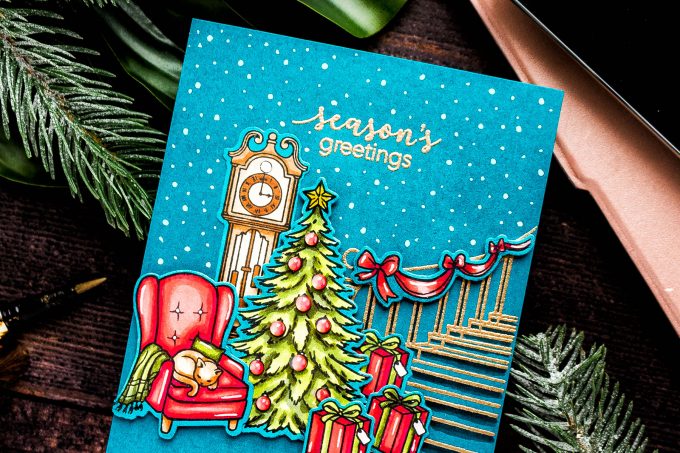 After foam mounting the elements in place to create a scene I used a white pen to add highlight and lacquer pen to coat the ornaments. I even used a white pen to add snow. I imagined that there's a big window behind the staircase, the clock, and the tree and so one would see the snow falling outside. I wish I had added some ink blending to this panel to darken the top portion and make very dark blue, but it was an afterthought and I didn't want to mess my card up, so I kept it as is.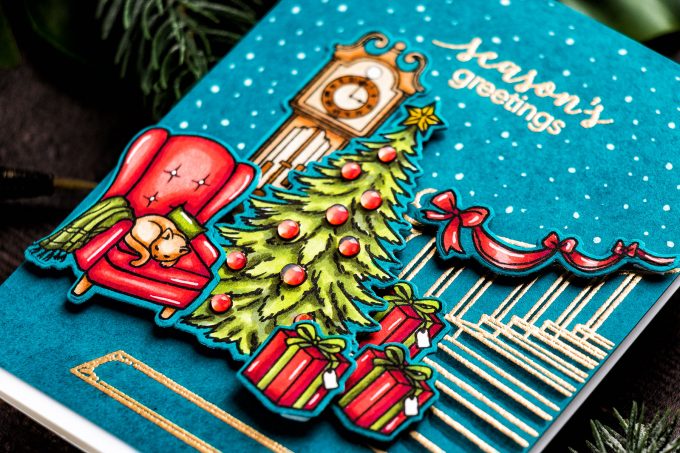 I had fabulous time designing and making this card and I'm going to keep it on a shelf, for now, I'm not ready to mail it yet. The November kit from Hero Arts is simply amazing for creating Christmas cards and I hope you'll check it out.
HERO ARTS MY MONTHLY HERO KIT & ADD-ONS

Hero Arts CG798 Feast Cling Background
Shop at:
HA

Hero Arts CM403 Christmas Gingerbread Cookies
Shop at:
HA

Hero Arts CM404 Mountain of Joy
Shop at:
HA

Hero Arts CM405 Snarky Christmas Messages
Shop at:
HA

Hero Arts CM406 May Your Home Be Filled with Joy
Shop at:
HA

Hero Arts DC271 Holiday Meal Stamp & Cut
Shop at:
HA

Hero Arts DC272 Decorative Poinsettia Frame Stamp & Cut
Shop at:
HA

Hero Arts DI705 Decorated Winter Branches Window Fancy Die (E)
Shop at:
HA

Hero Arts DI706 Paper Layering Present Gift Card Pop-Up (D)
Shop at:
HA

Hero Arts DI707 Tri-fold Edge Winter Pine Fancy Dies (F)
Shop at:
HA

Hero Arts DI708 Gift Card Holder Fancy Die (F)
Shop at:
HA

Hero Arts DI709 Staircase Fancy Die (C)
Shop at:
HA

Hero Arts DI710 Christmas Gingerbread Cookies Frame Cuts (C)
Shop at:
HA

Hero Arts DI711 Mountain of Joy Frame Cuts (C)
Shop at:
HA
The main kit is available for a limited time only – once it's gone, it's gone. You can subscribe to receive the kit monthly and never miss one! Add-ons may temporarily become unavailable, but they will be restocked.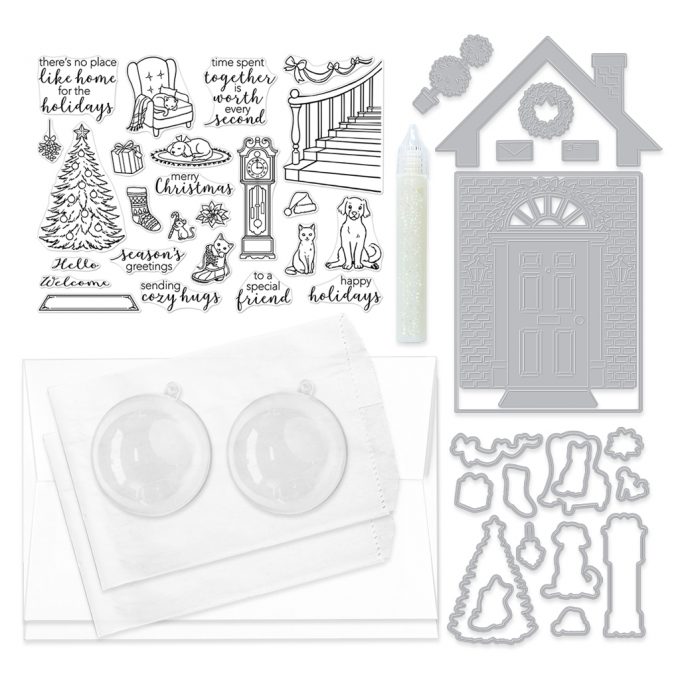 Get all the add-ons and save!

BLOG HOP
If you arrived from Seeka, I'm the last stop on this hop. You can also start over on the Hero Arts blog.
GIVEAWAY
Hero Arts is giving away one $50 gift card to one lucky commenter, picked randomly from comments left across the hop. Enter by Sunday, November 10th at 11:59 pm pacific, and the winner will be announced on the Hero Arts blog the following week.
SUPPLIES
I'm listing the products I used below. Click on the link to go directly to the product. Where available I use compensated affiliate links which means if you make a purchase I receive a small commission at no extra cost to you. Thank you so much for your support!

My Monthly Hero NOVEMBER 2019
Shop at:
HA

Hero Arts Hero Hues Cardstock Dove White
Shop at:
SSS | SC | HA

Hero Arts Hero Hues Premium Cardstock Adriatic
Shop at:
SSS | SC | HA | AZ

Hero Arts Clear Embossing & Watermark Ink
Shop at:
SSS | SC | HA | AZ

Mini Misti Stamping Tool
Shop at:
SSS | SC | HA | AZ

Hero Arts Heat Embossing Gun
Shop at:
SSS | SC | HA | AZ

EK Success Powder Tool Applicator
Shop at:
SSS | SC | AZ

Hero Arts Brass Embossing Powder
Shop at:
SSS | SC | HA | AZ

Hero Arts Crystal Clear Lacquer Pen
Shop at:
SSS | SC | HA

Sakura Classic White Gelly Roll Pens Set of 3
Shop at:
SSS | AZ

Copic Sketch Marker R22 Light Prawn
Shop at:
SSS | AZ

Copic Sketch Marker R24 Prawn
Shop at:
SSS | AZ

Copic Sketch Marker R27 Cadmium Red
Shop at:
SSS | AZ

Copic Sketch Marker R39 Garnet
Shop at:
SSS | AZ

Copic Sketch Marker YG03 Yellow Green
Shop at:
SSS | AZ

Copic Sketch Marker G94 Grayish Olive
Shop at:
SSS | AZ

Copic Sketch Marker G99 Olive Green
Shop at:
SSS

Copic Sketch Marker C5 Cool Gray Grey
Shop at:
SSS | AZ

Copic Sketch Marker C7 Cool Gray
Shop at:
SSS | AZ

Copic Sketch Marker E31 Brick Beige
Shop at:
SSS | AZ

Copic Sketch Marker E33 Sand
Shop at:
SSS | AZ

Copic Sketch Marker E37 Sepia
Shop at:
SSS | AZ

Copic Sketch Marker BG09 Blue Green
Shop at:
SSS | AZ

White Foam Squares
Shop at:
SSS | SC | SB | AZ

Scor-Tape 1/8 Inch Crafting Tape
Shop at:
SSS | AZ