Hello everyone and thanks so much for stopping by to help celebrate the launch of Hero Arts December My Monthly Hero Kit (more about the kit, blog hop and giveaway below). I have a lot of cards to share using the add-ons only, I didn't use the monthly kit for any of these cards.That being said – today's post is a super long one, so grab a cuppa!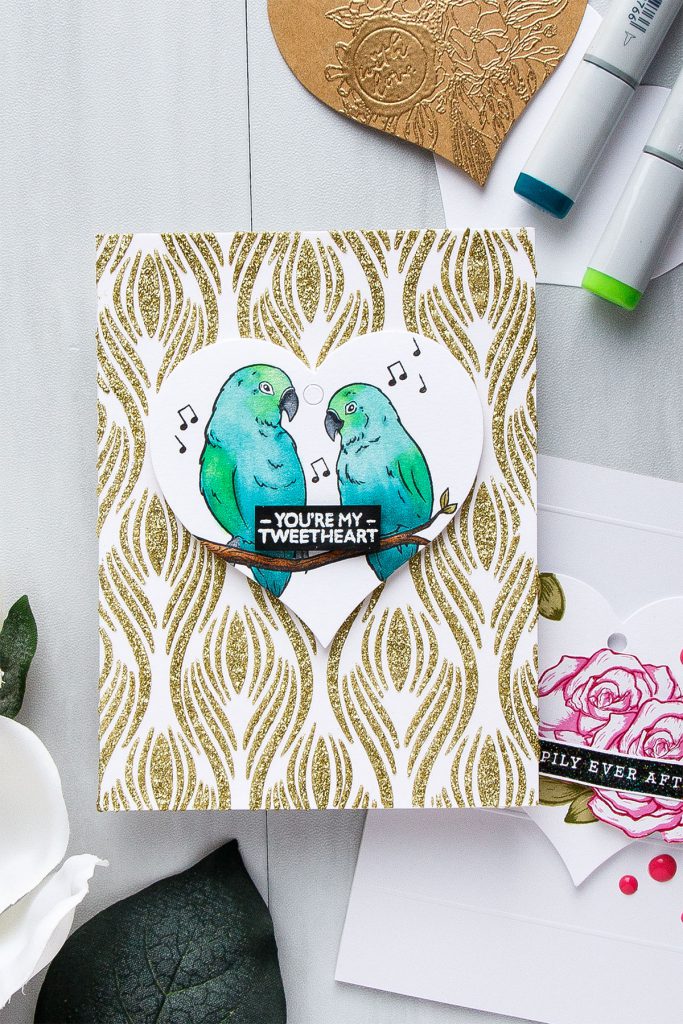 Like this project? Pin it and save for later | Curious about my project photography? Click for details. 
I mentioned this last time and I'll say it again – every month Hero Arts has very unpredictable and super fun products and designs in their kits. This month kit is all about Valentine's Day and there are many fun and quirky stamps and images that work well for any love themed cards. I got a bit distracted and made a card for nearly every add on stamp this month. Many of them are similar and use similar techniques, but all are easy and fun to make.
If you are visiting my blog for the first time or have not yet subscribed – be sure to do so! I share lots of handmade projects every week delivering them straight to your inbox! I also occasionally share information about crafty sales and new product releases I love. Subscribe here.
VIDEO TUTORIAL
As always, I filmed a video tutorial showing how to create this project from start to finish. I'm hoping you'll enjoy it. Watch it below or on my Youtube channel.
Like this video? Please give it a big thumbs up (you can do this on Youtube video page right under the video) and share with a crafty friend! Leave me a comment too, I love hearing from you!
CARDS DETAILS
My favorite product this month is not a stamp set, but a set of pre cut heart shaped tags. These tags are fantastic – they are great for those who might not have a die cutting machine or don't have a heart shaped die. The size of these is perfect to take center stage of an A2 card. There's 20 in a pack – 10 white and 20 kraft, so you get plenty of shapes to play with. I used these for every card I'm sharing today, I messed a few up as I was stamping and I still have lots left.
These shapes can be used in variety of ways – like a regular heart shaped die cut, or they can be adhered together to house a secret message for your card. This is exactly what I did for this You Always Have My Heart card with a raccoon you see below.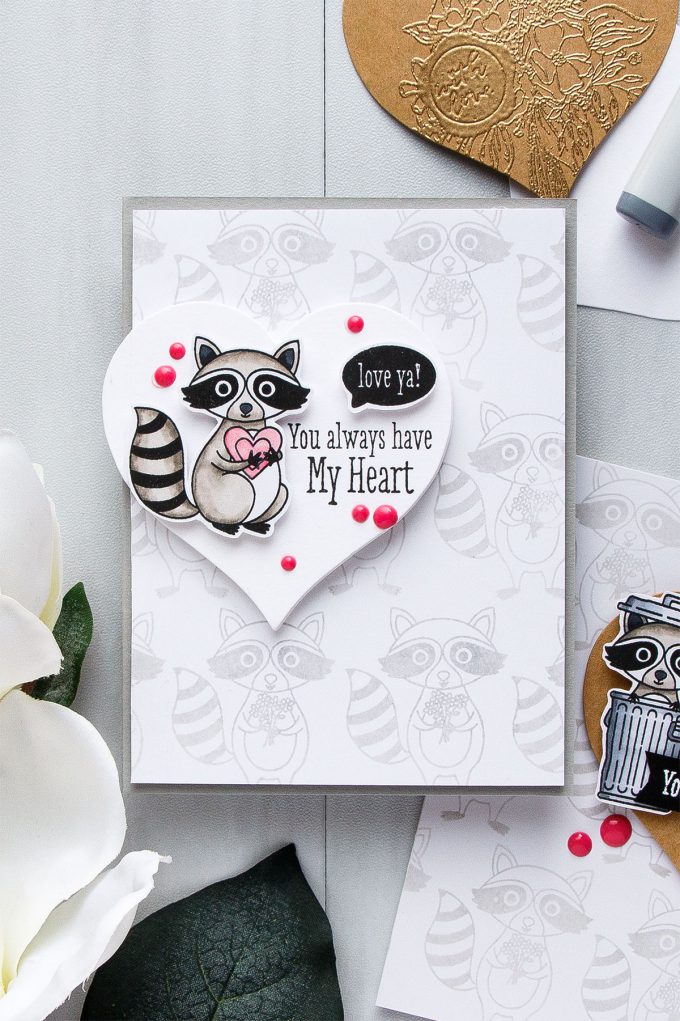 I started working on this card by creating a background – I stamped raccoon holding flowers in gray ink repeatedly onto a white cardstock panel cut to 4 x 5 1/4″. Next, I foam mounted panel onto an A2 card base made out of Fog cardstock.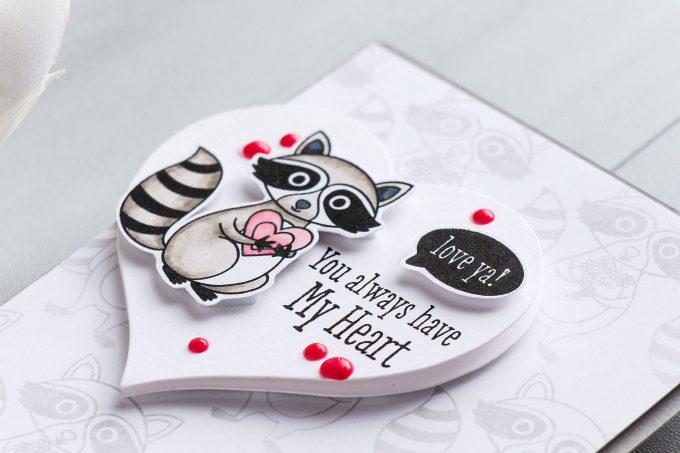 I stamped and cut out raccoon image, colored using Copic markers using C5, C3, C1 to color raccoon and Polychromos pencils to color the heart); stamped sentiment onto a heart-shaped tag, foam mounted racoon and sentiment bubble. Finally, I stamped secret sentiment on another tag, added a score line about 1/4″ from the edge on the left hand side, adhered top tag onto bottom one and foam mounted onto the card. I also embellished this card and many other cards I'm sharing today using Nuvo Drops.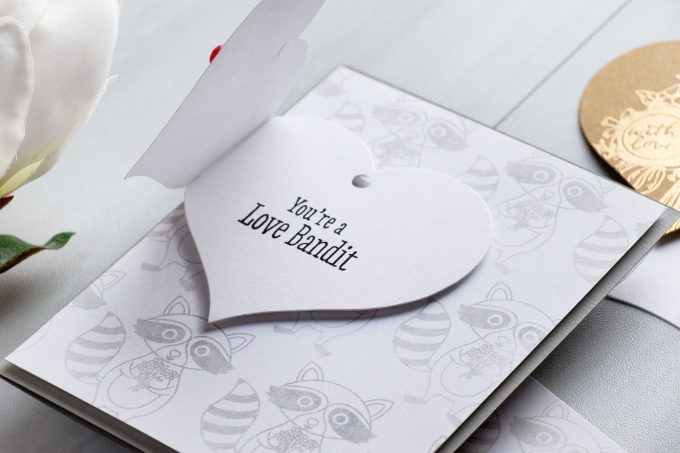 I made a few additional cards following this color scheme and idea (minus the secret message). Here's another card using You're a Bandit stamp set with the raccoon. I love this image of a the critter peeking from the dumpster. Very clever and different from other traditional images.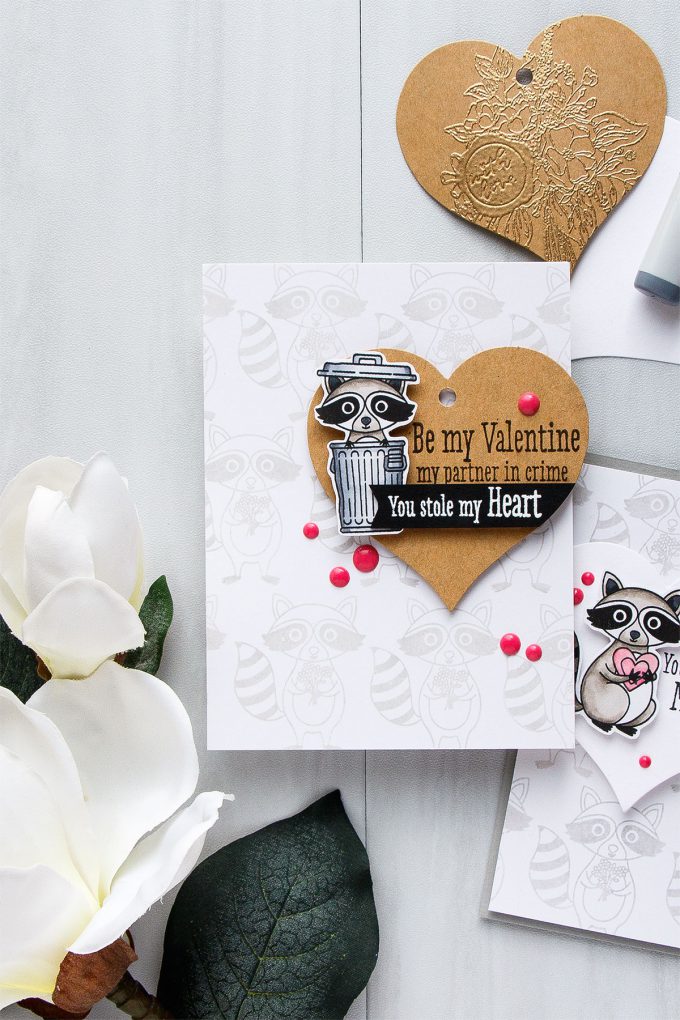 The You Stole My Heart sentiment was heat embossed in white on black, I foam mounted it onto the heart tag and next trimmed it to follow the shape of the tag and also added pink enamel dots made using Nuvo Drops.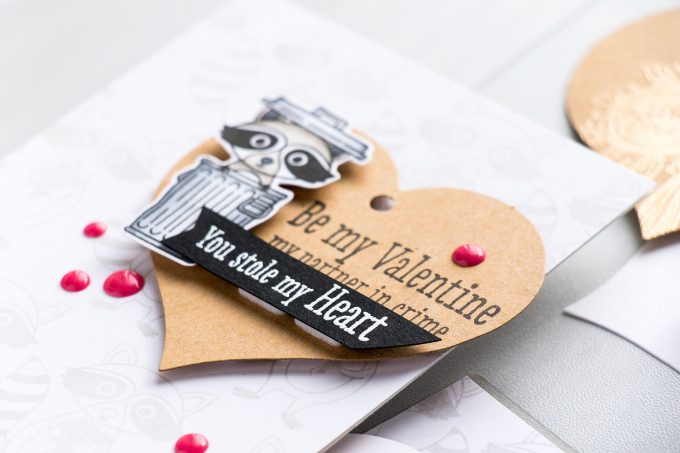 And here's another card – this one was done using Stealing My Heart stamp set – I used exact same approach to create the focal point and the background. The sentiment here was stamped in black and I heat embossed it in Sparkle embossing powder.
INLAID HEAT EMBOSSING
I also used these pre cut heart shapes for something I call inlaid heat embossing – I seamlessly combined two different images into one using embossing powder on these heart shapes. I really loved doing this and I find it to be a neat trick. The key here is to not overheat the embossing powder as it will "bleed" in a way and might obliterate the image especially if that image is very detailed.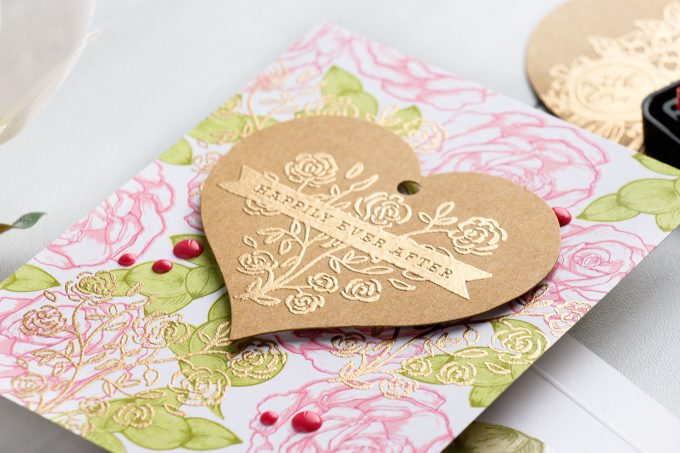 This technique best works if you have a negative sentiment – like this Happily Ever After, the text itself is made up of a negative space and it's the banner that makes the positive space around the negative sentiment. And you'll also need any other image that you can inlay this negative sentiment stamp into, I used Rose Heart. Watch my video tutorial above to see how I combined You're So Lovely and also Sealed With A Kiss.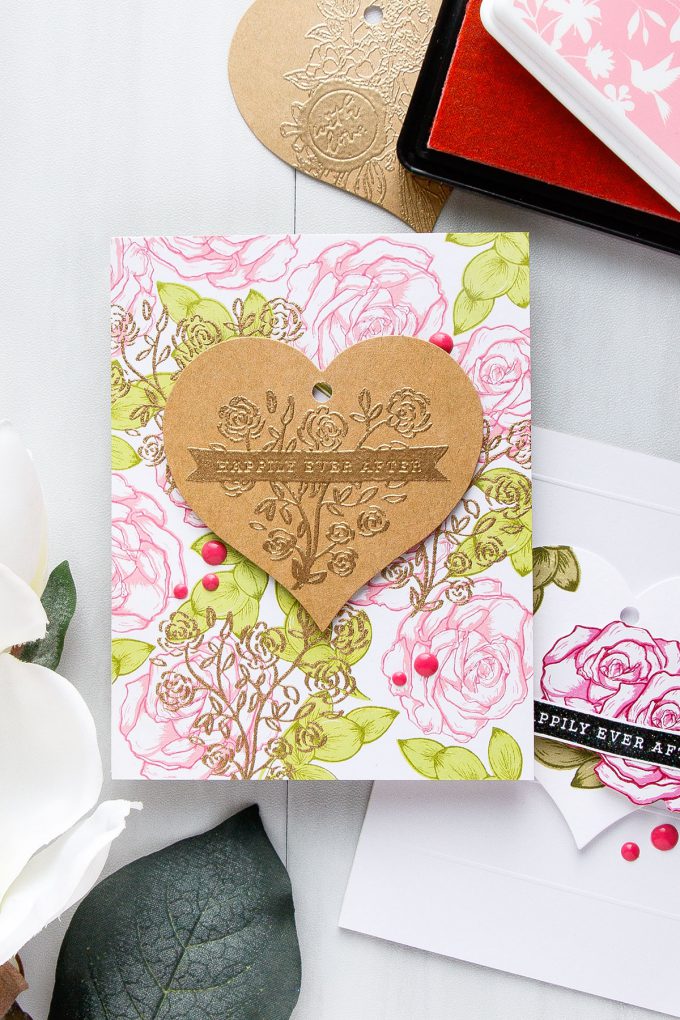 Start by heat embossing the sentiment. Once you heat set it let it cool for a few seconds and treat the paper with anti static powder again. Ink up the second image you want to use – and stamp it overlapping the sentiment. Add embossing powder once again and cover the entire image. The powder will sit on the sentiment banner so prior to heat setting the powder must be cleaned. You can do this by using a small dry paint brush – just carefully remove the powder from the area you don't want it on. Since there is sticky embossing ink – the brush will pick up some of that ink and the powder will start sticking to the brush, so you have to clean it from time to time.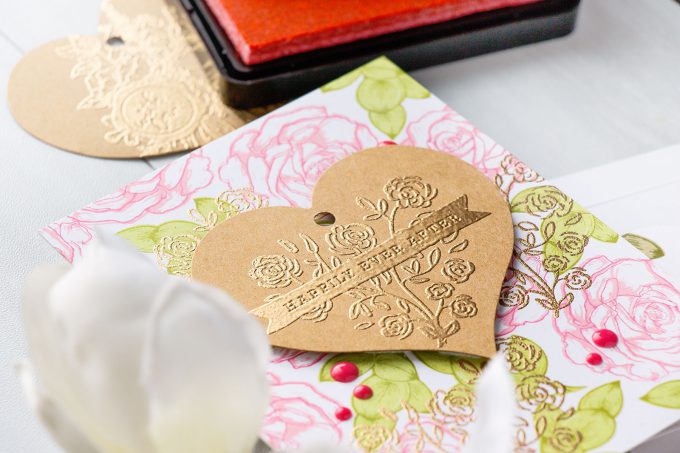 OTHER CARD IDEAS USING JANUARY ADD ONS
First up is this Happily Ever After using Color Layering Rose – I'll be sharing an additional separate video with this Color Layering Rose stamp set soon as a part of my Color Layering with Yana series, so stay tuned.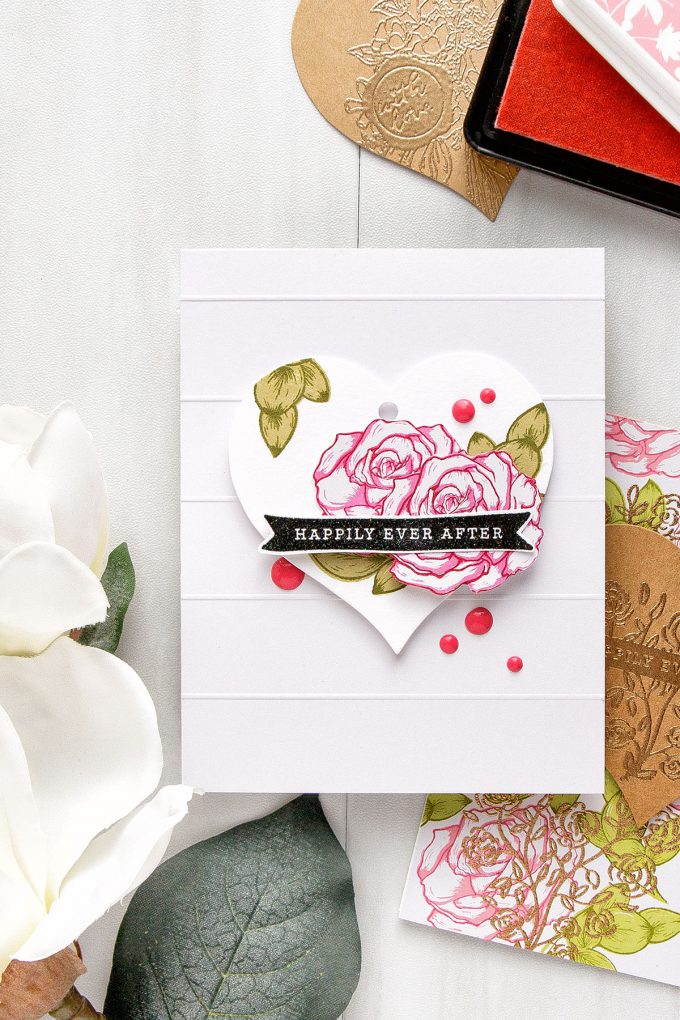 To create this card I skipped using the bottom most solid layer of the rose and just stamped detailed layers creating beautiful delicate roses. I cut them out with my scissors and arranged into a cluster on a heart tag – the leaves were stamped directly onto the tag. I also added a scored background panel to this card – I added score lines at 1″ interwars, if you'd like to know how to make these score lines be sure to watch my video here.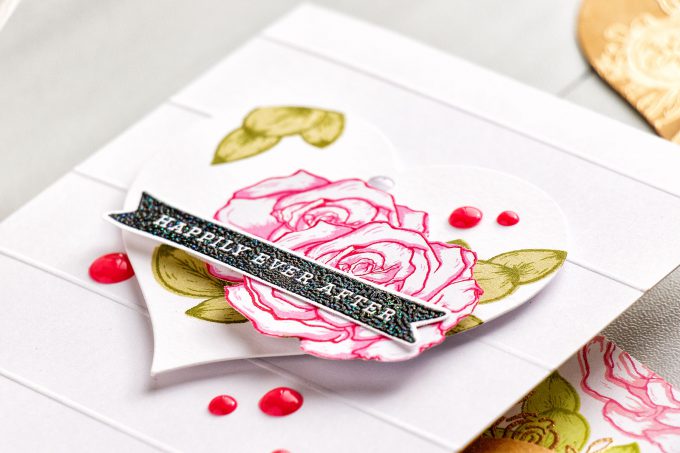 The Happily Ever After banner was stamped in black ink and heat embossed in Sparkle embossing powder so it has a bit of shimmer to it.
This next card was done using Bouquet stamp – I stamped it in black ink and heat embossed in clear embossing powder – I sometimes like to do this to help me stay within the lines when I color.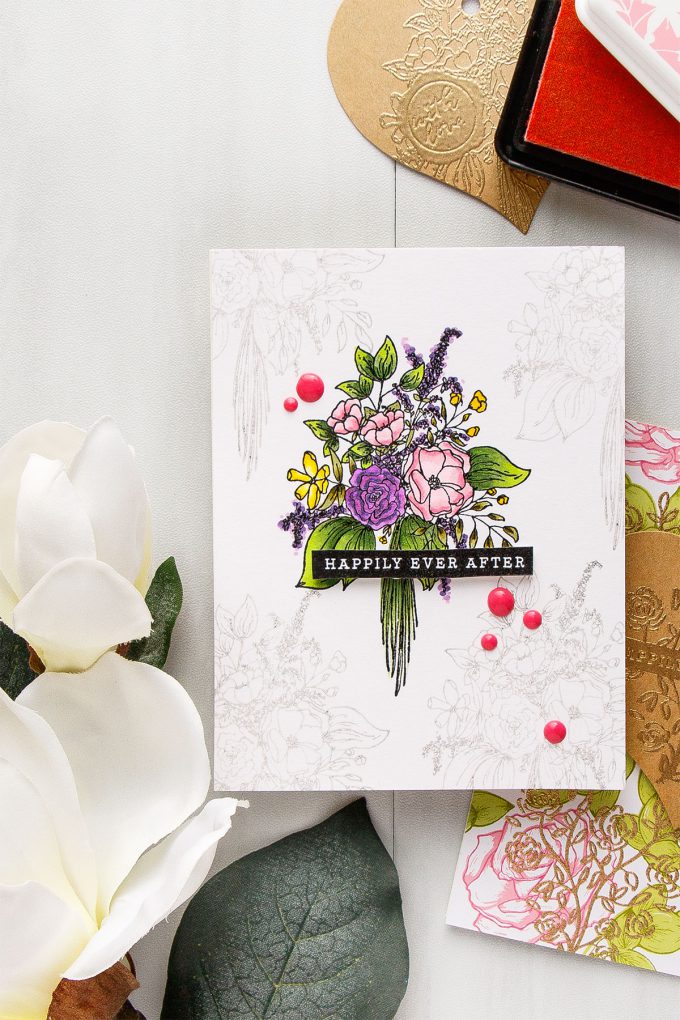 I colored it with Copic markers (Y19, Y15, Y11, RV13, RV11, RV10, BV08, BV04, BV02, V17, V15, V12, YG67, YG63, YG03, YG99, YG95, YG93), I also added gray stamped images around the main image and finally added Happily Ever After as my sentiment. Here I trimmed it into a strip rather than the banner – just wanted to change things up and show you how you can use solid negative stamps like this differently.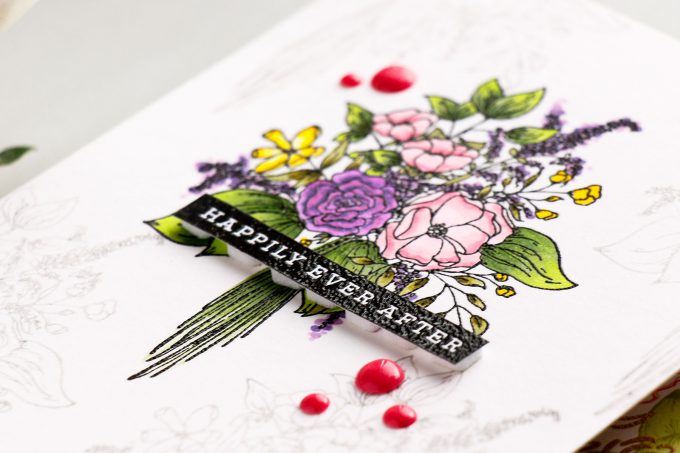 Here are step by step photos of the coloring. Click to view larger:
My last card for today card uses the Love Birds stamp and cut set – I stamped a little scene onto a heart tag and colored it using Copics (BG18, BG15, BG32, YG03, C5, C3), I coated everything with Tonic Aqua Shimmer pen to add shimmer to my images.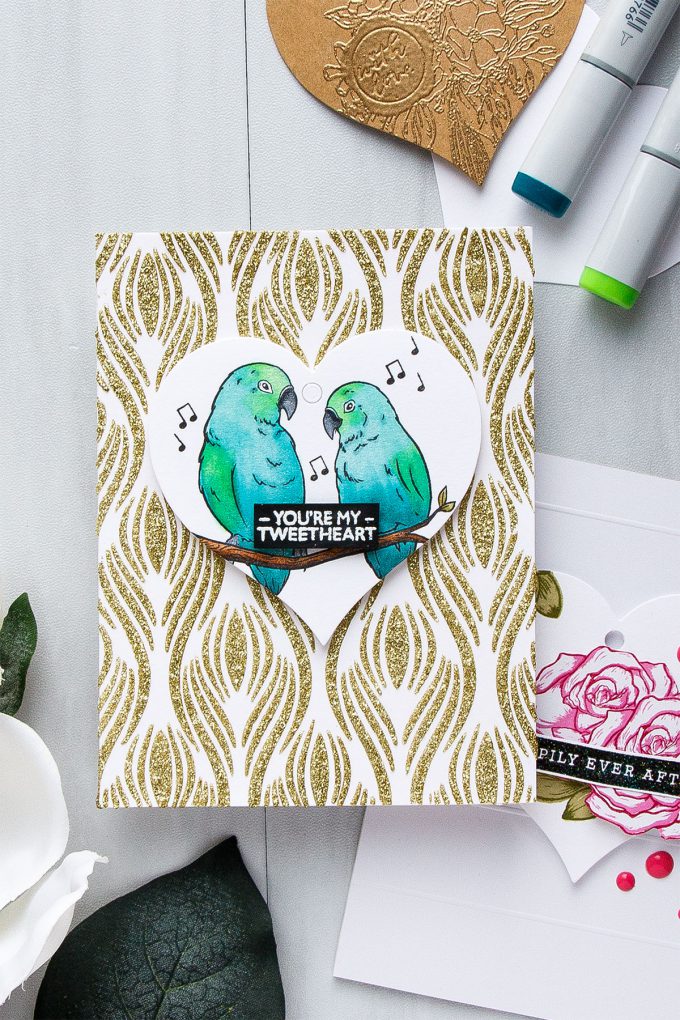 I foam mounted the tag onto a gold glitter background panel made using a stencil from Hero Arts and gold glitter paste from Tonic.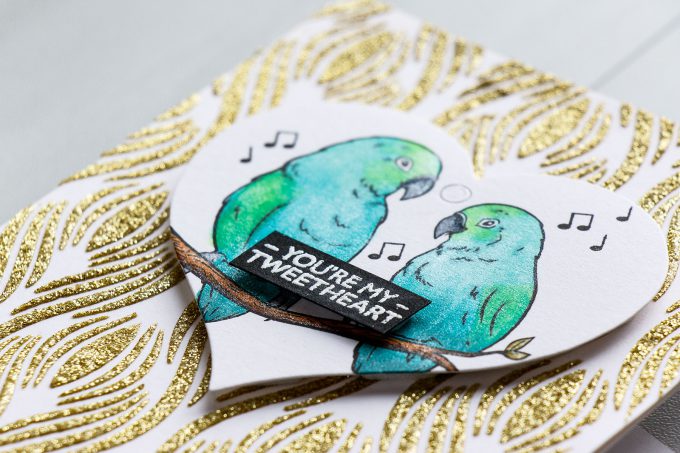 The kit is available for a limited time only – once it's gone, it's gone. If you love it – better grab it now!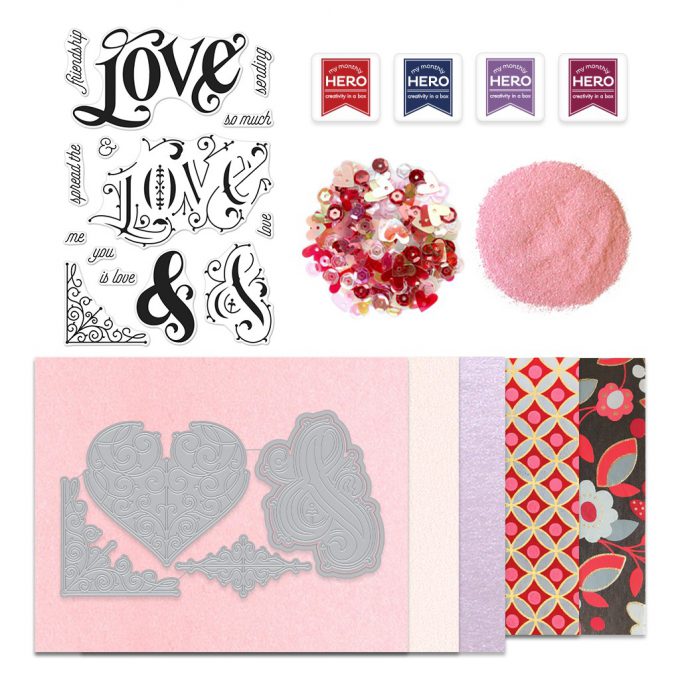 You can now subscribe to receive the kit monthly and never miss one!
KIT & KIT ADD-ONS
There are several optional add-on items:

Hero Arts My Monthly Hero Kit January 2018
Shop at:
HA

Hero Arts DIY Calendar Kit
Shop at:
HA

Hero Arts Stamp You are So Lovely
Shop at:
SSS | HA

Hero Arts Stamp Rose Heart
Shop at:
SSS | HA

Hero Arts Stamp Happily Ever After
Shop at:
SSS | HA

Hero Arts Stamp Bouquet
Shop at:
SSS | HA

Hero Arts Stamps Love Bandit
Shop at:
SSS | HA

Hero Arts Stamps Stealing My Heart
Shop at:
SSS | HA

Hero Arts Stamps Color Layering Rose
Shop at:
SSS | HA

Hero Arts Color Layering Rose Frame Cuts
Shop at:
SSS | HA

Hero Arts Love Birds Stamp Cut
Shop at:
SSS | HA

Hero Arts Love Bandit Frame Cuts
Shop at:
SSS | HA

Hero Arts Stealing My Heart Frame Cuts
Shop at:
SSS | HA
HOP ALONG WITH US!
The Hero Arts Blog
Jennifer McGuire
Yana Smakula – you are here
Jessica Frost-Ballas
Wanda Guess
Lydia Fiedler
Amy Tsuruta
Laurie Willison
May Park
Janette Kausen
Michelle Short
Libby Hickson
Ilina Crouse
Clare Prezzia
Emily Midgett
GIVEAWAY!
Hero Arts is giving away one kit as a prize to one blog reader – selected from the comments across all of the blogs in the hop so be sure to leave a comment for your chance to win! Giveaway closes Sunday, January 14th at 11:59pm, and the winner will be announced the following week.
SUPPLIES
I'm listing the products I used below. Click on the link to go directly to the product. Where available I use compensated affiliate links which means if you make a purchase I receive a small commission at no extra cost to you. Thank you so much for your support!

Hero Arts Stamp You are So Lovely
Shop at:
SSS | HA

Hero Arts Stamp Rose Heart
Shop at:
SSS | HA

Hero Arts Stamp Happily Ever After
Shop at:
SSS | HA

Hero Arts Stamp Bouquet
Shop at:
SSS | HA

Hero Arts Stamps Love Bandit
Shop at:
SSS | HA

Hero Arts Stamps Stealing My Heart
Shop at:
SSS | HA

Hero Arts Stamps Color Layering Rose
Shop at:
SSS | HA

Hero Arts Color Layering Rose Frame Cuts
Shop at:
SSS | HA

Hero Arts Love Birds Stamp Cut
Shop at:
SSS | HA

Hero Arts Love Bandit Frame Cuts
Shop at:
SSS | HA

Hero Arts Stealing My Heart Frame Cuts
Shop at:
SSS | HA

Hero Arts Heart Tags Ps770
Shop at:
SSS | HA

Hero Arts Stencil Abstract Waves
Shop at:
SSS | SC | HA | AZ

Hero Arts Sealed With a Kiss
Shop at:
SSS | SC | HA | AZ

Hero Arts Snow Layering Papers
Shop at:
SSS | SC | HA | AZ

Hero Arts Forever Green Ink Pad
Shop at:
SSS | HA | AZ

Hero Arts Field Greens Ink Pad
Shop at:
SSS | SC | HA | AZ

Hero Arts Crimson Hybrid Ink Pad
Shop at:
SSS | SC | HA | AZ

Hero Arts Ultra Pink Ink Pad
Shop at:
SSS | SC | HA | AZ

Hero Arts White Embossing Powder PW110
Shop at:
SSS | SC | HA | AZ

Hero Arts Brass Embossing Powder
Shop at:
SSS | SC | HA | AZ

Hero Arts Heat Embossing Gun PW200
Shop at:
SSS | SC | HA | AZ

Hero Arts Sparkle Embossing Powder PW105
Shop at:
SSS | SC | HA | AZ

Faber-Castell Polychromos Colored Pencils Individual
Shop at:
RC

Faber-Castell Polychromos Colored Pencils
Shop at:
SSS

Faber-Castell Polychromos Colored Pencils 12 Piece Set
Shop at:
SSS | RC

Spellbinders Platinum Die Cutting Machine
Shop at:
SSS | SC | SPEL | AZ

Tsukineko VersaFine Onyx Black Ink
Shop at:
SSS | AZ

Versamark Watermark Emboss Ink Pad
Shop at:
SSS | HA | AZ

Simon Says Stamp Black Cardstock
Shop at:
SSS

Scor-Pal Mini Scor-Buddy Scoring Board
Shop at:
SSS

Martha Stewart Mini Scoring Board
Shop at:
SSS | SC | AZ

Simon Says Stamp Fog Dye Ink Pad
Shop at:
SSS

Simon Says Stamp Fog Gray Cardstock
Shop at:
SSS

ScraPerfect Crafting Pouch
Shop at:
SSS | AZ

Tonic Golden Crystal Nuvo Glimmer Paste
Shop at:
SSS | SC | AZ

Tonic Carnation Pink Gloss Nuvo Crystal Drops
Shop at:
SSS | AZ

Scor-tape 2 1/2 Inch Crafting Tape
Shop at:
SSS

White Fun Foam 12 Pack 9 x 12
Shop at:
SSS | AZ

Scrapbook Adhesives White Foam Squares
Shop at:
SSS | SC | AZ

Tonic Aqua Shimmer Pen Nuvo 2 Pack 888n
Shop at:
SSS | SC