Hello crafters, welcome back to my blog! Today I'm playing with a new fabulous product from Hero Arts – the new layering stamps from the HeroScrape line.
If you aren't familiar with these stamps, there are 3 sets in the line, the Lavender Field which I'm using today, the Tulip Field, I have a video with that set coming soon, and the Sunflower Field. All are larger 6×8 clear stamps that have a beautiful layering to create a blooming field of either lavender, tulips or sunflowers.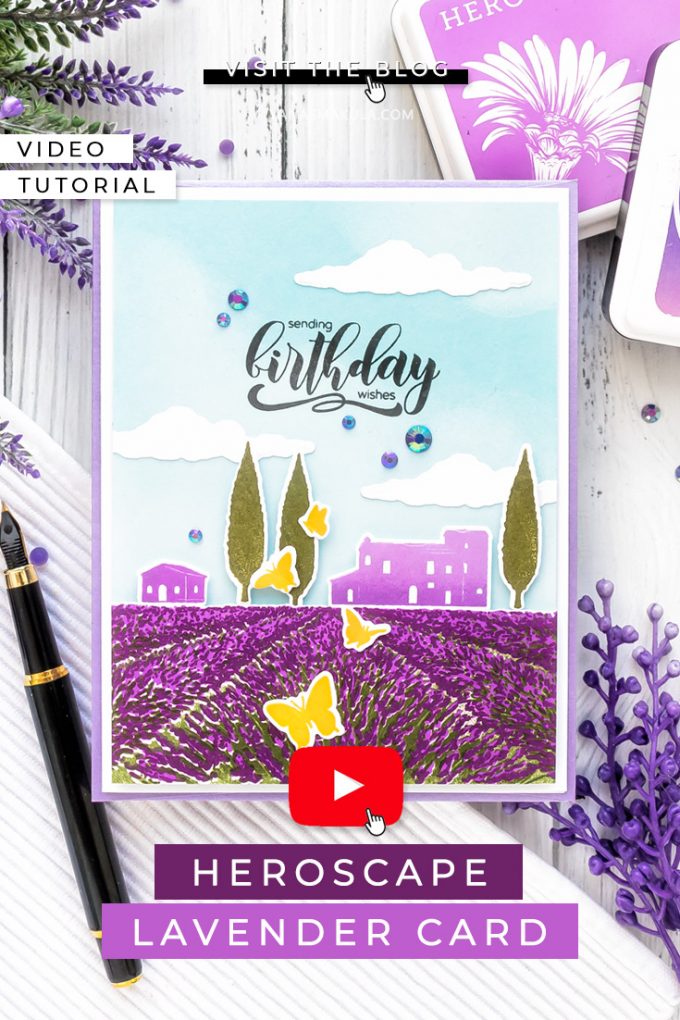 Like this project? Pin it and save for later | Curious about my project photography? Click for details. 
VIDEO TUTORIAL
As always, I filmed a video tutorial showing how to create this project from start to finish. I'm hoping you'll enjoy it. Watch it below or on my Youtube channel.
Like this video? Please give it a big thumbs up (you can do this on Youtube video page right under the video) and share it with a crafty friend! Leave me a comment too, I love hearing from you!
CARD DETAILS
I was blown away by these stamps and by how easy it was to use them to make absolutely stunning cards. If you like to create little scenes on your projects – these stamps are for you, and I suggest you get all 3 sets because then you'll be able to mix and match the little accents from the sets (little houses and trees, butterflies, fence, clouds – everything). There are also coordinating dies available for these that make cutting all of the little pieces a piece of cake and a very enjoyable process.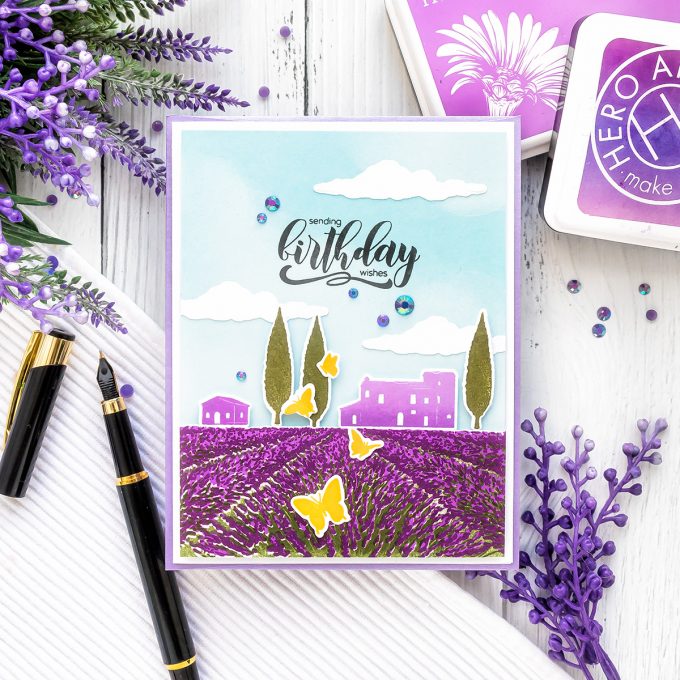 The stamping part is rather easy, although I did mess up my images the first time I stamped them so I'm hoping you'll find this video & blog post useful. I like to use a MISTI stamping tool with all of my layering stamps – this makes it easy to position and align everything and it's also very helpful for mass production and with these stamps, I'm sure you'll be tempted to stamp multiples. They are that addictive.
I like to place a panel of white cardstock cut to 4 1/4 x 5 1/2" into my MISTI and then start with the top layer, the base flower layer, and it needs to be stamped in a light color of ink. I like to place it and position it up against the corner of my MISTI. Since it's lavender I'm naturally using a pretty purple color and I'm going with Orchid by Hero Arts. The options for color combinations are of course endless here and you can use your favorite inks. I like to double stamp these to get a perfect impression.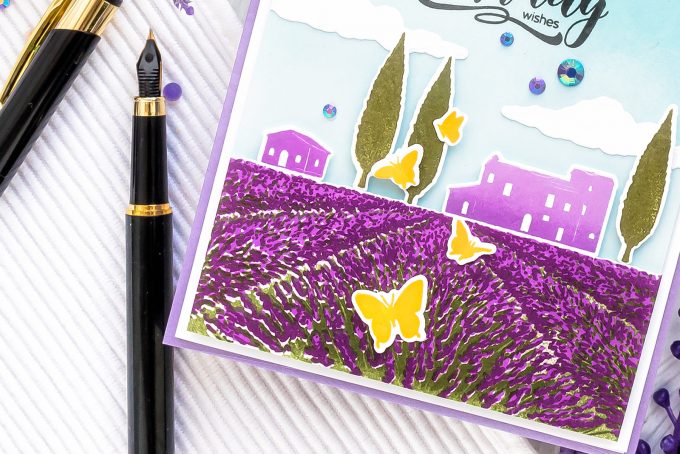 With the base flower layer stamped I stamped the flower detail layer, which is the 2nd stamp from the top. I've placed it and positioned it up against that corner. These stamps are a piece of cake to align and you don't really need to do much eyeballing, they fall into place nicely.
I used my ombre ink pad to ink the detail layer – utilized just the 2 darker colors here, the darkest one actually for the most part.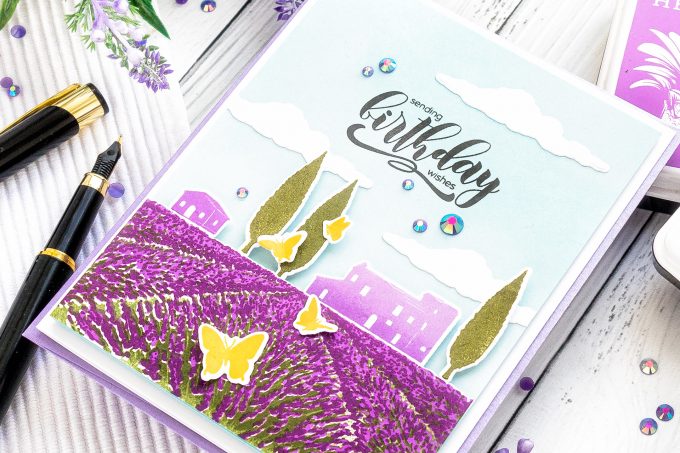 To stamp the grass portion I've placed the grass stamp onto my paper and again, I've positioned it up against the corner. I used Field Greens ink as my light green and Forever Green as the dark green.
This stamp set comes with a number of additional images to help build a scene. I stamped several so that I have enough to finish the 2 cards I'm making. I stamped several trees in Forever Green ink. A few houses in Wet Cement ink – I like that there are 2 houses here, a bigger and a smaller one. These images remind me of Italy and Greece. I've been to both of these countries in the Summer and I can just picture these lavender fields there as well as the pretty houses in the distance. So pretty! I also stamped several butterflies in Butter Bar ink – I love the combination of purple, green and yellow so using yellow here makes perfect sense and these butterflies will make wonderful accents for my cards.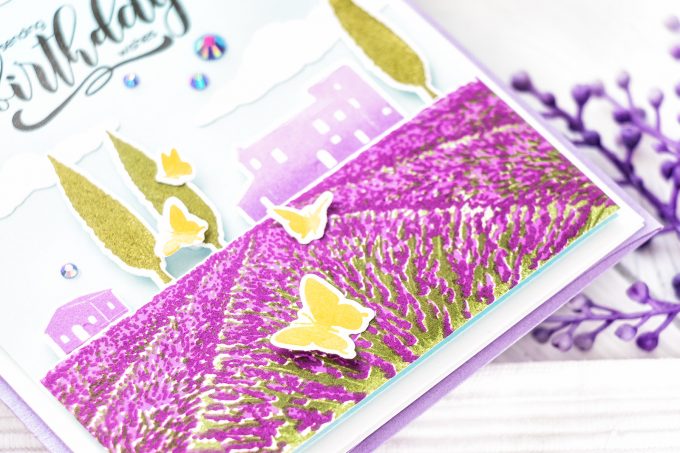 There are coordinating dies available for every image in this stamp set, including one for the field.
To create a sky for my scene I used a piece of light blue cardstock, Paradise from Hero Arts (for cards featured on video), I also used Mist for the card I share here. To soften the color of the paper I blended white pigment ink over it mimicking the clouds.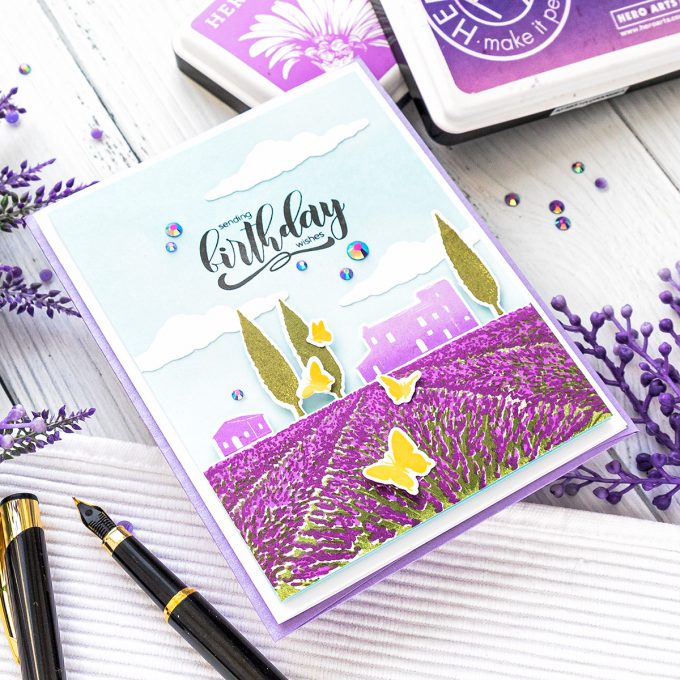 Next, I stamped the sentiments. For my main card, I used a sentiment from the Happy Birthday stamp set by the Stamping Village. For the 2 cards that I shared on video, I used the sentiments that come with this stamp set. I stamped one that reads "For Someone Special" on one of the panels and "You Grow More Beautiful Every Year" on another panel.
I used a lot of foam adhesive to foam mount the pieces in place to build my scenes. You can build any type of scenes you want by using these images, you can also use other images from your stash to complete these. Finally, I added the clouds. I didn't stamp any clouds here, instead, I used the coordinating die to die cut the clouds out from white cardstock. I really like how pretty they look against that blue background.
Lastly, I added the yellow butterflies – I have them flying in my lavender field and I also later added some purple jewels to complete these cards.
BLOG HOP

Hero Arts Blog
Jessica Frost-Ballas
Channin Pelletier
Debi Adams
Michelle Short
Caly Person
Emily Midgett
Janette Kausen
Ilina Crouse
Yana Smakula – you are here!
Daniel West
Lydia Fiedler
Wanda Guess
Seeka
Laurie Willison
Amy Kolling
Erica A-B
Nichol Spohr
Jennifer McGuire
Libby Hickson
GIVEAWAY
Hero Arts is giving away 3 $50 shopping sprees to people who comment along the hop. Comment on as many blogs as you'd like – more comments means more chances to win! Comment by Wednesday, Feb 19 at 11:59 pm pst, we'll announce the winner on the Hero Arts blog.
MORE COLOR LAYERING!
Do you enjoy Color Layering? Check out my Color Layering playlist on Youtube featuring various tips & tricks for using your Color Layering Stamps!
SUPPLIES
I'm listing the products I used below. Click on the link to go directly to the product. Where available I use compensated affiliate links which means if you make a purchase I receive a small commission at no extra cost to you. Thank you so much for your support!

Hero Arts Clear Stamps Lavender Field Heroscape
Shop at:
SSS | SC | HA

Hero Arts Frame Cuts Dies Lavender Field Heroscape
Shop at:
SSS | HA

Hero Arts Lavender Field Color Layering Heroscape
Shop at:
SSS | SC | HA

Hero Arts Clear Stamps Sunflower Fields Heroscapes
Shop at:
SSS | SC | HA

Hero Arts Frame Cuts Dies Sunflower Field Heroscape
Shop at:
SSS | HA

Hero Arts Sunflower Field Color Layering Heroscape
Shop at:
SSS | SC | HA

Hero Arts Clear Stamps Tulip Field Heroscape
Shop at:
SSS | SC | HA

Hero Arts Frame Cuts Dies Tulip Field Heroscape
Shop at:
SSS | HA

Hero Arts Tulip Field Color Layering Heroscape
Shop at:
SSS | SC | HA

Happy Birthday Clear Stamps by the Stamping Village
Shop at:
SSS | SC | HA

Hero Hues Premium Cardstock Paradise
Shop at:
SSS | SC | HA | AZ

Hero Hues Premium Cardstock Mist
Shop at:
SSS | SC | HA | AZ

Hero Arts Hero Hues Cardstock Dove White
Shop at:
SSS | SC | HA

Spellbinders Deep Sea Die Cutting Machine
Shop at:
SSS | SC | SB | AZ

Mini Misti Stamping Tool
Shop at:
SSS | SC | HA | AZ

Tsukineko VersaFine Onyx Black Ink
Shop at:
SSS | SC | AZ

Hero Arts Butter Bar Ink Pad
Shop at:
SSS | SC | HA | AZ

Hero Arts Hybrid Ink Pad Orchid
Shop at:
SSS | SC | HA | AZ

Hero Arts Light to Dark Purple Ombre
Shop at:
SSS | SC | HA | AZ

Hero Arts Field Greens Ink Pad
Shop at:
SSS | SC | HA | AZ

Hero Arts Forever Green Ink Pad
Shop at:
SSS | HA | AZ

Hero Arts Wet Cement Ink Pad
Shop at:
SSS | HA | AZ

Hero Arts Unicorn White Pigment Ink Pad
Shop at:
SSS | HA | AZ

Hero Arts Heat Embossing Gun
Shop at:
SSS | SC | HA | AZ

Ranger Mini Round Ink Blending Tools
Shop at:
SSS | SC | AZ

Spellbinders Circle Replacement Foam
Shop at:
SSS | SC | SB | AZ

Pretty Pink Posh Amethyst Jewels
Shop at:
SSS | PPP

White Fun Foam 12 Pack 9 x 12
Shop at:
SSS | AZ

Crystal Ninja Crystal Katana Pick Up Tool
Shop at:
SSS | PPP | AZ

Simon Says Stamp Craft Tacky Glue
Shop at:
SSS

White Foam Squares
Shop at:
SSS | SC | SB | AZ