This year I have been enjoying coloring using various coloring mediums more than ever and I've made lots of discoveries for myself and learned many new and interesting things in terms of coloring so I decided to put together this Coloring Mediums Gift guide for Cardmakers!
Please keep in mind that I am not an expert at coloring, I color because I love the process of coloring. It relaxes me and it I find it calming.
Lately I've been coloring a lot using colored pencils. See pencil colored examples on my blog below (click image to go to that post), many of these have video tutorials:
I bought a set of Prismacolor pencils last year as a gift for myself for Christmas and also received a set of Polychromos pencils as a gift. I haven't really used either much until I tried coloring with them on dark surfaces – mostly black and gray papers and this is where I found the true value of these pencils. I personally love Polychromos pencils by Faber Castell better, but I also like to use my Prismacolors, just not as much.
VIDEO
I filmed a quick video talking about coloring mediums in detail. Watch it below or on my Youtube channel.
Like this video? Please give it a big thumbs up (you can do this on Youtube video page right under the video) and share with a crafty friend! Leave me a comment too, I love hearing from you!
COLORED PENCILS
Polychromos pencils have break resistant tips and I haven't had a single tip break yet. I can sharpen them without the fear of the tip breaking and therefore these pencils last longer. I have a smaller 36 set of Polychromos and I think this is what helped me start using them – as less is more. I didn't have to think too hard about the colors I wanted to use and just started coloring.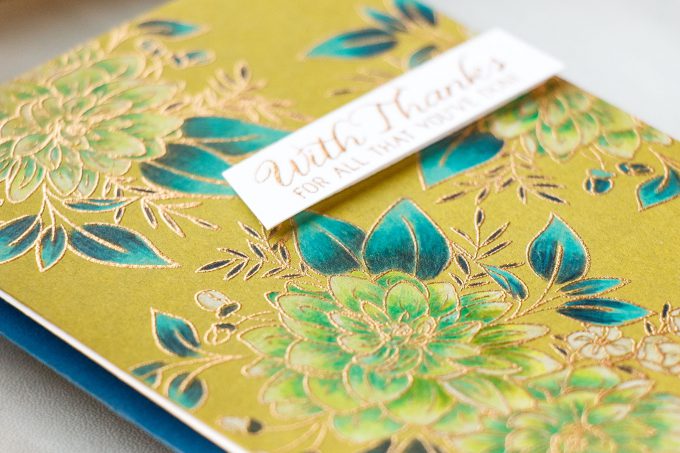 I mostly love to use these on dark papers as they give very vivid and striking results, they do not smudge and I find them easy to blend. I do not use any blending solutions when I color. I am still learning how to use these pencils, but with each new project I make and each new video I film I discover something new and fall in love with these even more. These pencils aren't cheap, but they do last a long time and are sold individually so you can buy additional colors when needed. I'm looking to get a few new colors to add to my collection.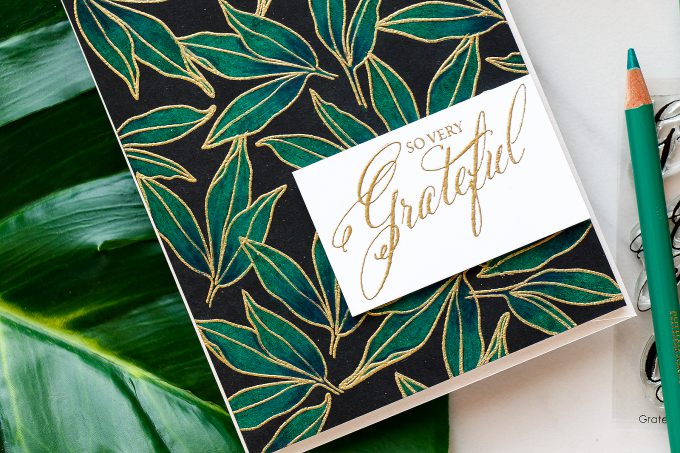 I also use prismacolors, I don't like using them quite as much as they do smudge and flake off and are hard to remove if you accidentally color over the area you didn't need to but they are great pencils and are more affordable compared to Polychromos. I have a set of 150 pencils and if you are looking to get these or any other kind I'd say start with a smaller set as too much choice can be paralyzing at times.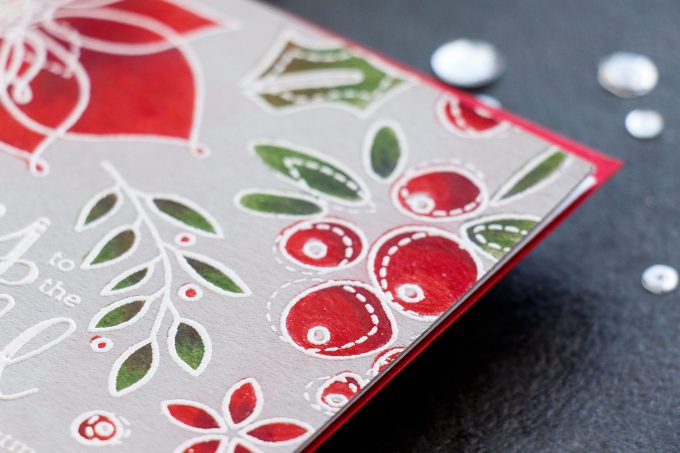 Polychromos colored pencils are oil-based. Prismacolors are wax-based, and sometimes a Prismacolor Drawing will develop a thin, waxy film on the surface called wax bloom.
WATERCOLORS
I've also enjoyed coloring with watercolors, especially Daniel Smith watercolors. I was first introduced to these about 2 years ago, I tried their dot chart and fell in love with the quality and the colors.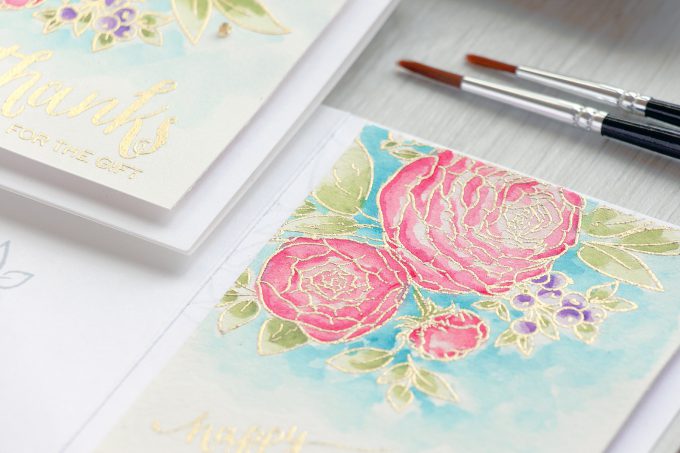 I have another video on my channel talking about my top 10 and top 20 favorite watercolor colors from DAniel Smith. These watercolors are sold in individual tubes so you can easily collect the colors you like, you don't have to stick to a predefined palette. How do you know what colors you do like? Luckily, Daniel Smith has fantastic dot charts that are very inexpensive – I have my own chart with my top 18 colors that is available exclusively at Simon Says Stamp. Simon also has other charts like this and there's one big chart that lists all or nearly all of Daniel Smith colors. If you enjoy watercoloring and you'd like to get some professional quality supplies for your coloring – I can't recommend these enough.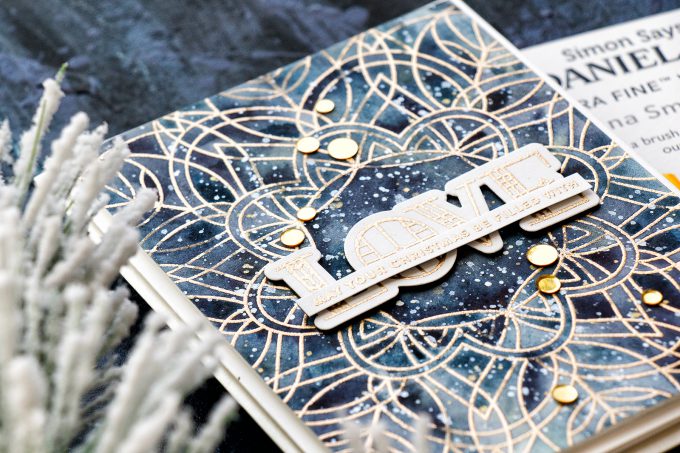 If you like to use watercolor in a more controlled way you can also take a look at the Derwent Inktense watercolor pencils. These are a bit different from the traditional watercolors as these become permanent when they dry. In other words once you've added water to your color pencil colored image you won't be able to move or lift the color. With traditional watercolors you have the ability to completely or partially lift up the color if needed, you can't do that with the inktense pencils. This can be seen as a plus or a minus depending on the situation.
When I color little images I find this quality to be a plus since I dont have to worry about my colors bleeding and mixing. Or I can go over my coloring with a glitter pen such as Wink Of Stella and the color will be sure to stay put.
ALCOHOL MARKERS – COPICS
Finally, I enjoy coloring with Copics, these are alcohol markers and they are the most expensive of all. I have a very small collection and over the years I've picked up just certain colors I felt I'd use the most. I haven't been coloring with these much, but I do find them to be a great coloring medium to have.
I have a post listing my go-to color combos for these markers. I find it helpful to identify these combos and stick to them. I do explore new colors and combos from time to time, but it's helpful to know which combos work and which I like the most.
SUPPLIES
I'm listing the products I mention below. Click on the link to go directly to the product. Where available I use compensated affiliate links which means if you make a purchase I receive a small commission at no extra cost to you. Thank you so much for your support!

Faber-Castell Polychromos Colored Pencils Individual
Shop at:
BL

Faber-Castell Polychromos Colored Pencils 12 Piece Set
Shop at:
SSS | BL

Faber-Castell Polychromos Colored Pencils 24 Piece Set
Shop at:
BL

Faber-Castell Polychromos Colored Pencils 36 Piece Set
Shop at:
BL

Faber-Castell Polychromos 36 Pencil Studio Set
Shop at:
AZ | BL

Faber-Castell Polychromos Colored Pencils 60 Piece Set
Shop at:
BL

Faber-Castell Polychromos Colored Pencils 120 Piece Set
Shop at:
BL

Prismacolor 150 Premier Colored Pencils
Shop at:
SSS | BL

Prismacolor Premier Colored Pencils Individual
Shop at:
BL

Prismacolor Premier Colored Pencils 12 Set
Shop at:
SSS | BL

Prismacolor Premier Colored Pencils 24 Set
Shop at:
SSS | BL

Prismacolor Premier Colored Pencils 48 Set
Shop at:
SSS | BL

Prismacolor Premier Colored Pencils 36 Set
Shop at:
SSS | BL

Prismacolor Premier Colored Pencils 72 Set
Shop at:
SSS | BL

Derwent Inktense Colored Pencils Watercolor Individual
Shop at:
BL

Derwent 6 Inktense Colored Pencils Watercolor
Shop at:
SSS | BL

Derwent 12 Inktense Colored Pencils Watercolor
Shop at:
SSS | BL

Derwent 24 Inktense Colored Pencils Watercolor
Shop at:
SSS | BL

Derwent 36 Inktense Watercolor Pencils
Shop at:
SSS | AZ | BL

Derwent 72 Inktense Colored Pencils Watercolor
Shop at:
SSS | BL

Daniel Smith Extra Fine Watercolor 238-Dot Color Chart
Shop at:
AZ | BL

Simon Says Stamp Daniel Smith Yana's Set Watercolor Palette
Shop at:
SSS

Hero Arts Daniel Smith Watercolor Dot Palette
Shop at:
SSS | HA

Simon Says Stamp Daniel Smith Debby's Set Watercolor Palette
Shop at:
SSS

Simon Says Stamp Daniel Smith Shari's Set Watercolor Palette
Shop at:
SSS